Content marketing tools help you write engaging copy, understand your audience, track content performance, and more.
In this article, we'll show you 16 of the best tools for streamlining and optimizing your campaigns in 2023. 
The Best Content Marketing Tools from Semrush
Semrush's toolkit includes various options to help you plan, execute, and measure content marketing campaigns.
Here are some of the best to start with:
Keyword Overview
Keyword Overview gives you fast, easy access to the largest keyword research database on the market. 
It'll help you choose which keywords to target with your content marketing strategy. Even if you don't consider yourself data-savvy. 
By targeting the right keywords, you'll put your business in front of your target audience (i.e., those most likely to convert) on search engines.
Enter your word or phrase in the search bar to find all sorts of data, including the following:
Search volume: The average number of times per month users searched for the keyword on Google (on national and global levels)
Keyword difficulty: An estimation of how easy it would be to rank for this keyword organically
Intent: The typical purpose of users' search queries for this keyword (e.g., informational, navigational, transactional, or commercial)
Trend: The level of interest searchers have shown this keyword in the past year
Results: The number of URLs displayed in organic search results for this keyword
You'll also see paid ads metrics like cost per click (CPC), competitive density (Com.), and the top pay-per-click (PPC) ads (Ads) on your keyword's search engine results page (SERP).
Dive deeper into this data by clicking on the relevant widget. Spend time exploring to determine a keyword's value to your objectives, then plan your strategy accordingly. 
Tip: Not sure where to start with keyword research? Use the Keyword Magic Tool to enter a broad keyword and get related ideas.
Content Audit
Content Audit lets you analyze your website content to identify opportunities for improvement.
Say you started a blog last year and want to devote more time to it in 2023. The Content Audit tool will provide insights on existing content so you can make data-backed decisions regarding content updates.
Which can help improve your content marketing ROI (return on investment).
Head to the Content Audit tool. If you have an existing project, then click on the "Start Audit" button beside the project you want to audit.
If you don't, then create a new one by clicking on the "+ Create project" button in the top left corner of the projects table.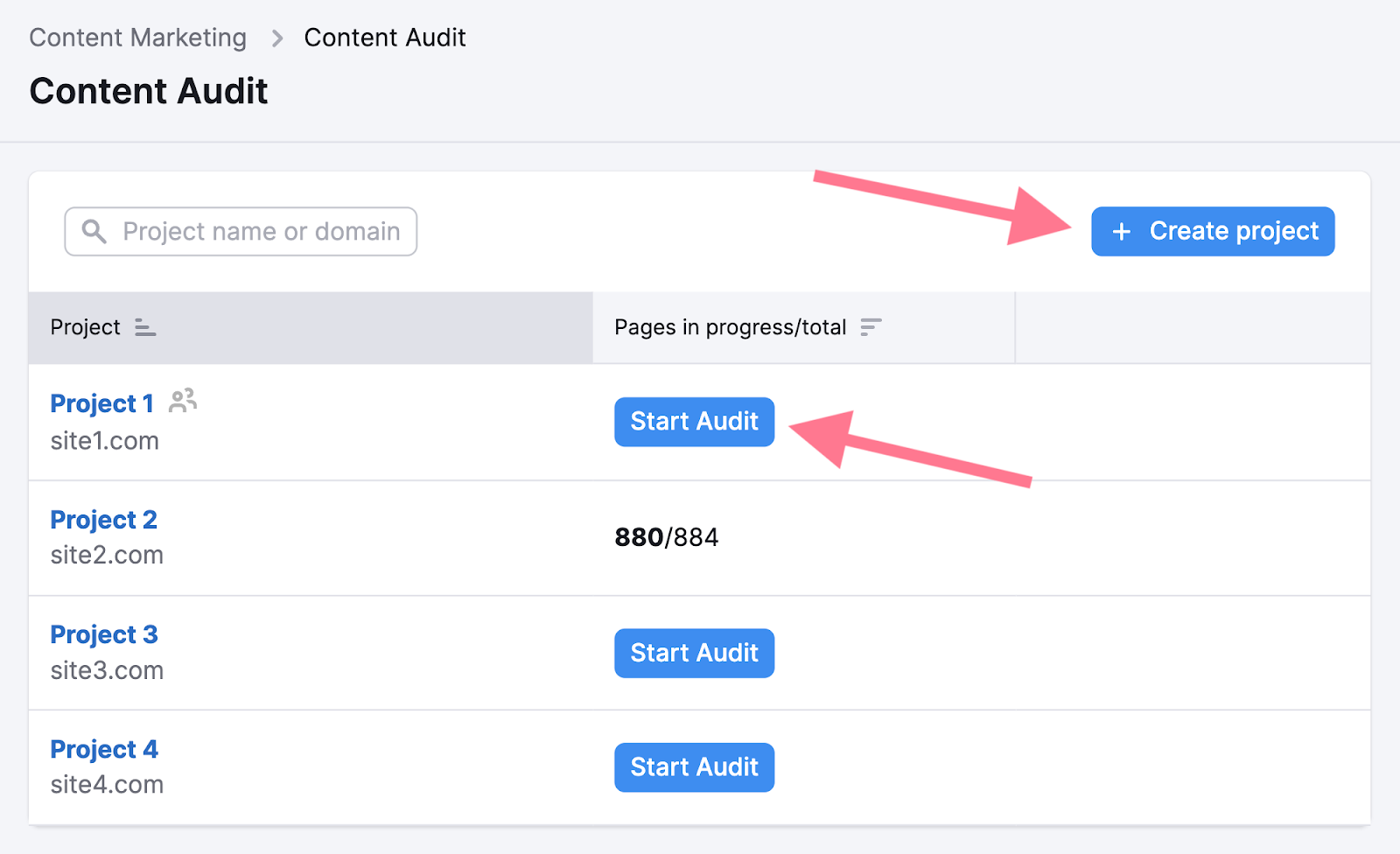 On the next screen, choose which subfolders to audit. Semrush will generate a list of URLs to audit.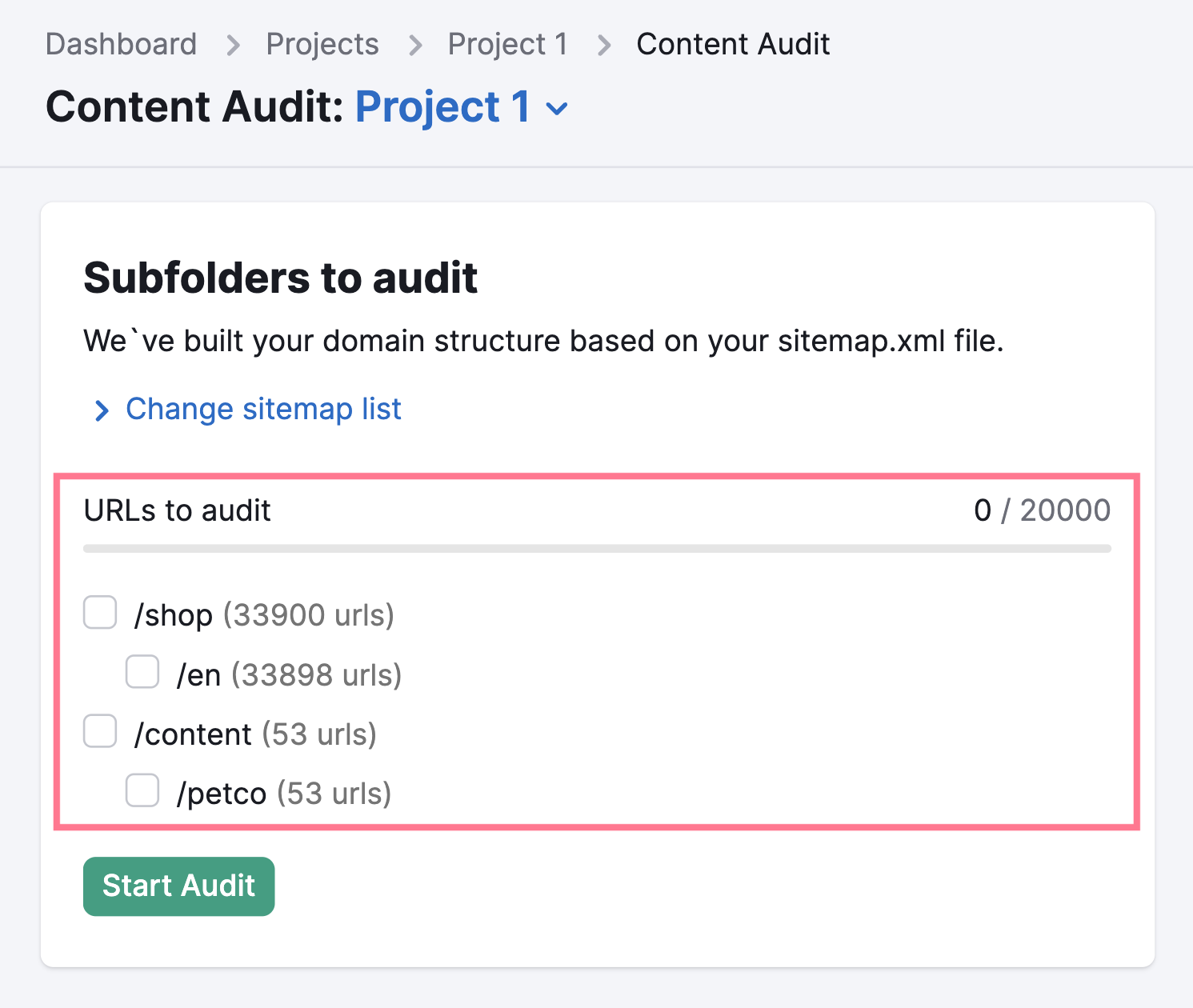 If you can't find the subfolder you want to audit, then click on the "Change sitemap list" button. 
And then hit "Add sitemap link" or "Browse file" to manually select a subfolder.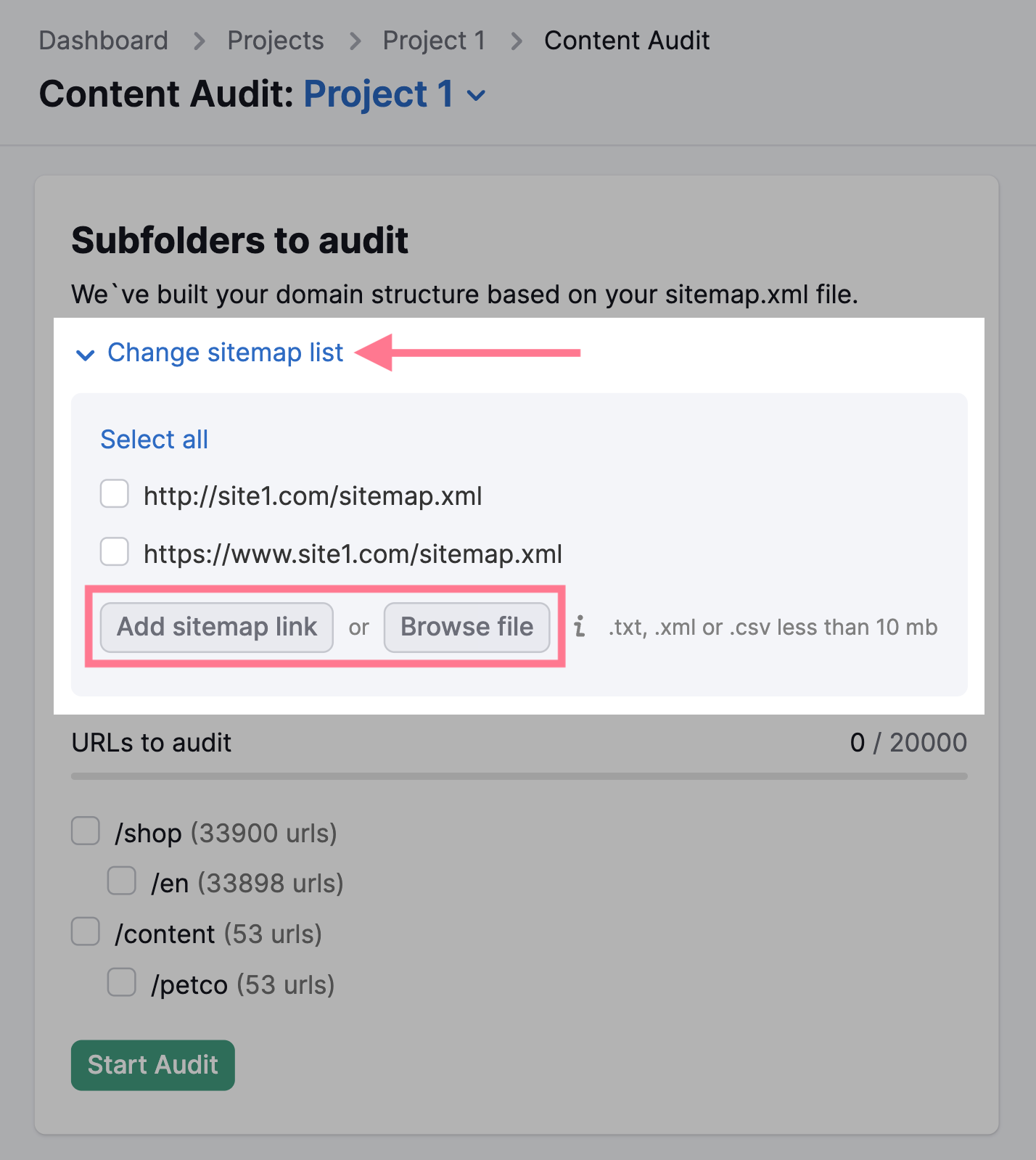 When you're done, click "Start Audit."
The tool will generate a report showing what works well with your audience and what requires improvement. Just click on "Table" to see it: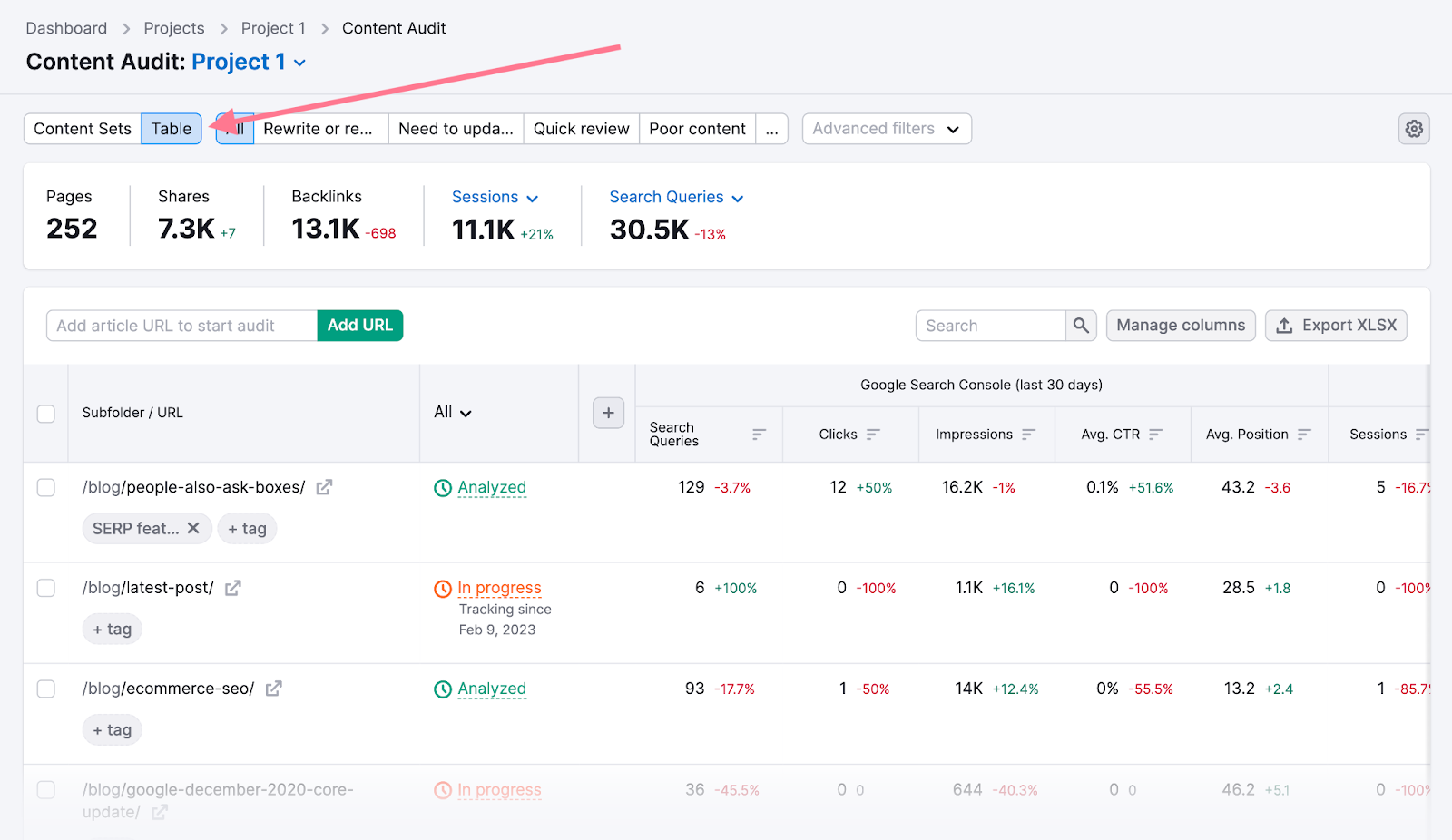 You can also view pages in "Content Sets" if you connect your Google Analytics account. 
This option groups your content into four categories based on performance. And suggests actions like "Rewrite or remove" and "Need to update."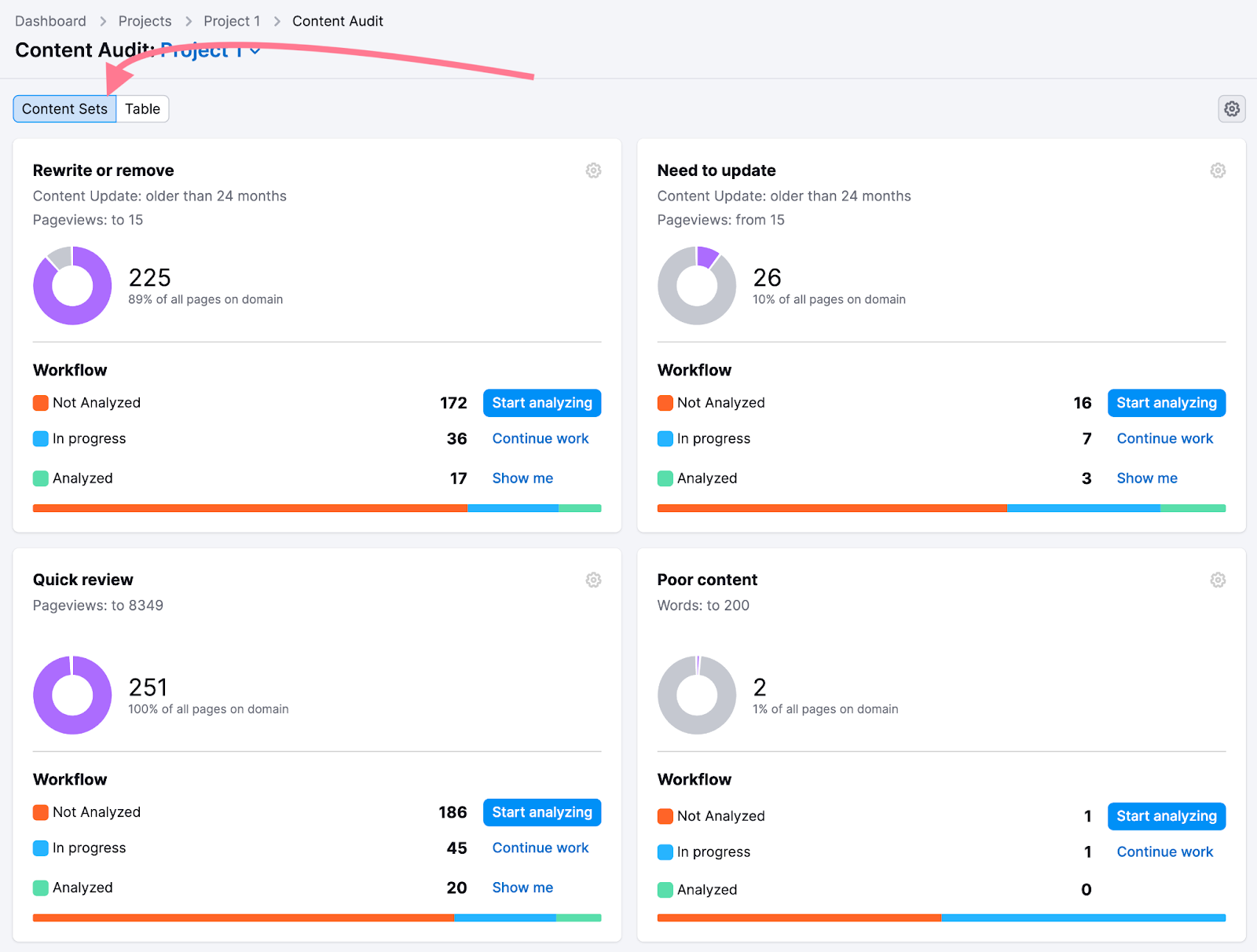 This real-time data comes from Semrush, Google Analytics, and Google Search Console. 
Content Audit uses insights from metrics like sessions, average session duration, bounce rate, and shares to tell you which pieces of content need to be rewritten, updated, or deleted.
Use this information guide your content strategy in three ways:
Remove irrelevant content. Content that doesn't reflect your current offering or tone of voice can confuse or deter potential customers. Ensure website visitors receive the right messages wherever they look.
Update poor-performing content. Updating page structure or target keywords is sometimes all it takes to make underperforming content succeed again. Making tweaks is more cost-efficient than creating new content.
Guide future content. Use your best-performing webpages to inspire new content ideas. For example, if a list of the "Best Content Marketing Tools for 2023" performs well, you might create a similar list for SEO tools.
Topic Research
Semrush's Topic Research tool helps you generate high-quality content ideas based on what's ranking on Google.
Enter your topic in the search bar to generate headline ideas. This could be a primary keyword you've researched in Semrush's Keyword Overview tool.
You'll also see questions your audience wants answers for (ideal for inspiring "how-to" content) and some related searches.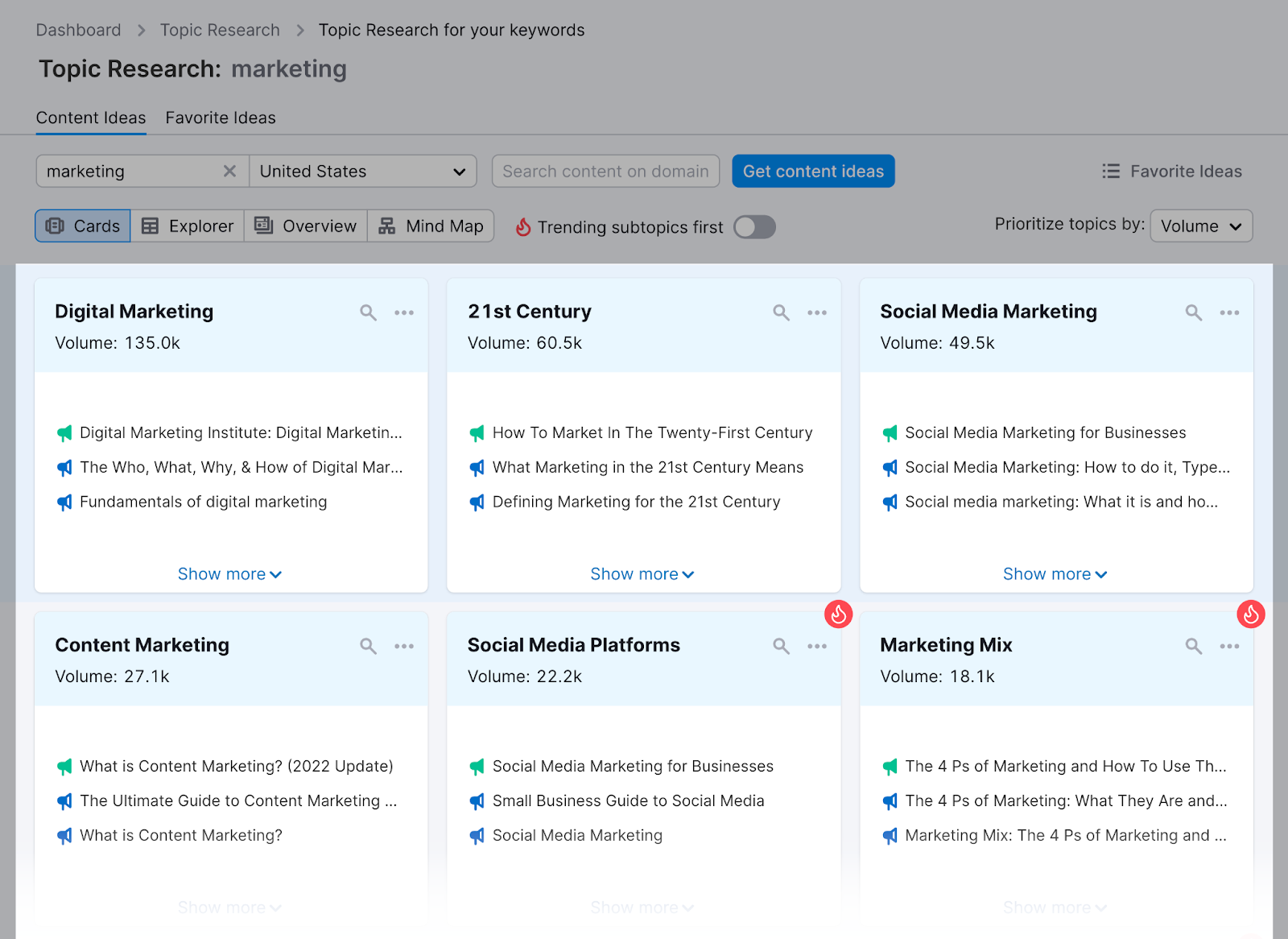 For your convenience, you can view the same Topic Research data in four ways:
Cards
Explorer
Overview
Mindmap
Use the information you find to inspire engaging blog posts, ebooks, and even webinars and podcasts.
Tip: Try checking if your topic has trending subtopics by checking the "Trending subtopics first" box for your search. Trending subtopics will appear at the top of the list with a flame icon in the top right corner of the content card: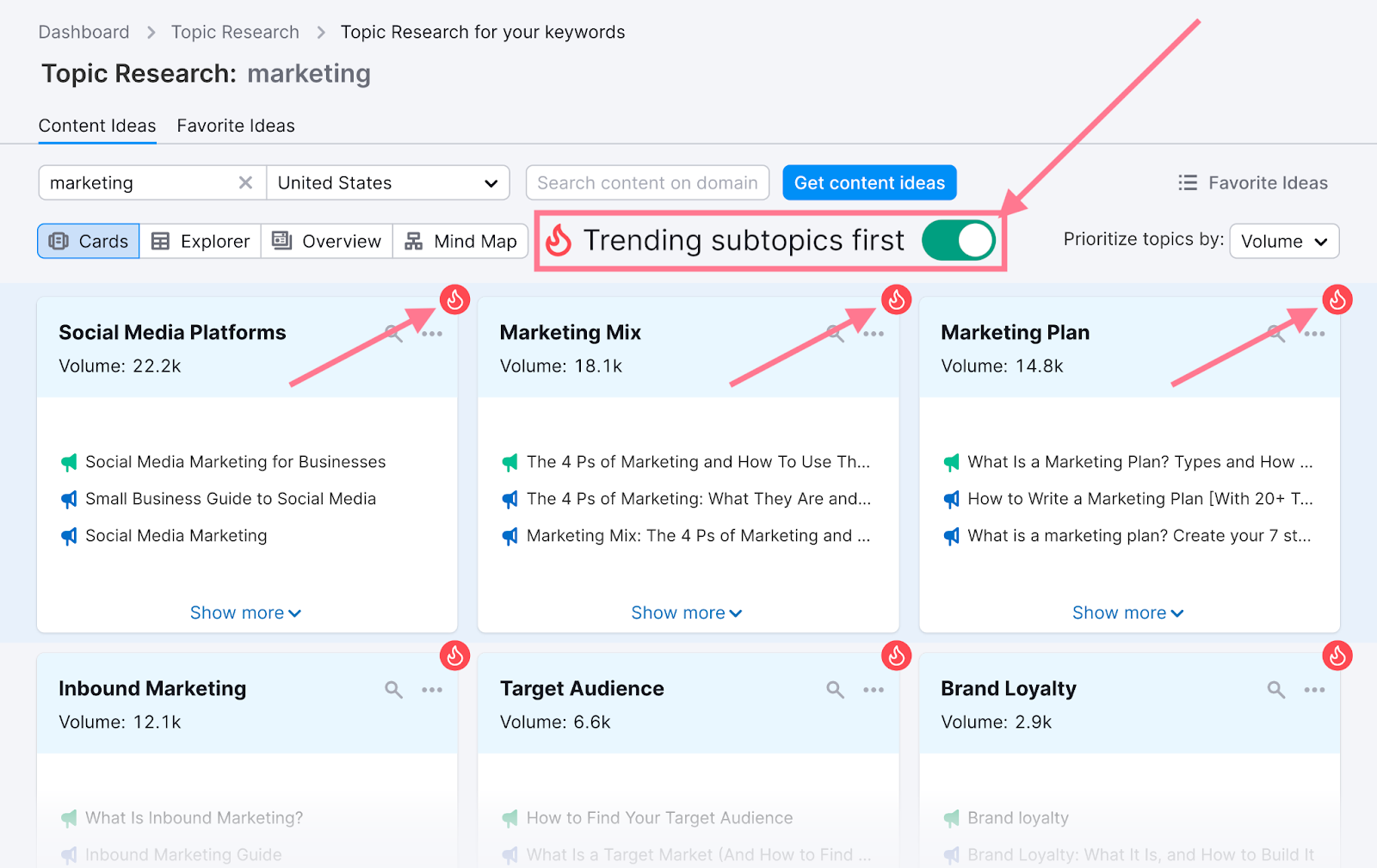 SEO Writing Assistant
Ready to create new content? The SEO Writing Assistant analyzes and grades your content in real time based on four factors:
Readability
SEO
Originality
Tone of voice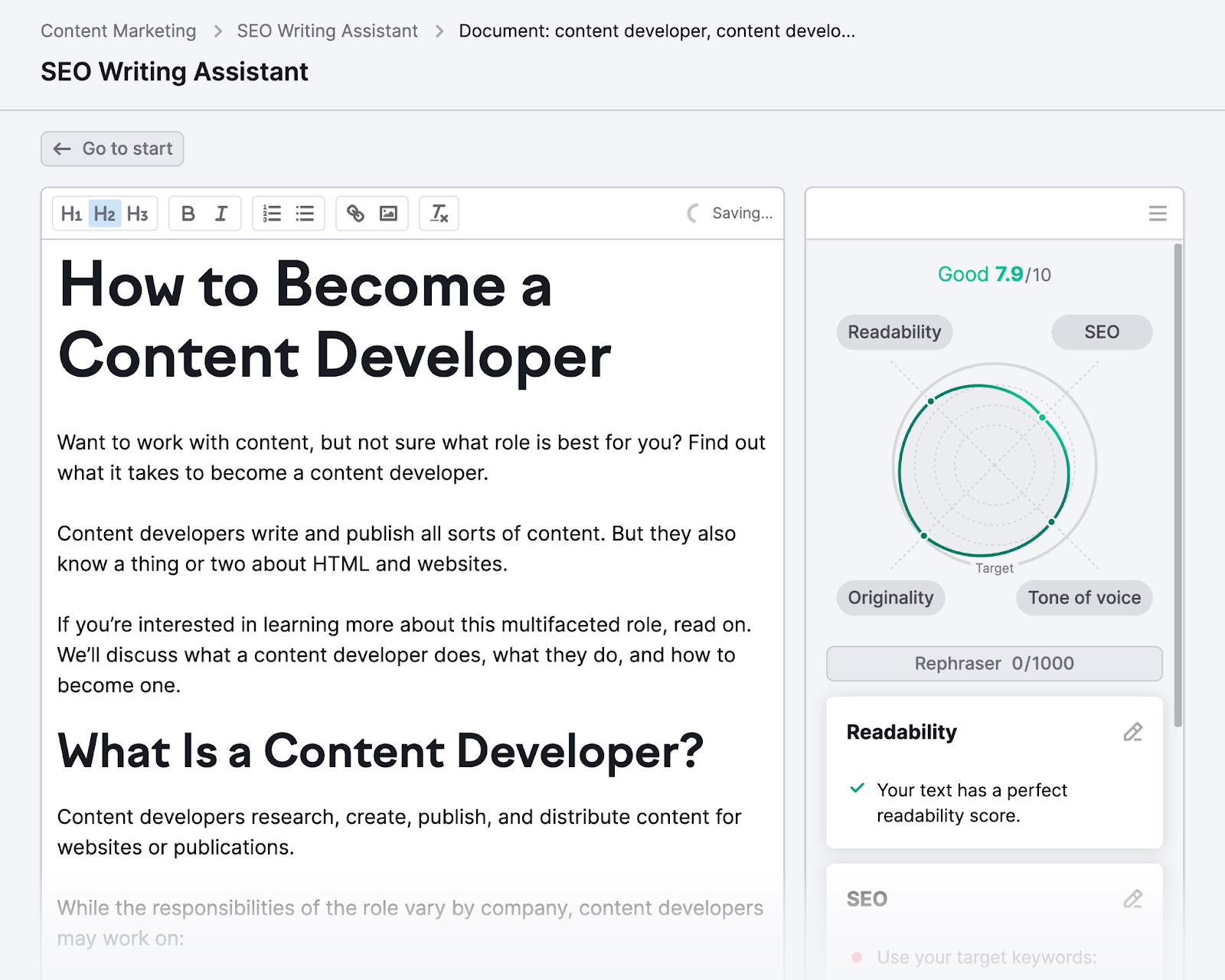 This tool can check the SEO ranking potential of your content and provide general writing recommendations.
Here are just a few ways to use the SEO Writing Assistant:
Maintain your brand's tone of voice in every piece of content you write
Optimize your copy for your chosen target keywords
Improve overall readability 
Check the web for potential plagiarism issues
Rewrite or expand ideas with the Rephraser feature
Either import published text from the web, or write new content directly in the tool.
The SEO Writing Assistant will update its scores and recommendations as you type.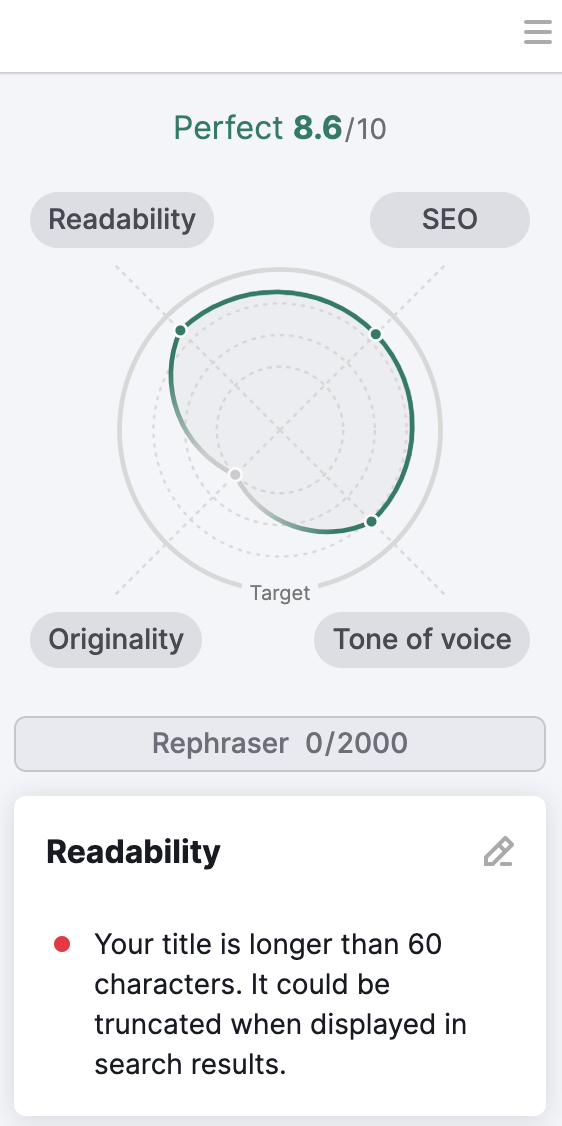 Use this tool in the Semrush platform or as a Google Docs add-on, WordPress plugin, or Microsoft Word add-on.
Semrush is an all-in-one online visibility platform with over 55 powerful tools, including Marketing Calendar, SEO Content Template, and SEO Writing Assistant. 
Want to learn more about how Semrush can supercharge your content marketing strategy? Read about pricing and the third-party tools Semrush connects with.
The Best Content Marketing Tools for Ideation & Research
Even great content can miss the mark if you don't research your target audience, their needs, and their search intent (i.e., why they're looking for this content in the first place).
Reach the right people with the right messages using these great research tools: 
Clearscope
Clearscope is an AI-powered tool that helps you determine what searchers want to know. 
In other words: it'll tell you what to include in your content to help it rank on page one of Google.
Provide your target keyword and Clearscope will analyze the best-performing content on the search engine results page (SERP) based on the following factors:
Word count
Content structure
Terms used 
Content quality (based on comprehensiveness and relevance)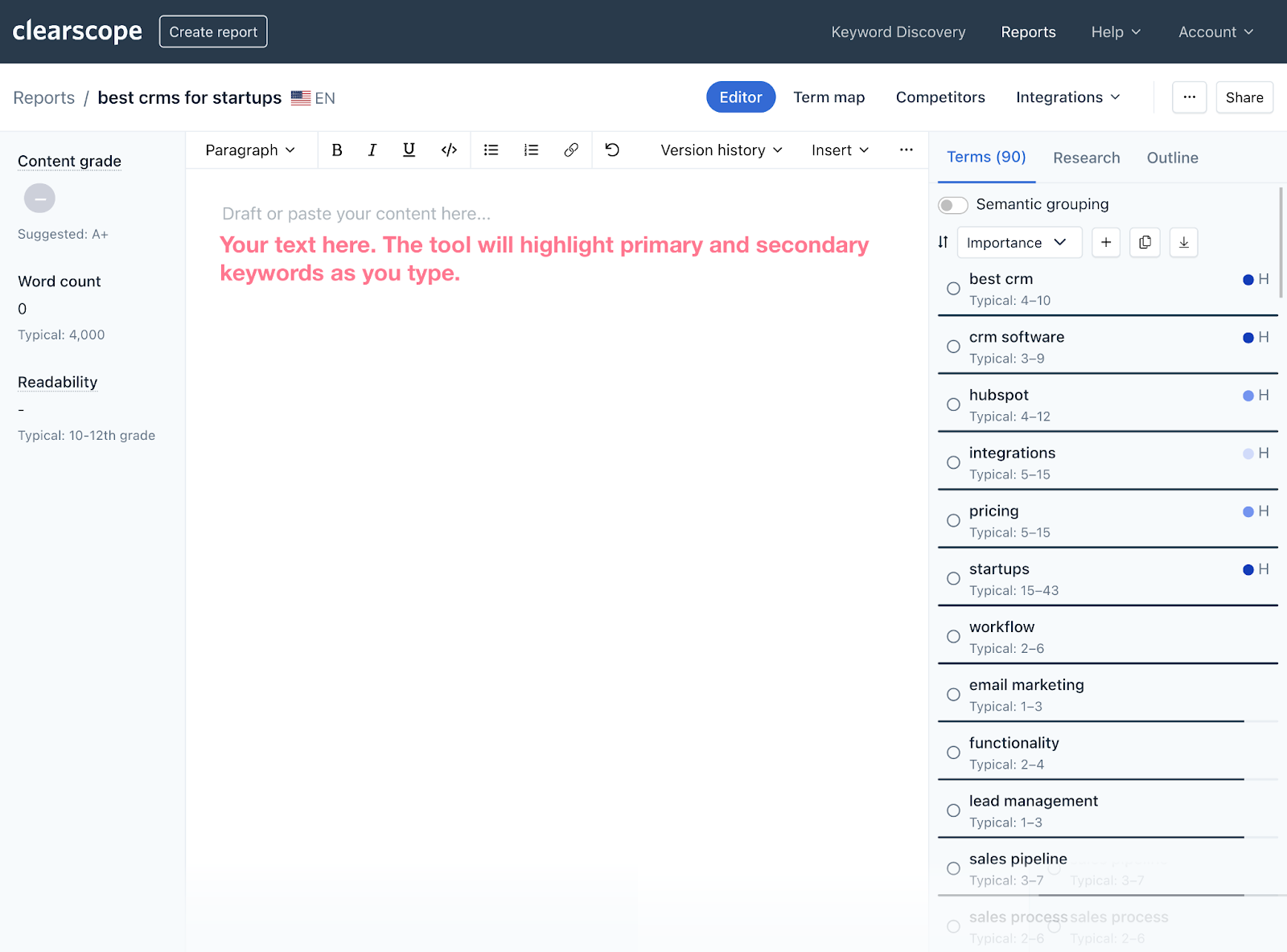 Here are a few ways you can use Clearscope's insights:
Track your competitors' output
Identify unique angles for your content
Build clearer briefs for content writers
Create content that you know will drive organic traffic to your site
Plans and pricing: Clearscope's Essentials plan is $170 per month and includes one user seat (you can still support a team of writers with one account as reports are shareable). Business and Enterprise plans include extra user seats, more features, and custom pricing.
Integrations: There are add-ons and plugins for Google Docs and WordPress, so content marketers can see Clearscope's recommendations when working on these platforms.
Otter
Otter is a transcription automation tool. While its website blurb focuses on meeting notes, you can use the app to convert any audio into text. 
Content marketers can use Otter to transcribe internal meetings as well as client and subject expert interviews in minutes. In contrast, Rev estimates that it takes the average person one hour to manually transcribe 15 minutes of audio.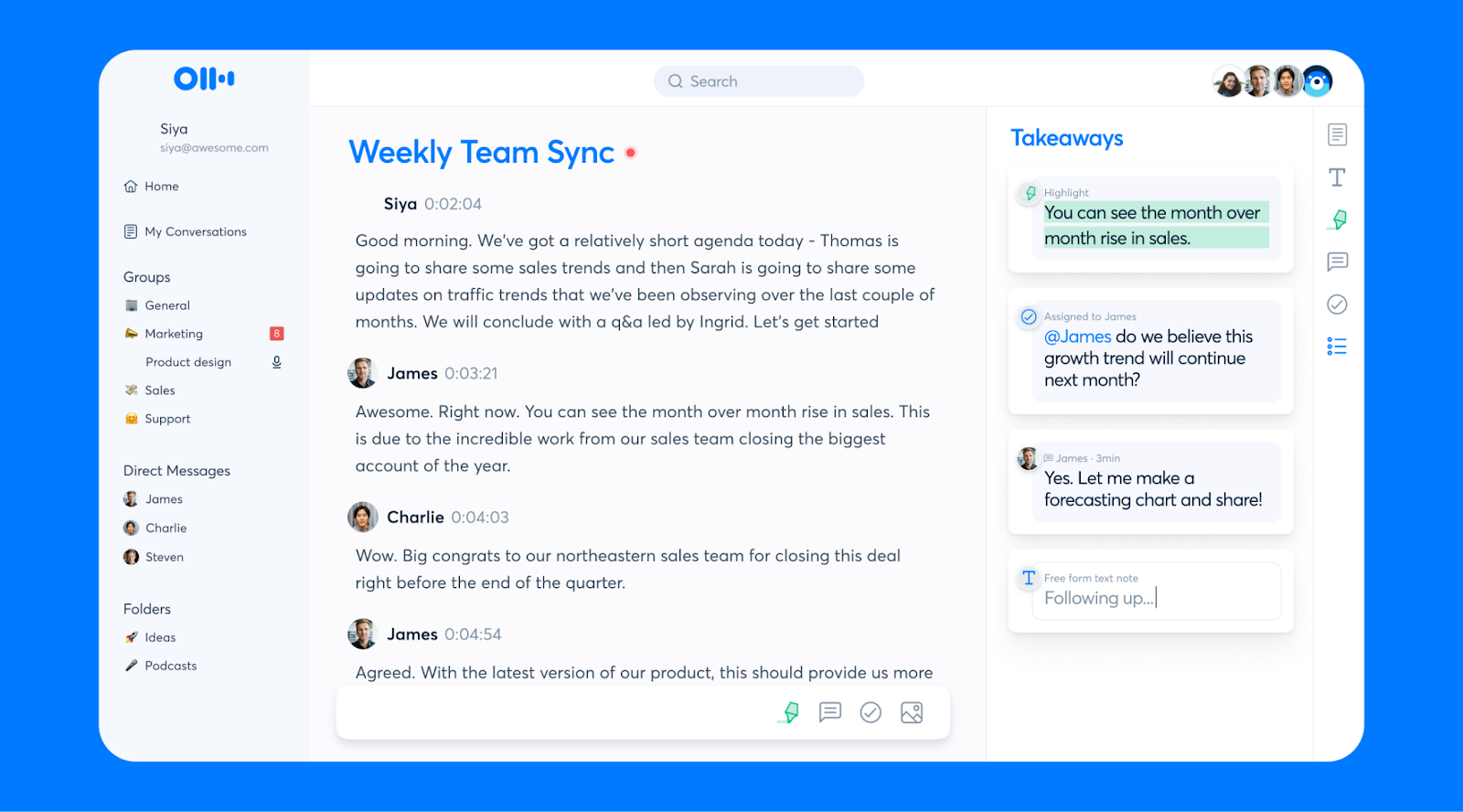 Record and upload your conversation or use the app to take notes in real time. Either way, you'll receive an automatically generated transcript that you can use to accomplish the following:
Guide your content creation
Extract direct quotes to make a piece of content unique
By taking care of the transcription, Otter allows you to focus on your conversation rather than scribbling notes. You're more likely to spot opportunities to ask important questions and get answers that will help you create more engaging content.
Plans and pricing: The free version offers 300 monthly transcription minutes and limited features. Individual users can pay $16.99 per month for more minutes and capabilities. Business plans with collaboration features start at $30 per month, per user. 
Integrations: Schedule Otter to automatically take notes from calls on Zoom, Microsoft Teams, and Google Meet. The ability to connect with Google Calendar ensures you won't forget to record an important meeting or call.
Meta Tags
Meta Tags is a simple tool that allows you to experiment with your content's metadata.
Metadata is data that describes your content. It includes the page titles, descriptions, and images that show in search results and sharing links. 
This information influences how search engines and social platforms view and display your website. 
Metadata can also impact your click-through rate (CTR). As it could be the difference between someone clicking on or ignoring your page. 

With Meta Tags, you simply type your URL and ideas into the form and it'll show you how the page will appear on:
Google
Facebook
Twitter
LinkedIn
Pinterest
Slack
Here's an example of the Meta Tags results for an existing Semrush blog: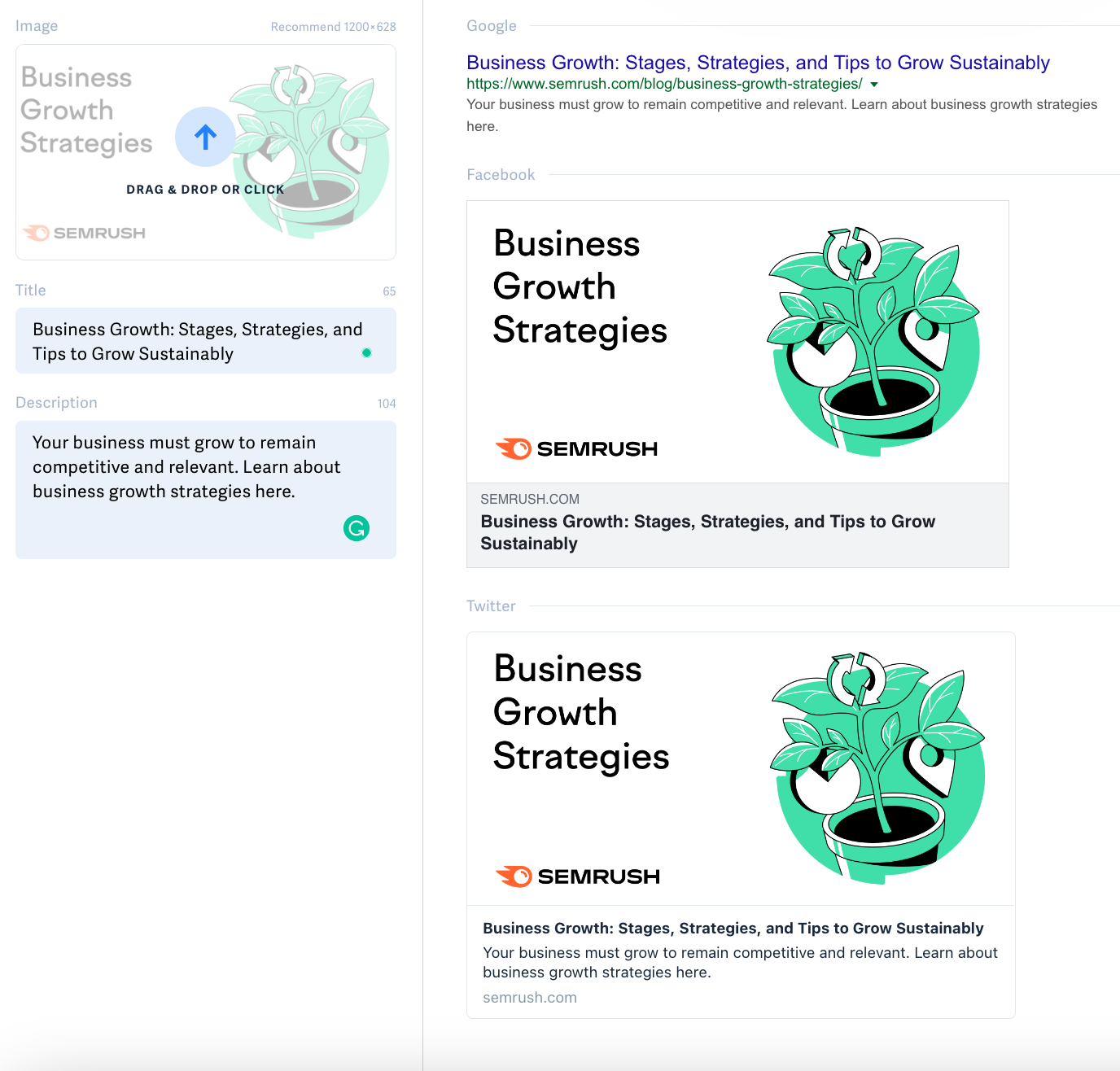 This preview lets you fix the following display issues:
Image problems: Users may find low-quality or clipped images less reputable. And choose not to click them.
Clipped titles: Your title should grab users' attention. Incomplete titles leave searchers wondering what your content is about.
Lengthy or missing meta descriptions: Complete, concise descriptions are more likely to entice clicks. Also, Google frequently rewrites meta descriptions that don't match users' search queries. 
While we're on the topic, remember that Google cuts off title tags after 60 characters on mobile And cuts off meta descriptions after around 120 characters.
Your title is an important factor for on-page SEO and your description should motivate clicks. So both contribute to content campaign performance.
Plans and pricing: Meta Tags is 100% free.
Integrations: Users can preview their metadata on Google, Facebook, Twitter, LinkedIn, Pinterest, and Slack.
The Best Content Marketing Tools for Organizing Campaigns
Successful content marketing requires plenty of organization. Refine your processes, track team activity, and streamline your efforts with these content management and collaboration tools:
Trello
Trello is a project and task management tool that improves productivity and communication between team members. 
The app allows users to manage to-do lists, tasks, ideas, and plans—essentially, everything that goes into organizing a content marketing campaign.
While plenty of great project management tools exist, Trello leads for simplicity.
The app uses boards, lists, and cards to provide a clear view of your team's activities and responsibilities.
That simplicity means it's particularly useful for content marketers with little or no formal experience in project management.
Trello's built-in automation tool, Butler, can also reduce the time your team spends on repetitive tasks. It can handle processes like changing project statuses, assigning tasks, and sending email notifications. 
Plans and pricing: There's a basic free plan with limitations (such as 10 MB file limits and up to 10 boards per Workspace). Standard and Premium plans cost $5 and $10 per user respectively, per month. The Enterprise plan starts at $17.50 per user, per year (based on 50 users).
Integrations: Trello's integrations library is vast. Useful integrations for content marketers include Slack, Google Drive, Zendesk, and Mailchimp.
Google Docs
To many, Google Docs is just a basic word processor.
It's useful for writing and taking notes, but it can also help content marketers organize their projects and campaigns.
Its sharing capabilities eliminate the need to send documents back and forth via email with colleagues, clients, and other stakeholders.
Anyone with a Google account can open Docs online and start typing immediately. Multiple users can even work on a document simultaneously. That functionality makes it an invaluable collaboration tool.
Here are some common uses for Google Docs:
Take notes
Create content briefs
Write drafts
Edit existing content
All you need to do is click "share" in the top right corner and enter the email addresses of anyone else who needs to see the document.
Users with access can view a live version, add comments, and edit its contents (depending on the permissions you choose).
Other helpful features for content marketers include the following:
An automated outline: A panel on the left shows your content's structure in real time, making it easier to navigate articles and create coherent briefs
Version history: Automatically keep records of document updates and name specific versions. This is ideal when the editorial process involves multiple people with different ideas.
Add-ons library: Connect Google Docs with countless other marketing and productivity tools to streamline workflows. For example, the Beep add-on allows you to record short audio notes for other users.
Google Workspace users have full access to Google Docs with 2 TB of storage for content. You may already pay for this to use Workspace's other features, like professional email. 
Plans and pricing: Google Docs is free to all Google account holders, with 30 GB of cloud storage. Users gain more storage with a Google Workspace plan ($6-$18 per user, per month).
Integrations: Like most Google apps, Docs integrates with many other providers' software. This includes Semrush's SEO Writing Assistant, Grammarly, Clearscope, and DocuSign.
The Best Content Marketing Tools for Writing
There's much more to crafting written content than just putting words on a page. Streamline your editorial and communication processes for maximum impact with these writing tools:
Hemingway Editor
Hemingway Editor is an online software that offers suggestions for streamlining any text. It'll make your writing bold and clear so your target audience can focus on the message, not your prose.
Write or paste your text into the web or desktop app to generate a "Readability" report. The software uses different colors to highlight improvement opportunities. 
It'll show you:
Hard-to-read sentences (yellow or red)
Instances of passive voice (green)
Uses of adverbs and weakening phrases (blue)
Complex language (pink)
Hemingway also judges the grade level of your content using the Automated Readability Index. This well-refined algorithm determines which U.S. grade level a reader needs to understand your text. 
A lower grade level (e.g., 6) suggests your text is accessible to a wider audience, although some topics will naturally require more complex language. 
Lowering your grade level is an efficient way to weed out jargon from your content, ensuring you don't confuse your audience.
Plans and pricing: Hemingway Editor is 100% free.
Integrations: There are no integrations for Hemingway Editor. You'll need the web or desktop app to use it. 
Grammarly
Grammarly is an AI-powered writing app.
Much more than a glorified spellchecker, it aims to polish and streamline your writing by providing real-time feedback and suggestions.
Here are some ways you can use Grammarly:
Fix typos and grammatical errors
Avoid misusing commonly confused words
Get guidance to refine your tone of voice
Use "clarity" suggestions to streamline sentences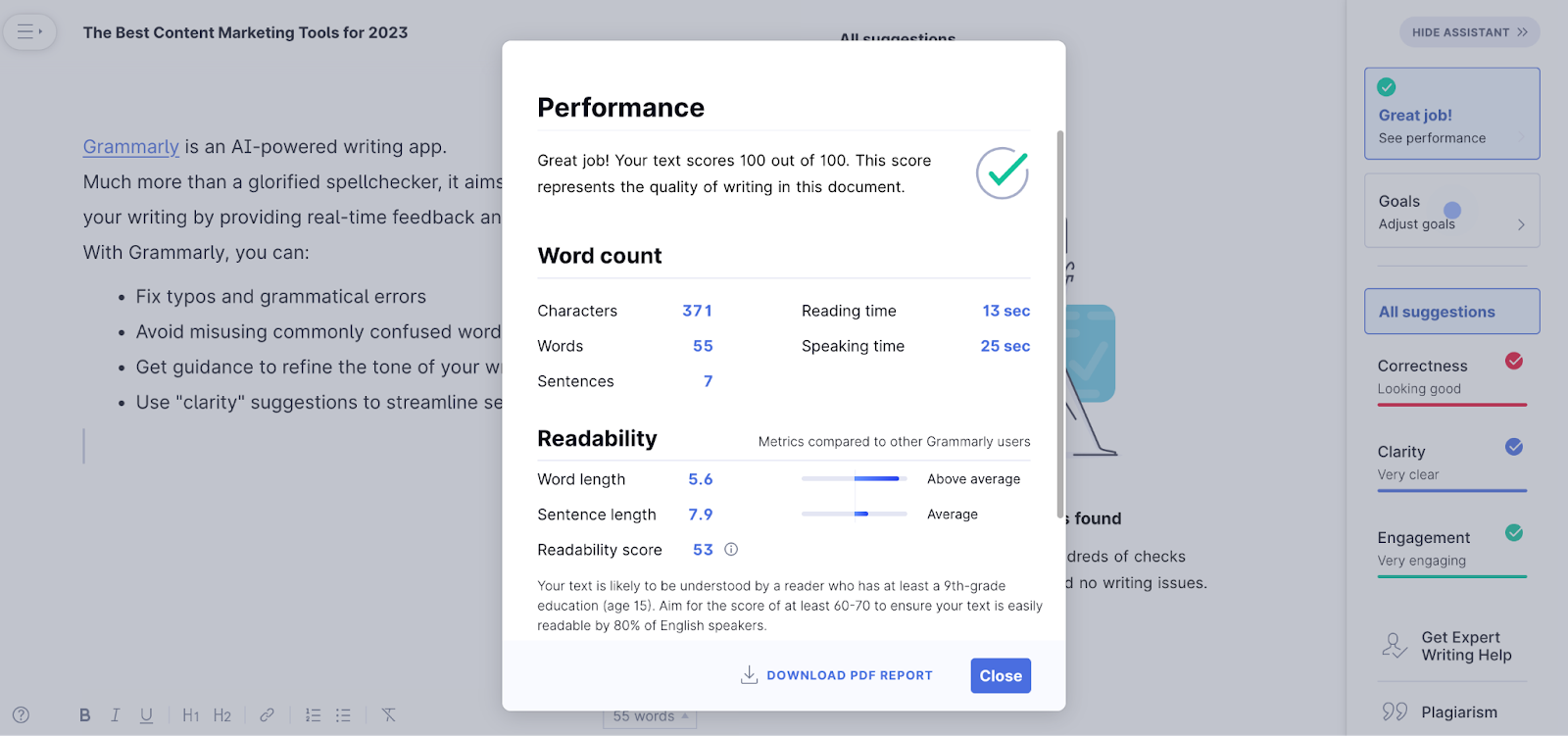 As well as steering you clear of embarrassing errors that could alienate your audience, these benefits will help you reduce friction in your written content. The results are more authoritative messages, smoother paths to conversion, and ultimately more sales.
Once you connect Grammarly to your browser, you'll notice the app checking all the text you write. For example, its small green symbols show in the Meta Tags image we featured earlier:
Browser integrations mean you can also use Grammarly for internal communications through email, Slack, and social media.
Plans and pricing: A free plan offers basic writing suggestions and tone detection. Individuals can pay $12 per month for a Premium account with additional features. There's also a Business account that costs $15 per member, per month.
Integrations: As well as desktop and web apps (where you can paste any text for checking), Grammarly has add-ons for Google Docs, Microsoft Word, and most browsers.
Jasper
Jasper is an AI content platform that uses machine learning to generate basic content about any given topic.
Let's be clear:
AI can't handle all of your content creation work. Algorithms lack the empathy and creativity that human writers use to tell emotionally driven, impactful stories. 
However, AI is valuable as a support tool and Jasper is a great example.
It aims to speed up your creative workflow when crafting the following:
Social media posts (including image captions)
Online ad content
SEO-driven blog articles
Email marketing campaigns
Landing pages
All plans come with around 50 templates based on digital marketing "best practices and proven examples." 
Here are a few examples of existing templates:
Product Description
Press Release Title & Intro
Personalized Cold Emails
Company Bio
Video Script Outline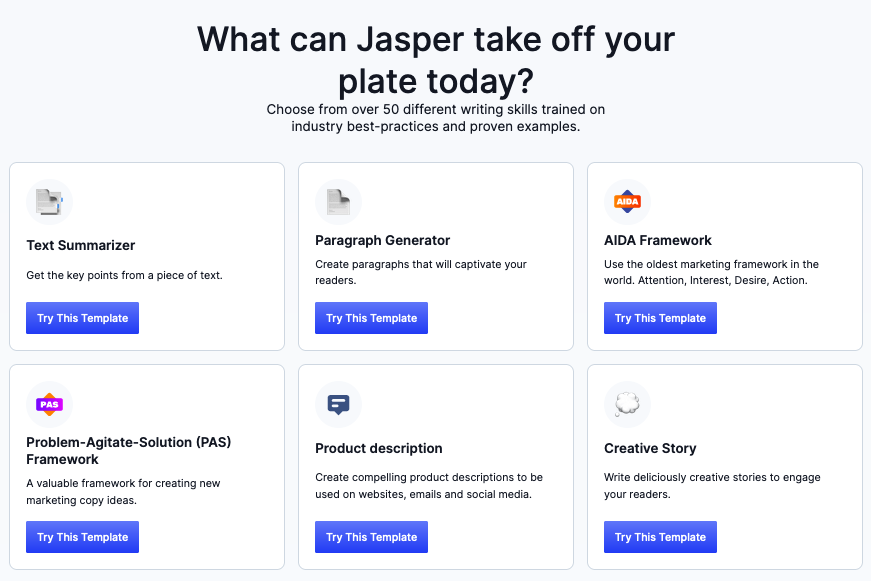 In each template, the software will ask you for background information like company name, product description, and tone of voice. Click the button to generate results to see a range of content ideas.
You can use those ideas as they are, edit them, or combine different results to finalize your output. 
Plans and pricing: Jasper's Boss Mode package (targeting "hobbyists just getting started") starts at $49 per month, based on how many words you need..
Bloggers and businesses who work on long-form content should opt for the Boss Mode plan at $99 per month. Contact Jasper for more information on the full Business package.
Integrations: Users can connect Jasper to Google Chrome and Surfer SEO for extra functionality.
Interested in trying out AI writing software? Read our guide to the best AI copywriting tools.
The Best Content Marketing Tools for Creating Visual Content
Images and videos are crucial to content marketing performance. 
In fact, in our State of Content Marketing 2023 Global Report, we revealed that articles with seven or more images tend to get more backlinks (a 555% increase when compared to articles with no images).
Articles with seven or more images also get more unique page views—a 259% increase compared to articles with no images.
Use the following design tools to create and share impactful visuals without the need for specialist skills or support.
Canva
Canva helps non-designers create engaging visual content. 
The tool's drag-and-drop accessibility makes it popular among marketers who are short on time, lack formal graphic design skills, or don't have the budget to hire a specialist.
It includes the following:
Thousands of ready-made designs
Sharing features for collaboration, approvals, and feedback
Options for downloading, scheduling, and printing designs
Canva's templates library offers a preview of the types of content marketers can create. You'll see ideas for logos, presentations, videos, infographics, business cards, and more.
Plans and pricing: Canva's Free plan is a great starting point but has limitations. The Pro version offers extra imagery, premium templates, and 1TB of cloud storage for $119.99 per year, while Teams plans start at $149.90 (for 2+ users).
Integrations: Canva's integrations allow you to source imagery from Google Photos, Google Drive, YouTube, Dropbox, and more. Users can also connect with Twitter, Pinterest, LinkedIn, and Slack for fast and easy sharing.
Venngage
Like Canva but with an emphasis on infographics, Venngage makes it easy to tell stories with data. This matters as visual, data-driven content is effective for sharing lots of information quickly. 
There's a library of more than 10,000 professionally designed templates. All you need to do is choose one, add your data and content, and apply any finishing touches. 
There's also a library of "3+ million stock photos and 40,000+ icons and illustrations" to use. 
Here's an example of an attention-grabbing social media infographic made with Venngage's drag-and-drop design tool: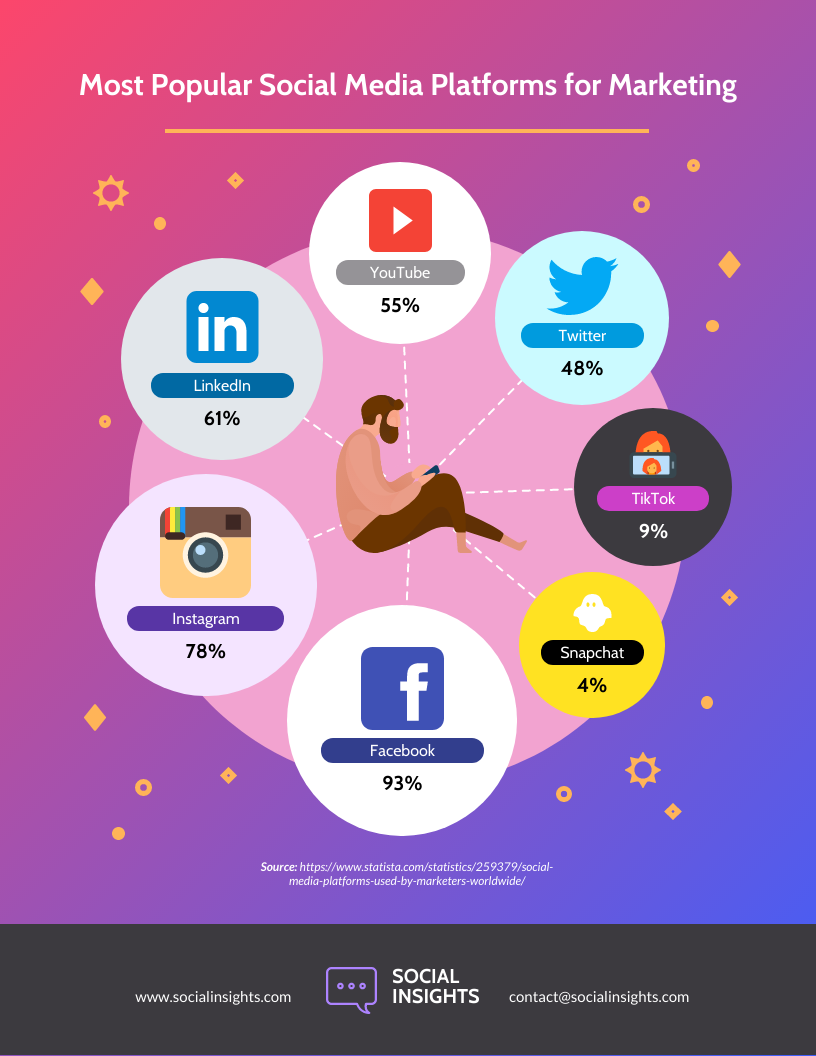 Image Source: Venngage
While infographics are Venngage's forte, you'll also find templates for reports, presentations, diagrams, and charts. Browse the library for inspiration.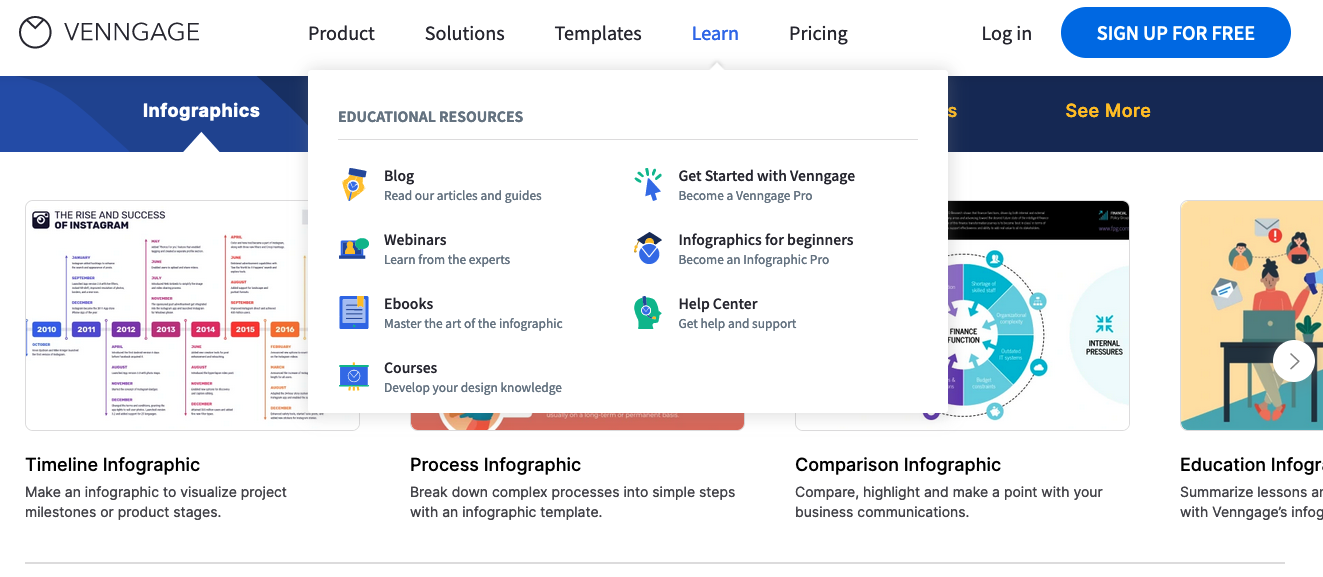 Once you've created a design you're happy with, download and share it with colleagues and clients. Alternatively, invite them to collaborate on the creation process in real time.
Plans and pricing: A Free plan allows five designs and six image uploads—perfect for experimenting. A Premium plan removes design limits and increases image uploads to 50 for $16 per month. Or there's a Business plan with additional features for $39 per user, per month. 
Larger marketing teams can opt for an Enterprise package, starting at $499 per month for 10+ seats.
Integrations: There are no integrations, although users can download and share their content anywhere.
The Best Content Marketing Tools for Measuring Performance
Measuring campaign performance helps you spot winning patterns and avoid repeating mistakes. Get easy access to the necessary insights with these analytics tools:
Google Analytics
Google Analytics is crucial to tracking your content marketing campaign performance.
Once configured, it'll give you all the data you need to understand how users interact with your website. That includes your homepage, blog posts, landing pages, video content, and anything else in your sitemap.
For example, in the "Reports snapshot" below, you'll see an overview of the site's users: how many are first-time visitors, how long they stay on the site, and even where they're based.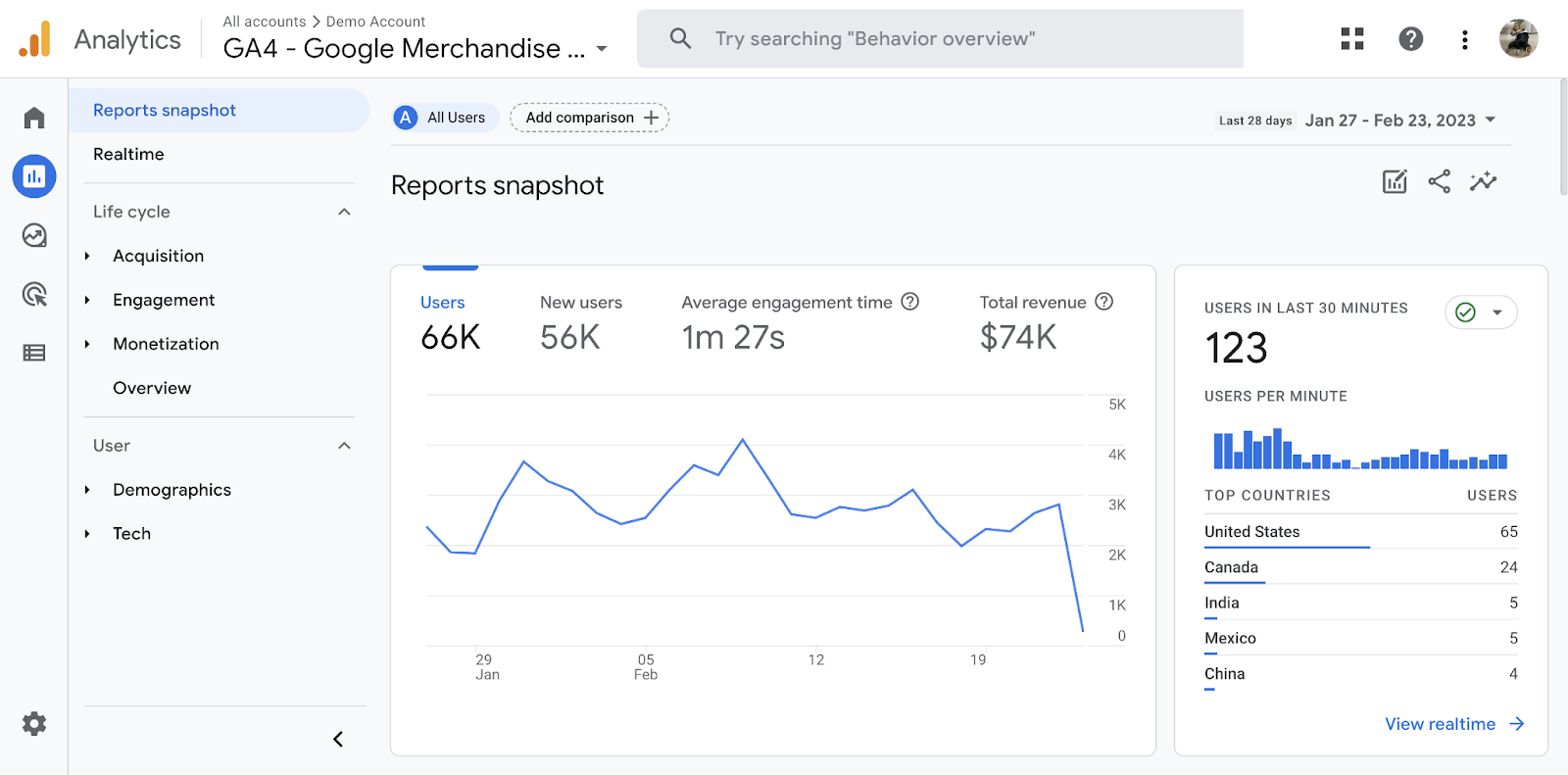 You can use this information to build a clearer picture of your audience. And to determine whether you're reaching the right people at the right times with your content. 
For instance, you could track traffic across seasons or after major events to determine the most effective publishing times.
This is one basic example of the insights available. Google Analytics' many features and metrics eliminate the guesswork from building content marketing strategies.
If you're just getting started, read our guide to setting up Google Analytics.
Plans and pricing: Google Analytics is 100% free.
Integrations: Google Analytics works with other Google tools to help you understand your marketing efforts and enhance campaign performance. Notable integrations include Google Search Console, Google Ads, and Google Cloud.
Google Search Console 
Google Search Console (GSC) helps you understand and improve your website's organic search performance. 
Once connected to your site, GSC provides information about the following: 
The "Search results" report is a good place to start for an overview of your performance:
GSC allows you to track how your pages are performing on the SERPs in real time. It will alert you to any problems that could stop your site ranking so you can fix them fast.
Plans and pricing: Google Search Console is 100% free.
Integrations: GSC connects with Google Analytics to give you a clear view of your site's search performance.
What Do the Best Content Marketing Tools Have in Common?
No single tool can meet your every content marketing need. 
But the most useful tools do share some characteristics. 
Knowing what these are will help you assess new apps and gauge the suitability of existing ones.
Here are some characteristics to look for when searching for the best content marketing platforms for your needs:
Flexibility: Easy to sign up and easy to scale as your business grows. Look for a range of pricing tiers and avoid long-term contracts. Worthwhile providers don't need to lock you in to keep your business.
Ease of use: Complex tools slow marketers down. You might need a lot of features but they should all be intuitive. This'll keep productivity high and onboarding smooth.
Support: Even if a tool is easy to use, you may have questions or may run into issues. Make sure there's a support team that'll provide answers and solutions fast.
Community: A strong user base signals a tool's effectiveness and provides another useful support outlet. Look to forums and social media platforms for ideas and answers (like the below example from Trello).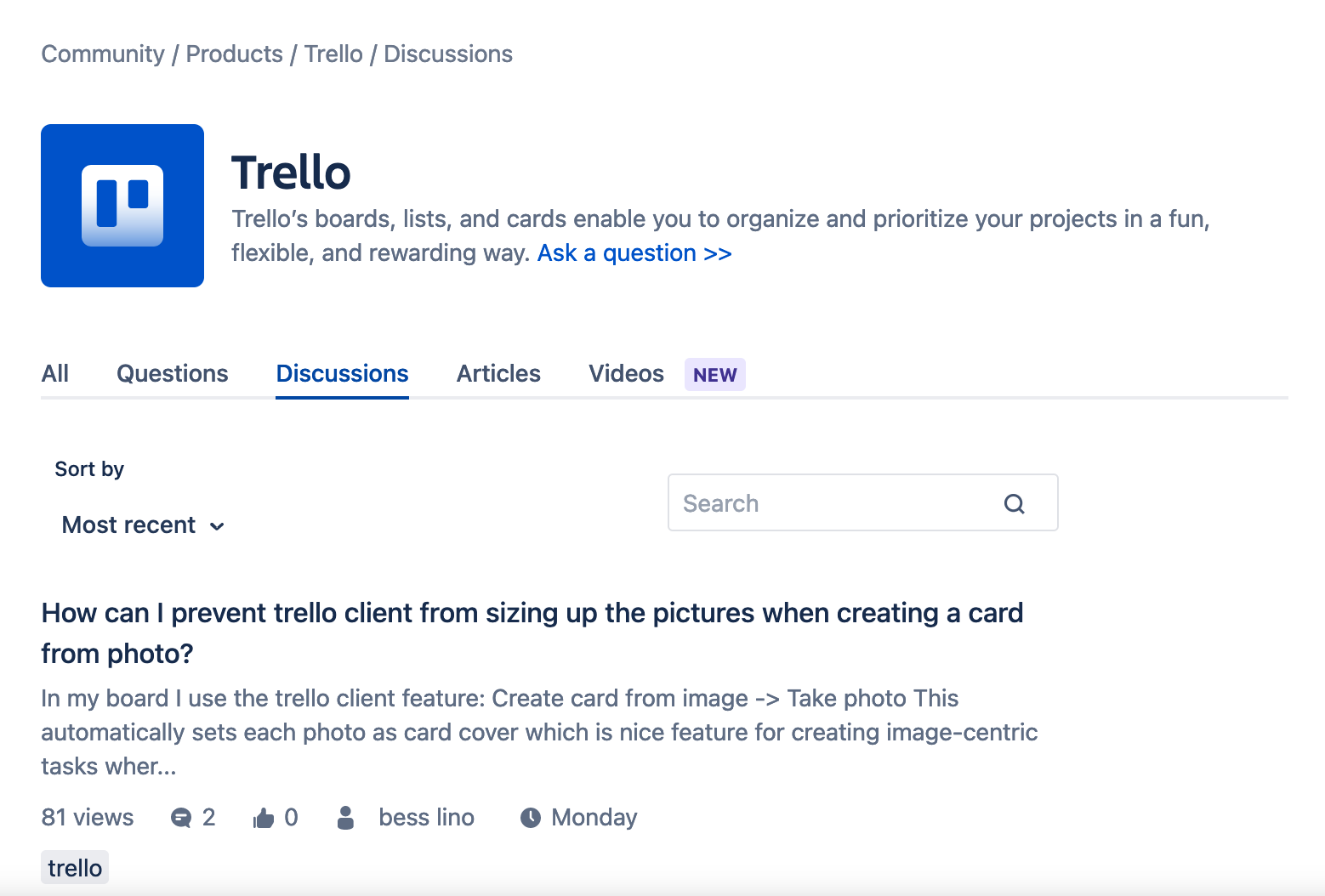 Supercharge Your Content Marketing Campaigns
Successful content marketing requires human skill and creativity.
However, technology helps you work faster and smarter to maximize your ROI.
The best tools equip small businesses to compete with their larger counterparts by offering flexibility, scalability, and professional support. 
They make functions like design, analytics, collaboration, and project management accessible to companies of all types and sizes.
Experiment with the software on our list to achieve bigger results from smaller budgets in 2023.
Want to learn more? Here are a few content marketing resources for your review:
We all want to be satisfied, even though we know some people who will never be that way, and others who see satisfaction as a foreign emotion that they can't hope to ever feel.

Newspaper Ads Canyon Crest CA
If you have questions before you order, give me a call @ 951-235-3518 or email @ canyoncrestnewspaper@gmail.com Like us on Facebook Here