What Is Guest Posting?
Guest posting (or guest blogging) is a marketing tactic that involves writing articles for other websites in order to promote your brand.
Here is a guest post example that Semrush's Marcus Tober contributed to Adweek:
Sharing your expertise with relevant audiences can help you:
Build your personal profile
Raise brand awareness
Drive traffic to your site
Many marketers use guest posts to build links for SEO. (Links are like "votes of confidence" and can benefit Google rankings.) 
But guest blogging SEO is a contentious topic.
Are Guest Posts Bad for SEO?
Guest posts are not inherently bad for SEO. (They can even be beneficial—more on that later.)
An article on the Google Search Central Blog states: "Google does not discourage [guest posts] in the cases when they inform users, educate another site's audience, or bring awareness to your cause or company."
But guest articles can be bad for SEO. 
Because Google may issue a "Google penalty" (or "manual action") against a site that engages in manipulative linking practices. This can lead to the site ranking lower in search results. Or being omitted from search results altogether.
Manipulative linking practices include (but are not limited to) the following:
"Excessive" guest posting:
"Excessive" guest posting occurs when a brand is trying to get links on as many sites as possible. This leads to a lot of poor-quality content. Which is bad for the web and bad for Google.
One of the main signs of excessive guest posting is having the same (or very similar) guest posts published on multiple sites. Especially if the same company owns those sites.
It will also raise red flags if the content is low-quality—if it's unhelpful, uninteresting, or poorly written.
Or if there are lots of unnatural links to the brand's site. That have obviously been placed for SEO purposes. For example, multiple links to a gym page using the text "best gym in Austin."
Failure to nofollow guest post links:
When you link to your site from a guest post, Google says the link should be set to nofollow (i.e., you instruct Google to ignore the link for SEO purposes). 
You nofollow a link by adding the rel="nofollow" attribute to the link's code. Like so:
<a href="https://www.example.com/" rel="nofollow">Anchor text</a>
Or, if you pay for the guest post, the rel="sponsored" attribute.
<a href="https://www.example.com/" rel="sponsored">Anchor text</a>
The resulting link looks (and works) the same for users. 
But the attribute tells Google to ignore the link for SEO purposes. That it should not count as a "vote of confidence" because it is not impartial.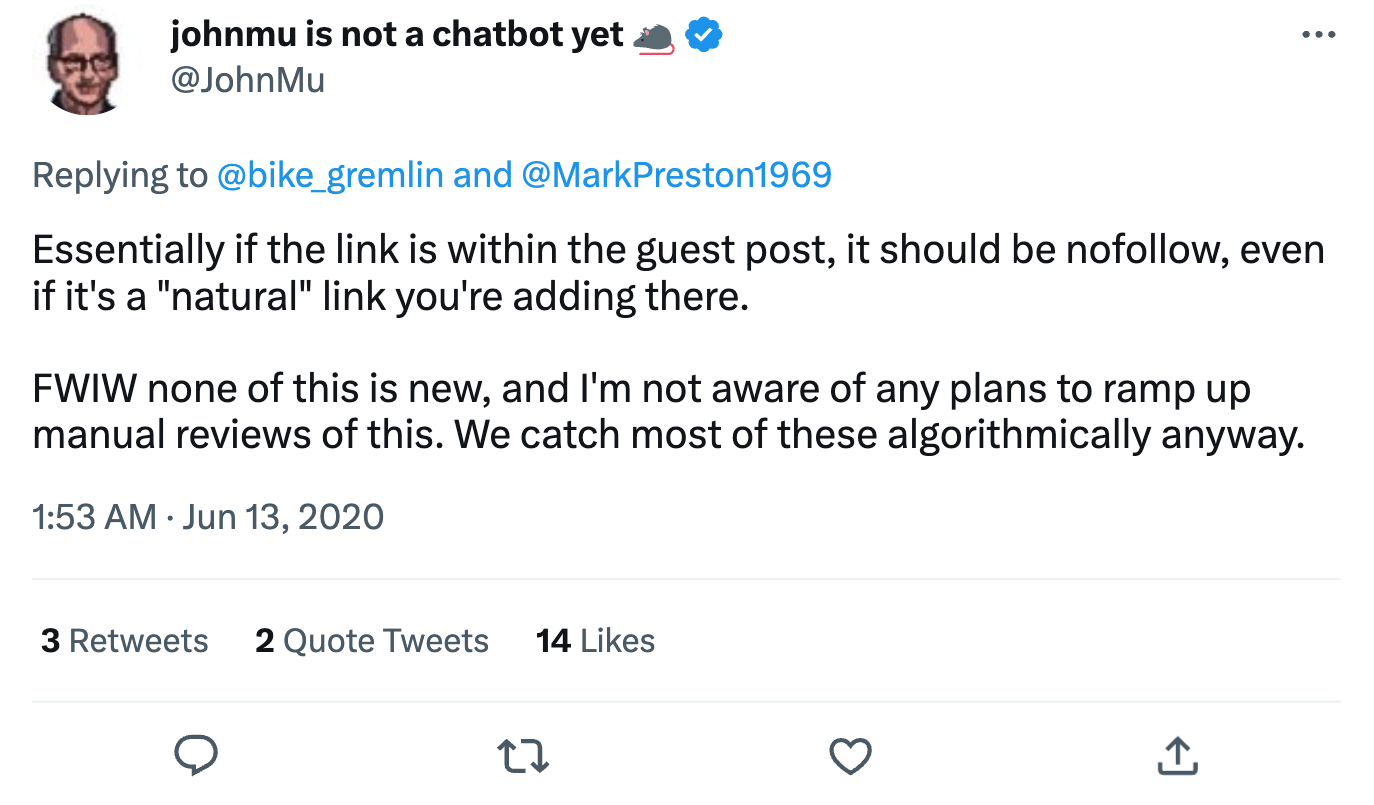 If you do not nofollow your guest post links, Google may be able to tell. And it reserves the right to issue a penalty against your site.
Failure to disclose guest posts:
When you pay for a guest post placement, the host site must be transparent with readers.
All sponsored posts should be clearly labeled.
Like this recipe blog from Half-Baked Harvest: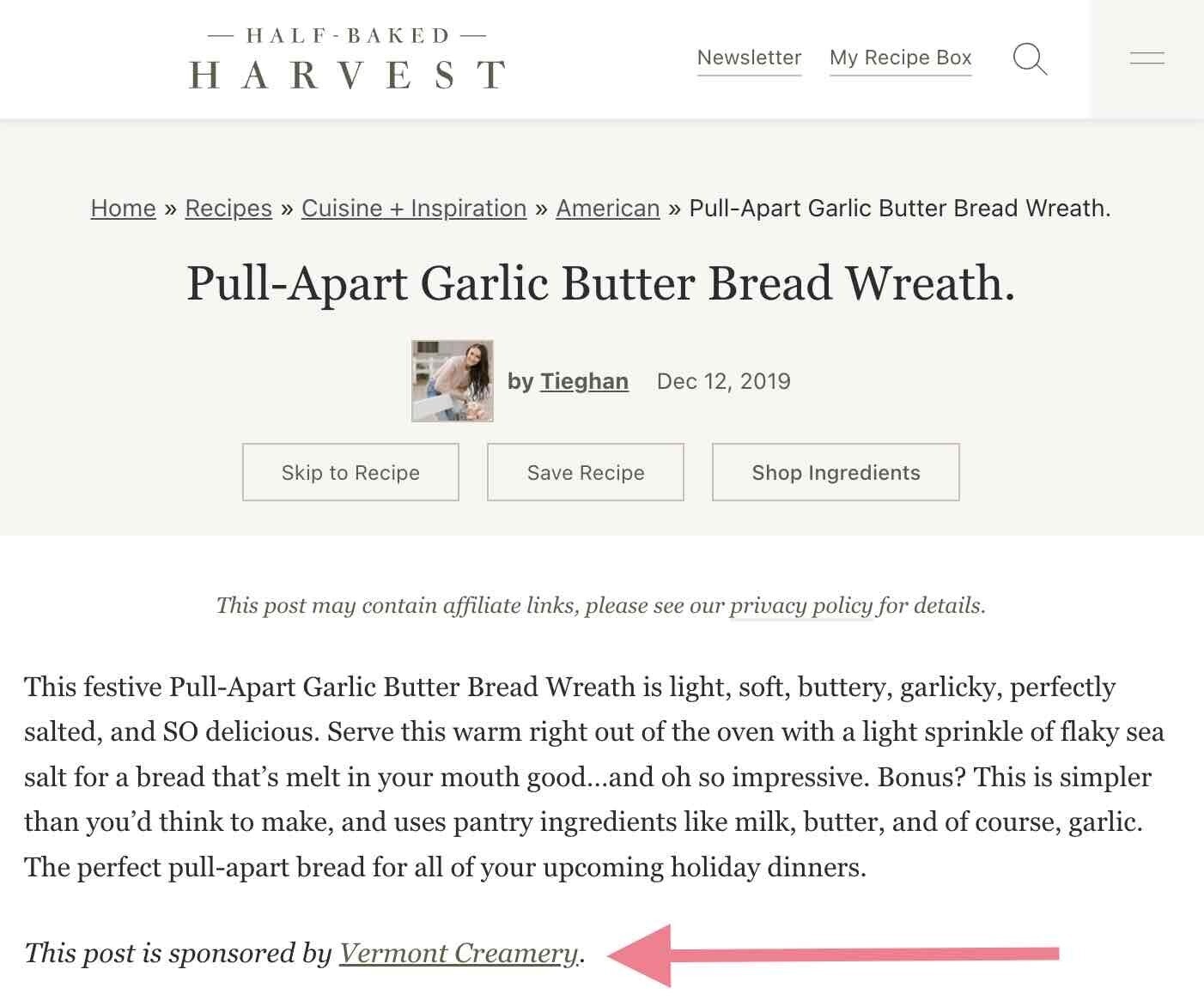 Otherwise, you might violate Google's guidelines.
More importantly, you might violate advertising regulations or other laws. 
In the U.S., for example, the FTC (Federal Trade Commission) states that native advertising (ads that look like normal types of content) must be clearly labeled. The penalty for violating this rule can be up to $43,792 per violation.
Are Guest Posts Good for SEO?
Despite the potential pitfalls, 43.7% of marketers use guest posts for SEO (at least occasionally), according to a recent Twitter poll.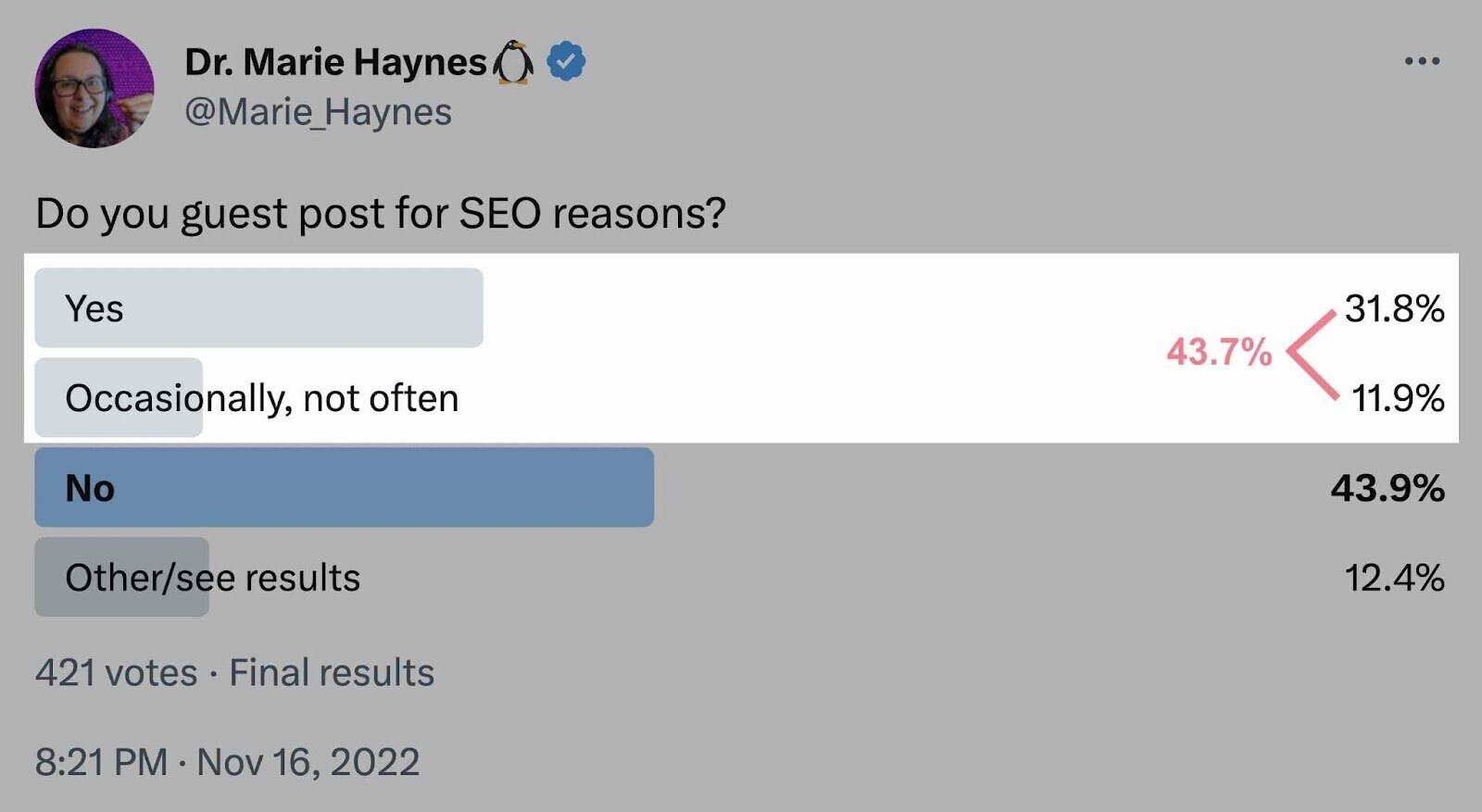 Guest posting can be good for SEO (and your wider marketing strategy) because it helps you build your brand profile. And, by extension, brand awareness.
When you showcase your expertise and partner with respected sites, you can establish credibility with readers, influencers, and Google.
That can lead to more social followers. New partnership opportunities. Higher rankings. And much more.
Plus, any links to your site can generate referral traffic. 
But can guest post links pass SEO value?
Google's John Mueller claims that Google treats guest post links as if they were nofollowed automatically. Whether or not they include the rel="nofollow" or rel="sponsored" attribute.
This would mean that they have no direct SEO value.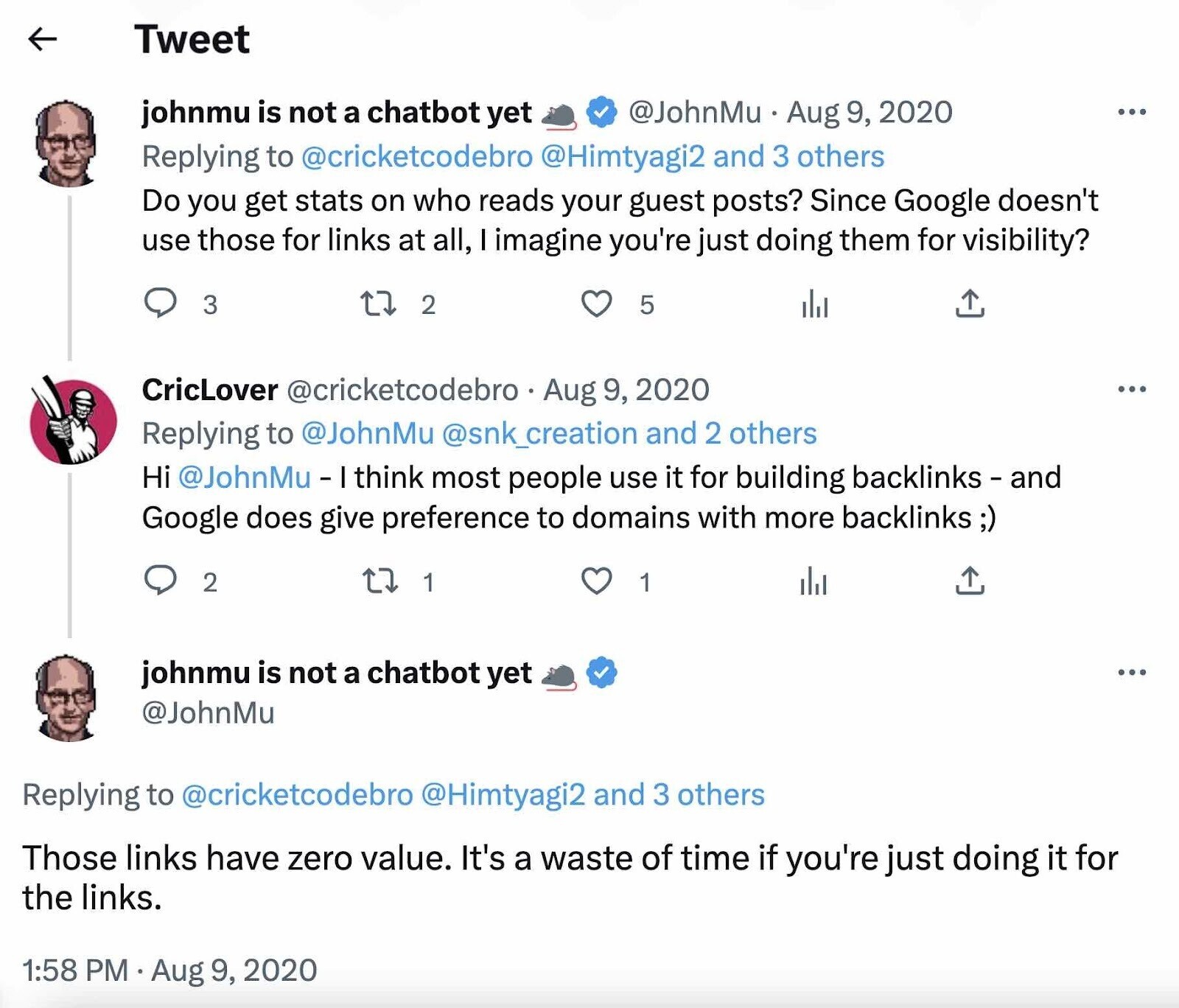 Many marketers suspect this isn't true, of course. 
But if you want to be on the safe side, you should nofollow your guest post links. And avoid raising any other red flags with Google.
How to Start Guest Posting (the Right Way)
Guest posting for SEO in 2023 is about building your brand profile—not links.
And it requires a focus on quality. Not quantity.
Here's the right way to start guest blogging. Step by step:
Step 1: Find Guest Post Prospects
Guest posting on high-quality sites is crucial to the success of any guest blogging efforts. So start by finding guest post prospects—i.e., sites you want to write for.
Before exploring different methods, it's important to know what to look for.
The best guest post prospects check three boxes:
1. They are authoritative.
Only guest blog on authoritative sites—i.e., sites that have earned a reputation for high-quality content.
These sites have high editorial standards. They only publish relevant, error-free articles. And they have an engaged readership that's likely to leave comments on posts and social media.
Do not publish on spammy sites. This can harm your guest blogging SEO.
Spammy sites tend to sell guest post opportunities or links for a fee. They publish low-quality content and have low engagement among readers.
Get a better idea of site quality with Semrush's Authority Score. Generally, the higher the score out of 100, the better the guest posting opportunity.
One way to check a site's Authority Score is through the Backlink Analytics tool. Enter the prospect's domain then click "Analyze." 

Then look at the "Authority Score" section.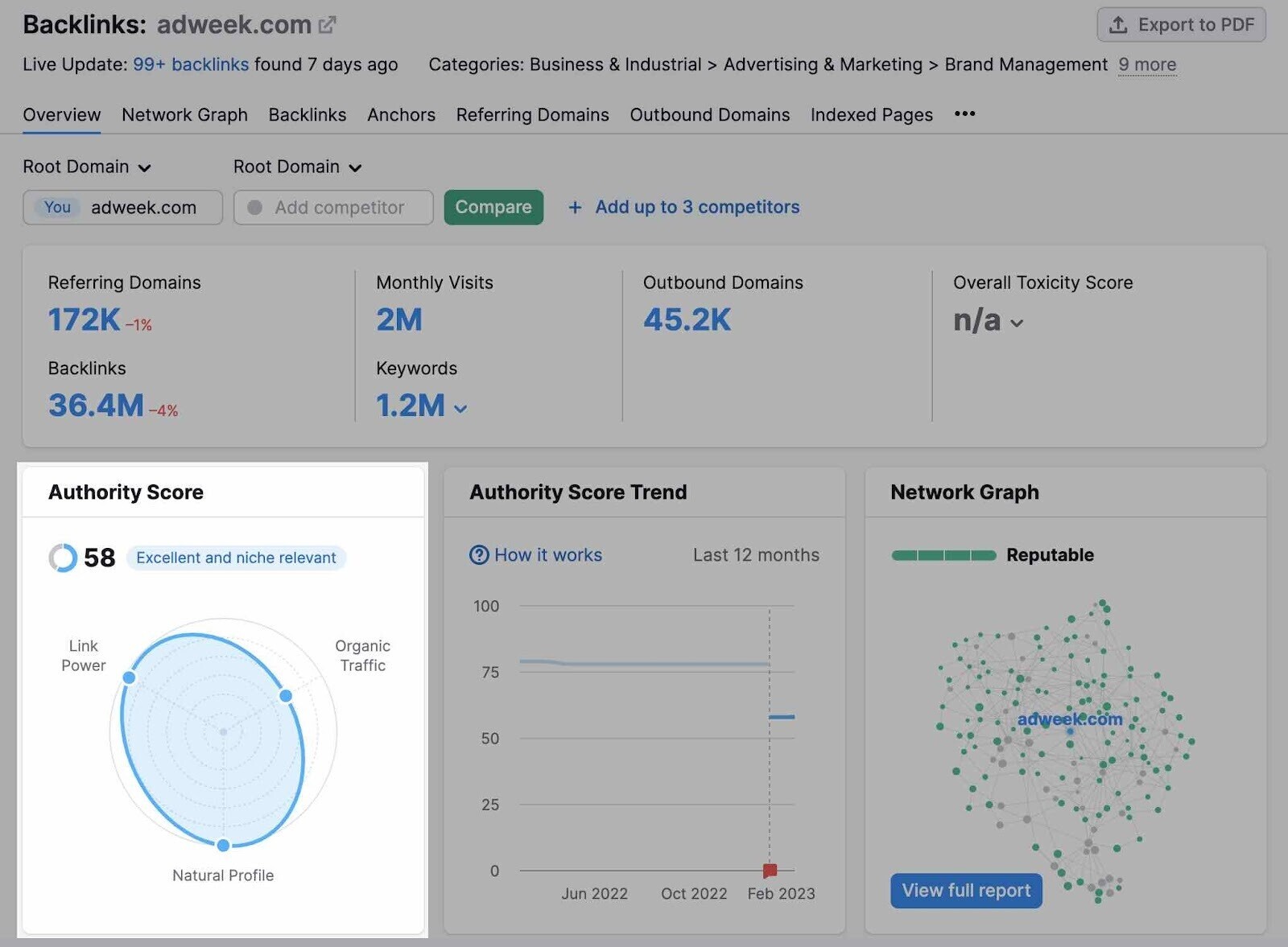 2. Their niche overlaps with yours.
Guest blog posts deliver value when they demonstrate your experience or expertise. And interest the host site's readers. 
That only works if their niche overlaps with yours. Or is directly related to yours in some way.
Let's say you own a gym. Writing for an automotive site could look forced and spammy. And won't do much for your profile. But you could benefit from writing for a health, fitness, or lifestyle blog.
Explore every prospect site to see what type of content they publish. And who they're targeting. Make sure it's a match.
3. They have published guest posts before.
If a site has published guest posts before, it shows they're open to receiving contributions. (Some sites have a "no guest posting" policy. Try a different outreach strategy for these.)
To find out whether a site accepts guest posts, look at the author bios on articles. 
Or see if they have a "Write for us" page (or similar).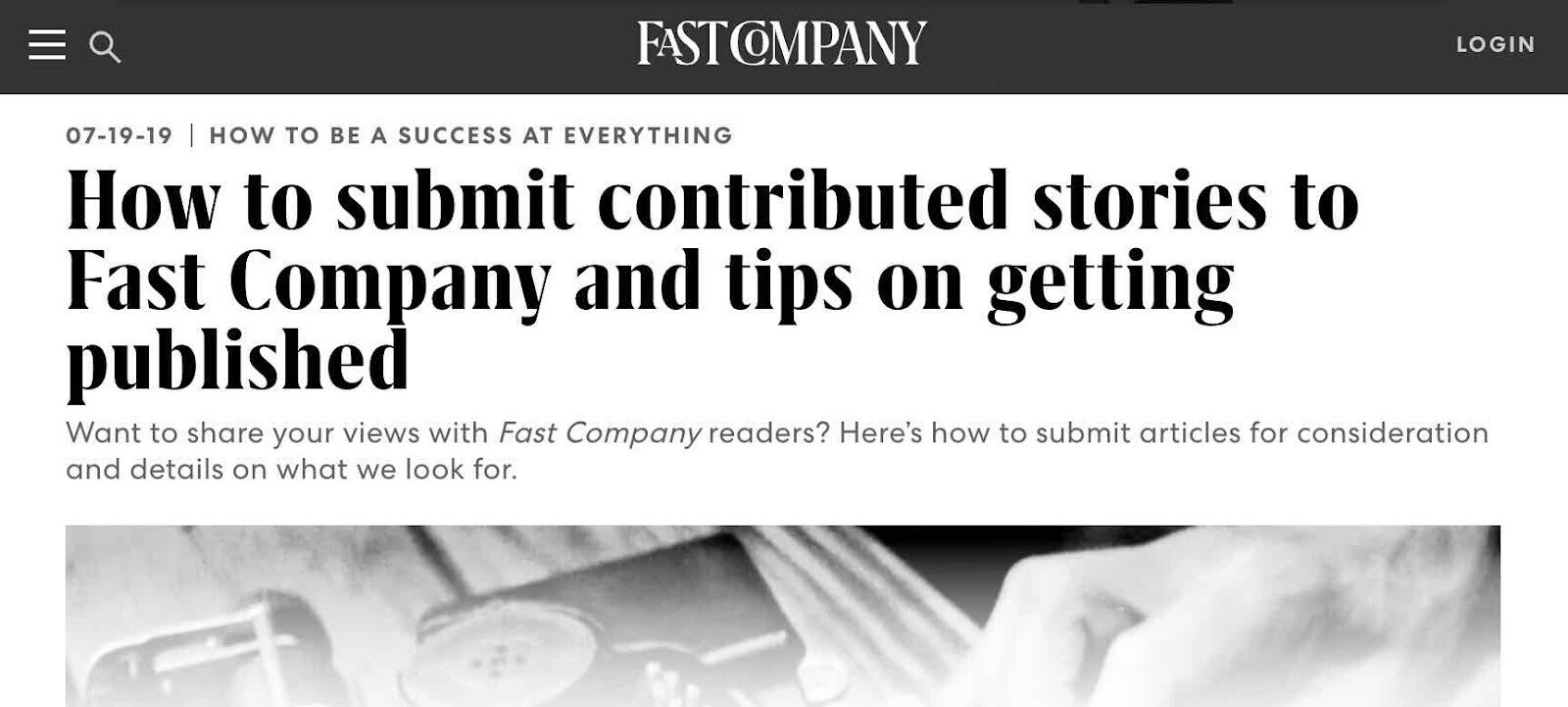 Now that you know what to look for, here are some ways to find guest post prospects:
Use Google Search Operators
Google search operators are special characters and phrases that allow you to make more specifically targeted queries in search engines.
Use the following query to find sites that have referenced common guest posting terms (like "write for us"). Just replace "keyword" with a term that's relevant to your niche.
"guest post" OR "guest column" OR "guest author" OR "become a contributor" OR "write for us" AND keyword
Here's the results page when you use the keyword "fitness":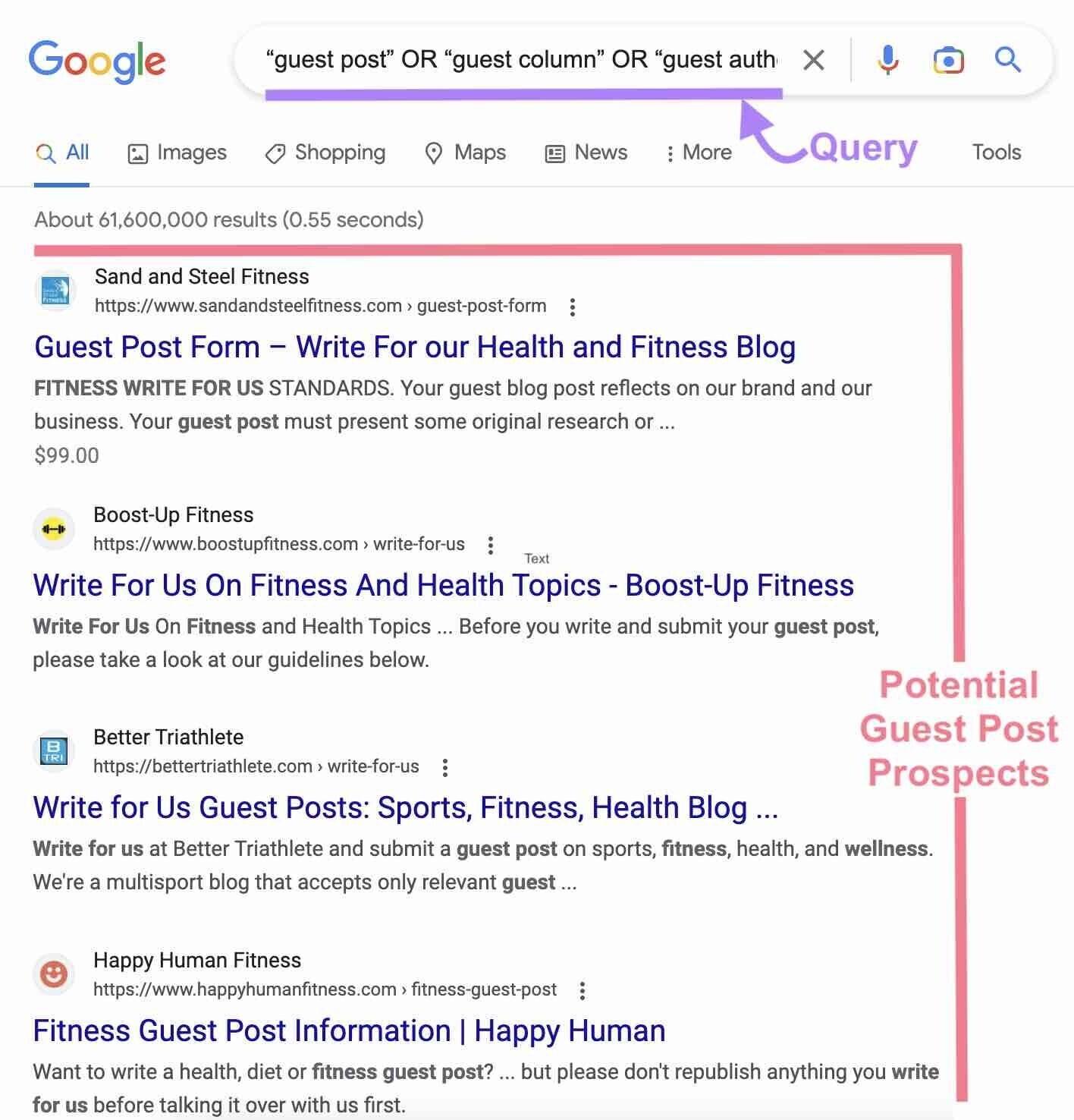 Get Ideas From Influencers
Influencers in your niche are people who have built a profile around their expertise. It's possible that they've guest posted for high-quality sites.
So, investigate relevant influencers to see who they've written for.
Check their social profiles for link shares: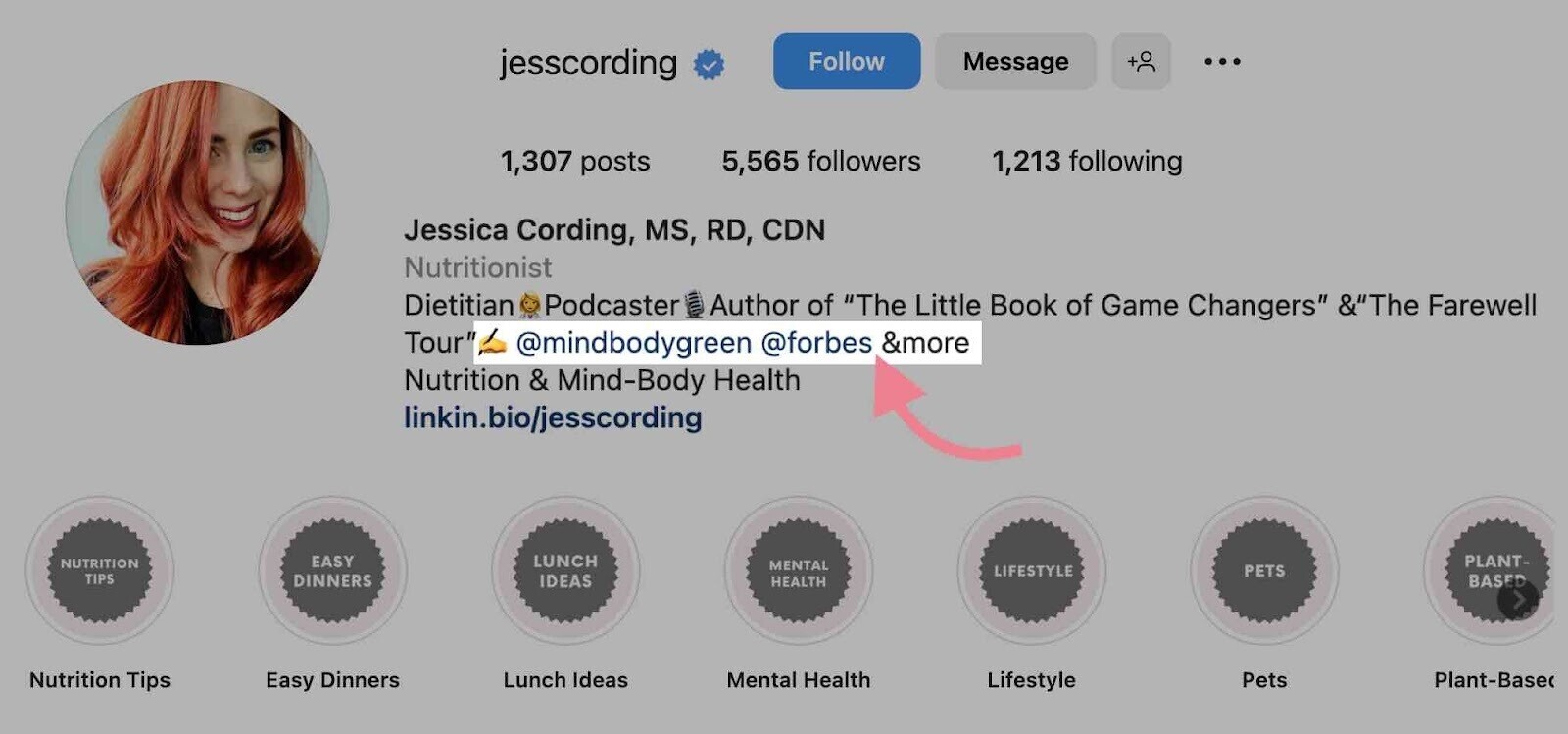 Run a reverse image search for their headshot: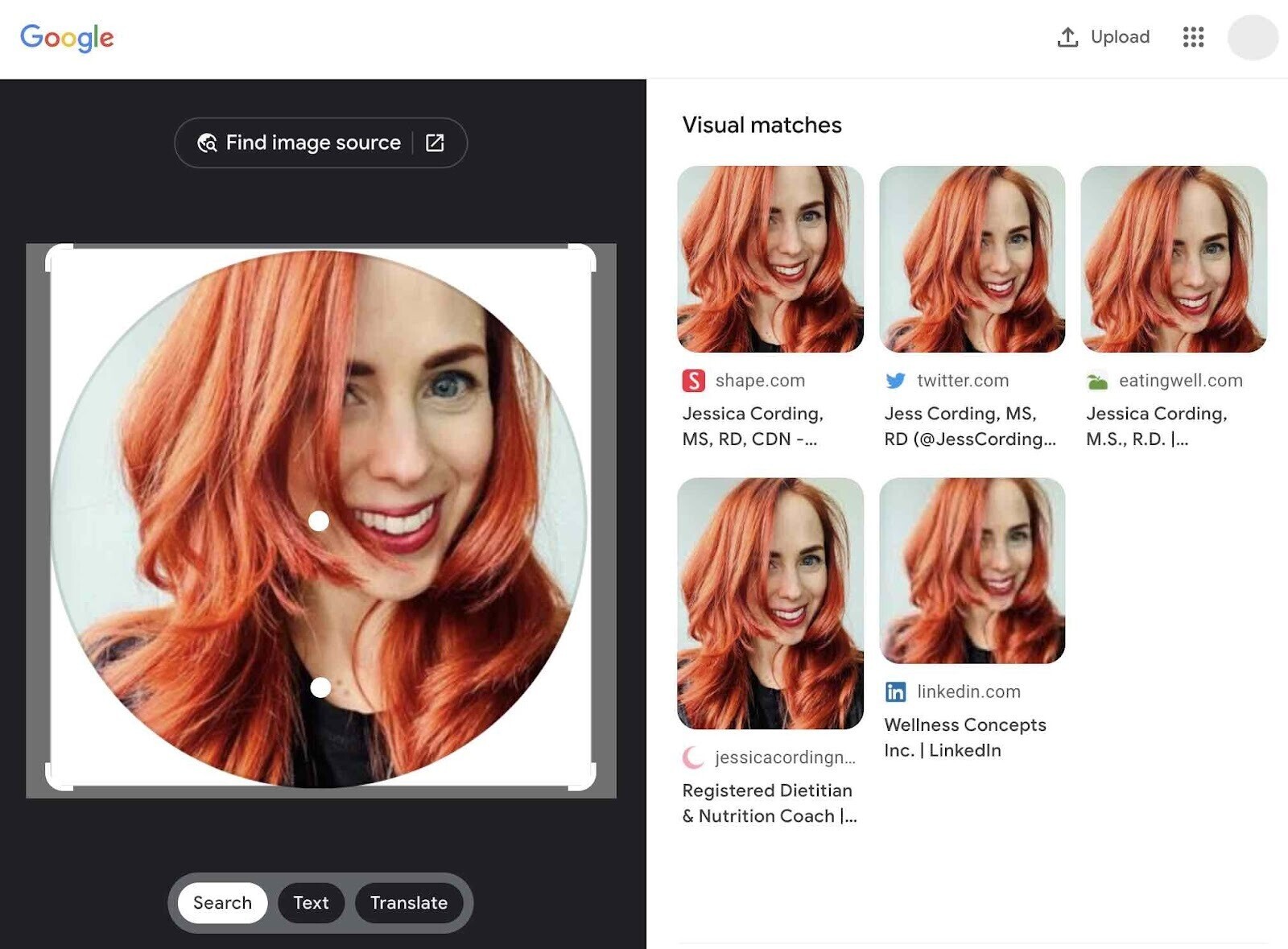 And use Semrush's Backlink Analytics tool to see where they have links. To start, enter their domain and click "Analyze."
Then go to the "Backlinks" section. Open the "Ref. page platform" drop-down and select "Blog" to focus on backlinks from blogs. (Which could be guest blogs.)
Results are ordered by "Page AS" (Authority Score for the specific page, not the entire domain) by default. Use the external link icon to view the source page and learn more about the prospect. 

Use Semrush's Link Building Tool
Semrush's Link Building Tool finds link building prospects based on your competitors and target keywords (Google search queries you want to rank for).
To get started, enter your domain. Then click "Start Link Building."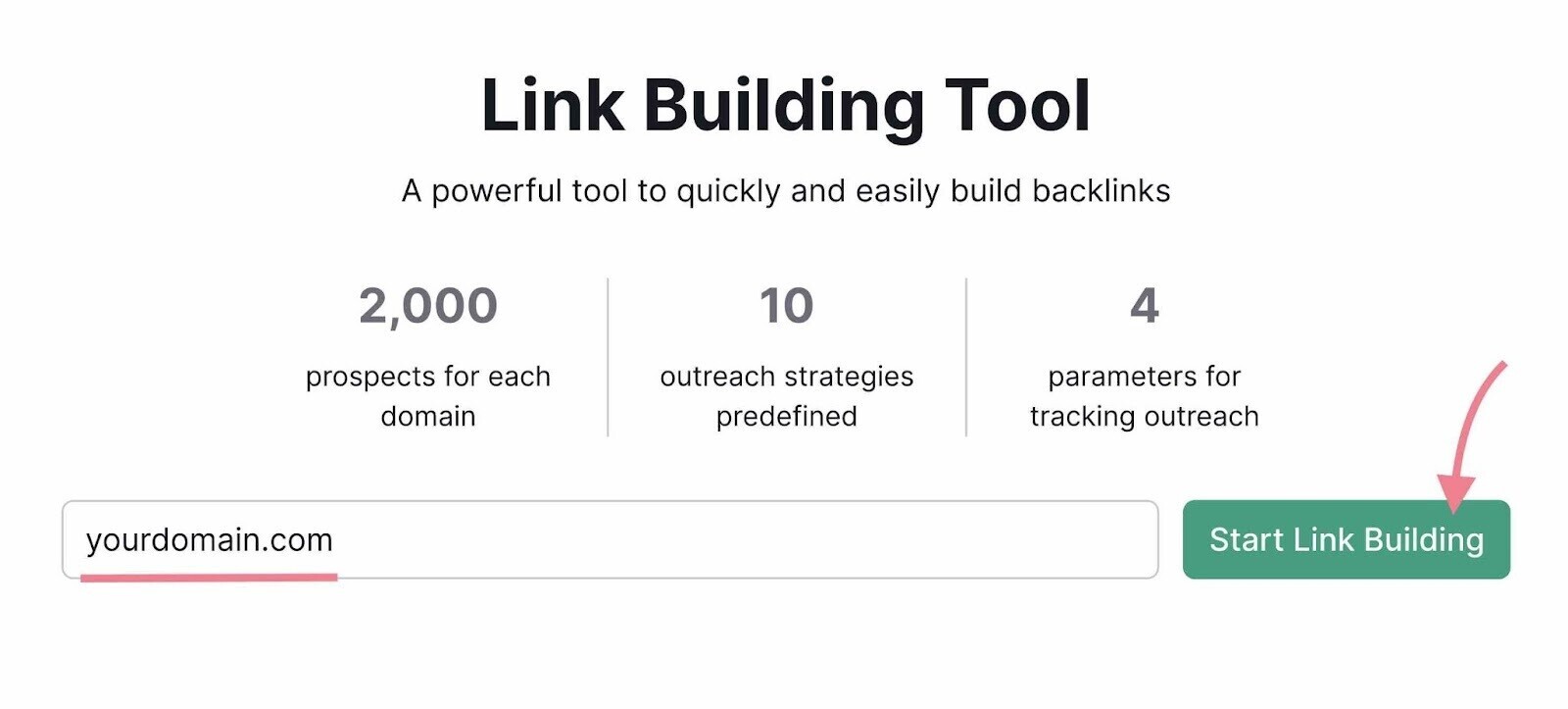 You'll see the page below. 
Use the keywords suggested. Or add your own using the text box and "Add" button. (Our keyword research guide will help you.)
Once you're happy with the list, click "Competitors."
Next, use the suggested competitor domains. Or add your own using the text box and "Add" button.
Then click "Start Link Building."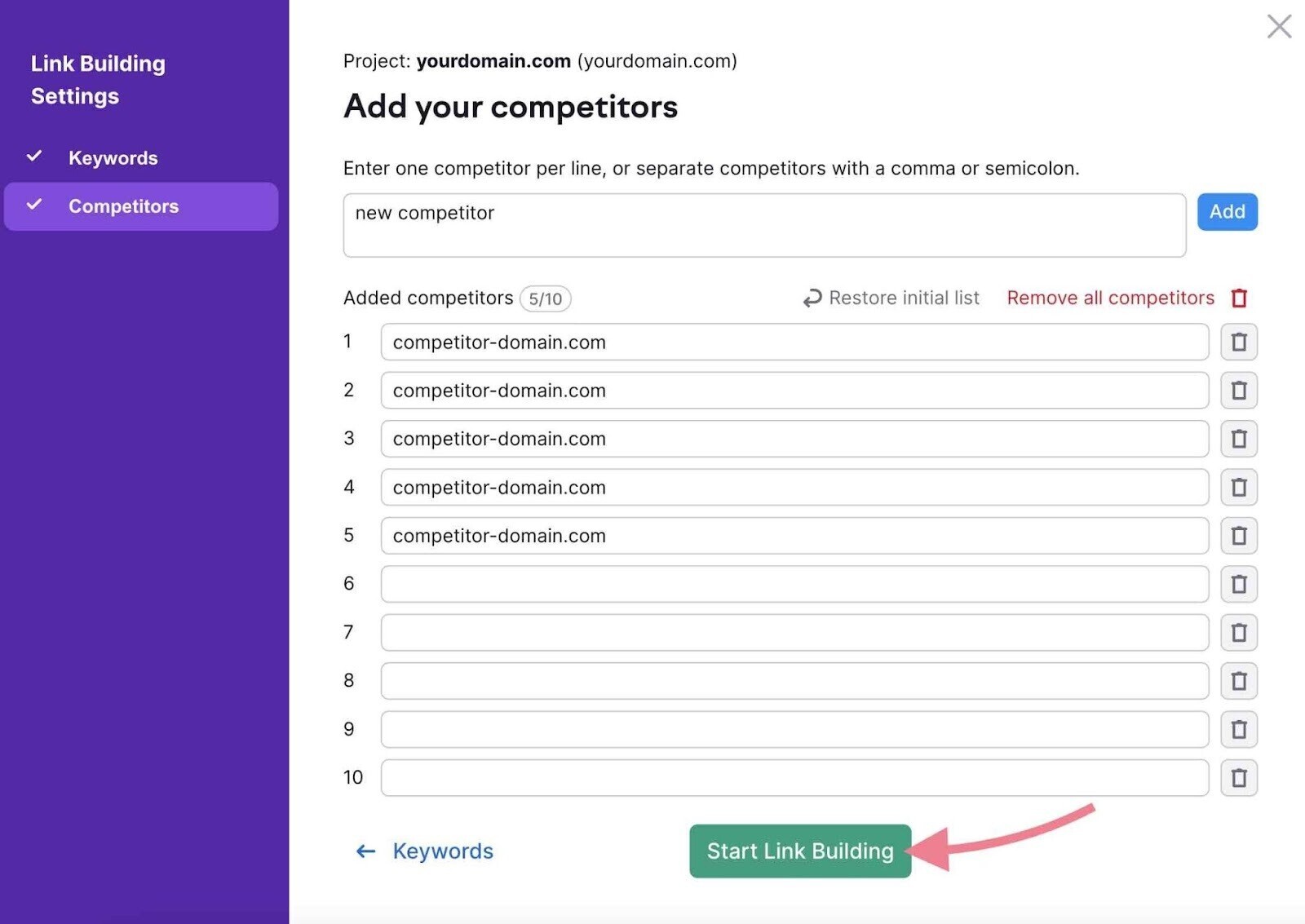 Go to the "Prospects" tab to see all the prospects the tool has found. 
To narrow it down to potential guest blog prospects, go to "Advanced filters" then "URL Type" and select "Blog."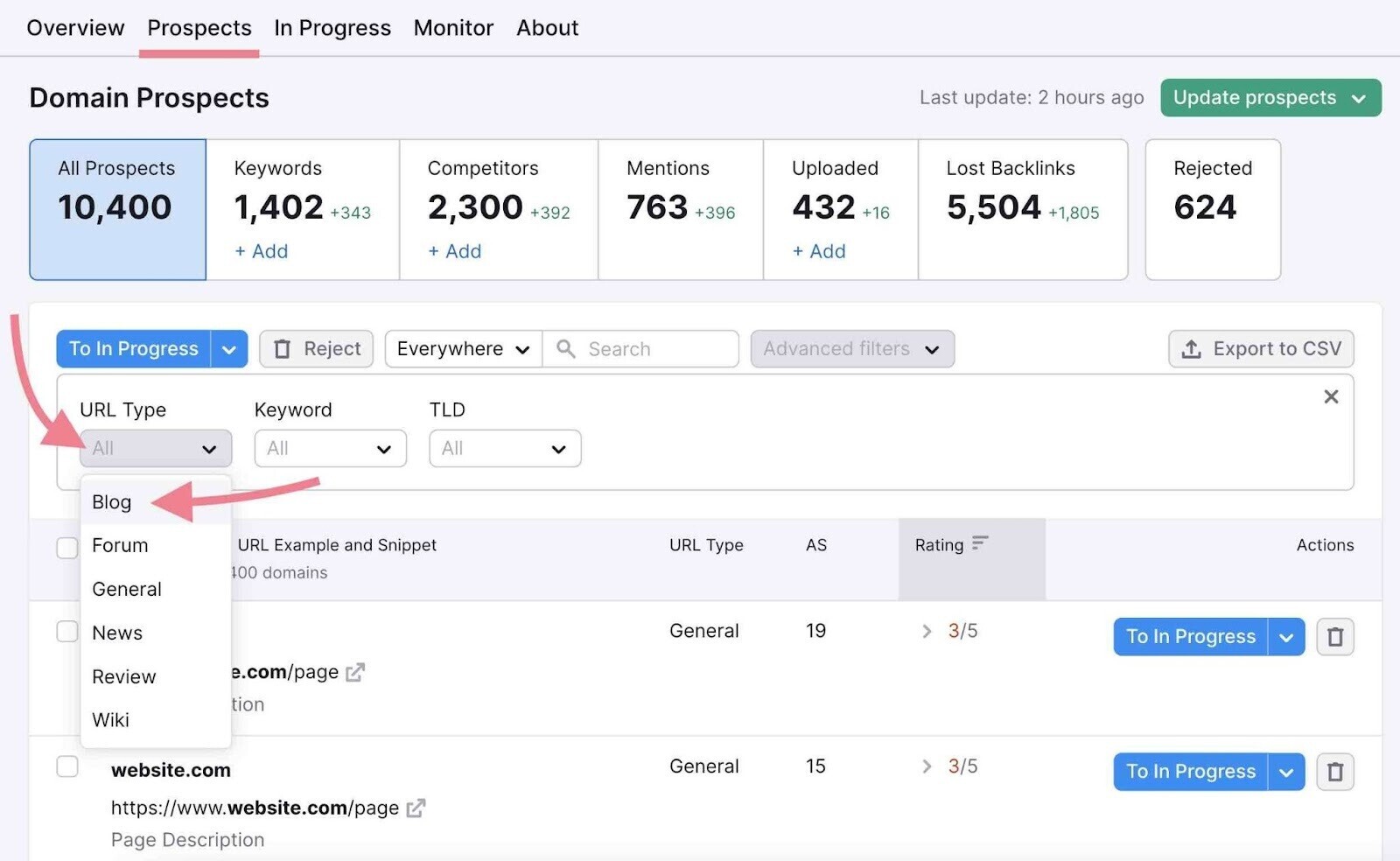 The "AS" column shows the site's Authority Score. Use the external link icon to open a URL and explore the site for yourself.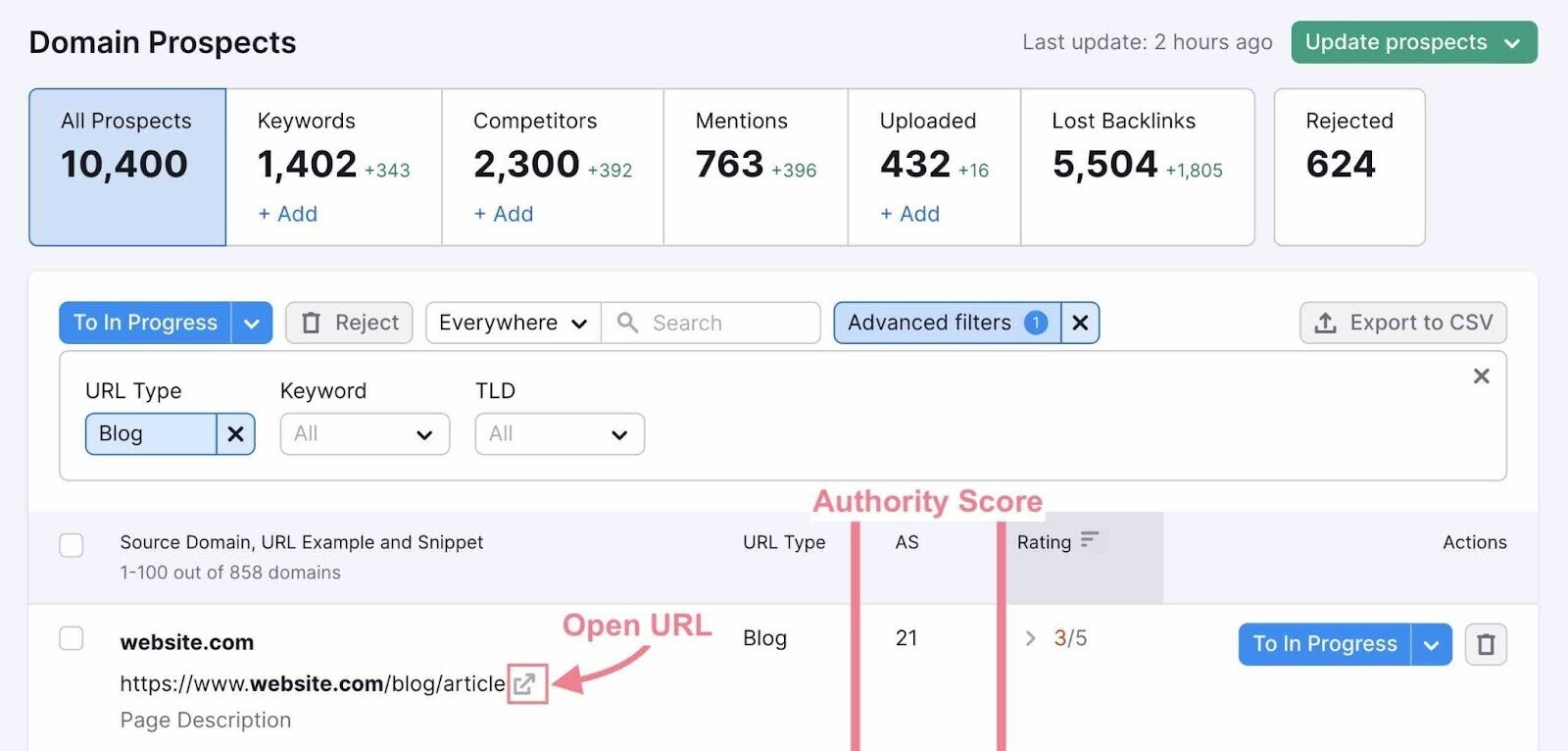 Ready to proceed with a guest post prospect? Select the arrow alongside "To In Progress." Then pick "Guest post" as the outreach strategy.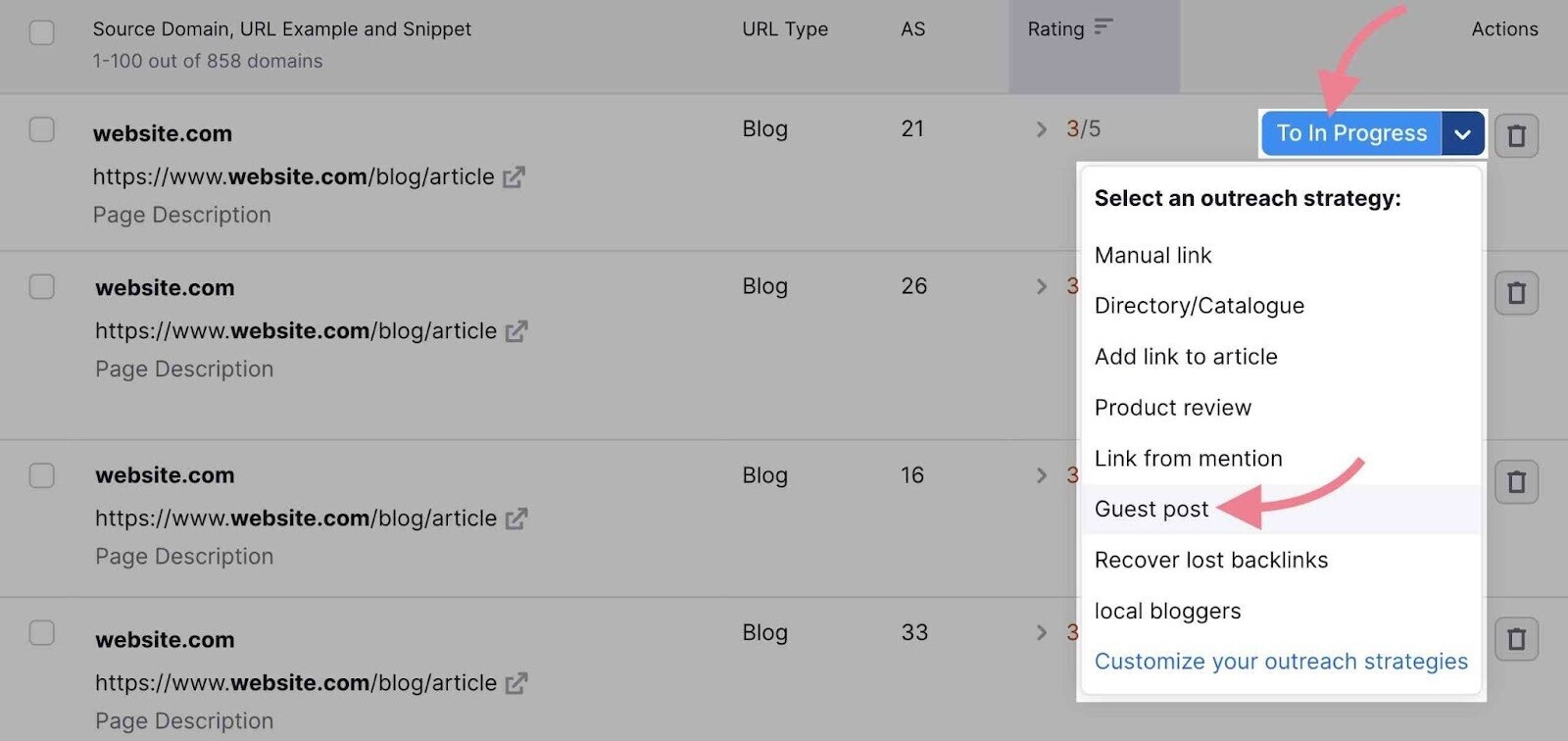 View your shortlisted prospects any time in the "In Progress" tab.
Step 2: Develop Guest Post Ideas
The next step is coming up with a unique guest post idea for each prospect. This increases the chance of people accepting your proposals. And reduces the risk of publishing near-duplicate guest posts (which can look spammy).
The best guest blog post ideas provide a unique perspective. If you offer insights and stories that no one else can share, sites may be more likely to want your contribution. 
So, brainstorm the unique opinions, experiences, and insights you have. 
You need to pitch a topic that:
Is relevant to your brand (but not about your brand)
Is interesting to the site's target audience
Hasn't been covered on the site before
And you need a hook. Proof that your topic will grab their audience's attention.
Let's say you're a spokesperson for a gym looking to write for a fitness blog.
Everyone on TikTok is talking about the "12-3-30" treadmill workout. But your prospect hasn't covered it. You can take advantage of the trend and showcase your expertise by offering a guest post on the subject.
Here are three ways to generate guest blog ideas and hooks for your brand:
Analyze the Target Site
Read the site's submission guidelines if they have them. 
Read a few articles, too. Get a feel for the topics they cover and how they speak to their readers.
And check the number of shares and comments (if available) to see which posts engage readers best.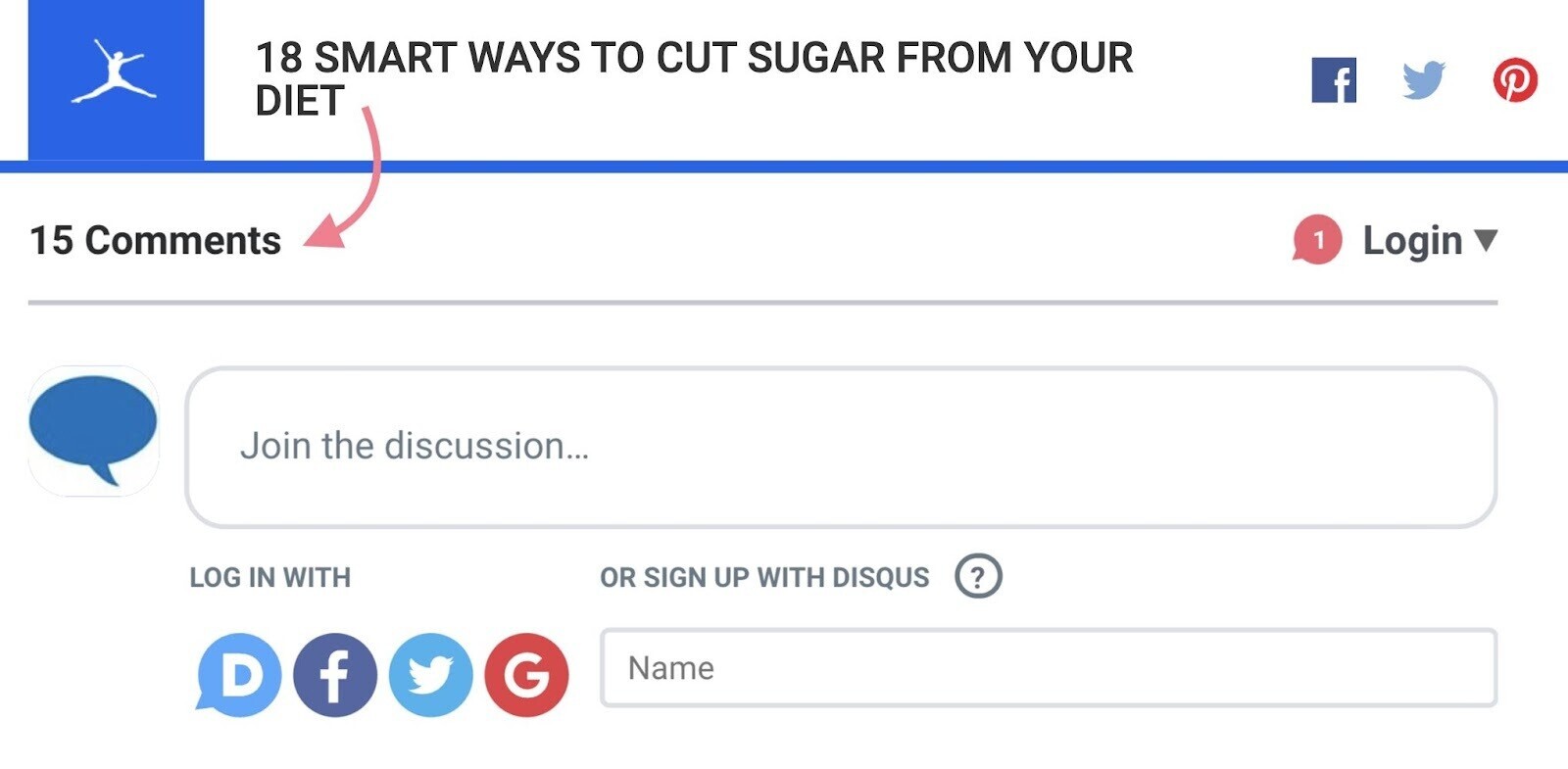 Or find a site's top pages in Semrush's Organic Research tool. 
Enter their blog subfolder (e.g., "example.com/blog") if they have one. (This way, you'll only see data for articles). If not, enter their domain (e.g., "example.com"). 
Then choose the country and click "Search."

The "Pages" tab sorts URLs according to estimated Google traffic. From highest to lowest.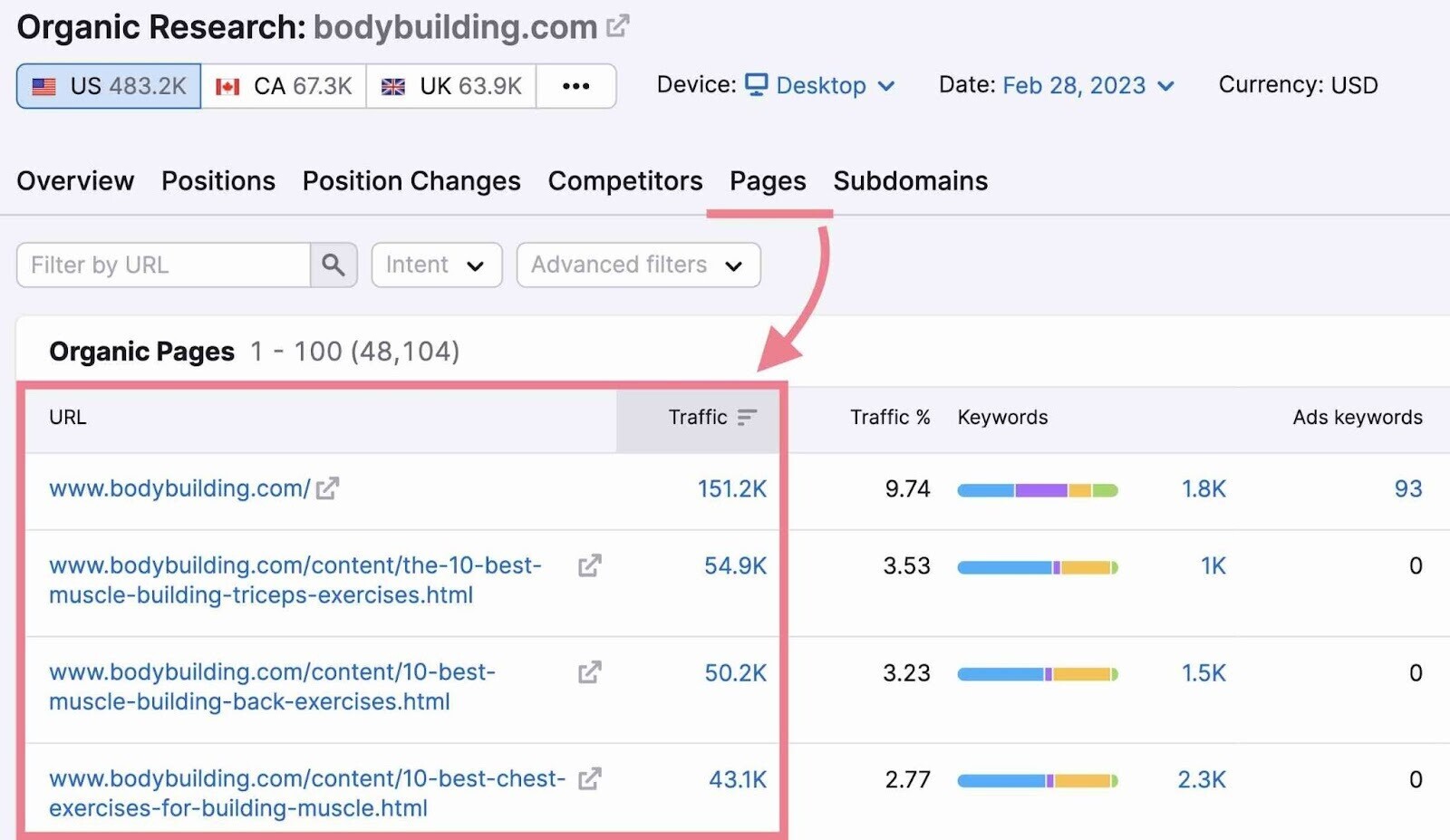 Here, one of the top-performing articles is about tricep exercises.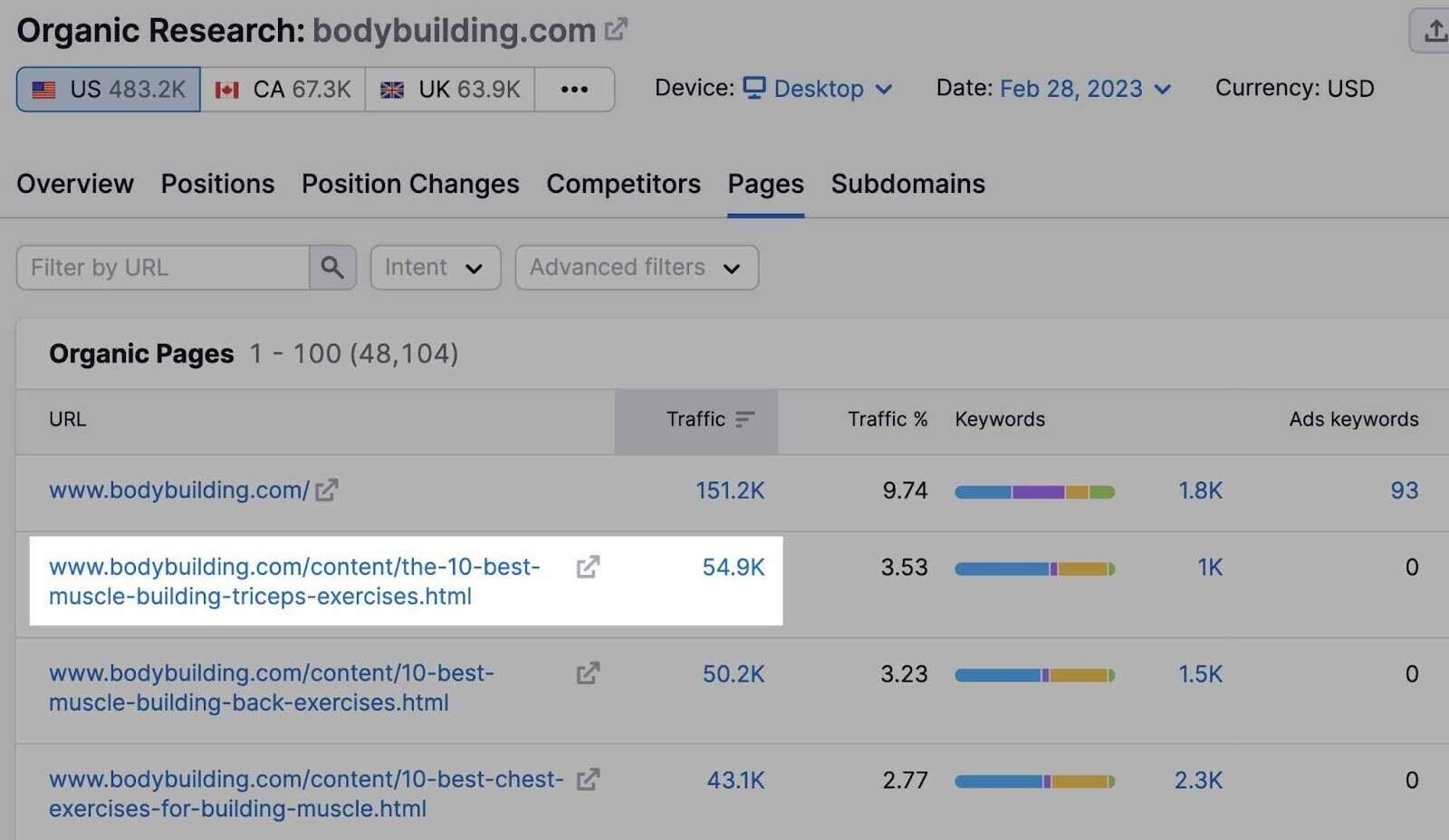 The post's success makes a great hook for a related topic, like "How to Build Triceps with Reverse Pushups."
Whatever metrics you choose, look for top-performing posts on your prospect's site. And use them to generate (and justify) guest post ideas.
Find Popular Topics
News stories and trends make great hooks. Because readers want the latest information.
Keeping an eye on industry news and social media trends will come in handy here. As will knowledge of upcoming events in your industry.
If you haven't already, subscribe to newsletters, social media feeds, and blogs in your niche. That way, you can identify trends early and capitalize on guest posting opportunities.
Alternatively, find topical guest post ideas with Semrush's Topic Research tool. Just enter a keyword to base your search around, choose your country, then click "Get content ideas."

Switch the toggle to enable "Trending subtopics first." And look out for ideas with the flame icon.
Then click "Show more" to view any subtopic in more detail.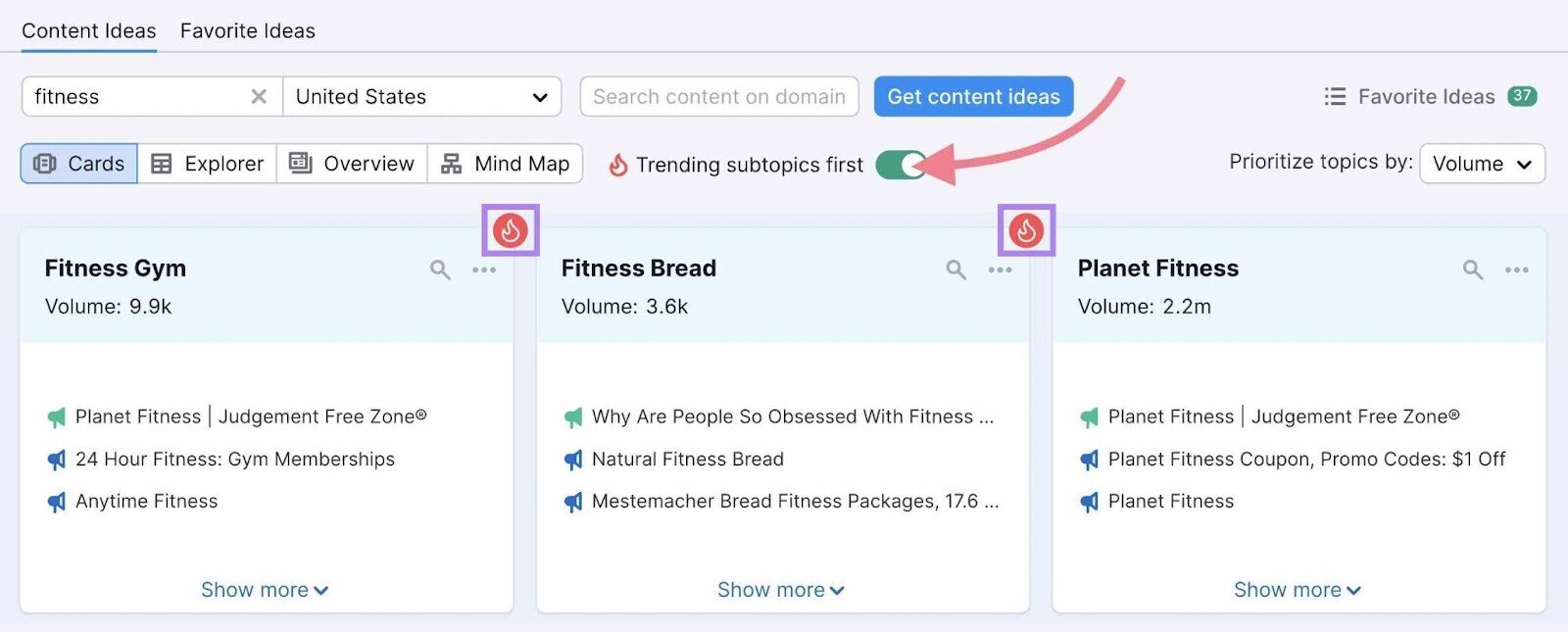 These headlines, questions, and other data could help you craft an awesome guest post idea around the topic of "fitness bread."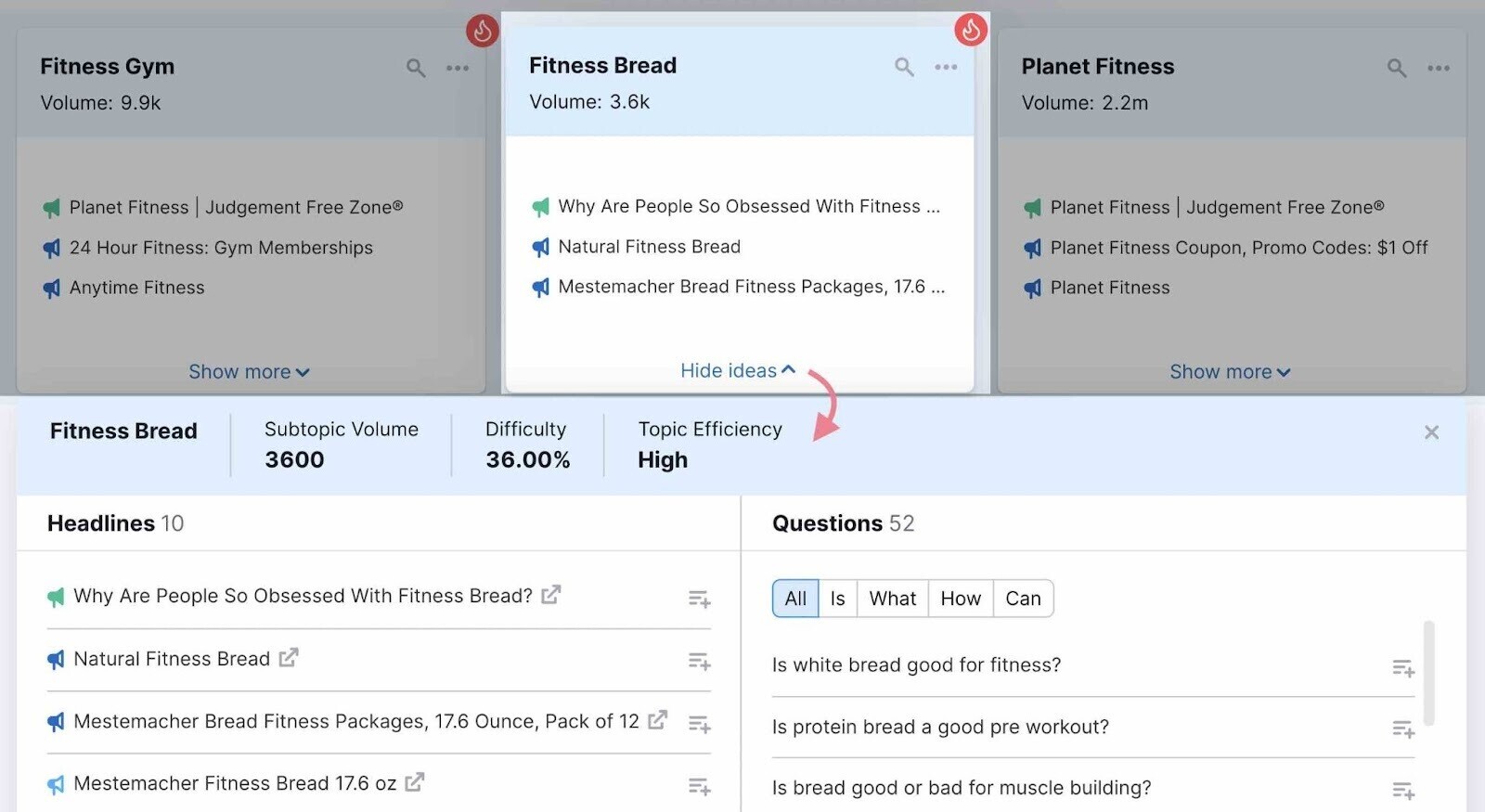 Another option is Google Trends. It shows you what's trending in Google Search.
To start, enter a term relevant to your expertise (e.g., "fitness"). And choose a result from the list.
Then choose your location and time range. The "Past 30 days" is a good place to start.

Now, scroll down to the "Related topics" and "Related queries" sections.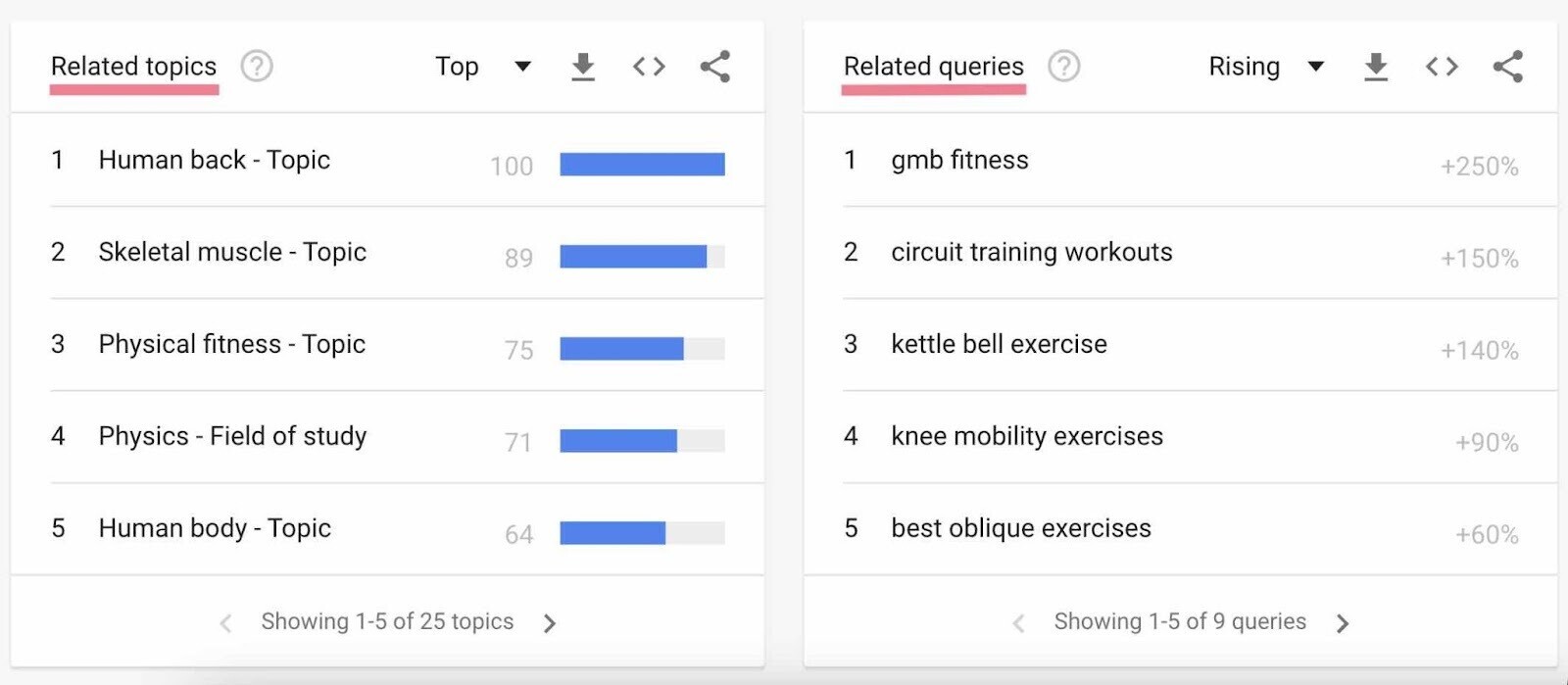 And explore "Rising" and "Top" results in each.
The percentage shows how much search interest increased over the given time frame. ("Breakout" means that search interest grew more than 5,000%.)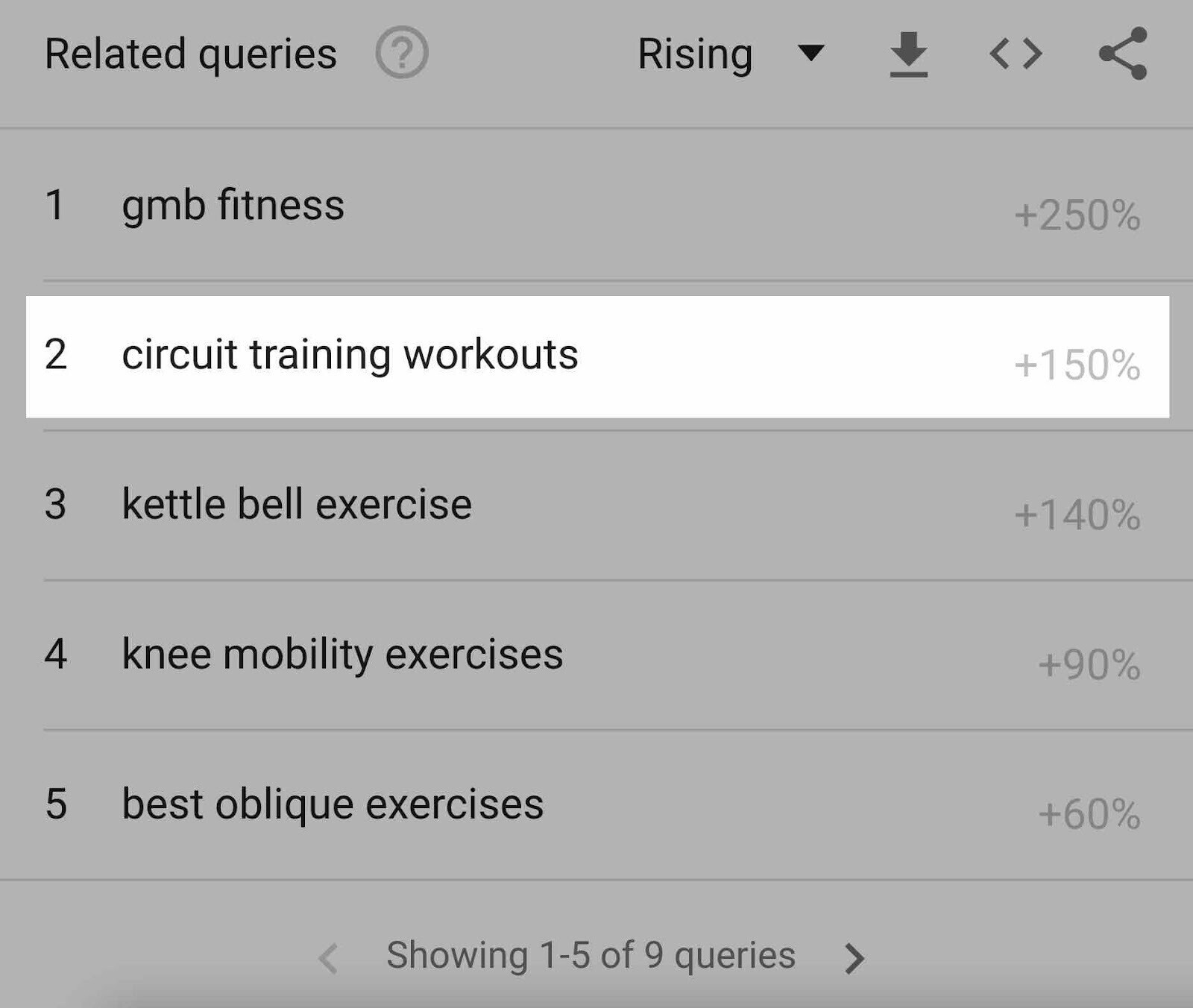 In this example, we could pitch a topic relating to "circuit training workouts." And explain that the topic has increased in popularity by 150% over the past 30 days.
Tip: Check out our guide to learn more about Google Trends and how it works.
Perform Keyword Research
Keyword research tells you what terms people search for in Google. And how often. So you can prove there's demand for your guest post topic.
Go to Semrush's Keyword Magic Tool and enter a search term related to your niche or idea (e.g., "triceps").
The results are variations of the keyword you entered. The "Volume" column shows the average number of monthly searches (i.e., the search volume).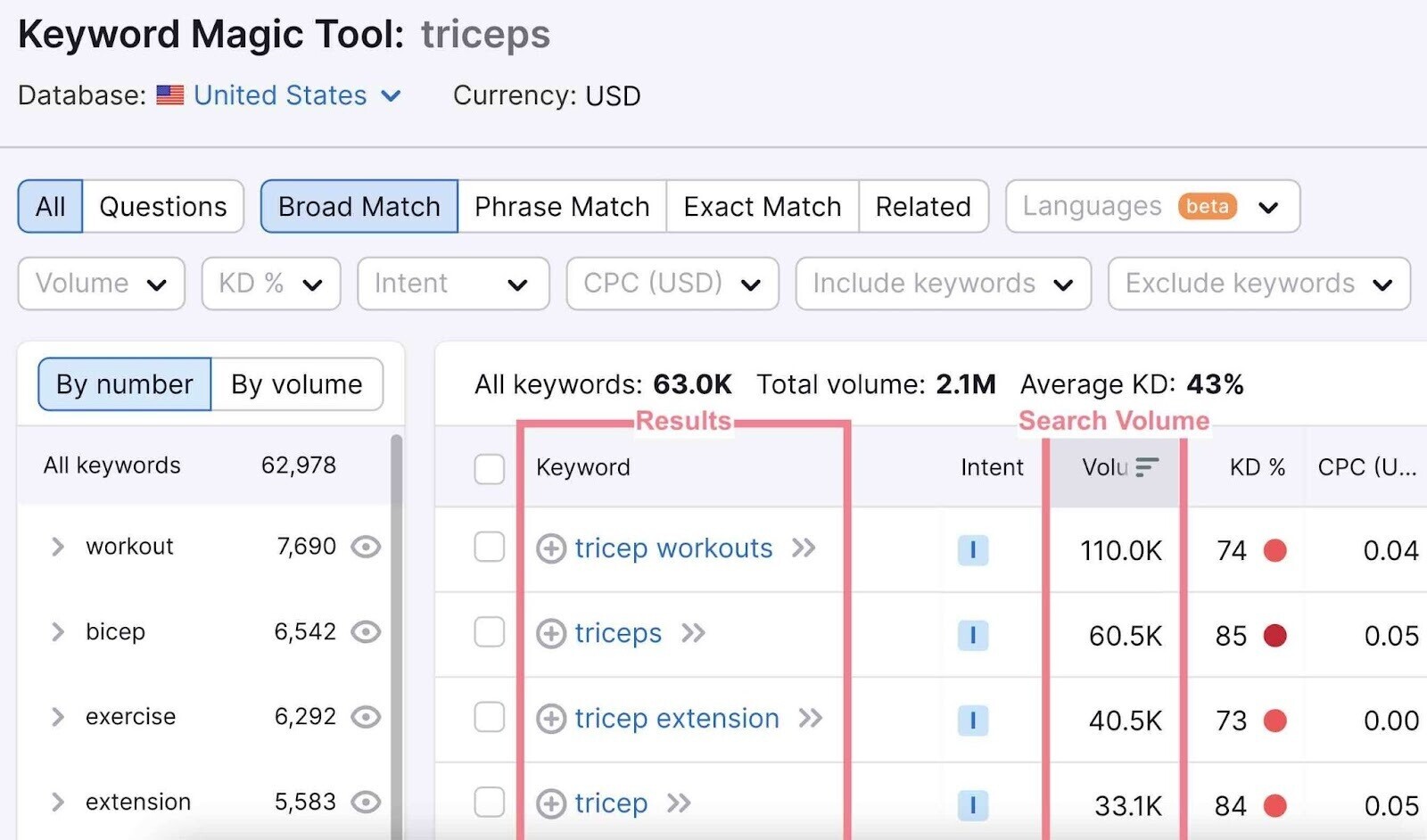 Keywords people use to find information (as opposed to products, services, or specific pages) are often best for guest post ideas. So go to the "Intent" filter and select "Informational."
Side note: If you want to learn more about search intent, check out our guide.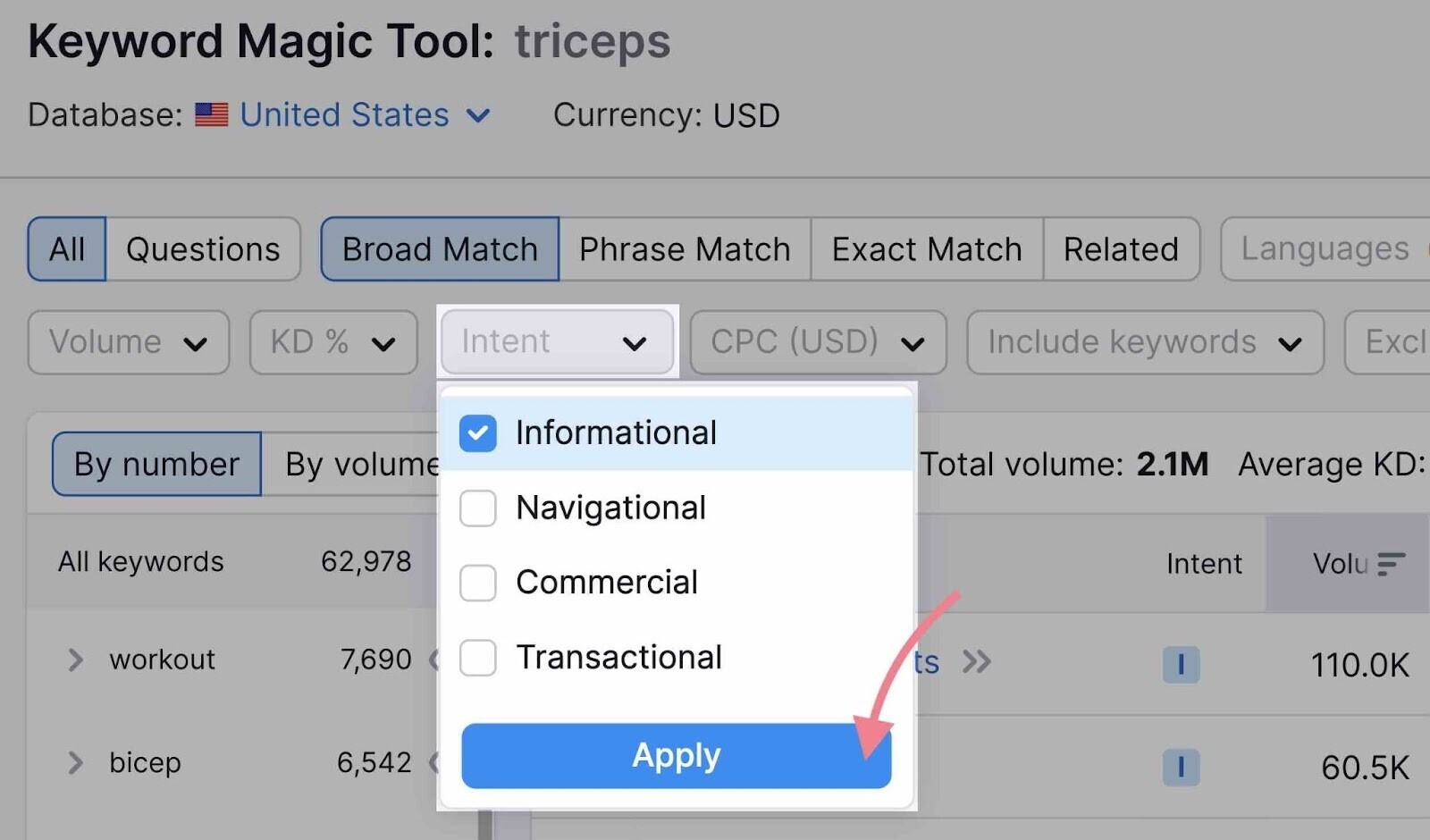 From these results, you might pitch a guest post on "tricep exercises with dumbbells." And let your prospect know that this term alone gets 9,900 Google searches per month on average.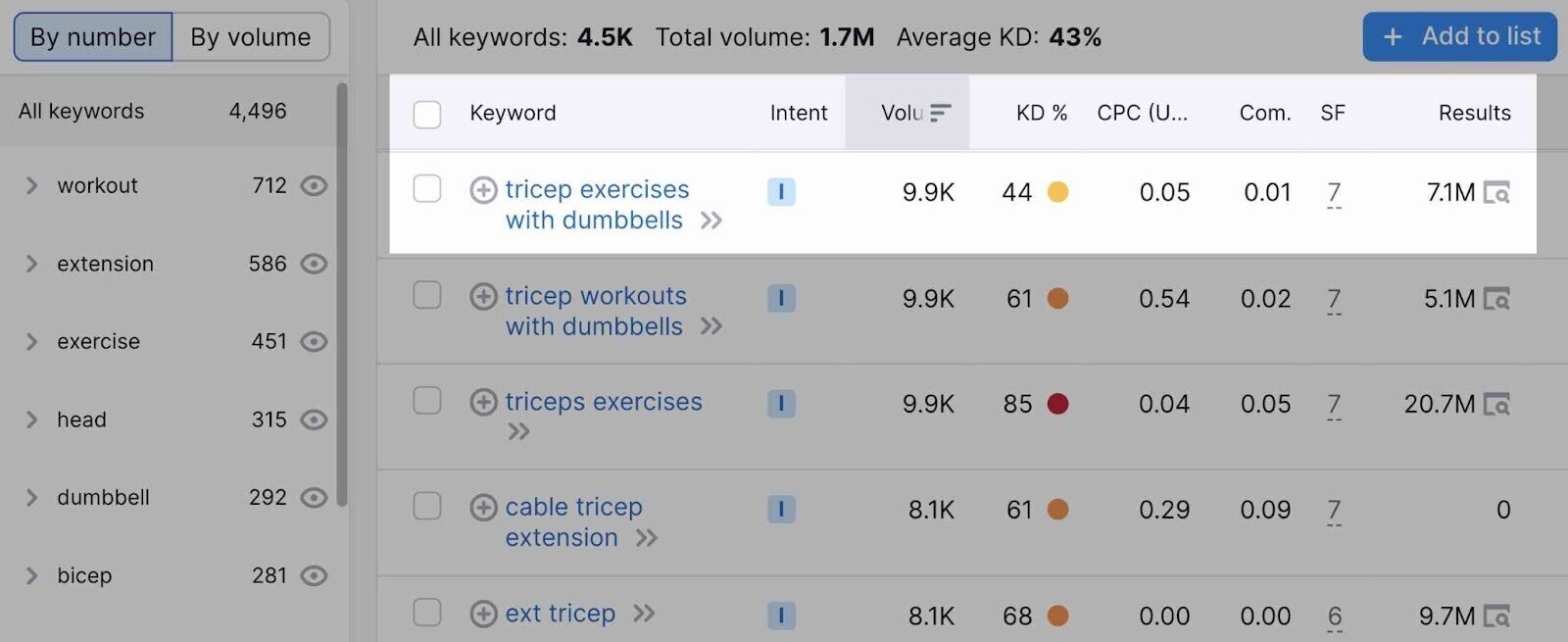 Step 3: Pitch Your Guest Post
The next step is pitching your guest post idea. In other words, contacting site owners and encouraging them to collaborate with you.
Many blogs have a dedicated email address for article pitches, like editorial@example.com. Which you can usually find on their "Write for Us" or "Contact Us" page.
But it can be better to contact a decision-maker directly. It helps you grab their attention and build rapport.
Semrush's Link Building Tool finds contacts for you. Click the "Contact" button to see the suggested email address. 

Alternatively, explore the site to find the blog owner. Or a relevant writer or editor.
If their author page doesn't include an email address, try their social profiles.
Or use a service like Prowly to find it.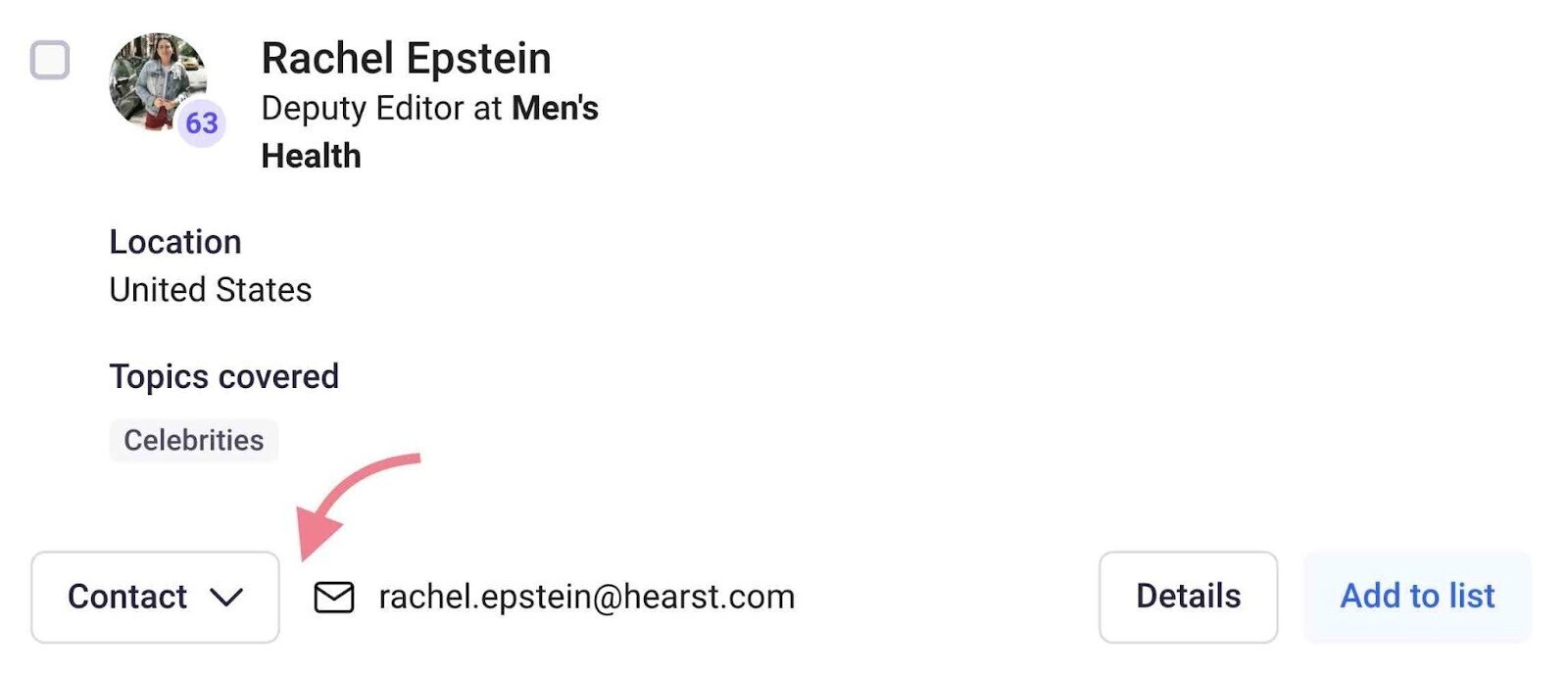 Found the right email address? You're ready to write your personalized email pitch. It needs to cover the following:
Idea: What you want to write
Hook: Why their readers will want to read it
Credentials: Why you should be the one to write it
Use an attention-grabbing subject line and keep your message brief. Recipients don't want to waste time reading unnecessary details.
Here's an example to inspire you: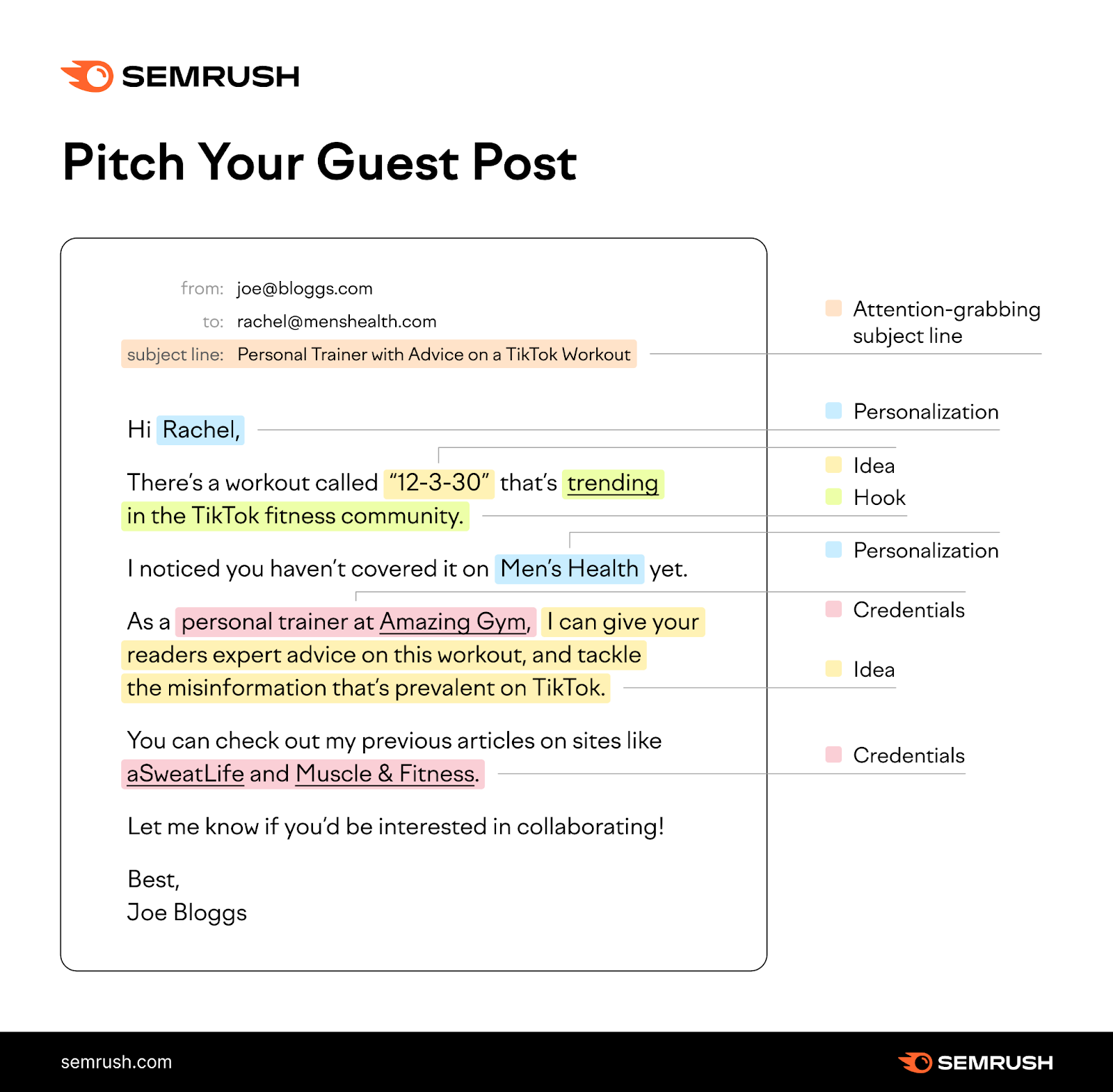 Tip: Check out our cold emailing guide (with templates) for more guidance.
Now, you're ready to send your guest post pitch. (If you're using the Link Building Tool, connect your mailbox and send it there. So you can keep track of everything easily.)
Try sending the pitch first thing on a weekday morning. So it's at the top of the recipient's inbox when they start work.
Then keep track of events and take action accordingly.
If your email delivery fails, try another email address
If you get an out-of-office response, give the recipient more time to respond, or try another contact
If the recipient doesn't open your email within a few working days, follow up with a more attention-grabbing subject line
If the recipient doesn't reply within a working day of opening your email, follow up with a polite reminder
If the recipient replies, respond quickly and thoughtfully
Side note: Despite your best efforts, your emails won't be relevant to every recipient. Always use your judgment before contacting someone. You don't want people to report your emails as spam.
Owners of high-quality sites want to make sure your proposed content will be a great fit for their audience. So be prepared to discuss and negotiate your idea.
When you get the green light, you're ready to write.
Step 4: Write Your Guest Post
If the site you partnered with has provided guest post guidelines, read them. Read some of their recent articles, too. This will help you adapt to their style. 
Look at elements like:
Word count: How long should your article be?
Images: How many images should you include? And what kinds?
Headings: What types of headings do they use?
Tone of voice: How do they speak to their readers?
Then you can write a unique article that their readers will love.
Here are some top tips for guest blog writing:
Use a tool like Hemingway App to ensure your writing is free of errors
Break up your text with images, paragraphs, and subheadings
Use sites like Unsplash to find royalty-free photos, or create graphics in a tool like Canva
Help the host site by including links to other pages on their site (where relevant)
Only mention your brand if it's necessary (e.g., you're referring to some research you conducted)
If you include a link to your brand, stay on Google's good side by asking the host site to add a nofollow attribute
Don't forget to supply an author bio that outlines your credentials and mentions your brand. You may need to provide social links and a headshot, too.
Tip: Use the same headshot across your author and social media profiles to help readers recognize you.
If you want your guest post to rank well in Google, use Semrush's SEO Content Template tool. 
Enter up to three keywords you want to rank for, choose your country and device, then click "Create content template."

It gives you content and SEO suggestions based on your top 10 rivals.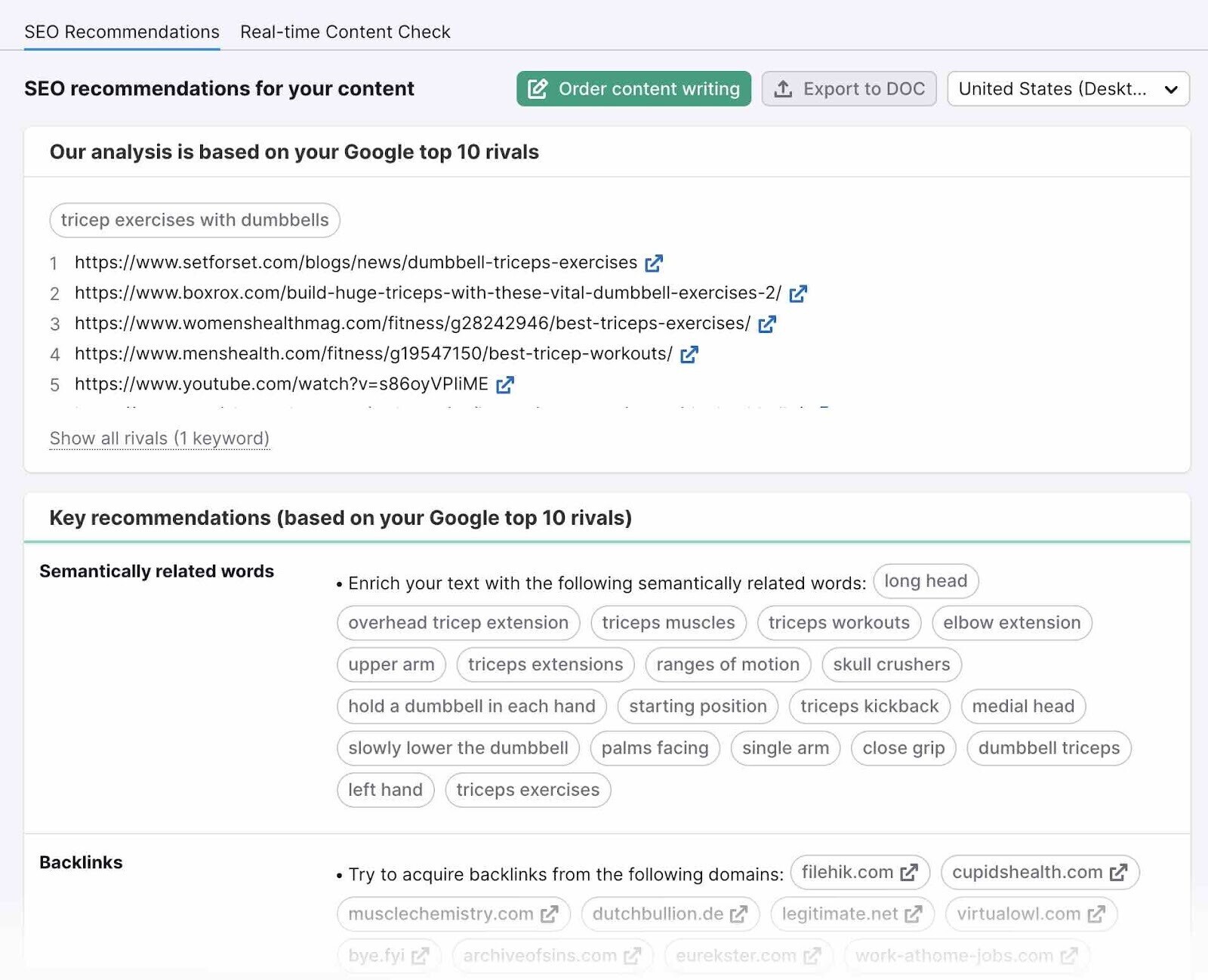 Then draft your article in the SEO Writing Assistant. It scores your content based on readability, SEO, originality, and tone of voice.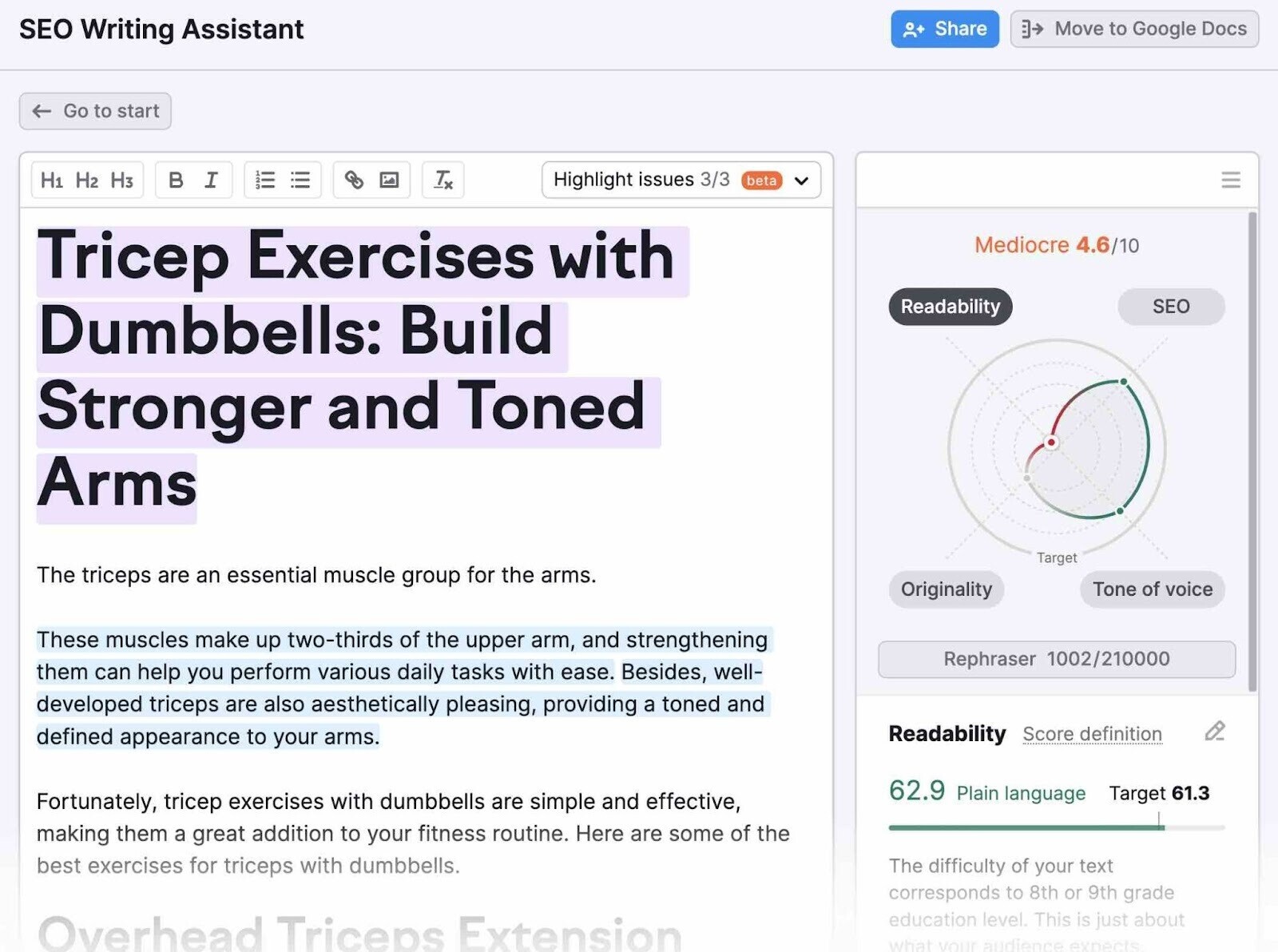 Once you've finished writing, send your guest post draft to the host site and await any feedback. Handle this as quickly as possible to reduce the risk of the opportunity falling through.
Step 5: Promote and Monitor Your Guest Post
Once your guest post is published, share it on social media. This helps you generate engagement and drive traffic to the article.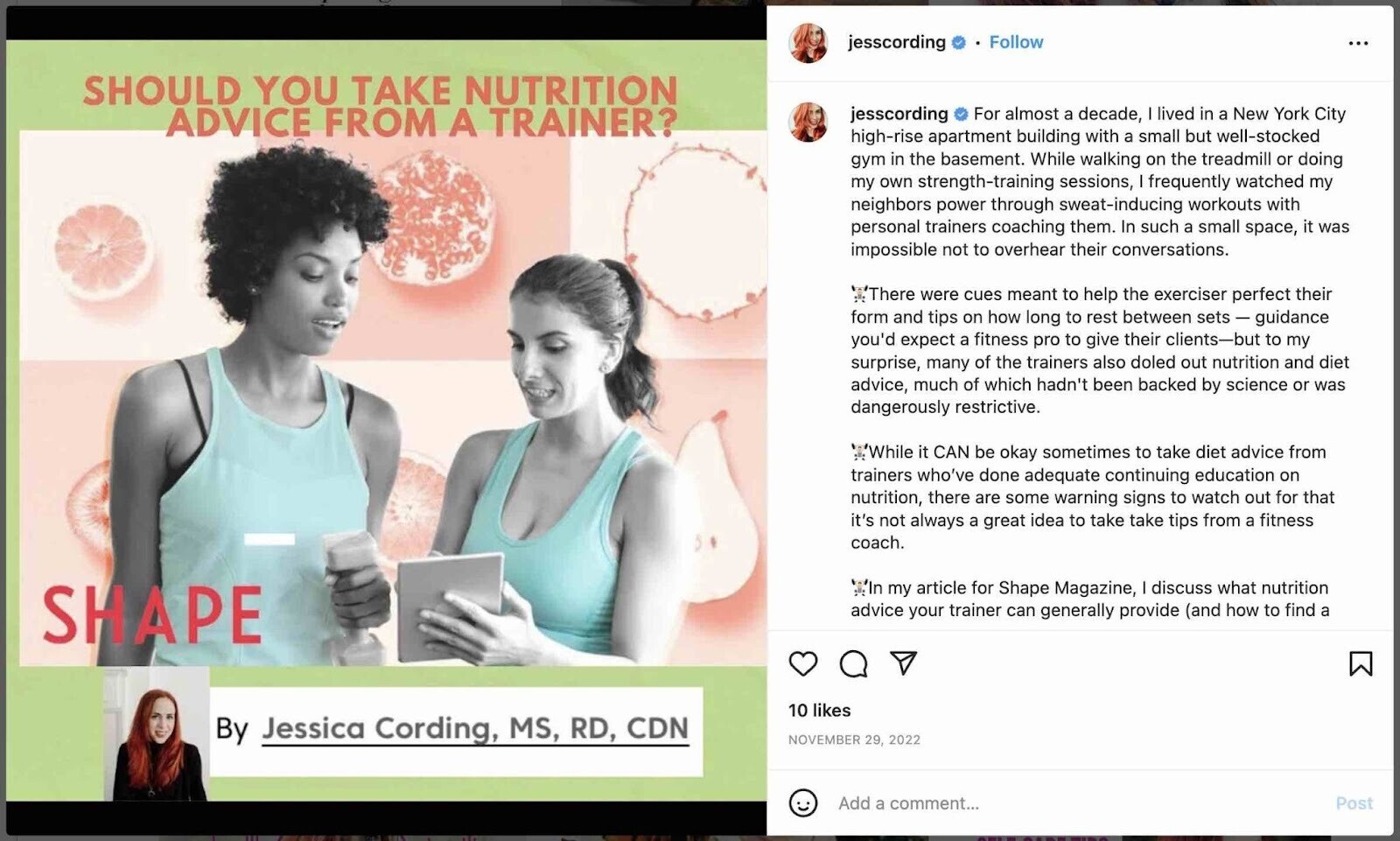 Engage with other people who share it, too. (Including the host site's account.) This boosts their post's visibility and helps you build relationships.
And keep an eye on the post's comment section, if it has one. Responding to readers will help generate a buzz around your guest article.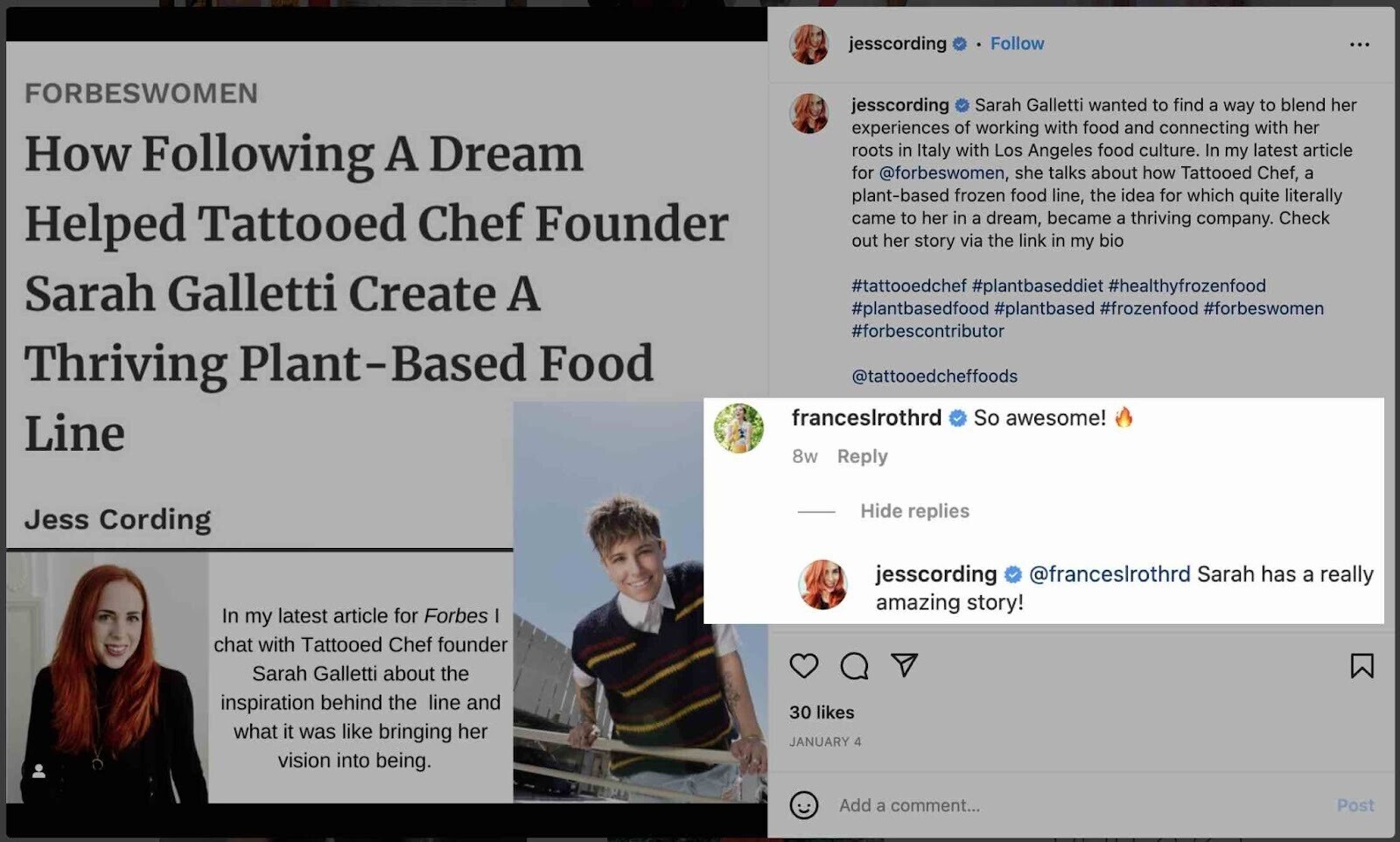 Tip: If you're using the Link Building Tool, click the check mark button to move your guest post opportunity to the "Monitor" tab. This allows you to track your guest post links.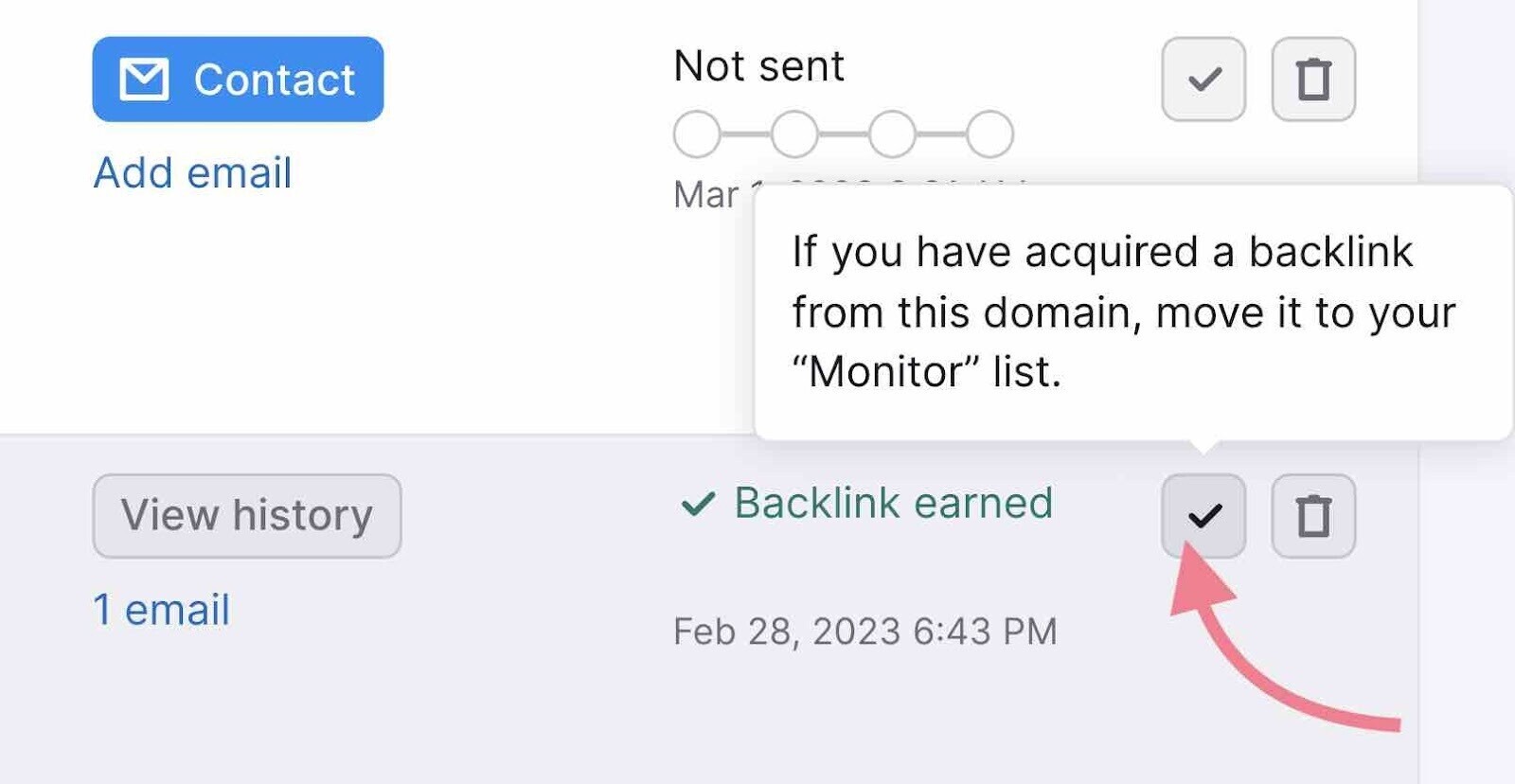 In addition to promoting your guest post, start tracking its performance. This helps you measure ROI (return on investment) and improve your guest blogging strategy for next time.
Guest posting in 2023 is mainly about reach. So you probably want to know how many page views your guest post got.
Only the host site will have access to this number. If they're not willing to share it with you, get an estimate in Semrush's Post Tracking tool.
To get started, enter your post's URL and click "Track Content Performance."

In addition to "Estimated Reach," the tool gives you access to the following guest post metrics:
Referral Traffic: Connect your Google Analytics and configure the project with your site to see the number of clicks from the guest post to your site
Keywords: Add target keywords to see where your guest post ranks on Google
Shares: The number of times your article has been shared on social media
Backlinks: The number of external links to your guest post

Revisit the Post Tracking tool before your next guest posting effort to get a better idea of what worked well and what didn't. And whenever you need to report your guest blogging metrics.
Start Guest Posting with Semrush
Semrush tools can help you secure guest posts that boost brand awareness and SEO. The Google-friendly way.
Find and analyze guest post prospects
Develop high-quality guest post ideas
Send and track your guest post emails
Monitor your guest post links
Track guest blogging metrics
Get started with a free trial today.
We all want to be satisfied, even though we know some people who will never be that way, and others who see satisfaction as a foreign emotion that they can't hope to ever feel.

Newspaper Ads Canyon Crest CA
If you have questions before you order, give me a call @ 951-235-3518 or email @ canyoncrestnewspaper@gmail.com Like us on Facebook Here