Before you start: if you're unfamiliar with the principles of statistical SEO split-testing and how SplitSignal works, we're suggesting you start here or request a demo of SplitSignal. 
First, we asked our Twitter followers to vote:
The result of the votes on Twitter.
This time the majority of our followers were RIGHT! Read further to find out why.
The Case Study
A successful SERP snippet relies on various elements that can impact user behavior and organic traffic, including the meta description tag. This tag provides a concise, relevant summary of a particular page's content and acts as a pitch to convince users that the page is what they're looking for. By crafting effective meta descriptions that accurately reflect the page's content, SEOs can increase the likelihood of attracting clicks and driving organic traffic to their site, improve user engagement, and indirectly impact search engine rankings by influencing user behavior and click-through rates (CTR).
When it comes to making changes that directly impact search results, such as modifying titles, meta descriptions, or structured data for rich snippets, the resulting impact can be unpredictable due to the unpredictability of user behavior. Since users can react differently to changes, testing these kinds of changes is essential. It's important to consider your specific goals and target audience when writing meta descriptions. 
For an online music store, we tested the impact of different meta-description strategies. Specifically, we conducted a test between product-focused and CTA-focused meta descriptions to determine which approach would be most effective in driving organic traffic to their product detail pages. 
The Hypothesis
We hypothesized that the website in question, which currently uses CTA-focused meta descriptions for its product detail pages, may benefit from product-focused meta descriptions. 
Research showed that Google was often not displaying the website's CTA-focused meta description but instead choosing to display body content from the page. This often resulted in incomplete sentences and hard-to-read meta descriptions. 
While we have seen that CTA-focused meta descriptions work well for category listing pages, we suspected that product-focused meta descriptions would be more effective for product detail pages. This is because the products offered by the online music store can be quite technical. Users searching for specific products would likely be more interested in details about the product, given their understanding of what they were looking for at this stage in their journey.
By testing product-focused meta descriptions that provided a concise and focused summary of the product's features and benefits, we hoped to improve the accuracy and readability of the website's meta descriptions and increase click-through rates to their product detail pages.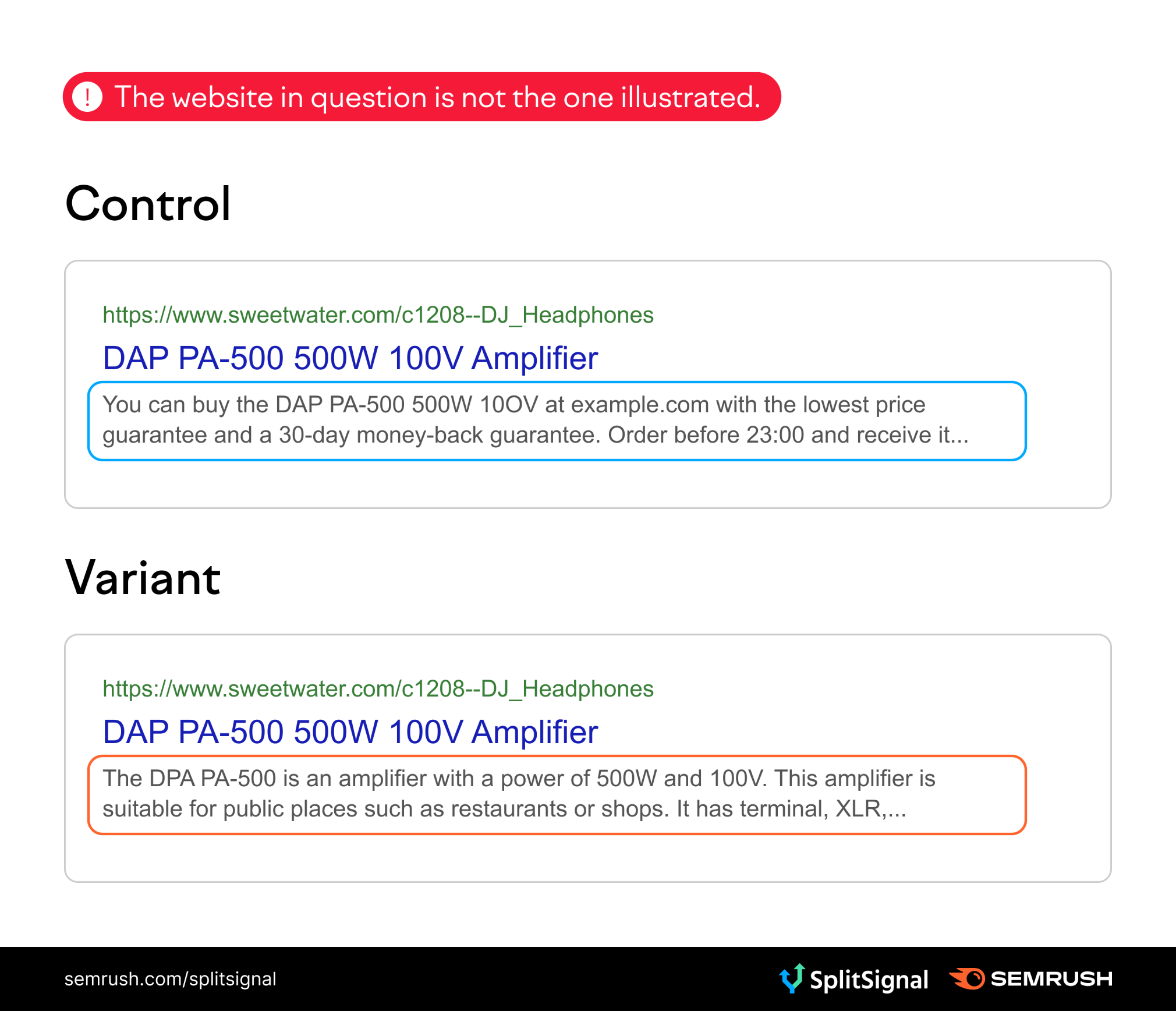 The Test
To test our hypothesis, we used SplitSignal to implement the meta description changes on a set of product pages. The product-focused meta descriptions were composed to provide detailed information about the product's features, benefits, and usage. Each meta description was uniquely tailored to the content of the product page. 
We selected approximately 15,000 product pages to serve as either the variant or control in the test. The test ran for 21 days, during which we found that Googlebot visited 95% of the pages tested.
The Results
It was found that using product-focused meta descriptions on the product detail pages of the online music store led to a significant increase in clicks. Specifically, the results showed an estimated 2.2% increase in clicks, which was statistically significant at the 95% confidence level. These findings strongly suggest that using product-focused meta descriptions can positively impact organic traffic to the website's product pages, and that this effect can be confidently attributed to the changes made to the meta descriptions. 
Therefore, it was recommended that the online music store continues to use product-focused meta descriptions to improve user engagement and drive more organic traffic to their product detail pages.
Note that we are not comparing the actual control group pages to our tested pages. But rather a forecast based on historical data. The model predicts the counterfactual response that would have occurred had no intervention taken place. We compare this with the actual data. We use a set of control pages to give the model context for trends and external influences. If something else changes during our test (e.g., seasonality), the model will detect and take it into account. By filtering these external factors, we gain insight into the true impact of an SEO change.
Why
The test results showed that product-focused meta descriptions on product detail pages increased organic traffic to the website. But why did this approach work better than previously used CTA-focused meta descriptions?
When users search for a specific product, they are typically further along in their purchase journey and are more likely to be interested in detailed information about the product. Product-focused meta descriptions highlight key features, benefits, and usage information, allowing users to assess if the product meets their needs quickly. In contrast, CTA-focused meta descriptions may not provide enough information to help users make an informed decision about clicking through to the product page.
As a result, we concluded that product-focused meta descriptions might better match user search intent. When users search for a specific product, they're likely in the later stages of the buying funnel and looking for detailed information about the product itself, rather than just general information about the website or brand. Our analysis found that Google showed the product-focused meta description much more often, enforcing the belief that the meta description matched users' search intent. 
Additionally, product-focused meta descriptions may have improved the readability and accuracy of the website's SERP snippets, contributing to the increase in click-through rates.
Furthermore, analysis conducted on organic impressions revealed that the test only impacted the CTR of the tested pages, rather than their visibility in Google search results, as shown by the SEO A/B test analyzer.
Overall, the success of the product-focused meta descriptions can be attributed to their tailored approach, which aligned with users' search intent and provided the information needed in a clear and concise way.
There's no one-size-fits-all solution in SEO. What works for one website may not work for another. So, if you want to succeed, test what works for you!
We all want to be satisfied, even though we know some people who will never be that way, and others who see satisfaction as a foreign emotion that they can't hope to ever feel.

Newspaper Ads Canyon Crest CA
If you have questions before you order, give me a call @ 951-235-3518 or email @ canyoncrestnewspaper@gmail.com Like us on Facebook Here