With over 1 billion active users worldwide, TikTok provides ample opportunity to boost your brand's visibility. For the best chance of being seen by your target audience, you need to optimize your content with TikTok SEO.
In this article, you'll learn what TikTok SEO is, how it works, and five ways you can use it to get more views. 
What Is TikTok SEO?
TikTok SEO (search engine optimization) involves enhancing your content so it's more likely to be seen by your target audience—preferably by showing up on their For You Page (FYP) and ranking higher in TikTok's search results.
The FYP is TikTok's homepage that offers new content with every swipe. It's driven by TikTok's algorithm, which is designed to feed users more of what they like.
To keep the platform experience fun and engaging, TikTok constantly recommends new videos based on users' engagement behaviors (views, likes, comments, etc.). 
TikTok also has a search function: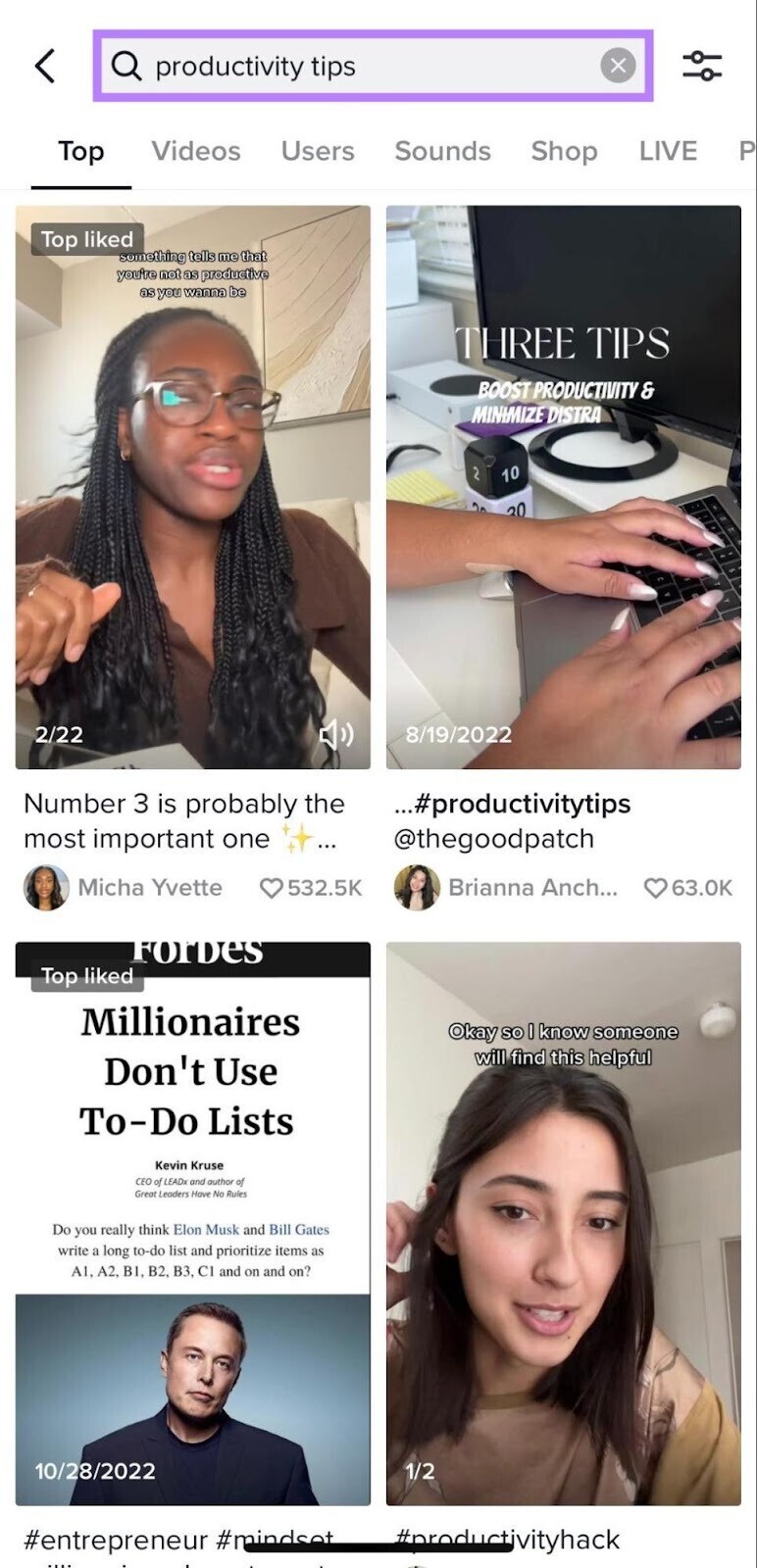 The FYP and search results pages are the two main ways that users discover new content on the platform. They're highly sought-after locations for content.
Why Is TikTok SEO Important? 
Optimizing your TikTok content gives your brand a greater chance of showing up on your audience's FYP page or search results. TikTok SEO tactics, such as including hashtags, helps the algorithm index your content.
For example, if a user likes or favorites financial videos or enters search queries about related topics, TikTok will recommend similar videos and accounts on the user's FYP.
TikTok's search feature is another crucial discovery hub for users. Many use the app as a search engine. 
In fact, younger users are using TikTok in place of Google Maps or Search for discovery purposes.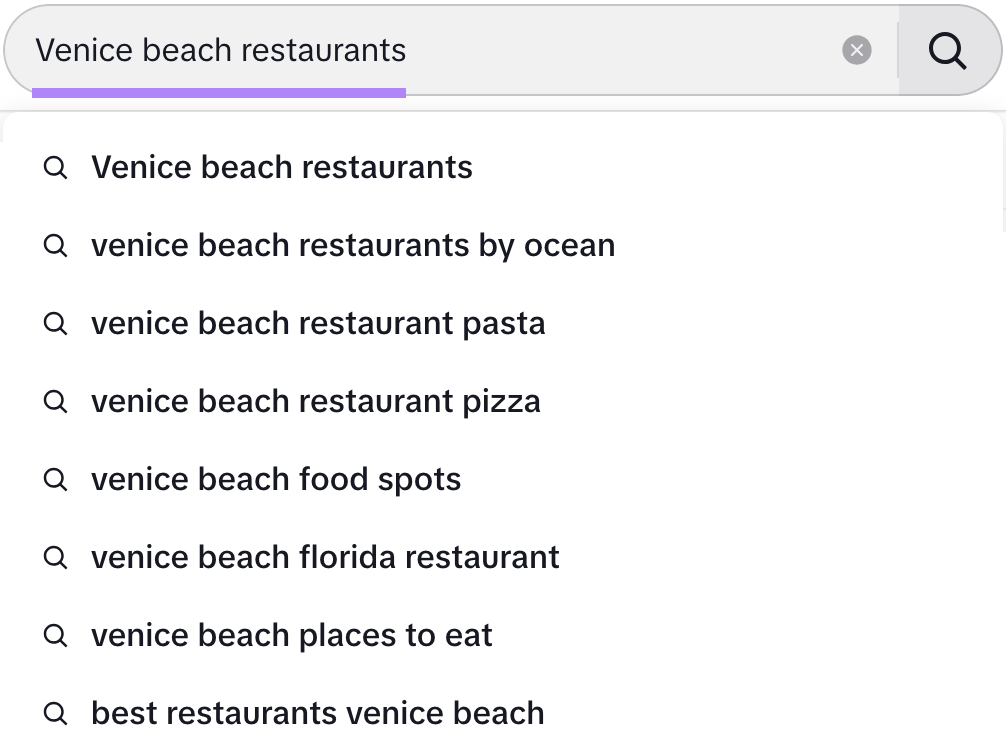 TikTok provides a source of entertainment, information, and inspiration.
This means there are many ways to meet your audience where they are. It also means that brands need to learn what types of content and which terms users are searching for.
TikTok SEO Ranking Factors
TikTok has been relatively quiet about what it takes to satisfy its algorithms and rank well on the platform. Here are the factors it has confirmed contribute to ranking on the platform:
User interactions: Users will see more TikTok videos like the ones they've liked, shared, commented on, or favorited in the past. TikTok also recommends similar videos to those a user creates on their own page.
Video information: The algorithm recognizes, sorts, and recommends content based on information such as hashtags, sounds (the song or audio clip in the video), and captions on each post. 
Device and account settings: Users receive content recommendations based on their language preferences, country settings, and type of device. This means that people living in English-speaking countries or with English set as their primary language will see videos in that language.
Value to user: Watching a video from start to finish strongly suggests a user enjoyed a video. This indicator holds more weight than others (e.g., being in the same location as the creator).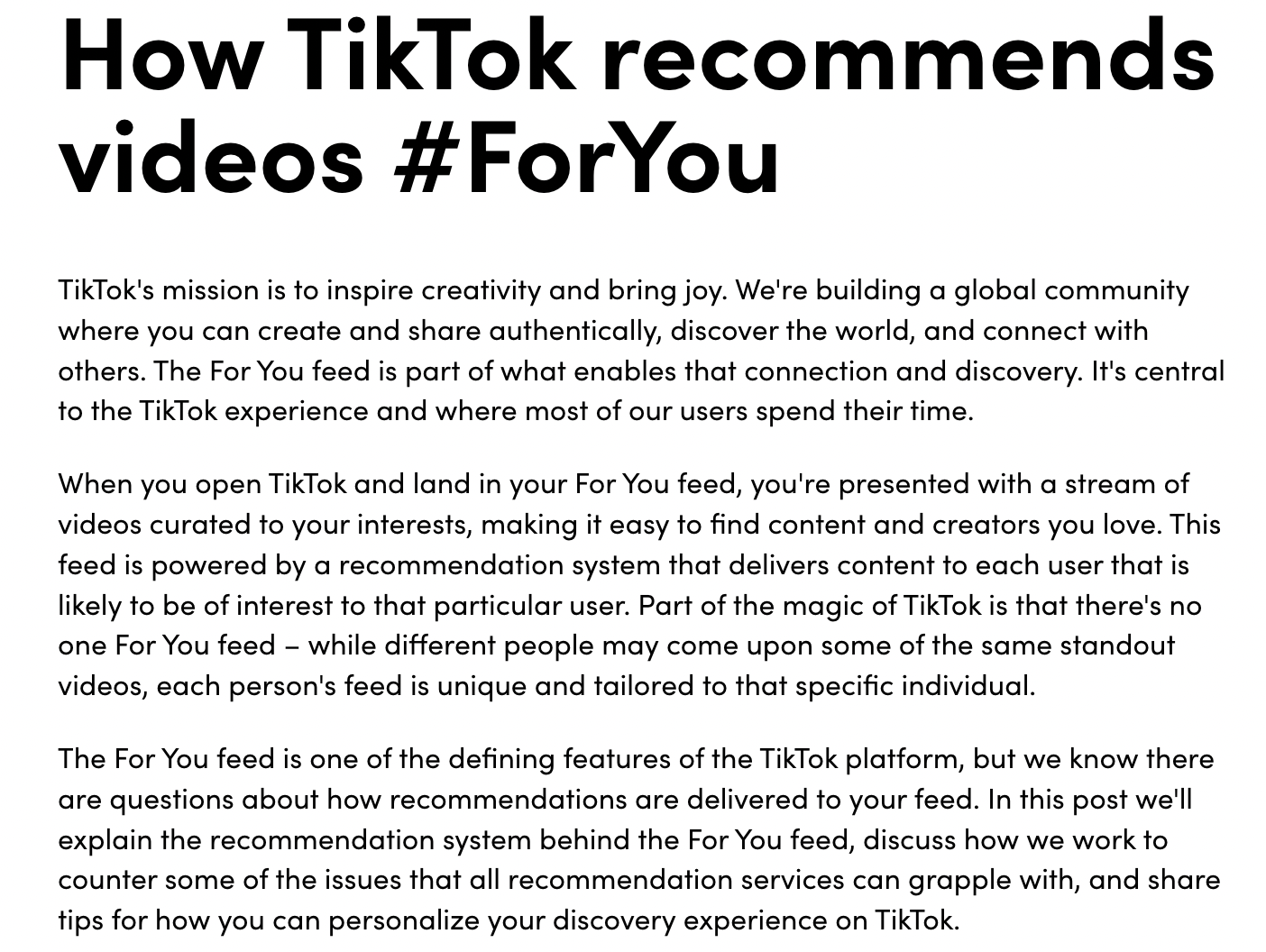 As with most algorithms, TikTok's algorithms are always changing, and the company keeps its inner workings under lock and key. 
The best way to learn what works is to run your own tests—or follow tips from trusted experts.
With more than 2.8 million followers, fashion influencer and creative director Chriselle Lim is one such expert. She credits her TikTok success to things like: 
Posting consistently: Lim says posting at least three times a day increases how often her content is featured by the algorithm and reaches FYPs.
Using specific hashtags: Instead of using broad hashtags, she chooses long-tail keyword options that she wants to be known for, such as #feminineandproud and #bouncyskinisin.
Engaging with her audience: Lim stays in touch with her audience by spending 10-15 minutes after each upload liking and responding to comments.
Participating in trends: Lim says this is how she was able to expand her audience. However, she urges creators to put their own spin on trends if they want to stand out.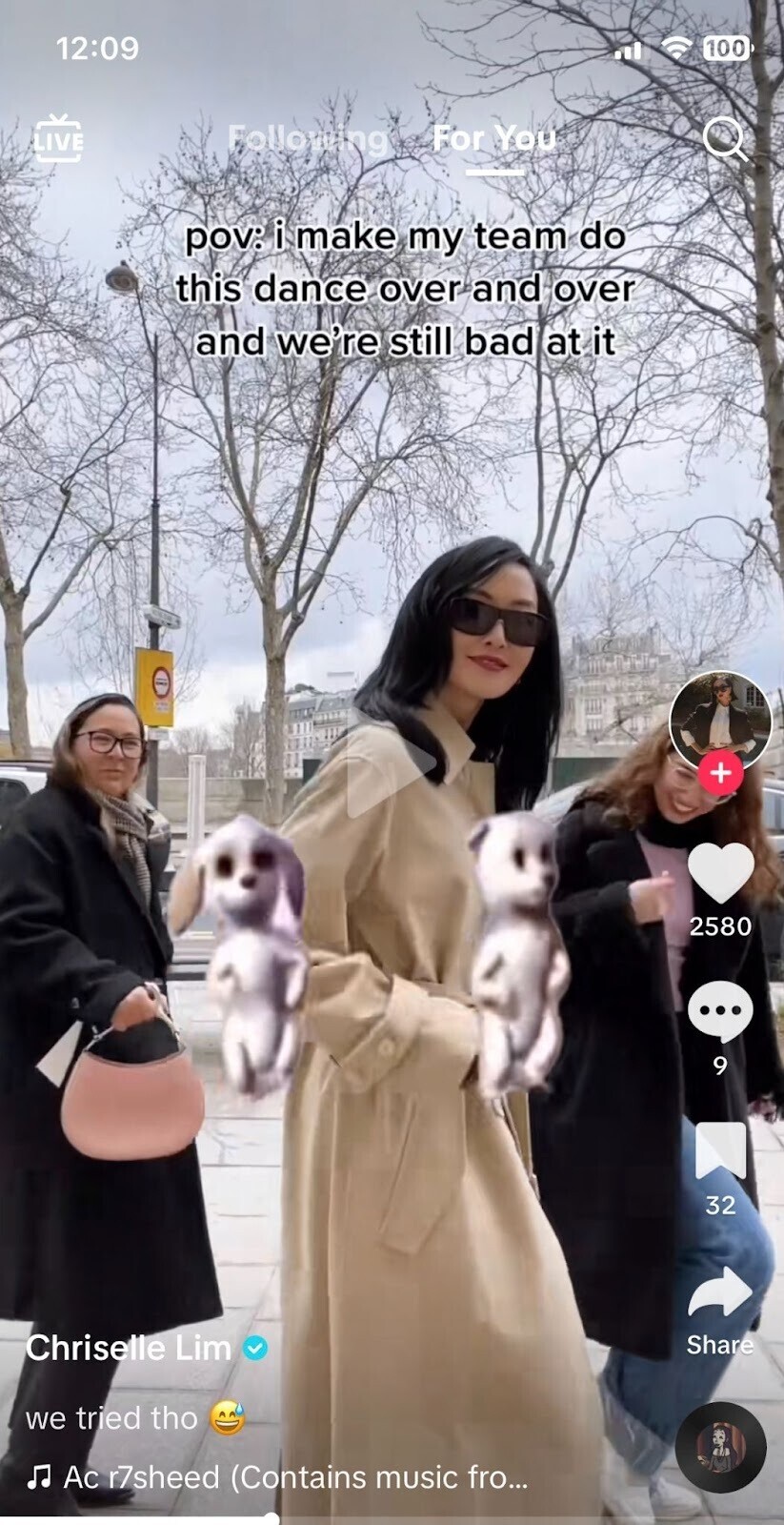 Creative lead and TikTok brand expert Nathan Allebach initially thought TikTok was a waste of time. He later realized how much it can help brands grow their businesses.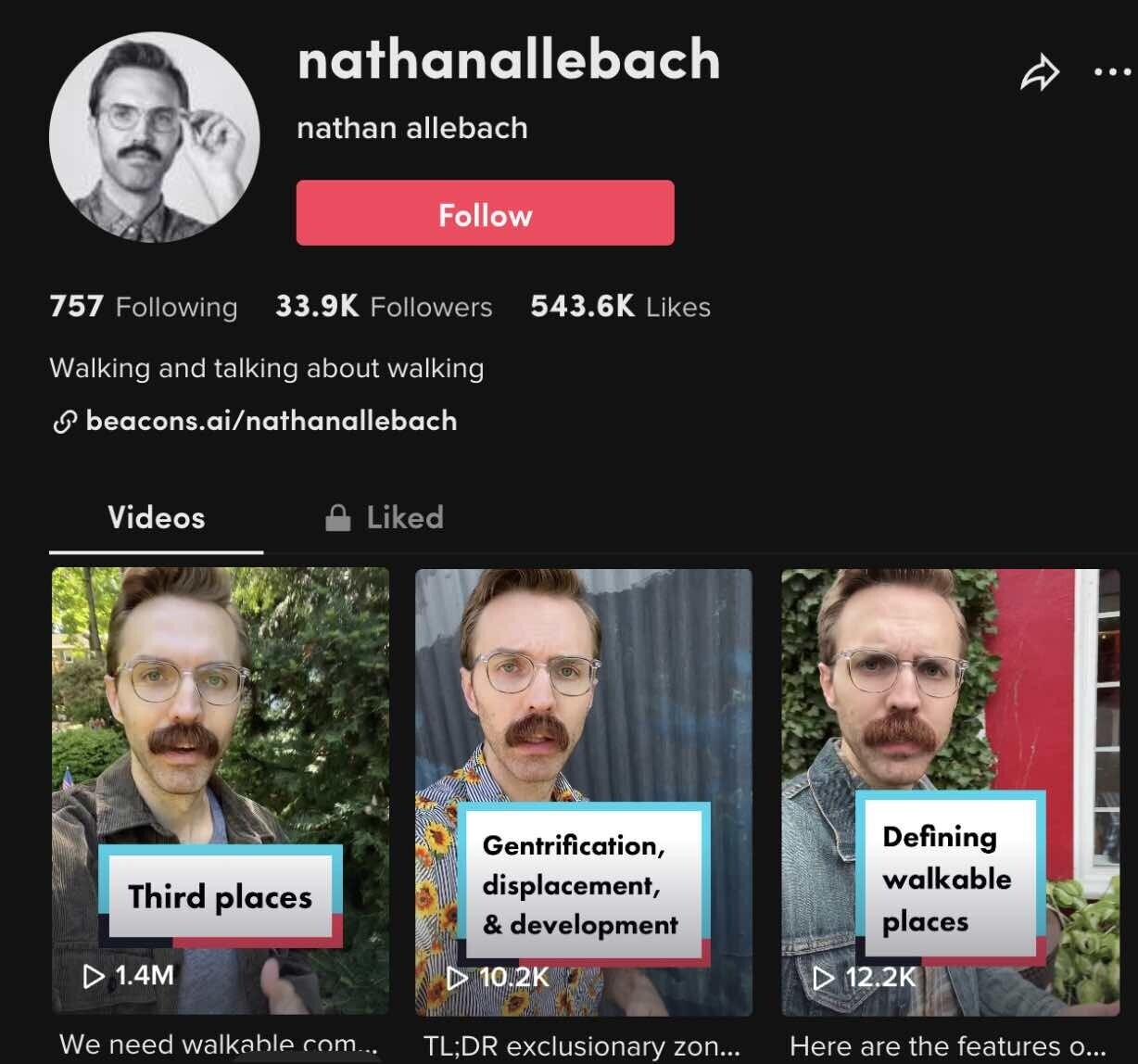 After years of making successful TikTok videos and going viral more than once, Allebach recommends brands:
Experiment with content. He made over 50 videos before eventually going viral.
Understand TikTok culture. Get your finger on the pulse of TikTok trends. Who's popular and why? What are the songs, memes, and lingo you see repeatedly? When is it right to use them?
Use captions and hashtags effectively. Allebach recommends short in-video captions for that instant "aha moment" as users scroll. He believes the best use of hashtags is when you pair them with a relevant viral trend (e.g., #erastourtaylorswift).
At Semrush Academy, Brian Dean sat down with SEO consultant Lidia Infante to discuss TikTok SEO strategies for businesses.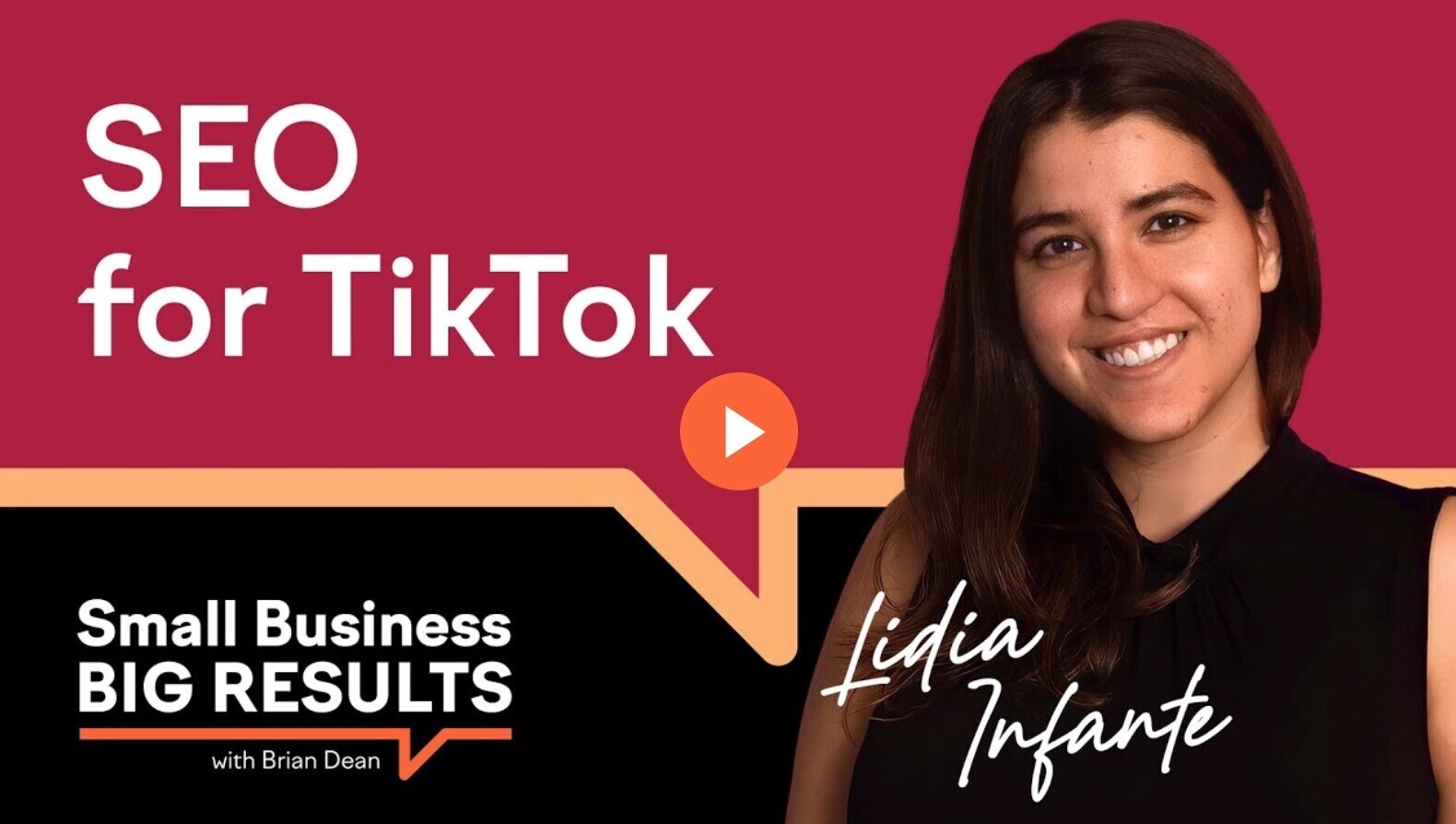 The pair cover:
Why users are heading to TikTok to discover information
The rise of TikTok videos in Google search results
How TikTok SEO impacts your content strategy
What it all means for the future of search
To better understand TikTok's official (and unofficial) ranking factors, you need to see them in action. So get ready to experiment and immerse yourself in the platform with a new content strategy.
5 Ways to Boost Your Profile Visibility with TikTok SEO
We've compiled five of the best TikTok SEO tips, inspired by brands that use these tactics successfully. 
1. Jump on Trends
TikTok trends are a collection of popular elements that can make a video go viral, such as audio, filters, or filming/editing styles. 
For example, this video uses a trending sound and "Wes Anderson" style:
By tapping on the vinyl image in the lower right corner, you can see this sound has been used in more than 34,000 videos shot in a similar style: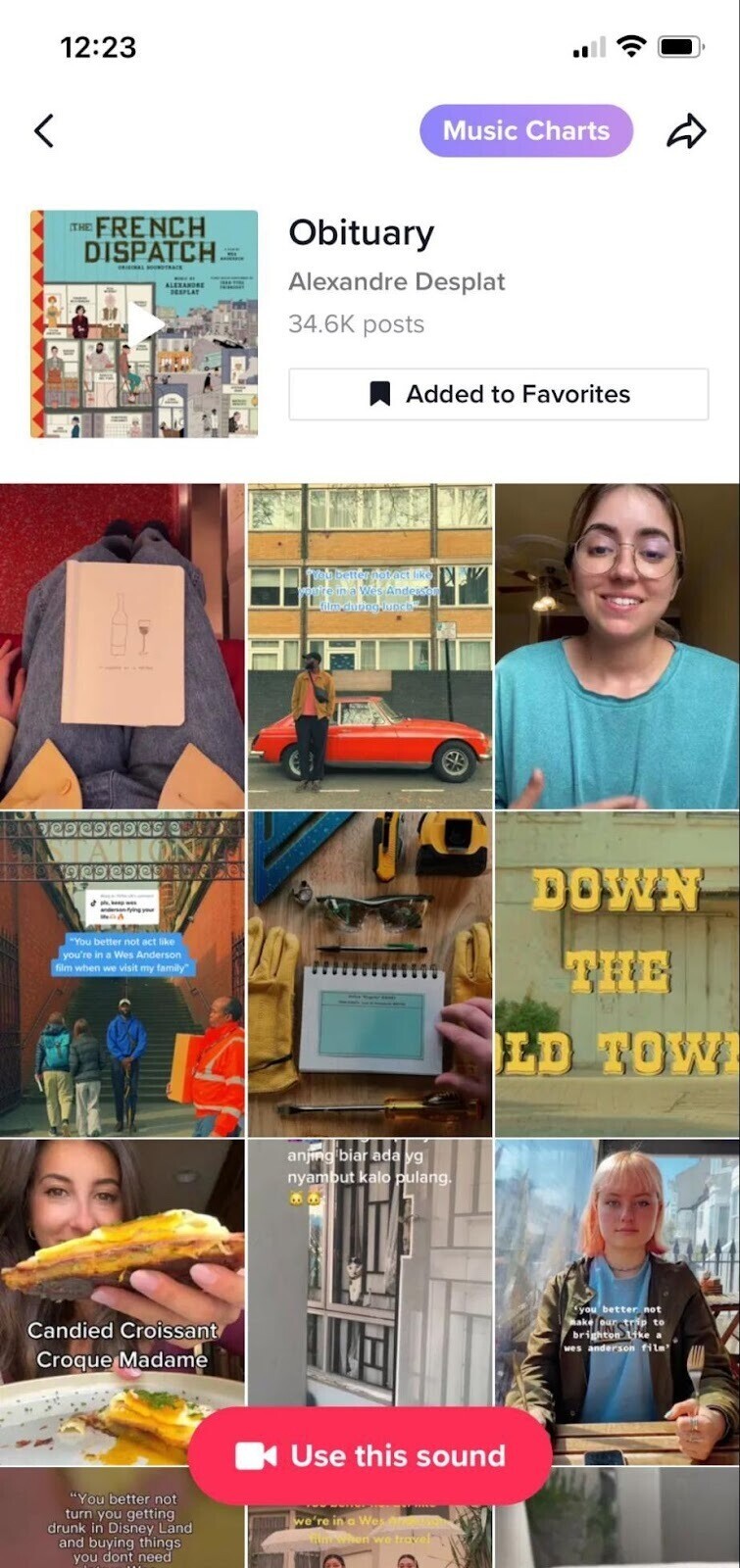 In this trend, creators use the same sound and a quirky style to showcase their own "day in the life" content, recipes, and more. 
Trends enable content creators to put their own spin on a popular element, and the result is content that's both familiar and unique.
TikTok was built on trends, and the platform rewards the brands that stay on top of them. But they move fast. It's a race for marketers to stay consistent with both innovative and relevant content. 
One of the most consistent ways to get more views on TikTok: use trending sounds with your own brand-specific take.
One brand that uses TikTok trends well is Shopify. 
The ecommerce brand uses funny, educational content to inform and support its audience of entrepreneurs.
For example, Shopify uses a fun spin on the day-in-the-life content by showcasing an "entrepupneur."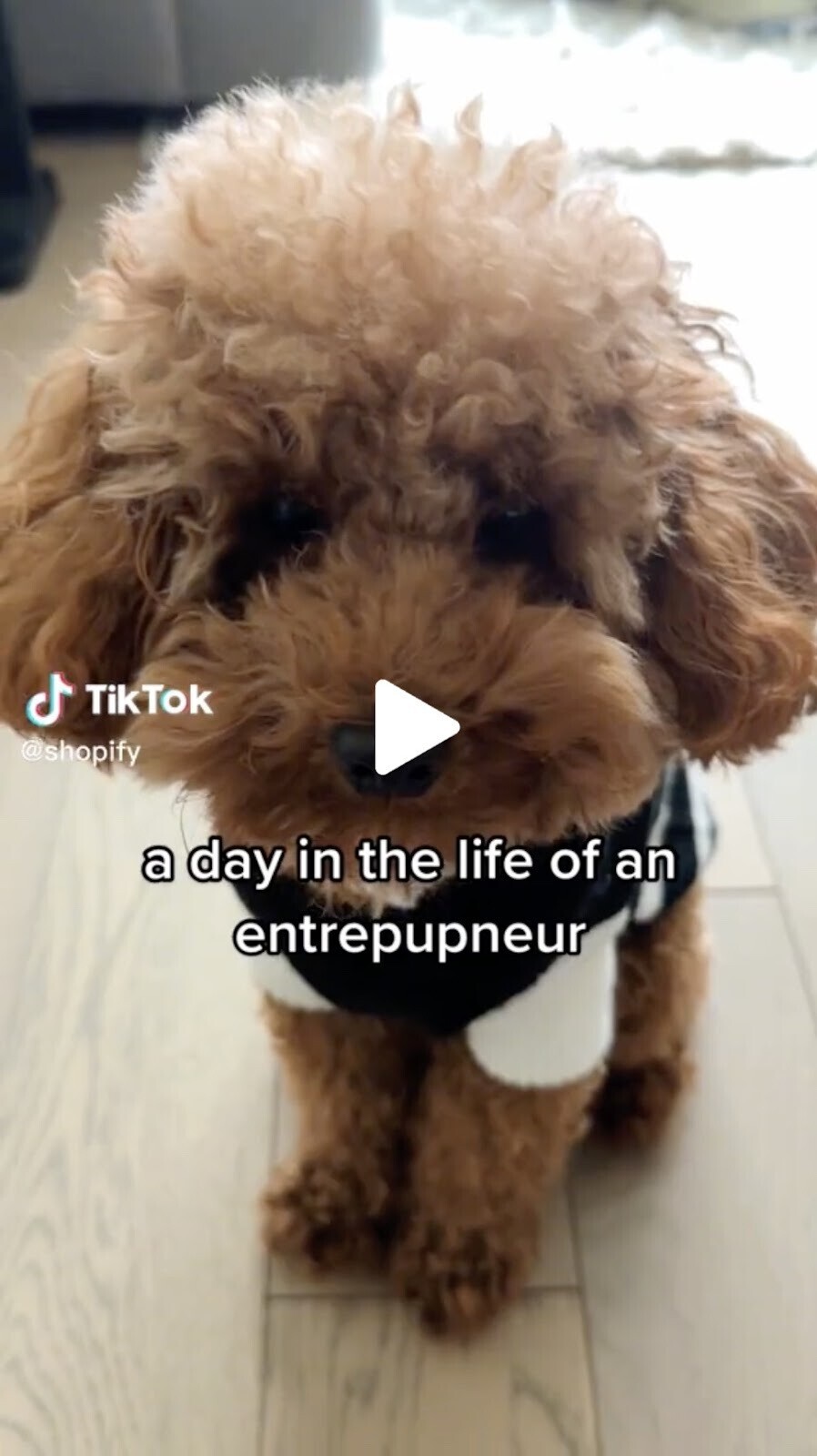 Here's what this video gets right:
It uses a trending type of content (day in the life)
It puts a unique spin on the trend using something interesting (and cute)
It uses on-screen text, which makes the video more accessible and telling the algorithm what the video is about
It does all of this while briefly promoting the Shopify platform and giving busy entrepreneurs a quick midday laugh, building affinity for the brand and helping it be more memorable.
Grammarly is another brand using the platform well. In this TikTok video, the brand uses trending audio to highlight common filler phrases writers should avoid.
This video is appealing because:
It's super short, but value-packed
It uses a trending sound in a way that's on-brand
It makes the video more accessible for people and algorithms with on-screen text
By jumping on trends and aligning content with their brand, businesses such as Grammarly and Shopify increase their chances of profile visibility.
Narrow Down Trends
Brands need a comprehensive understanding of their markets to know which trends are right for their audience. There is no point in jumping on a dance trend if your audience doesn't care about dance trends.
TikTok's built-in Audience Insights will tell you who is watching your videos, such as your audience's demographics, which hashtags they've interacted with, and which ad categories they respond best to. 
For even more insight into how your audience views your brand (or your competitors), use Semrush's Media Monitoring tool: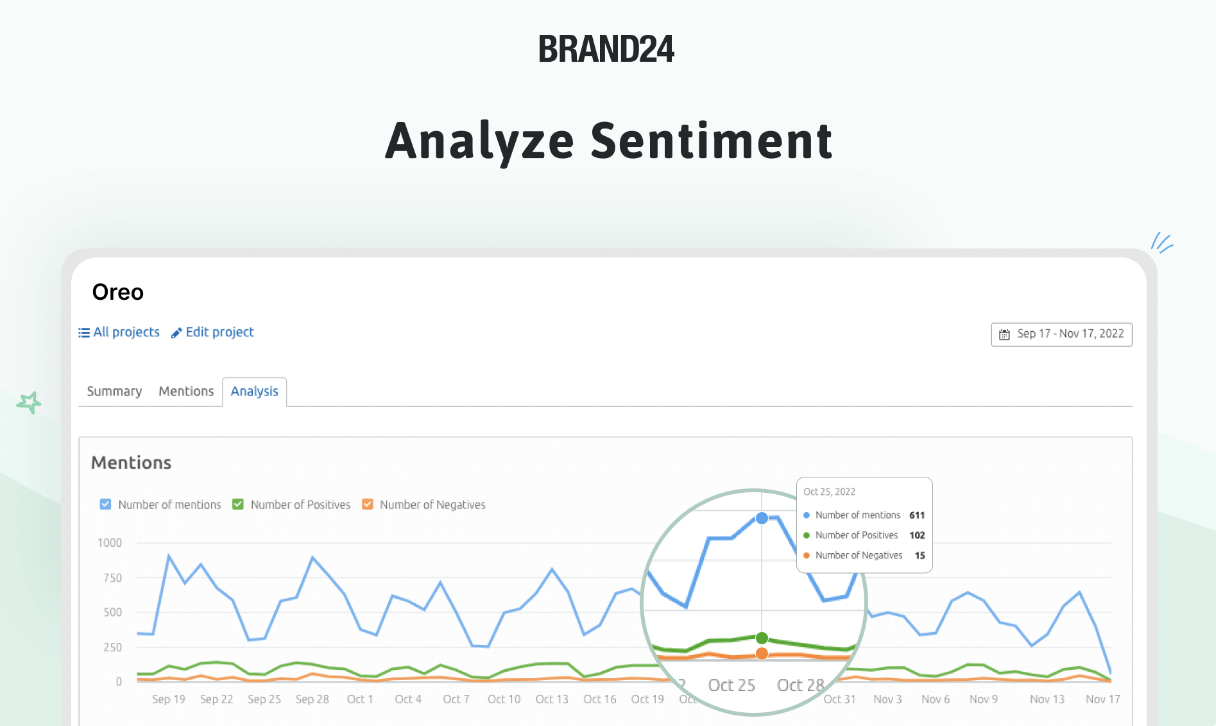 It allows you to track mentions of your brand on social media, measure reach, track competitors' mentions, view audience sentiments, and more. 
Key takeaways:
Create relevant content by using trending elements, such as sounds, styles, and filters
Explore different trend types and experiment with what your audience might enjoy
Track success using insights and media monitoring tools
2. Include Keywords and Hashtags
Keyword research is essential for any successful SEO strategy, and TikTok SEO is no different. 
Consider Canva's TikTok account. The brand does a great job of using keywords in its on-screen captions and post titles: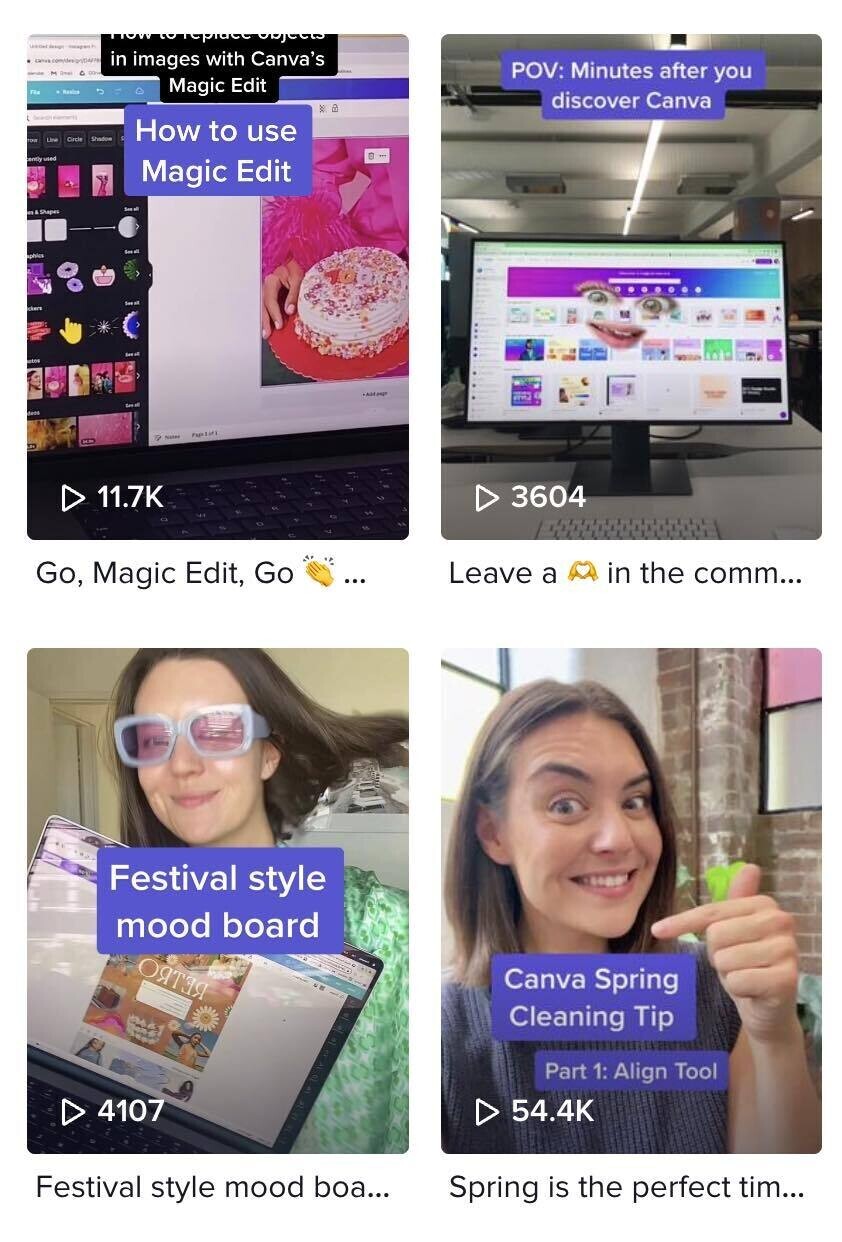 With the phrase "How to replace objects in images with Magic Edit," the brand puts its content in front of people who are searching the term or who have shown interest in Canva's features.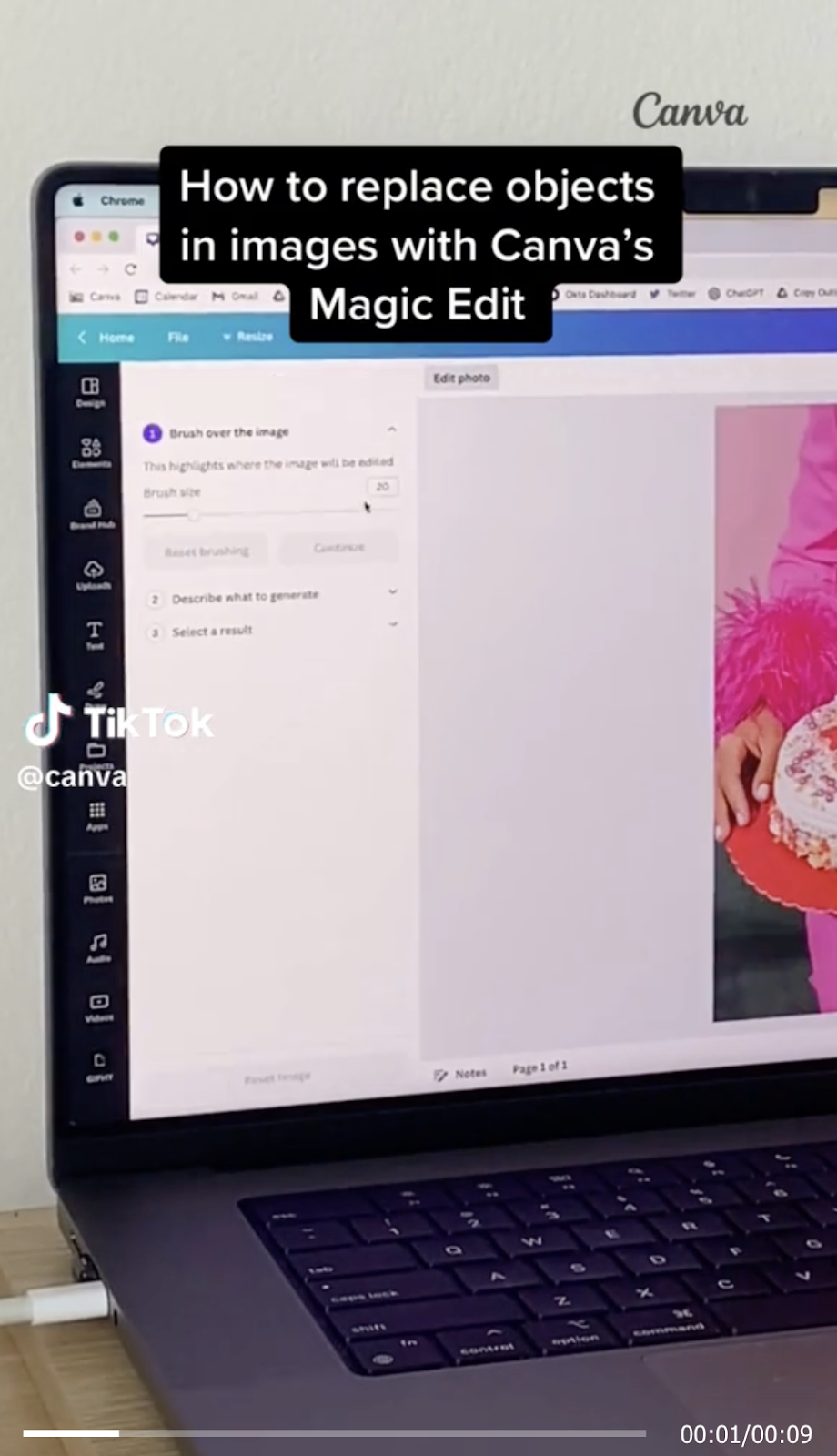 The team also includes "Magic Edit" in the post title and uses trendy audio to increase potential visibility (the post has more than 10,000 plays so far).
And then there are hashtags. Unlike other platforms, more is not better. A handful of the most relevant hashtags should suffice: 

Need ideas? You can use search to explore popular hashtags related to your content:
It's important to note that more views doesn't necessarily make a hashtag the better option for your brand. 
Hashtags with higher views can also mean more competition. If you plan to use them, it's best to use a mix of niche-specific hashtags and more popular, broader terms.
TikTok provides a Keyword Insights tool where you can track popularity changes and click-through rates (CTR):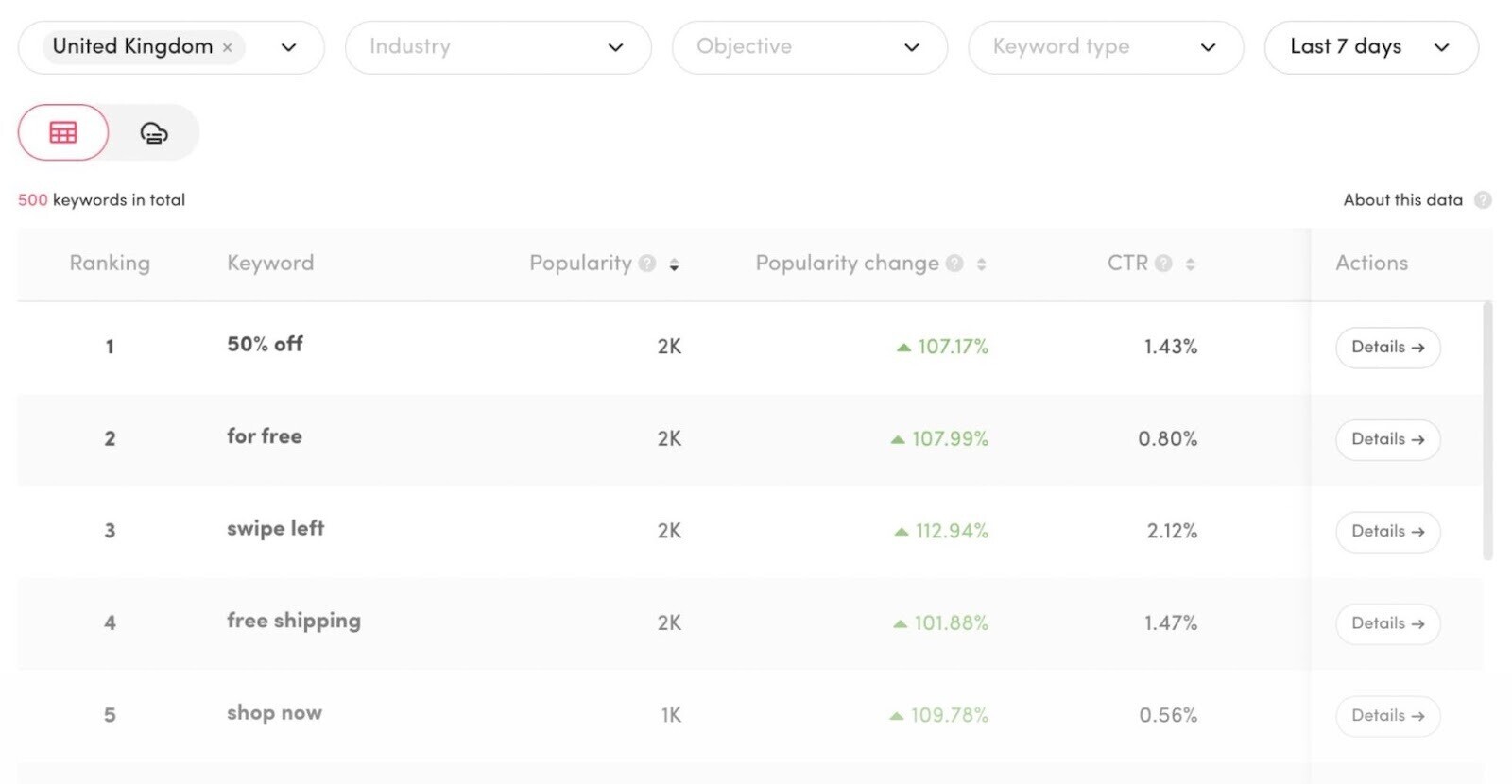 It's primarily used for ad campaigns, but it's at your disposal to research keywords for captions and hashtags.
Key takeaways:
Use relevant keywords in your video titles, hashtags, captions, and spoken audio
Stick with just a few highly relevant hashtags
3. Create Shareable Content
Favorites and shares are user interactions that help organically boost your profile visibility—a ranking factor confirmed by TikTok.
When a user taps the favorite button (via the bookmark icon), the post is added to their own personal content library. 
A user can also share a post by tapping the arrow to send the video to another user's private message inbox, WhatsApp, Instagram, and more. 
TikTok also makes it easy to see how many users have liked, commented on, favorited, and shared each post.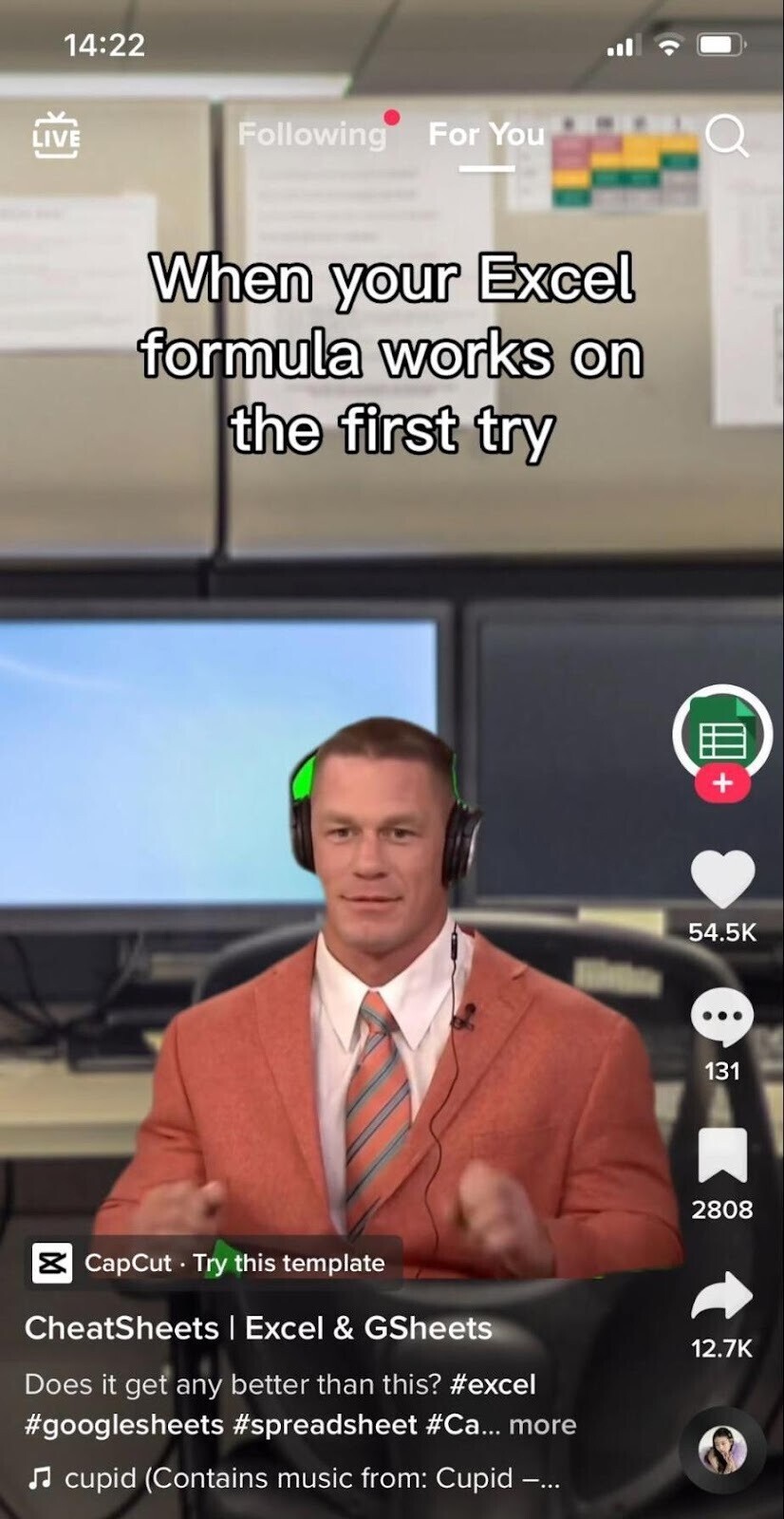 Image source: TikTok
Fenty Beauty is one brand consistently creating engaging content on the platform, like this makeup tutorial: 
Educational videos and tutorials are a great way to encourage your audience to favorite your content for later or share it with someone they know. 
Users love to learn on the platform, but they also like to be entertained. Funny videos are often shared widely and get heaps of engagement.
Duolingo is a brand committed to making its audience laugh, consistently gaining likes, favorites, and shares by the thousands. 
For example, this funny little video has over 2,000 shares:
The key to creating shareable content is posting content that your audience enjoys. Find out what your target audience is looking for on TikTok to inform your strategy.
Key takeaways:
Favorites and shares are key TikTok user interactions and will help boost your profile visibility
Your audience will be more keen to favorite and share certain types of content, so learn what that's more likely to be and experiment
4. Engage With Your Audience
Comments—and likes on comments—are confirmed TikTok user interactions that contribute to your content landing on the FYP. 
The TikTok algorithm recognizes conversations in the comments as a sign of how engaging the video is for users.
Replying to comments encourages conversations and provides an opportunity to build a connection with users. Plus, other users will see the interaction and it may encourage them to interact, too.
Look at Chipotle's comment section: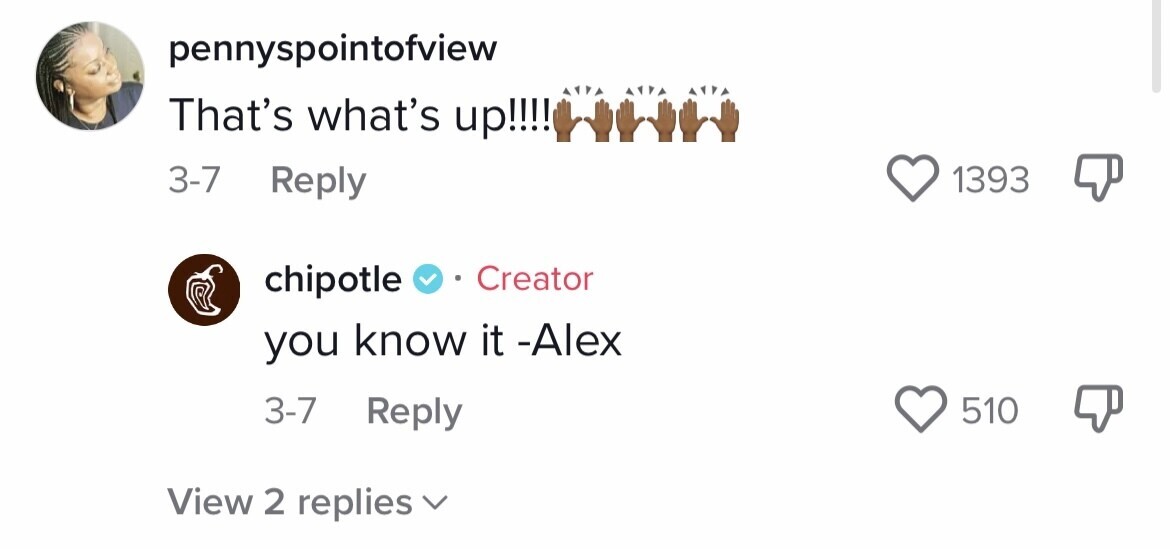 Chipotle is a restaurant chain, but Alex is the representative replying to comments. This personal touch invited more likes and further comments, signaling to the algorithm that users enjoy the post.
Key takeaways: 
Replying to and liking users' comments can boost your visibility
Interacting with commenters also forms relationships, turning users into fans
5. Collaborate With Other TikTokers
Collaboration with influencers is a fast track to more visibility, because you'll bank their followers' engagement and get discovered on another part of TikTok: the "Following" page.
There are several ways to collaborate with other accounts on TikTok:
Appearing with another brand in a video
Using another brand's product in your video
Another brand or influencer using your product in their video
Duets (appearing alongside the influencer in a video)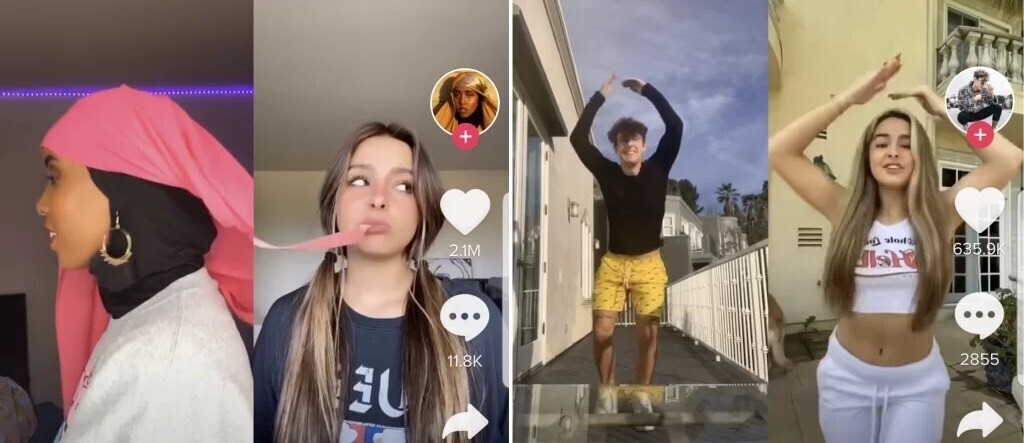 Image source: Advertisemint
For example, TikToker Zach King collaborated with McDonald's. Now, when you search his name, the company's name also shows up.
Curious fans who've never seen the McDonald's video may tap on the result to learn more.
When influencers post about your brand, they may also mention it in post titles, hashtags, and captions, which all help to increase your profile visibility. They should also tag you in the post so users know where they can learn more.
For example, Guess' most-viewed TikTok posts are sponsored posts with names like Camella La Compte: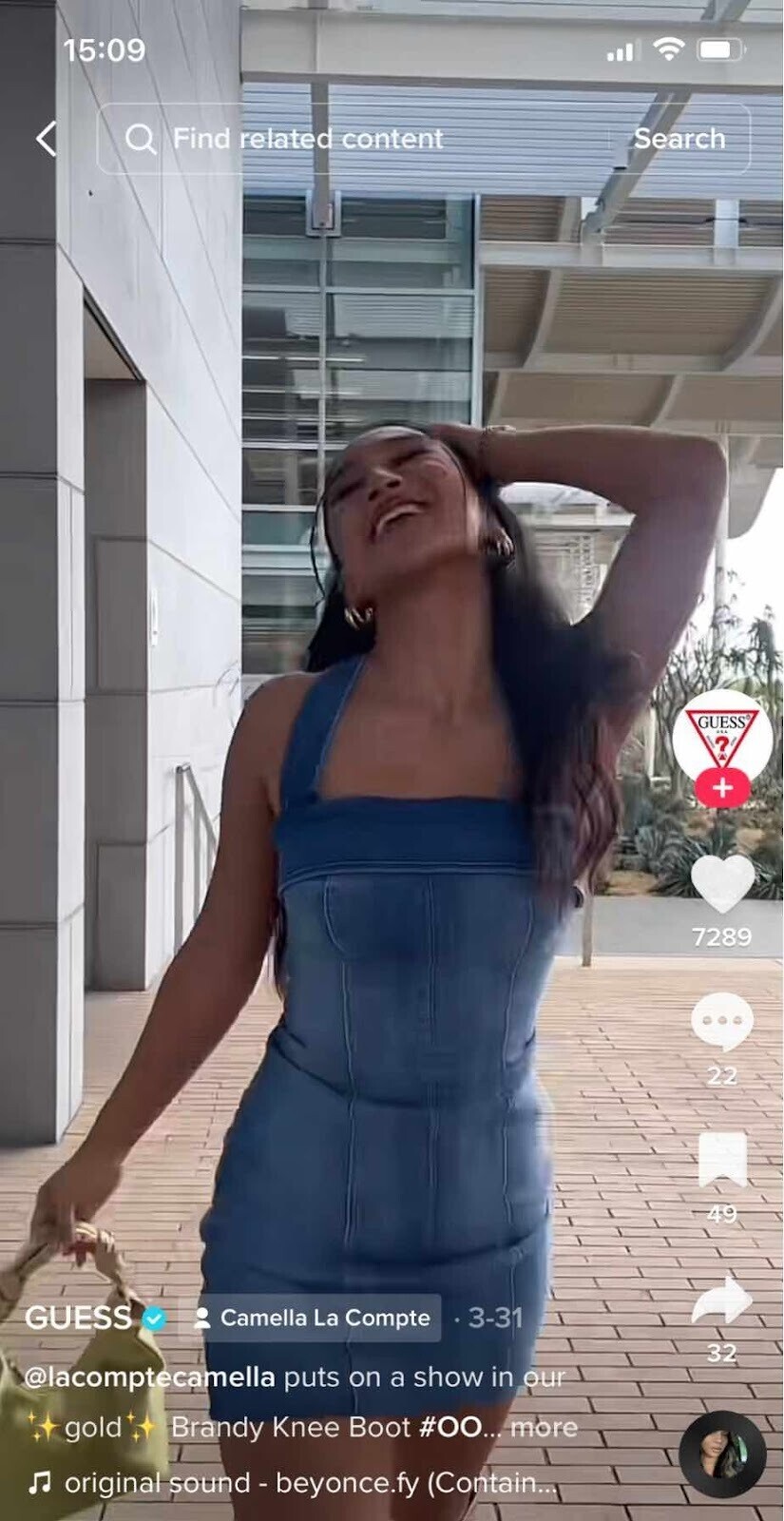 Camella has nearly 32,000 followers, making this video likely to be seen by tens of thousands of people who like her fashion content. Camella's audience may even explore Guess' page for more ideas.
One famous TikTok collaboration was between TikToker Charli D'Amelio and Dunkin'.
Because the popular TikToker is a huge iced coffee fan, Dunkin' crafted a signature drink called "The Charli." 
Once Dunkin' began promoting its collaboration, they saw a huge spike in business: 57% growth in app downloads, a 20% sales boost in iced coffee sales, and hundreds of thousands of Charli's signature drinks sold in just one week. 
This collaboration success was no accident. Charli had already amassed the exact audience that Dunkin' wanted to target: female teenagers and young adults who love iced coffee. 
Key takeaways: 
Influencer marketing can improve your chances of ranking on TikTok
Seek out influencers who share your target audience to reach more like-minded users
Where Is TikTok SEO Headed?
Intelligence Insider expects TikTok to see an 11.6% global user growth in 2023—double the growth predicted for Instagram or Snapchat. This indicates that search on TikTok will grow alongside it.
But with that growth comes concern about brand safety. In other words, worries about the type of video your ads appear around (e.g., something explicit).
TikTok is already making changes in response. For example, users can click "Why this video" to understand why they've been shown something.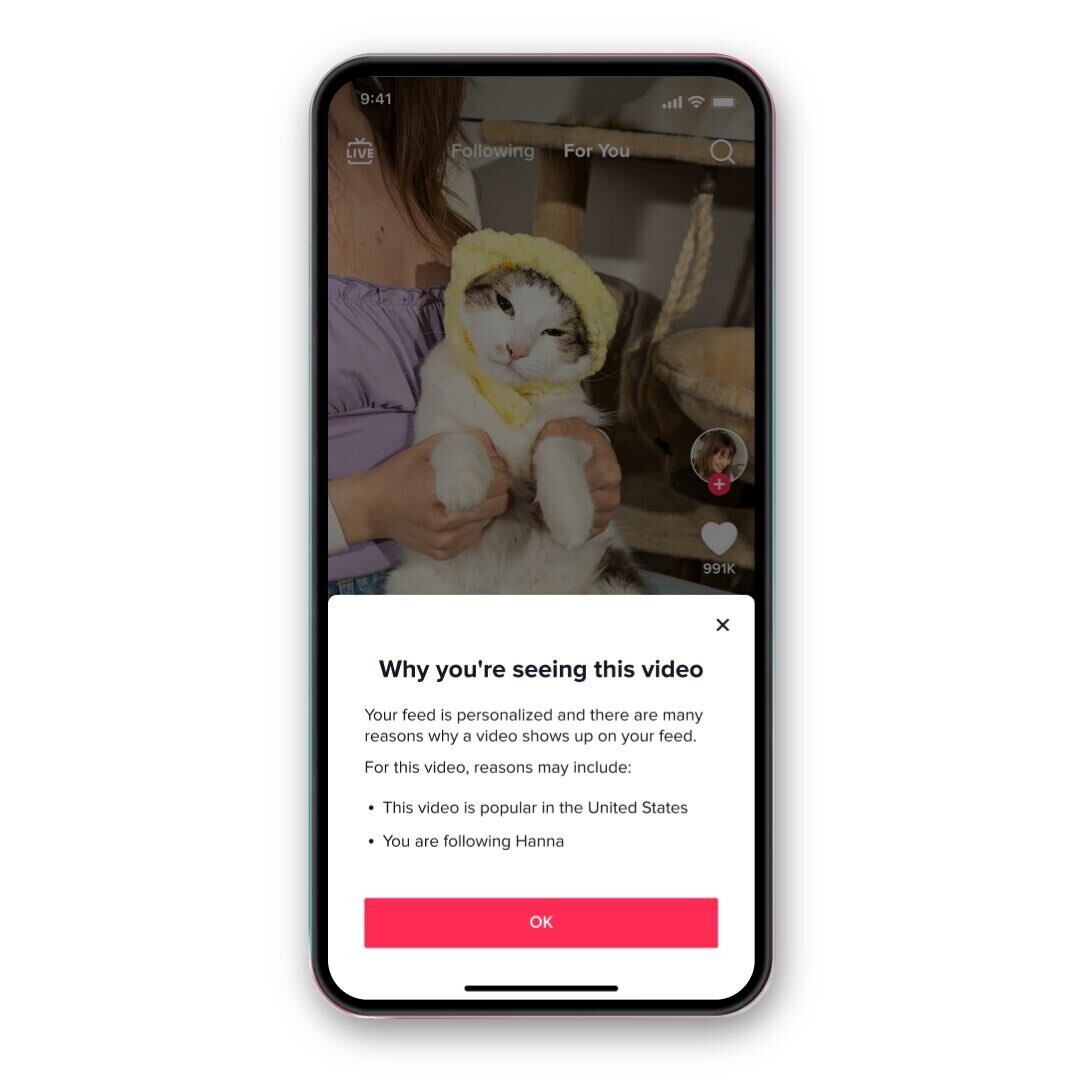 You can also reset your "For You" feed and retrain the algorithm to further personalize your experience. 
This provides plenty of fresh opportunities for brands to reach more targeted, engaged audiences trying to discover new content.
TikTok is also trying to cement the future of the app with the rollout of:
These updates and plans could indicate TikTok will be prioritizing product-focused, wellness-based, and accessible videos in the near future.
TikTok won't knock Google off its pedestal. But people are searching there, so you should aim to rank highly and capture more market share. Otherwise, your competition will.
Use Semrush to Launch Your TikTok SEO Strategy
TikTok keeps many of its algorithm secrets close to its chest. But these tried-and-trusted TikTok SEO strategies can help to consistently drive results for brand visibility.
However, any marketing strategy worth its salt relies on audience research. 
Start yours by tracking audience sentiments around your brand and competitors using Semrush's Media Monitoring tool.
We all want to be satisfied, even though we know some people who will never be that way, and others who see satisfaction as a foreign emotion that they can't hope to ever feel.

Newspaper Ads Canyon Crest CA
If you have questions before you order, give me a call @ 951-235-3518 or email @ canyoncrestnewspaper@gmail.com Like us on Facebook Here