Content creation tools can make you a more efficient and effective marketer.
We've rounded up some of the most popular tools for content creators. As well as hidden gems our very own team uses.
So you can produce higher-quality blog posts, images, videos, podcasts, and other types of content. In a fraction of the time.
7 Must-Have Content Creation Tools
Building your toolkit from scratch? These are our top picks for content creators:
Best Content Creation Tools by Category
Check out the content creation tools by category to find apps that support your content marketing strategy. Whether you're looking to save time or try something new, there's software that can help.
Note: Tools are listed in no particular order.
Content Research Tools
Combat creative blocks with these content creator tools. You can research any topic to get inspiration and develop existing ideas.
Plus, gather information that helps you take a data-driven approach to content creation.
1. Semrush Keyword Magic Tool
Semrush's Keyword Magic Tool shows you what people search for in Google related to your topic. And provides associated data, such as "Volume" (the average number of monthly searches for that term).
This helps you understand what type of content is in demand. So you can use your content creation time more effectively.
One of the best ways to get blog ideas is to look at the "Questions" filter. Consider focusing on keywords with a "KD %" (keyword difficulty score) of 0 to 29. This means it's relatively easy to rank on the first page of Google.
Pricing: Free and paid plans
2. Google Trends
Google Trends shows topics and search terms that are trending in Google—i.e., that are more popular than usual. You can also research topics, locations, and time ranges of your choice. To see how search interest compares.
Google Trends data helps you identify hot topics in your niche. So you can create timely content that grabs people's attention. This is a technique known as newsjacking.
Learn more about Google Trends and how to use it in our dedicated guide.
Pricing: Free
Alternatives: Exploding Topics, Pinterest Trends, TrendFeed
3. Semrush Topic Research Tool
Semrush's Topic Research tool provides content ideas around a topic of your choice. Click any suggested subtopic to see top-shared articles, related questions, and related searches.
The tool is particularly useful for blog SEO because it provides associated keyword data. Try focusing on subtopics with high "Topic Efficiency." These are popular among searchers and relatively easy to rank for.
Pricing: Free and paid plans (available as part of the Content Marketing Platform)
4. AlsoAsked.com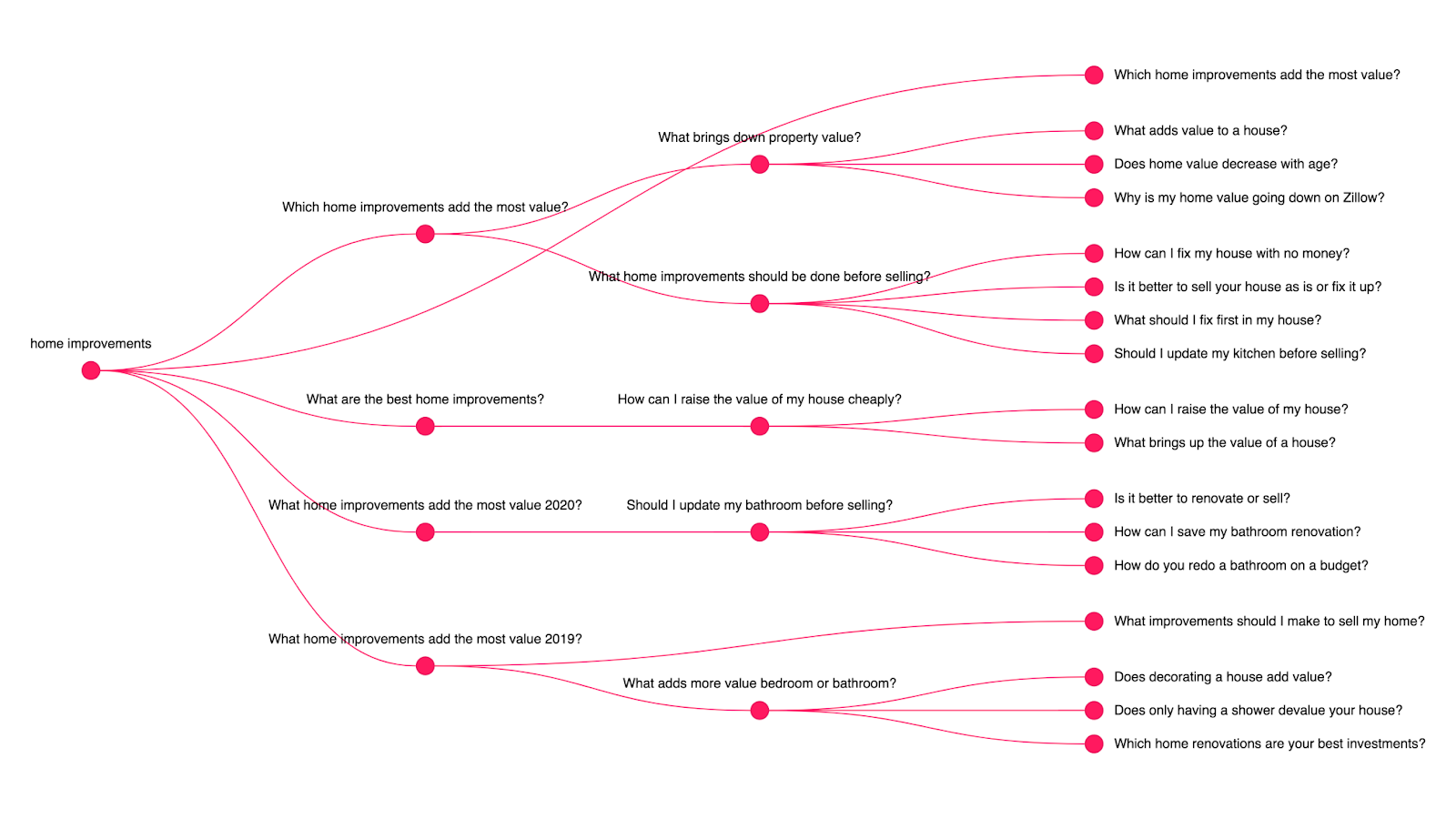 AlsoAsked gathers and organizes questions from the "People Also Ask" boxes that appear in Google search results. By answering relevant questions on your site, you can earn exposure in PAA boxes. And generate other valuable rankings.

The tool's results are based around the search term you enter (e.g., "home improvements"). And can help spark your online content creation process.
Pricing: Paid plans
Alternatives: AnswerThePublic, Semrush Keyword Magic Tool
5. AnswerThePublic
AnswerThePublic gathers and organizes autocomplete suggestions from search engines like Google. Building content around these queries could help you earn valuable SEO rankings.
To start, enter a term to base your search around (e.g., "home improvement"). Then, explore the lists of results. Or look at the data visualizations.
Pricing: Paid plans
Alternatives: AlsoAsked.com, Semrush Keyword Magic Tool
Content Writing Tools
Effective writing helps you engage readers. And it can increase search engine rankings.
With the latest content creation tools, you can improve your own writing—or get AI to write content for you. Use them for blog posts, newsletters, and other written formats.
6. ChatGPT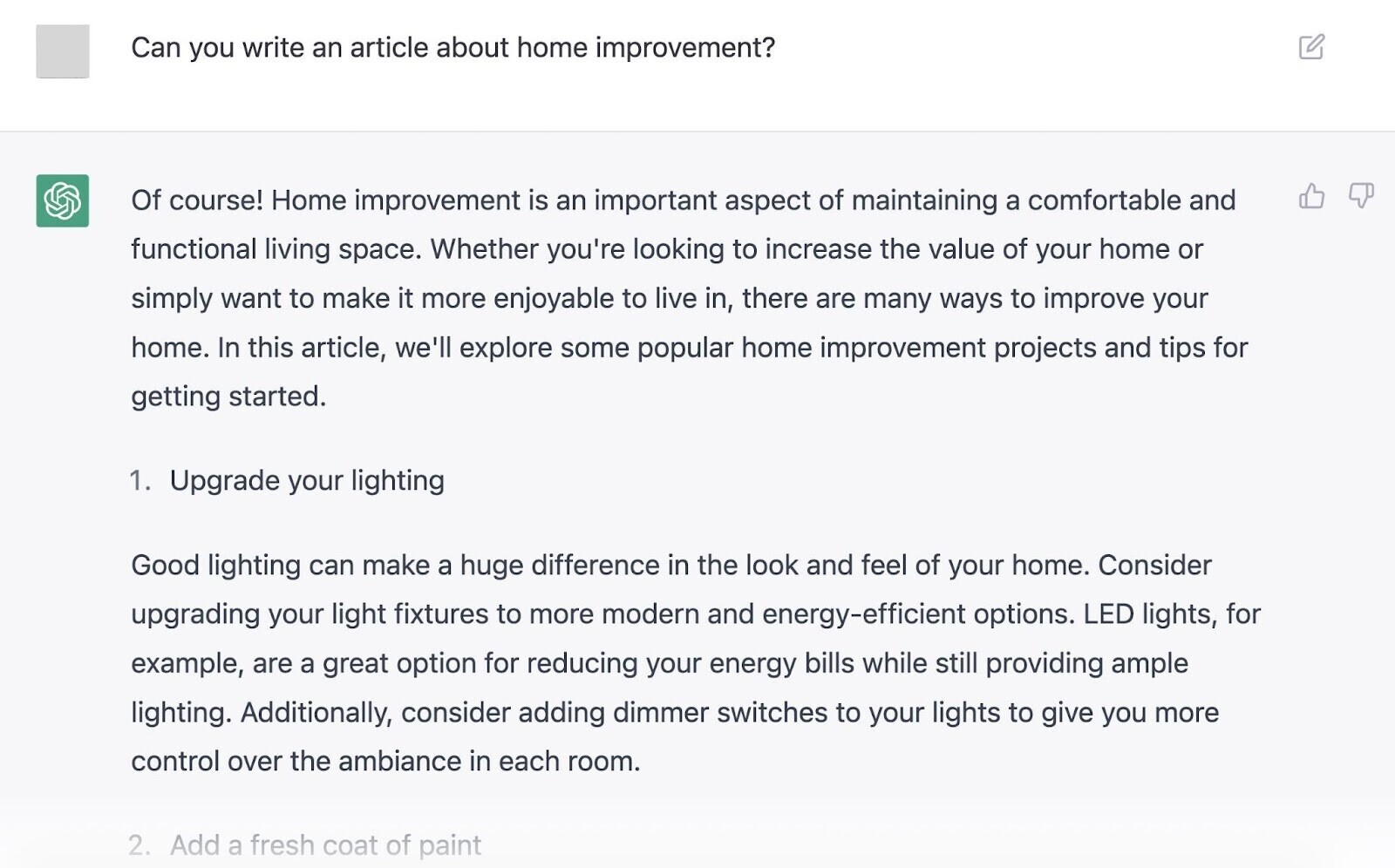 ChatGPT is an AI chatbot that can help with many elements of the online content creation process. You can ask it to come up with blog ideas, write an article, or provide feedback on your own writing. 
Try experimenting with different prompts and feedback. Just be careful how you use the results. As with other AI copywriting tools, ChatGPT may provide inaccurate information or duplicated content. And it won't necessarily write in the best way for your audience.
Pricing: Free
Alternatives: Copy.ai, AI Writing Assistant
7. Semrush SEO Content Template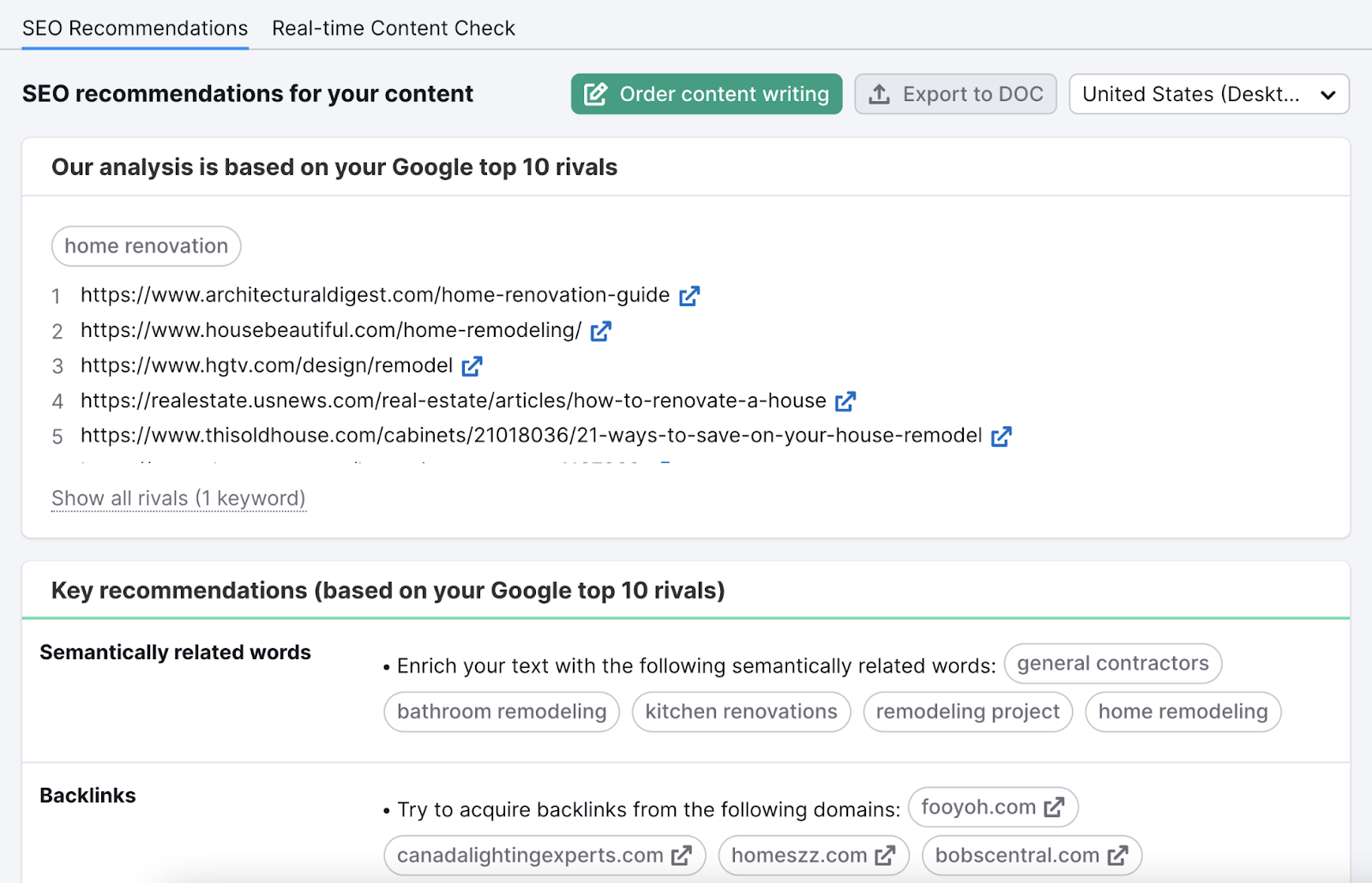 Semrush's SEO Content Template generates search-friendly content recommendations in minutes. It analyzes the top-ranking results for your target keywords to see what qualities they have in common. Then provides recommendations to help you compete.
The tool provides suggestions on text length, readability, and more. Once your brief is ready, you can open it in the SEO Writing Assistant. Or submit it to our content writing service. 
Pricing: Free and paid plans (available as part of the Content Marketing Platform)
8. Grammarly
Grammarly is a spelling and grammar checker. But it can also help you with concision, tone, and other elements of writing. Think of it as a helping hand to ensure your content reads smoothly and is free from errors.
In addition to its web app, Grammarly offers content creation software for desktop and mobile. There are also browser extensions to help you avoid typos in emails and web forms, for example.
Pricing: Free and paid plans
Alternatives: Writer
9. Hemingway App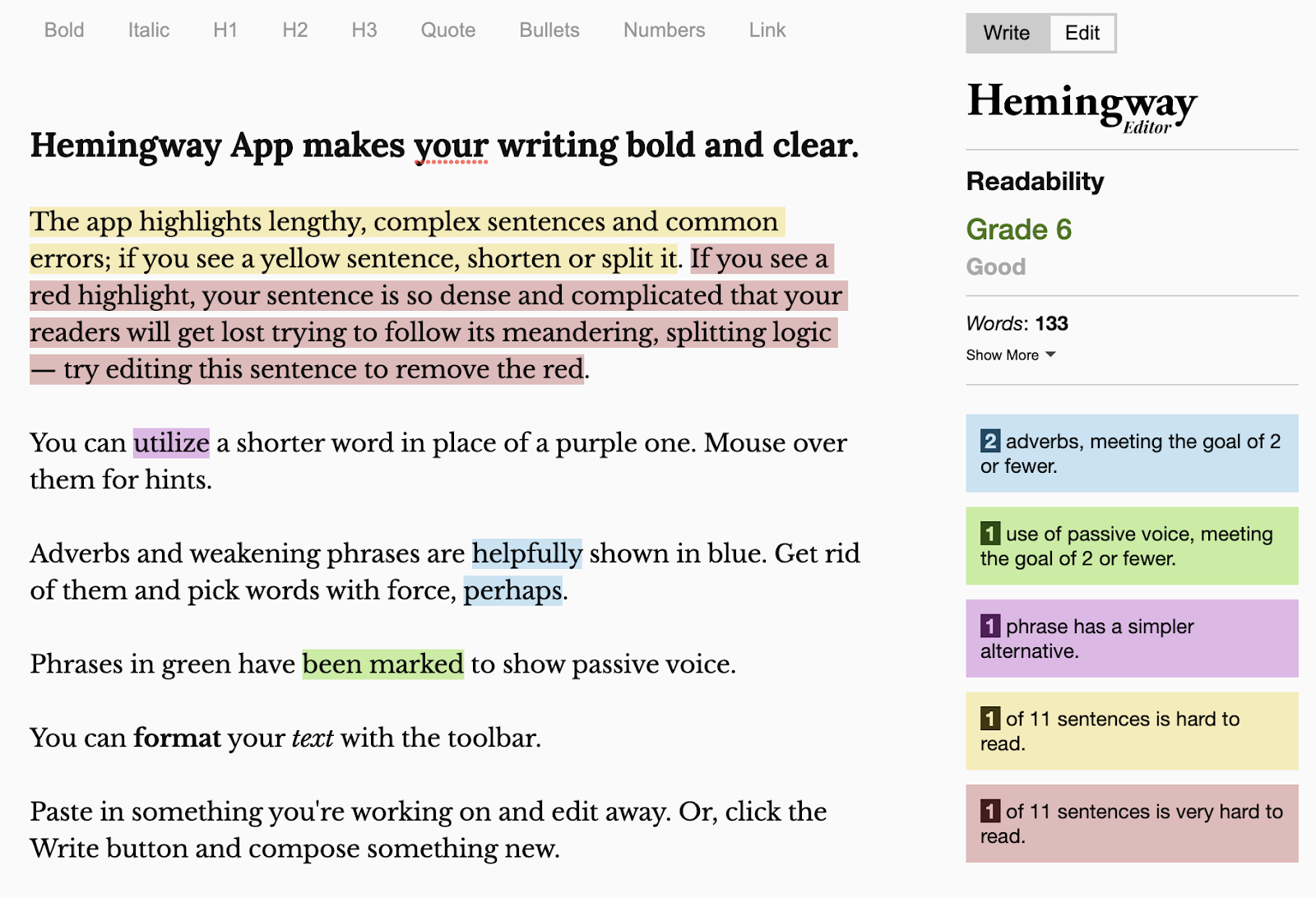 Hemingway App grades your content's readability. And provides actionable advice on making text simpler. To make your content more engaging and rankable.
Run your written copy through the web app or desktop software. In seconds, you'll see opportunities to improve.
Pricing: Free (or pay for the desktop version)
10. Semrush SEO Writing Assistant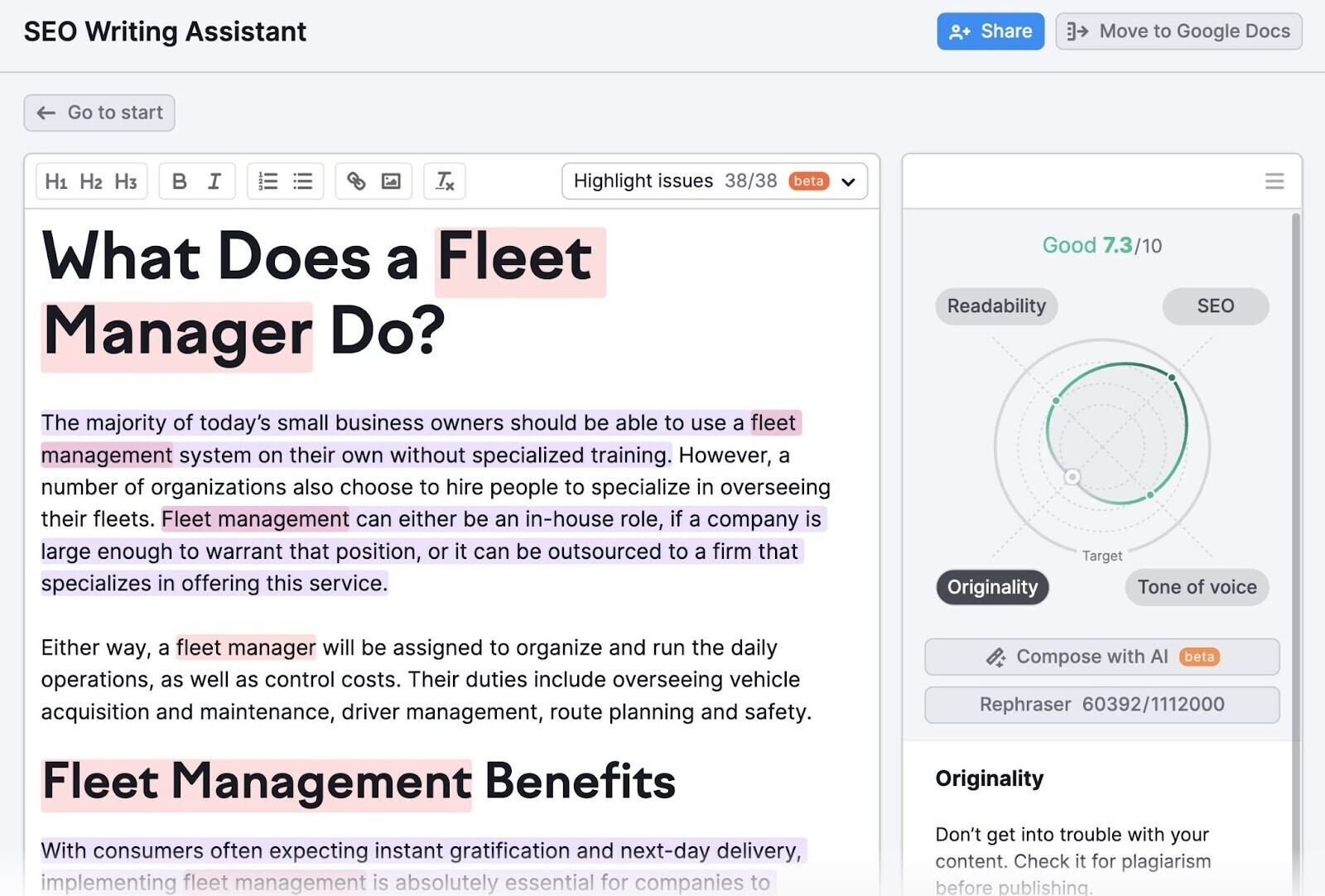 Semrush's SEO Writing Assistant (SWA) helps you write content that's optimized for users and search engines. It scores your readability, originality, SEO, and tone of voice in real time. And provides actionable advice to help you improve.
If you get writer's block, the built-in AI tools can help you create or rephrase text.
Prefer to draft your content elsewhere? Use the SWA add-on for Microsoft Word, Google Docs, or WordPress.
Pricing: Free and paid plans (available as part of the Content Marketing Platform)
Whether you're a professional designer or total beginner, these content tools help you create eye-catching visuals. To use on your blog, social media, and many other marketing channels.
11. Canva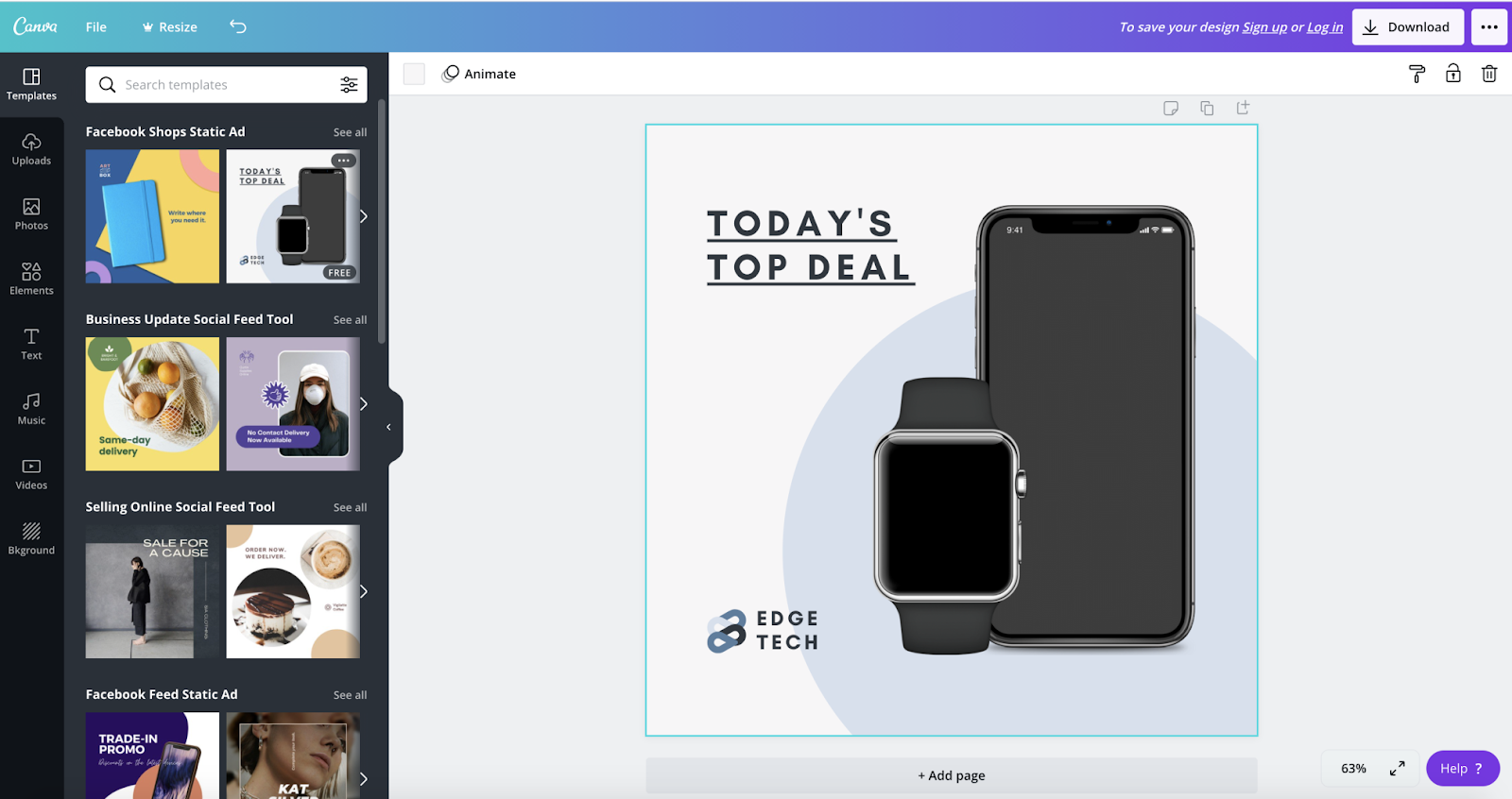 Canva is an online graphic design platform. Its user-friendly content creation tools make beautiful design accessible. You can create blog images, social media videos, infographics, presentations, PDF reports, and much more.
The free version comes with thousands of free templates. But you can take your designs to the next level with a premium subscription.
Pricing: Free and paid plans
Alternatives: Piktochart, Visme
12. Microsoft Designer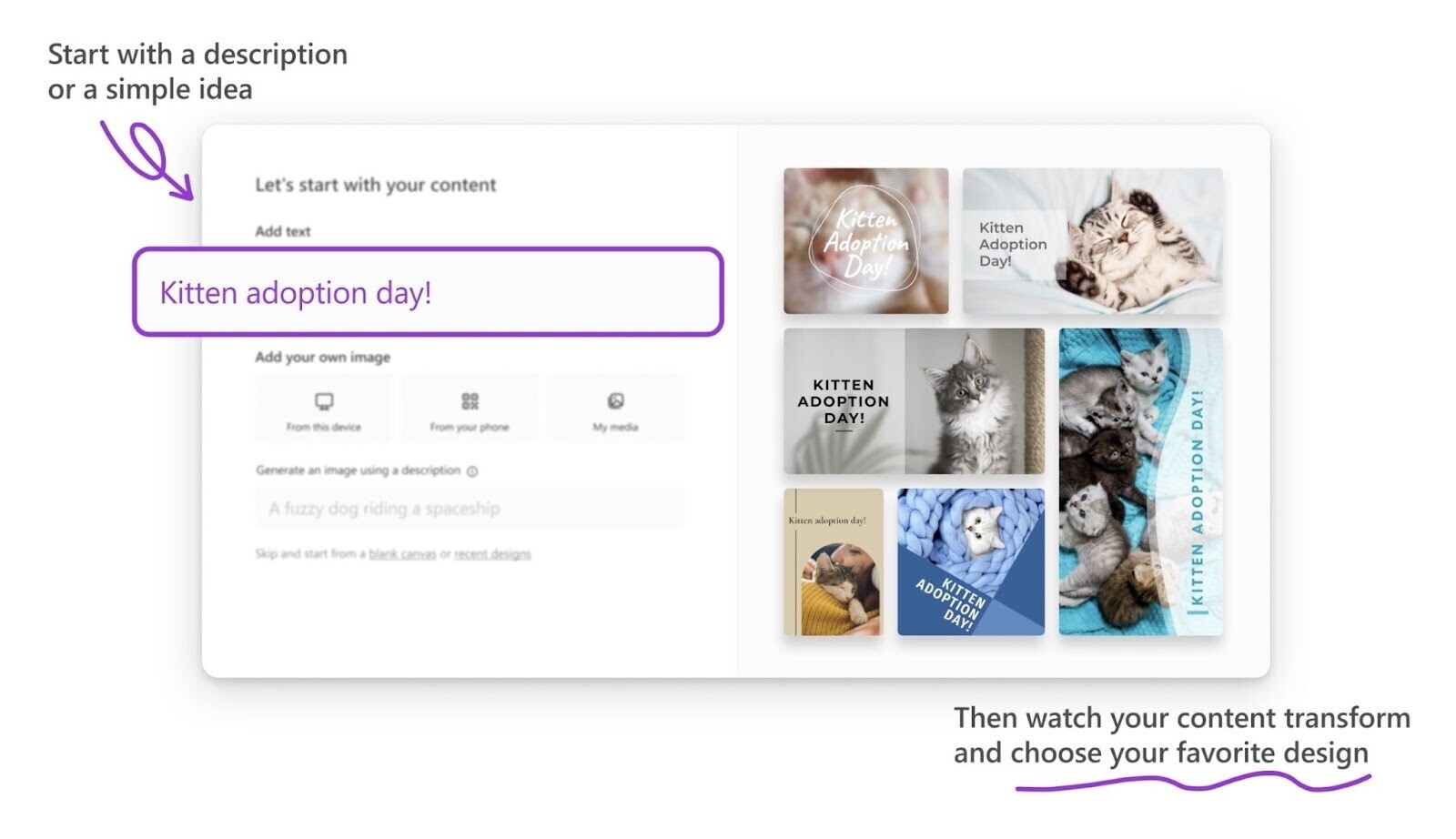 Microsoft Designer is an AI graphic design tool. Enter the text you want to appear on your image, and the content creation software will automatically generate a range of customizable design options.
An integration with AI system DALL·E 2 creates images from descriptions. This is ideal when you need to illustrate a complex or unusual concept.
Pricing: Free
Alternatives: Images.AI, DALL·E 2, Adobe Firefly
13. Remove.bg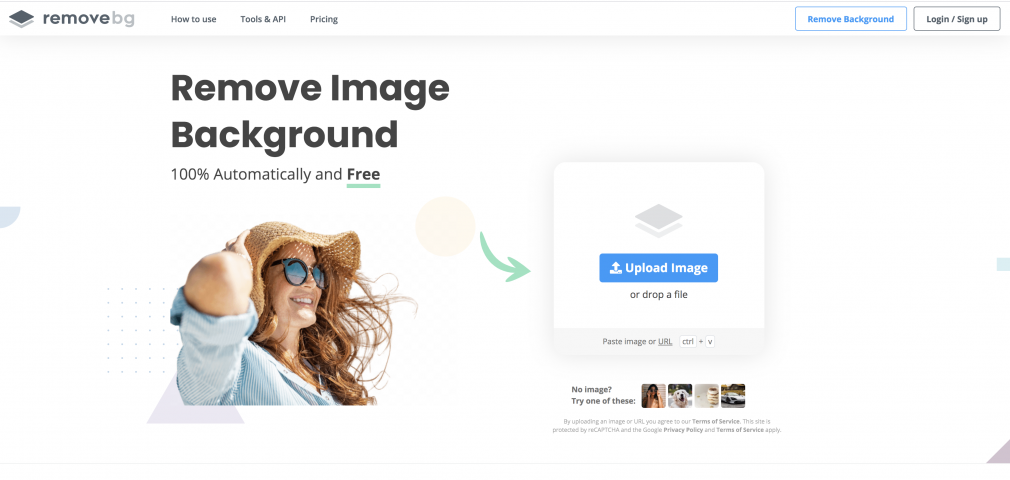 Remove.bg removes backgrounds from images using AI. When you need to cut out images to use in visuals, this can save valuable time.
Pricing: Free and paid plans
14. Nimbus Screenshot & Screen Video Recorder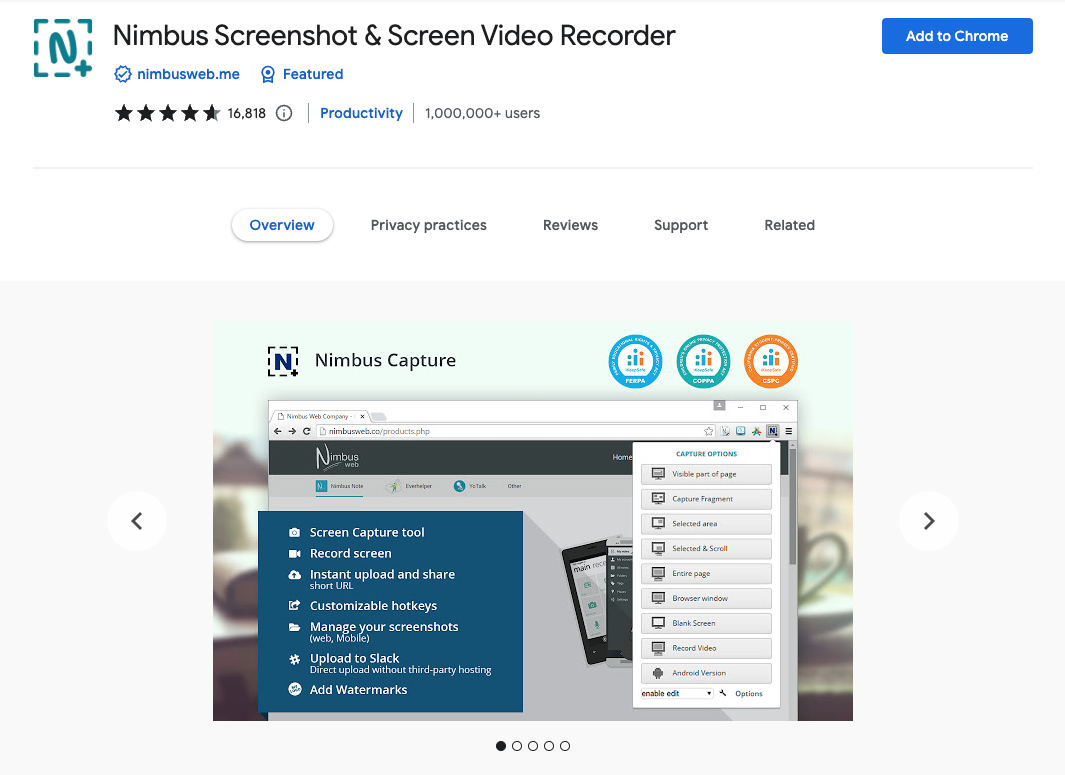 Nimbus Screenshot & Screen Video Recorder is a Google Chrome extension that makes it easy to capture screenshots, screen clippings, and screen recordings. Then edit and annotate them.
You can even convert videos into animated GIFs—perfect for showing simple steps in tutorials.
Pricing: Free
Alternatives: Awesome Screenshot
15. Unsplash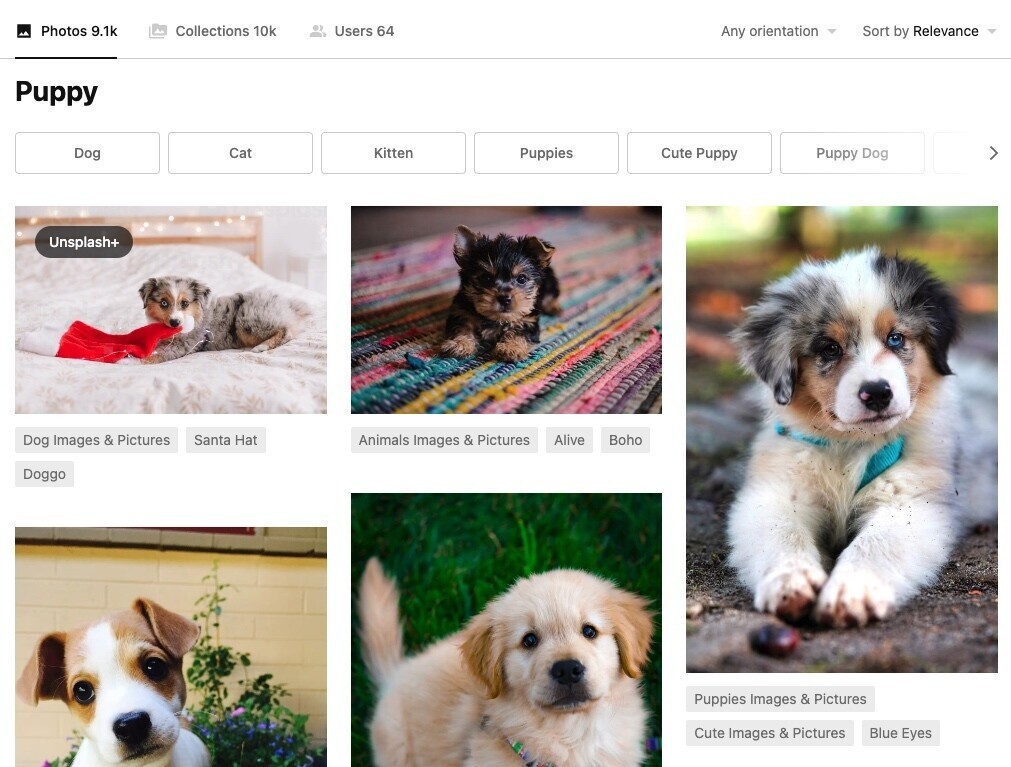 Unsplash is a royalty-free image database. You can get free photos for your blog, social media posts, and graphic design projects. There are no costs or licenses to worry about.
This makes it one of the best content development tools for creators on a budget.
Pricing: Free
Alternatives: Pexels, Pixabay, Burst
16. Shutterstock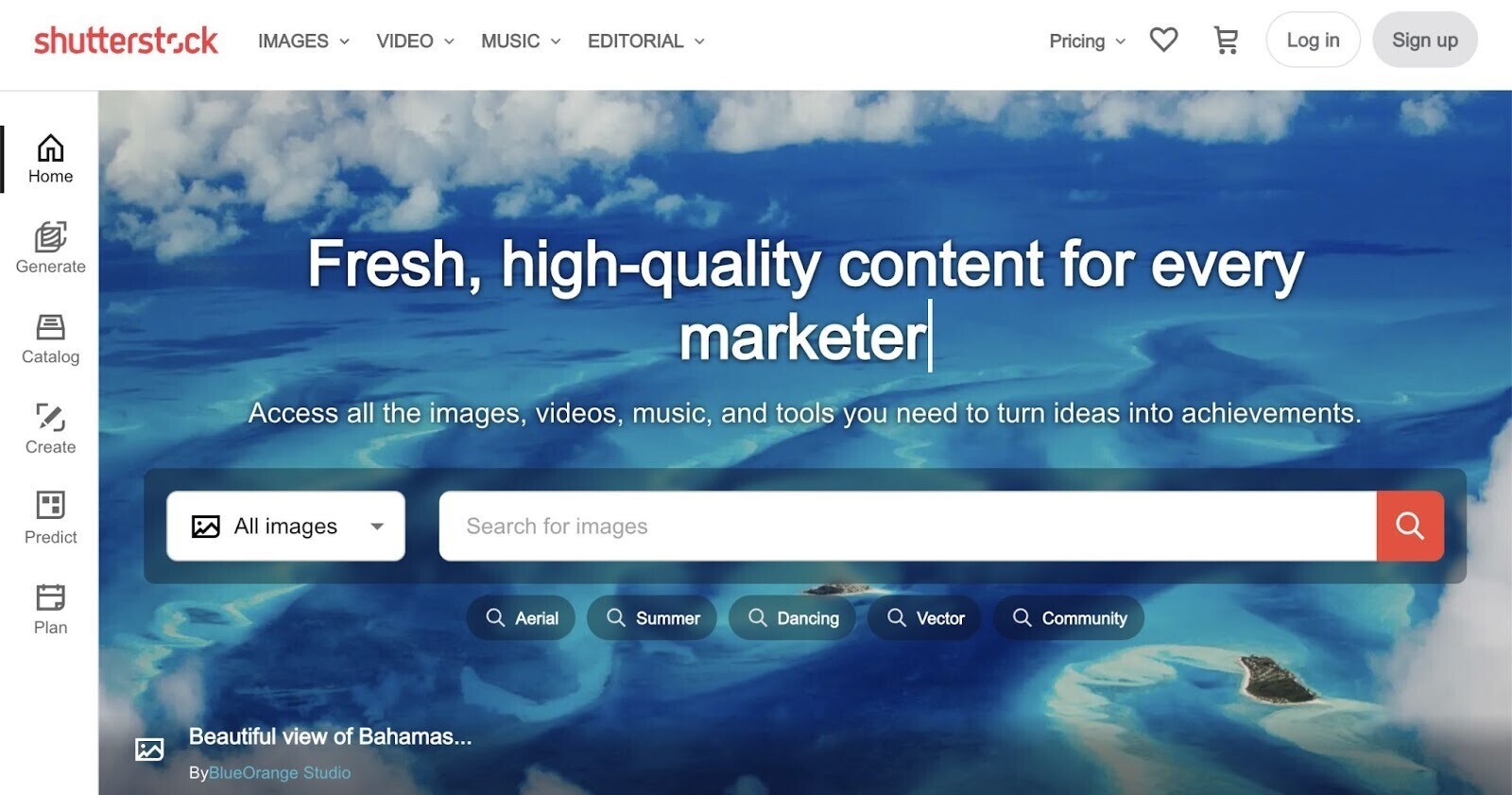 Shutterstock is a stock image site. But it also offers videos, music, and other media assets.
There are costs and usage licenses to take into consideration. But Shutterstock is a great option when you can't create the content yourself—or find something suitable that's royalty-free.
Pricing: Pay per download or get a subscription
Alternatives: Getty, Adobe Stock
17. Mockup Photos
Mockup Photos allows you to create digital and print mockups—i.e., put screenshots and designs into real-world scenarios. 
For example, you can make it look like someone is browsing your website. Or visualize your billboard design on a street. Just upload your image in the placeholder.
Pricing: Free
18. Giphy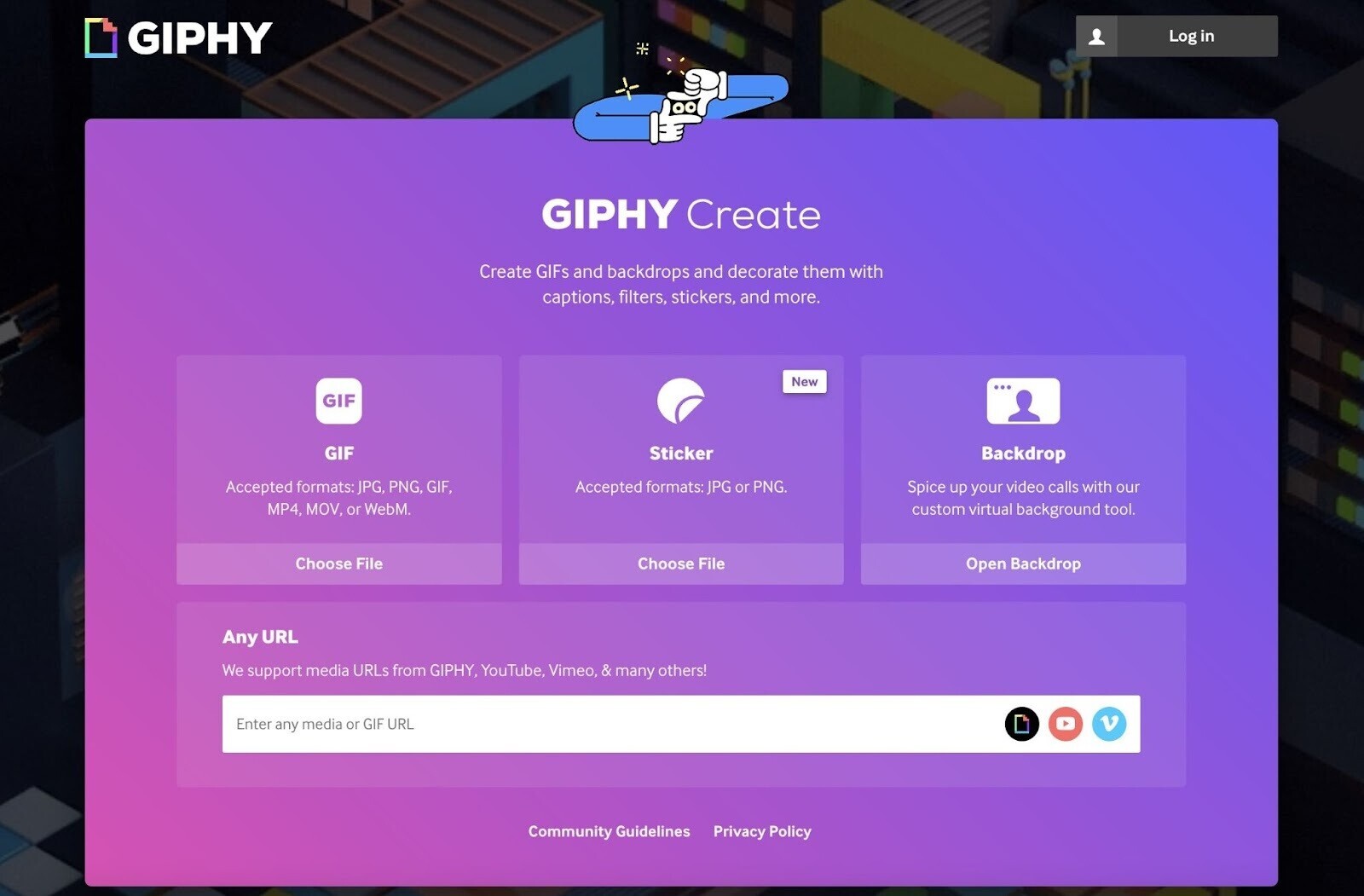 Giphy has a massive library of animated GIFs and digital stickers. Which can add personality to your social media posts and other types of content.
Alternatively, make your own GIFs with Giphy Create. Simply upload your image or video, then decorate with captions, stickers, filters, and drawings.
Pricing: Free
19. TailWind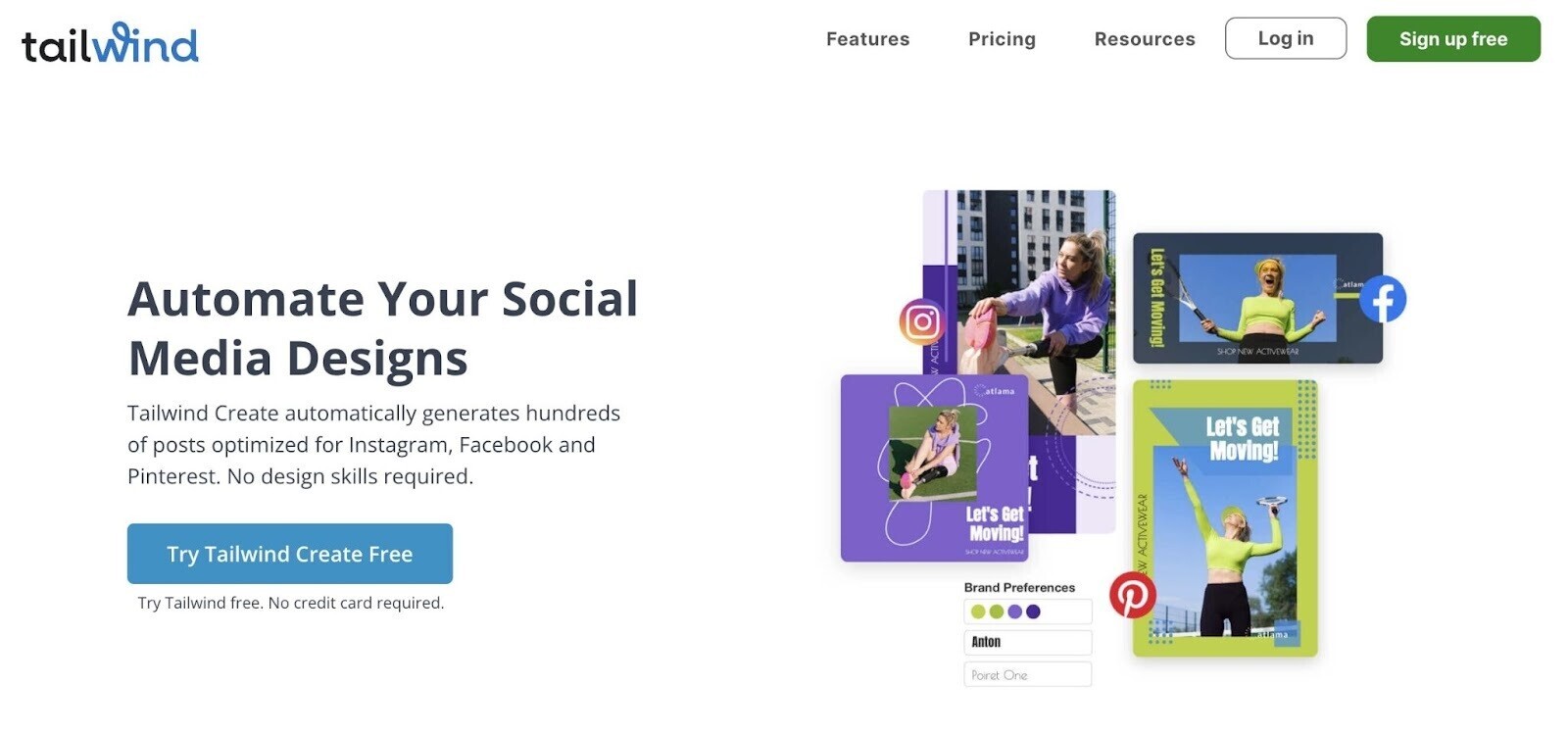 Tailwind is one of the best content creation tools for social media. It turns your photos (or stock photos) into engaging social graphics. You can then add your own text, change the color palette, and apply your branding.
The images are automatically sized for Facebook, Pinterest, and Instagram. And you can post or schedule them without leaving the platform.
Pricing: Free and paid plans
These content creation tools make it quicker, easier, and more affordable to produce professional-quality videos. Or run engaging webinars and livestreams.
You can use videos to engage audiences on your website and social media. 
20. Descript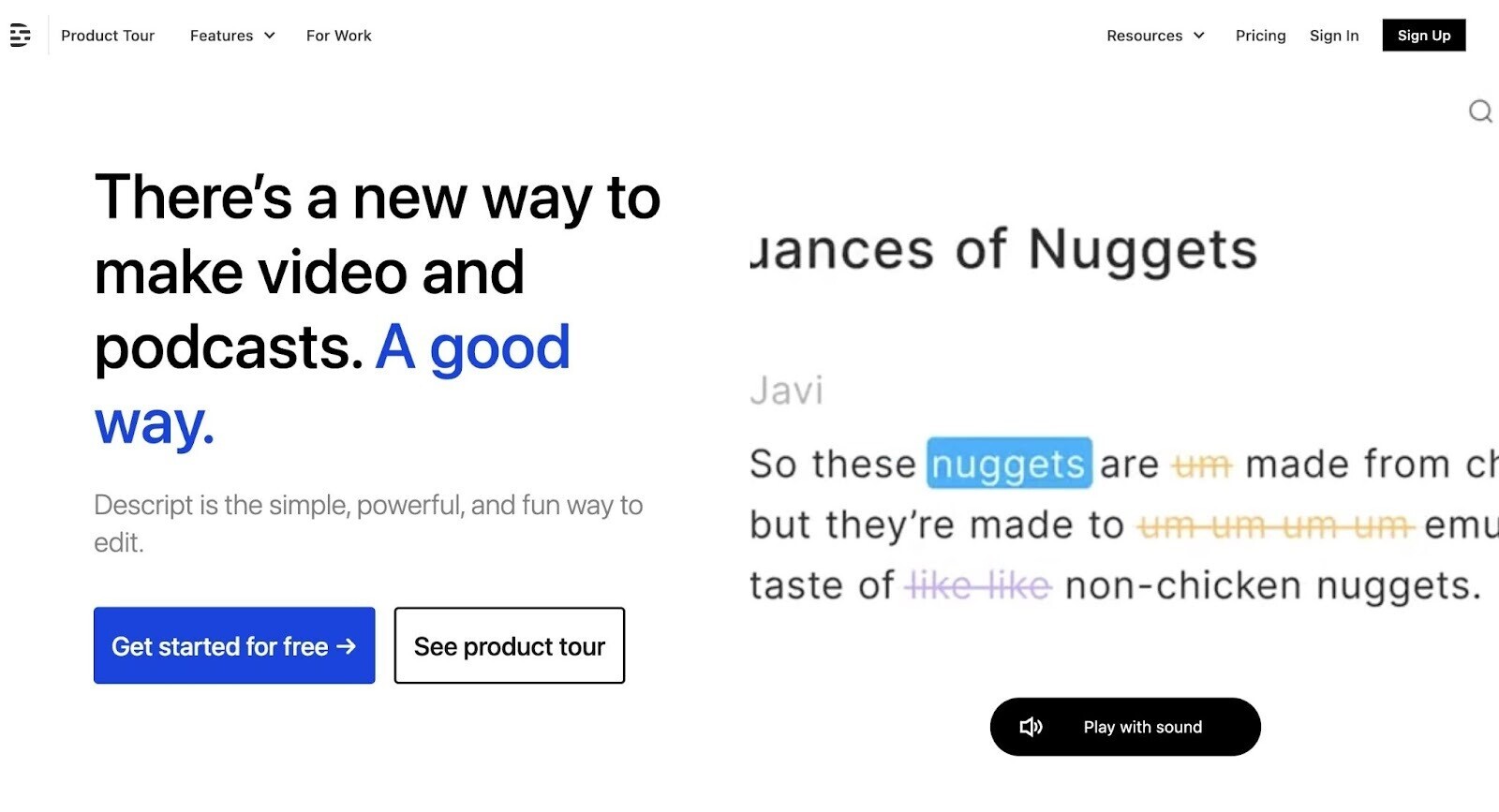 Descript is a multimedia editing platform with many features for video creators. 
Use unique or stock footage to create engaging scenes. Place your presenters into any setting with the AI-powered green screen. Or create "talking head" videos with screen recordings.
You can generate voice-over using the speech synthesizer tool. Or upload your own and let the tool clean the audio. Transcriptions are generated automatically, and any edits you make are applied to the audio.
Pricing: Free and paid plans
Alternatives: Adobe Premiere Rush
21. WebinarNinja
WebinarNinja is a webinar hosting platform that eliminates the need for complex development and design projects. Whether you're hosting a live event, a pre-recorded webinar, or both, the tool makes it easy to get started.
You can build landing pages and email marketing campaigns, interact with attendees through handouts and chat functions, and measure results through analytics.
Pricing: Paid plans
Alternatives: Zoom Webinars
22. StreamYard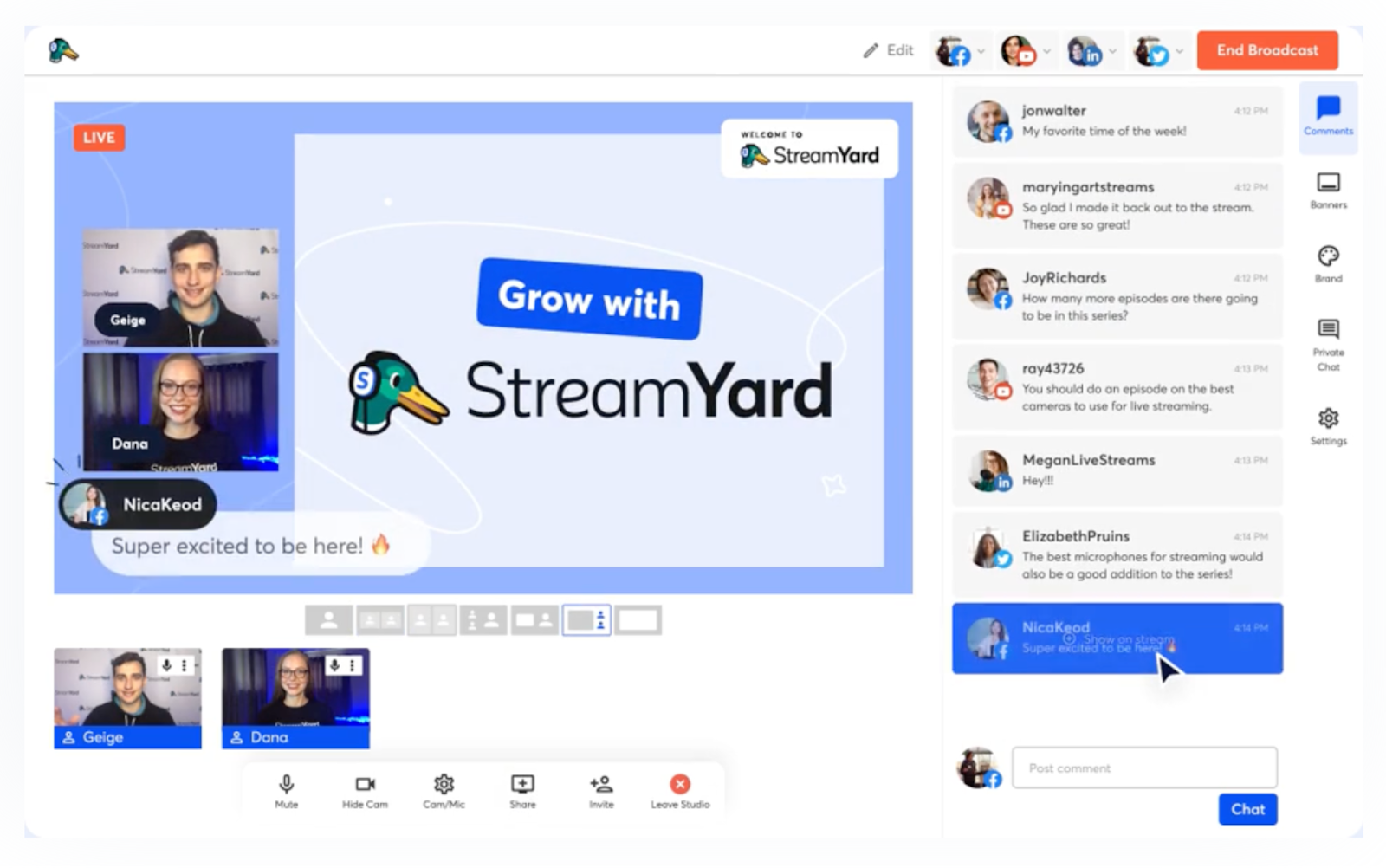 StreamYard allows you to livestream across platforms such as Facebook, YouTube, LinkedIn, Twitter, and Twitch. Simultaneously. And interact with all your viewers at once. 
This makes it one of the best content tools for engaging younger generations. Brand your broadcasts with logos and other overlays to align with your brand guidelines. 
Pricing: Free and paid plans
23. Animoto
Animoto is a drag-and-drop video maker. Start with one of the many available templates, or upload your own photos and videos. Create a sleek video asset quickly without the help of a professional videographer or editor. 
Many marketers use Animoto's content creation tools for social media. But you can also make engaging product demos and tutorials for your website.
Pricing: Free and paid plans
Alternatives: Canva, Biteable
24. Instant Video Creator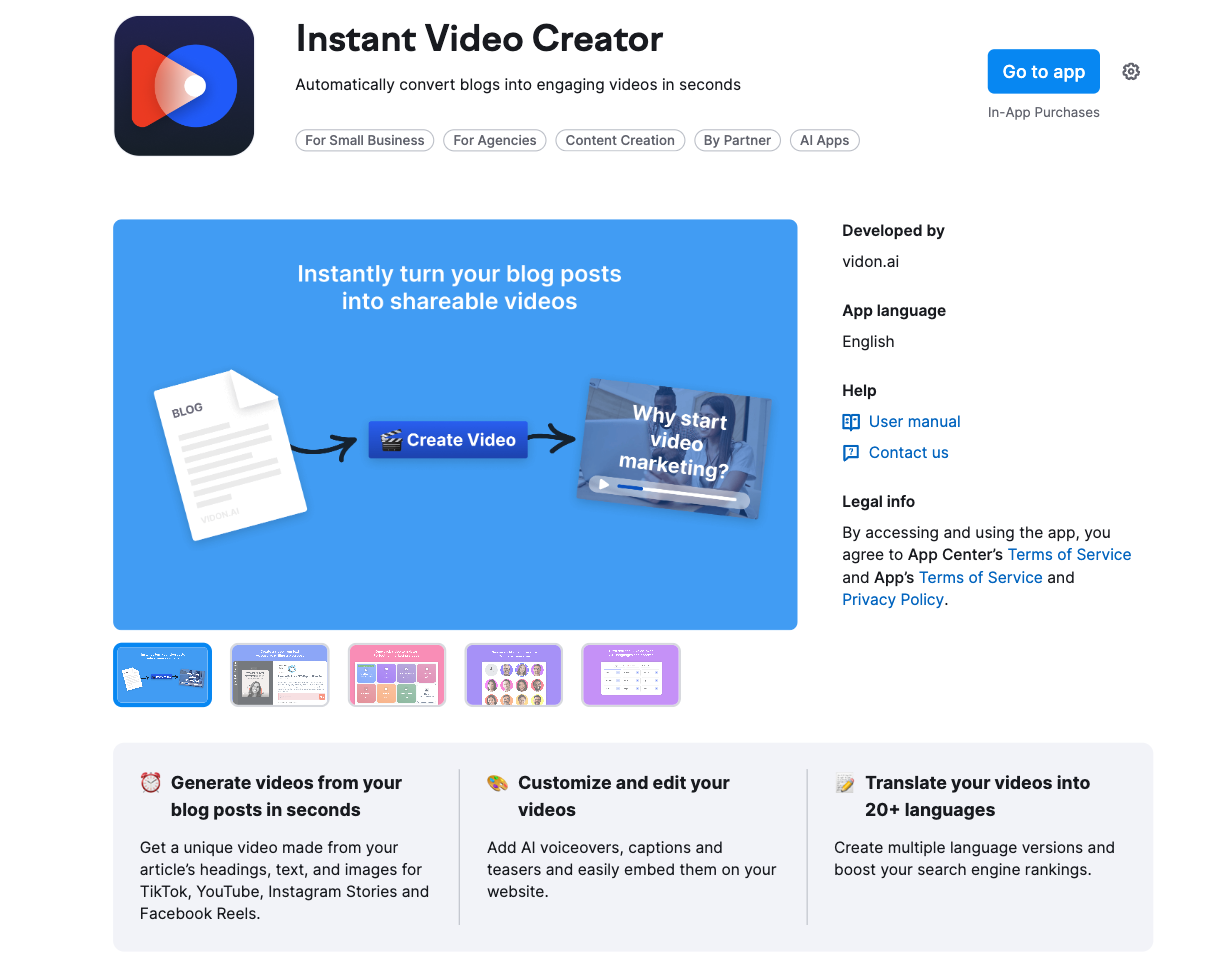 Instant Video Creator is an online app that converts articles into shareable videos. And offers templates to create your own videos with guidance. It's a low-effort way to improve your video SEO and cater to different learning styles.
Plus, videos can generate increased engagement on social media. The tool automatically optimizes for TikTok, YouTube, Instagram Stories, and Facebook Reels.
Pricing: Free and paid plans
Podcasting has surged in popularity, especially among B2B marketers. Having the right audio content tools can help you maximize this channel. No specialist skills required.
25. Audacity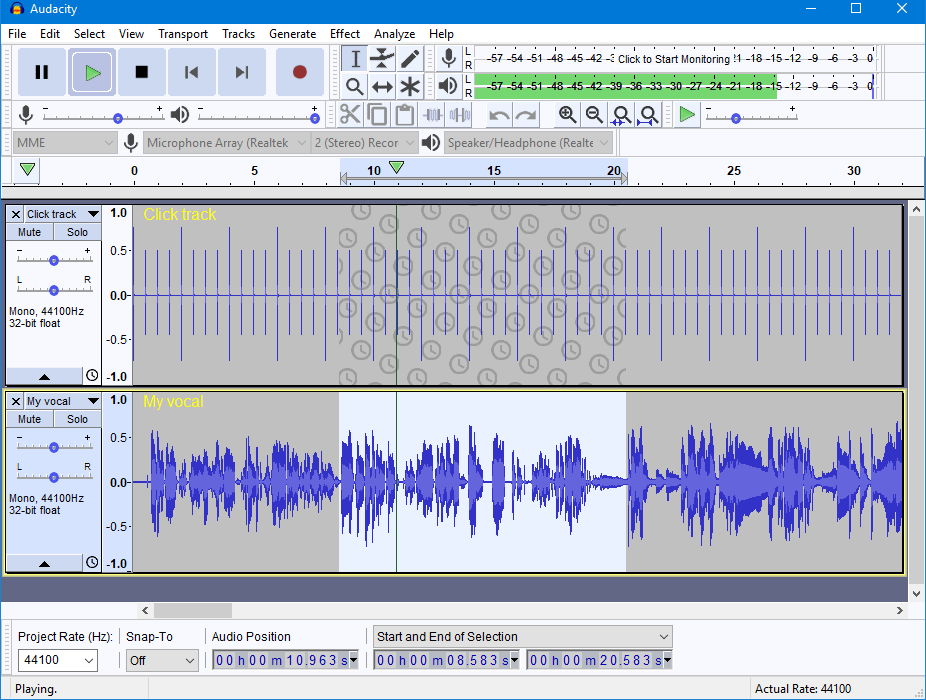 Audacity is a digital audio workstation (DAW). You can record audio directly in the content creation software or upload existing files. Then access a wide range of editing tools. Once you're done, you can export your podcast in various audio formats, including WAV, AIFF, and MP3.
Pricing: Free
Alternatives: Adobe Audition, Descript, Riverside
26. Alitu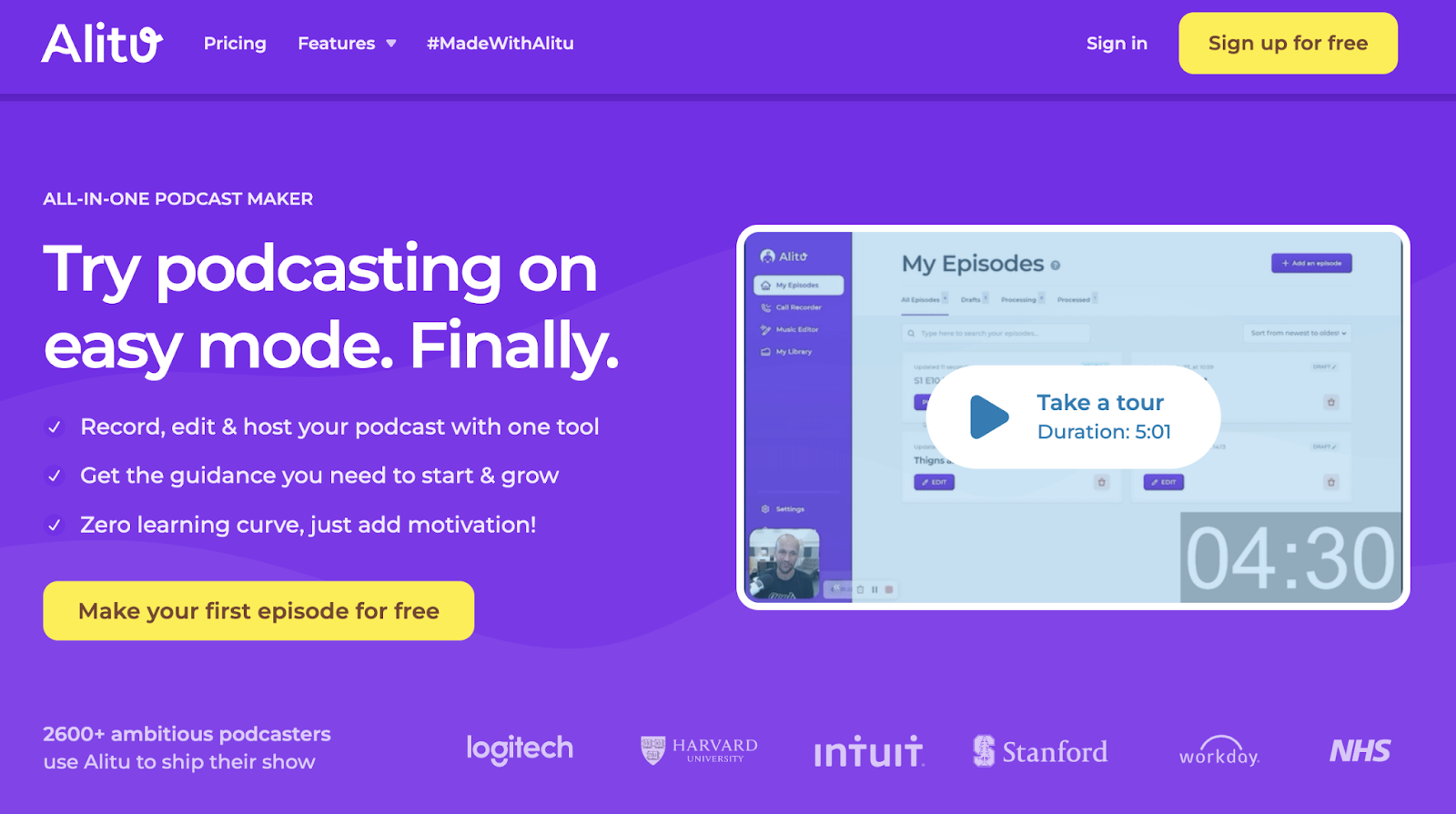 Alitu cleans up your audio recordings automatically. Record your podcast in the platform, or upload your audio files. Then let the AI handle the rest.
This is a solid option if you're worried about the sound quality of your recordings. Or you want to save time on editing. Listeners love crisp and clear podcasts.
Pricing: Paid plans
27. Buzzsprout
Buzzsprout is a podcast hosting platform. It stores your podcasts online and distributes them to your chosen platforms, such as Apple Podcasts, Spotify, and Google Podcasts. 
You will also gain insights into each episode's performance, as well as listener device and location. This data can help you improve your show's content and promotion strategy. 
Pricing: Free and paid plans
Alternatives: Libsyn, Transistor, Podbean, Spotify for Podcasters
28. Scribie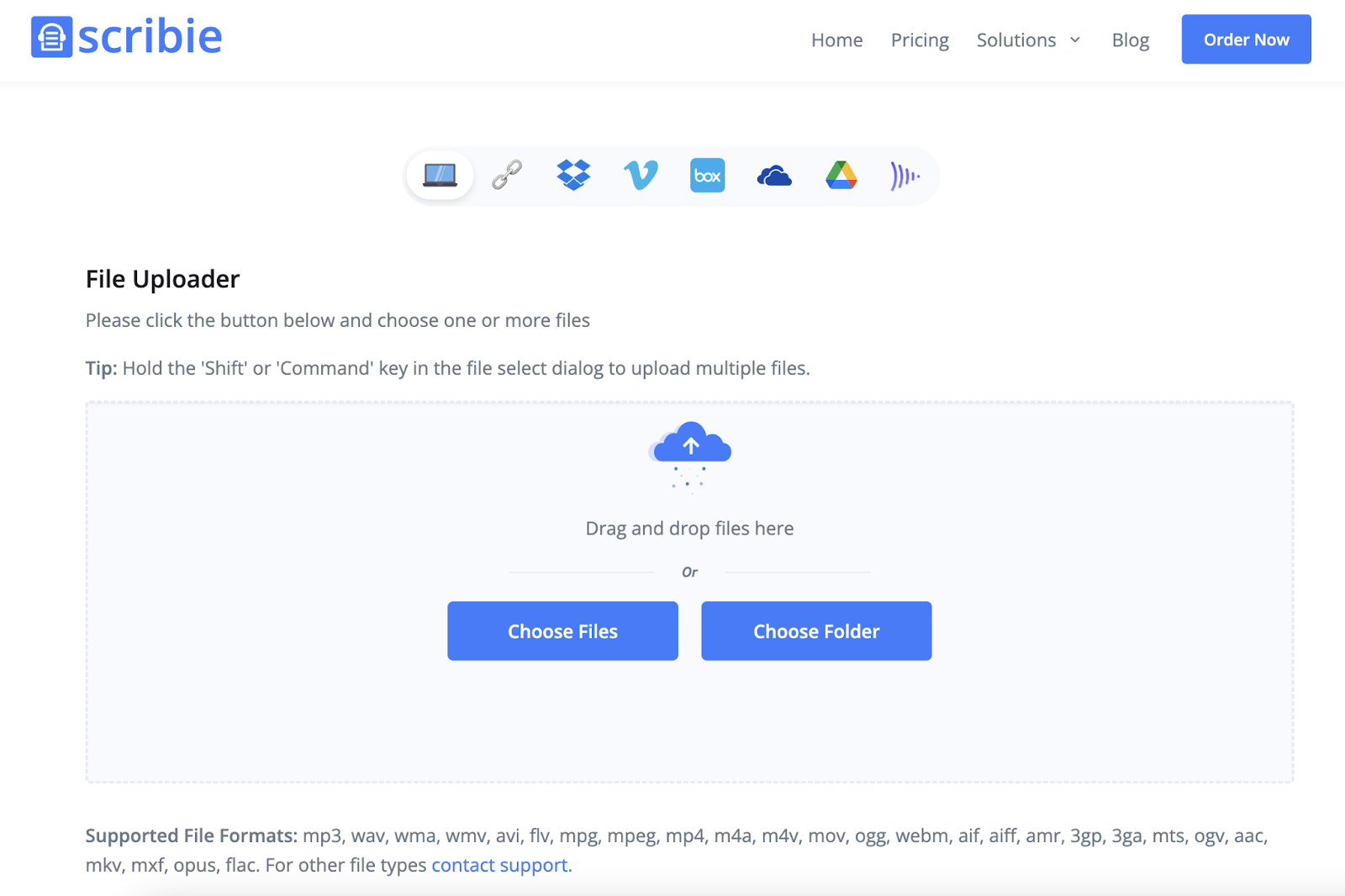 Scribie is an audio and video transcription service. You can get an automated transcription or pay extra for a professional transcription.
Providing a text version of your podcast makes it easier for search engines to understand your podcast's content. And therefore include it in relevant search results pages. Plus, it can help you engage people who aren't willing or able to listen—but are willing and able to read.
Pricing: Paid plans
Alternatives: Rev, Happy Scribe, Izitext.io
Content Planning Tools
Planning tools are essential for all forms of content creation. They help you manage admin and logistics—especially for larger teams. 
What tasks need to be done? Who will do them? What's the deadline? Being organized and creating a content plan helps you increase productivity. And get the best possible results.
29. Semrush Marketing Calendar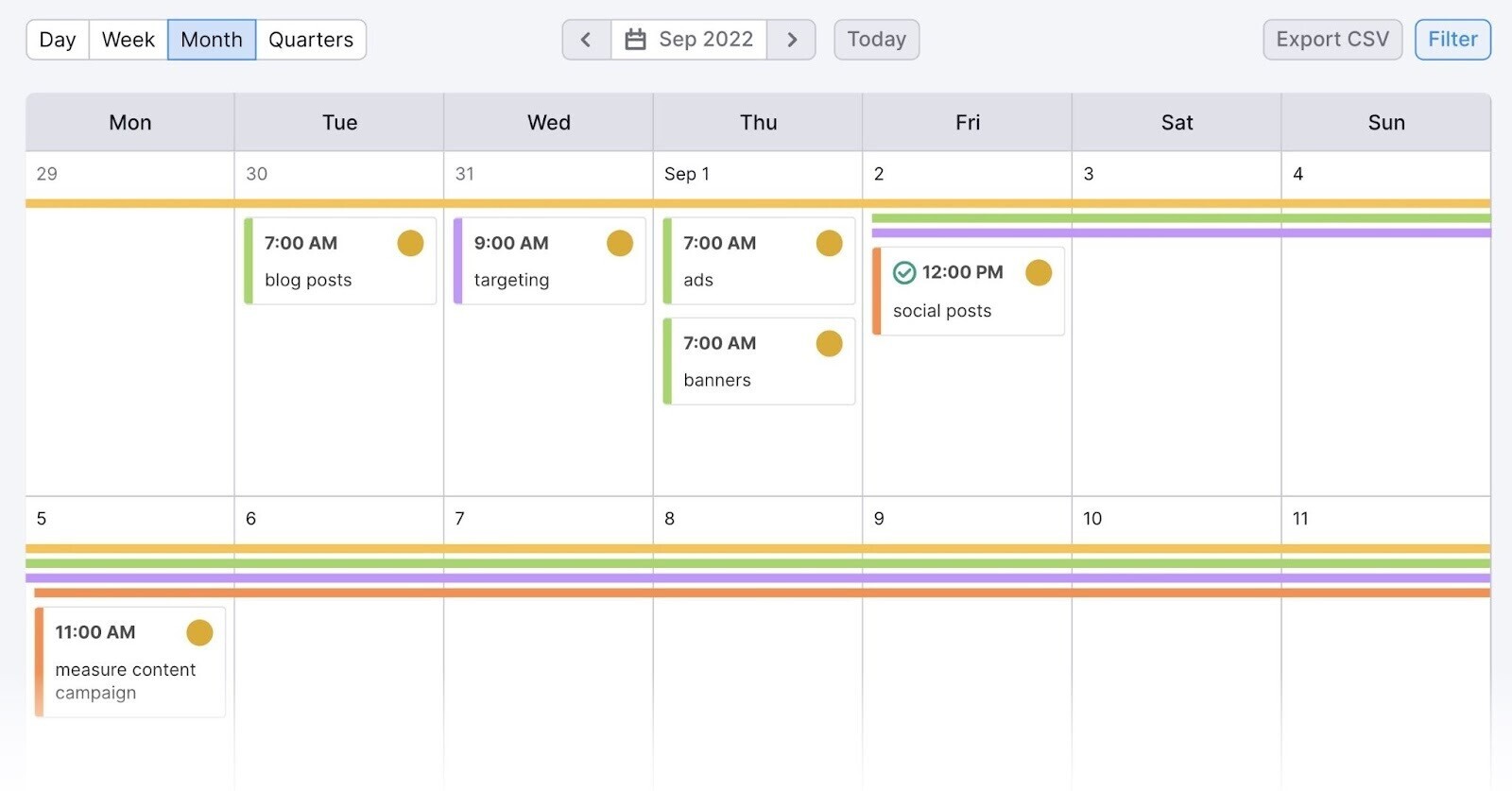 Semrush's Marketing Calendar makes it easy to organize marketing activities. Such as blog posts, social media posts, and email campaigns.
You can give each activity a title, status, description, and owner. Add attachments, comments, and tags. And create a checklist for individual tasks. This makes it easy to collaborate with your team and ensure content is published on time.
Pricing: Free and paid plans (available as part of the Content Marketing Platform)
30. Google Workspace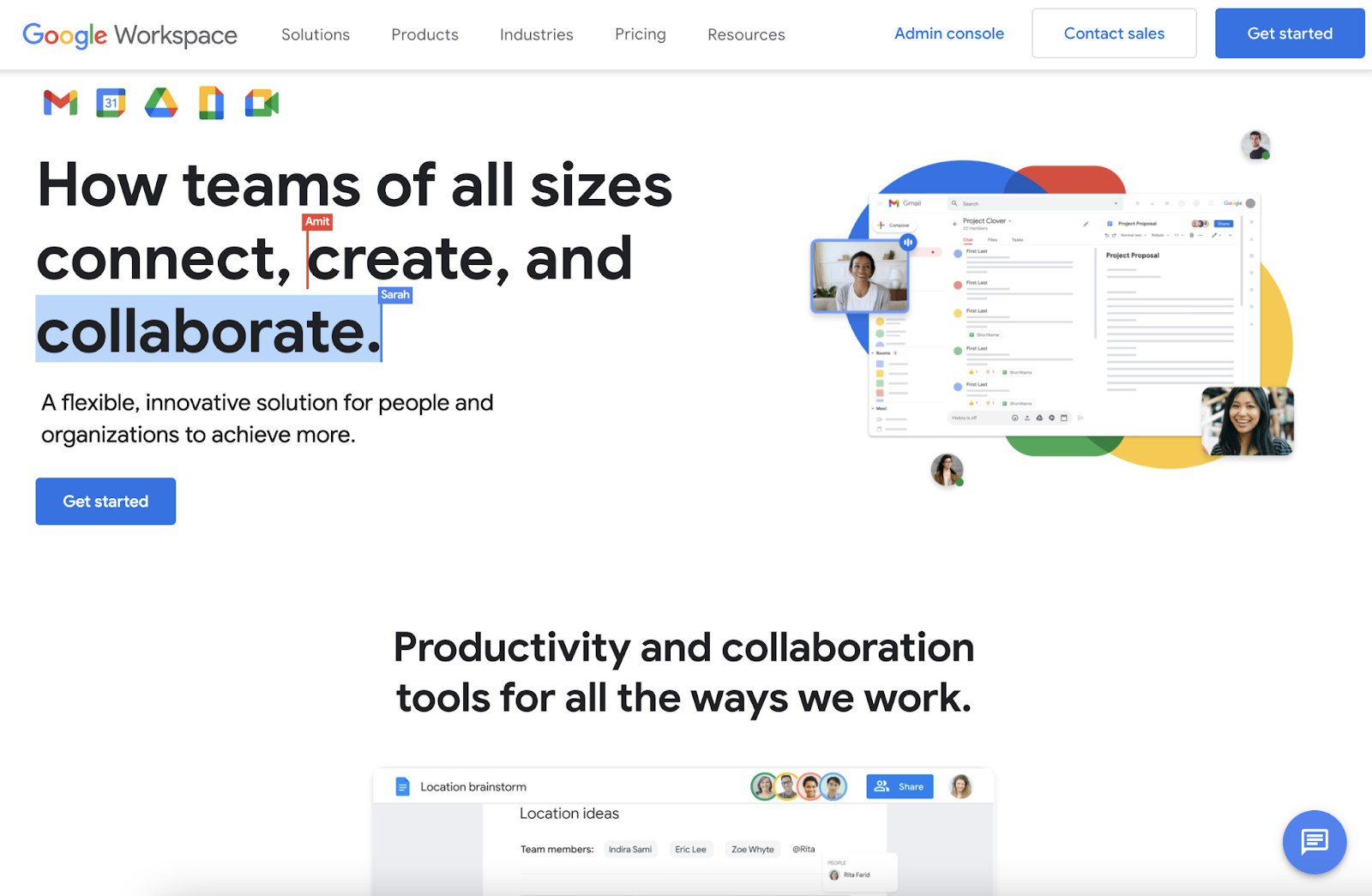 Google Workspace brings together multiple tools for content creators, including:
Calendar: An online calendar that lets you track to-dos and events
Docs: An online word processor that's great for collaboration with real-time editing
Drive: Cloud storage for documents, images, videos, and more
Because everything's stored on the cloud, it's easy to work from different devices. And collaborate with team members everywhere. 
Pricing: Paid plans
Alternatives: Microsoft 365
31. Miro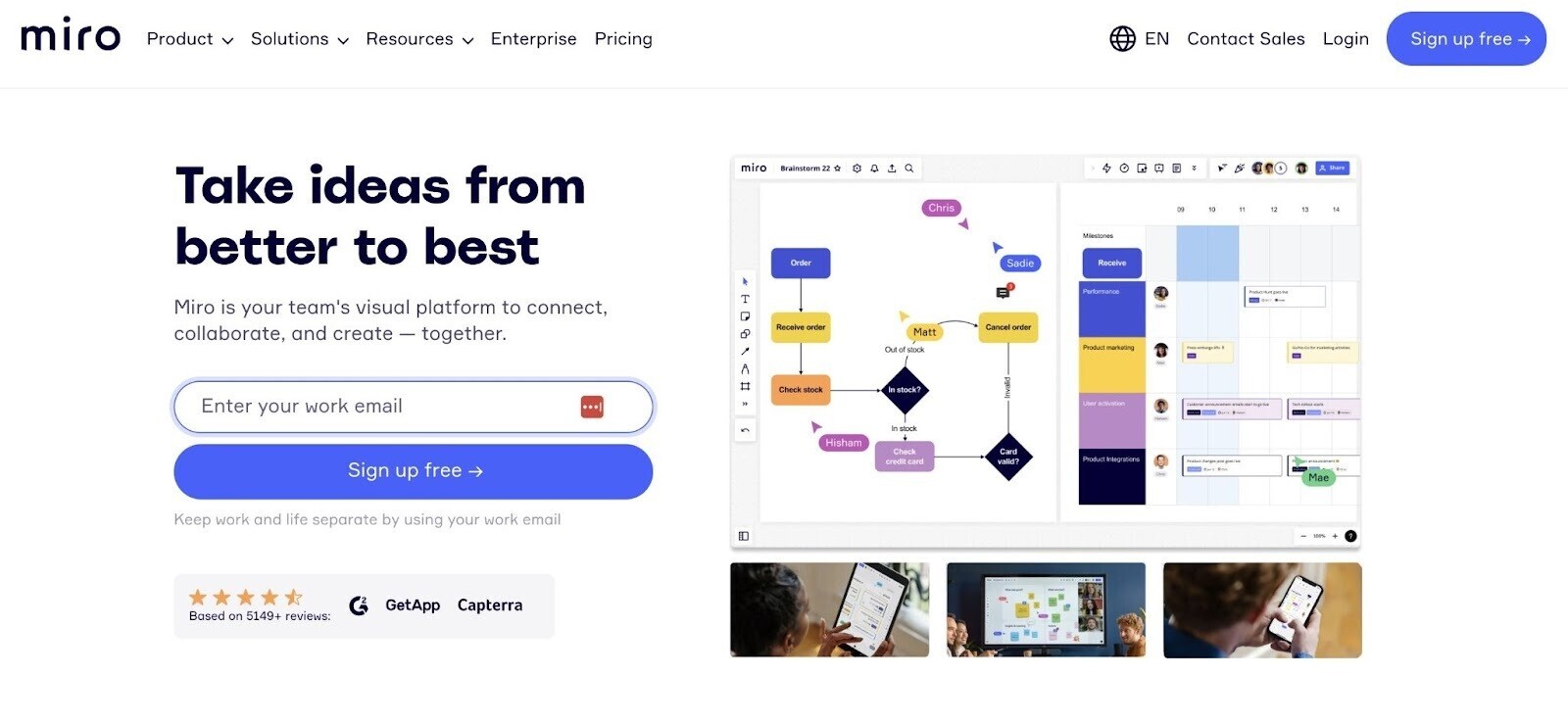 Miro is an online whiteboard tool. It's a great place to brainstorm content ideas—especially during online meetings with remote teammates. You can create mind maps, flowcharts, task lists, design mock-ups, and much more.
Pricing: Free and paid plans
Alternatives: Mural
32. Trello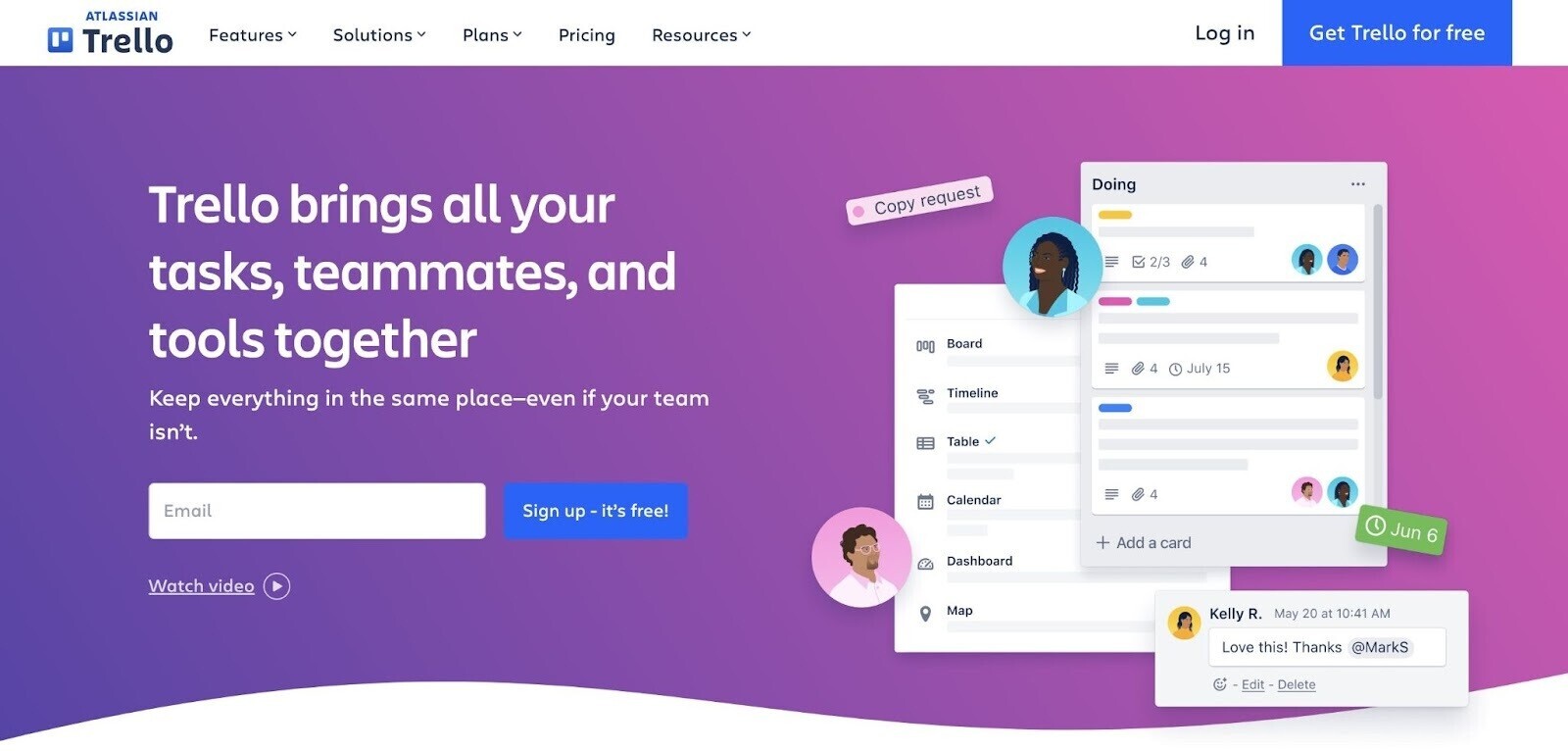 Trello is a project management tool that can improve your content team's efficiency. It helps you keep track of tasks, deadlines, assignees, and much more.
Plus, integrations make it easy to connect other content creation tools. For example, you can create new Miro boards without leaving Trello. Send topic ideas from Semrush. And attach folders directly from Google Drive.
Pricing: Free and paid plans
Alternatives: Monday.com, ClickUp, Asana, Notion
33. Semrush Social Poster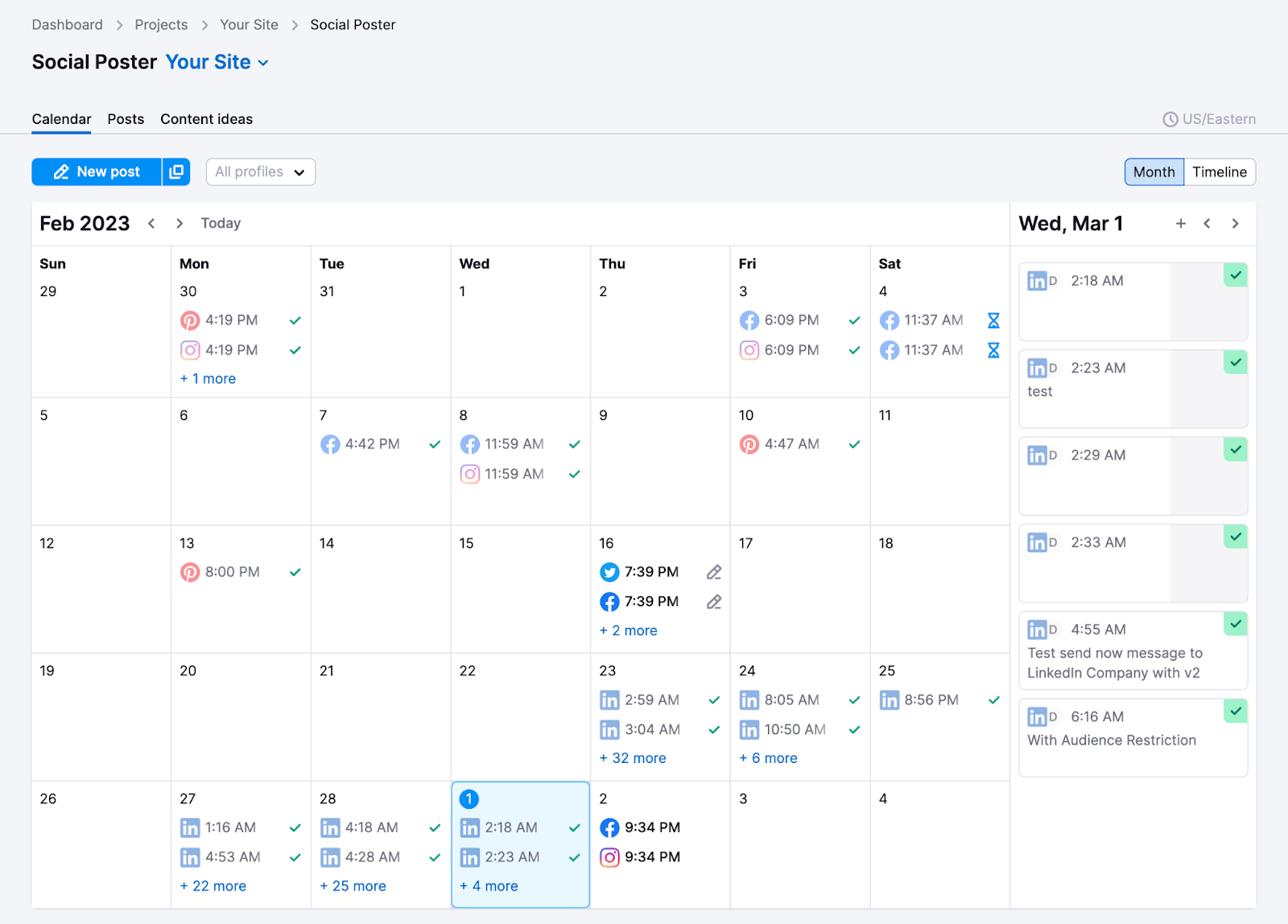 Semrush's Social Poster tool allows you to draft and schedule social media posts for Facebook, Twitter, LinkedIn, Instagram, Pinterest, and Google Business Profile. A built-in GIPHY integration allows you to easily attach animated images.
If you add your competitors' accounts with the complementary Social Tracker tool, you can view their top-performing posts without leaving the platform. You can also get content ideas by linking relevant RSS feeds.
Pricing: Free
Other Content Creation Tools
We've covered the most popular content marketing formats. But lots of other assets can help you attract and engage your target audiences.
Try experimenting with these content creation tools.
34. Designrr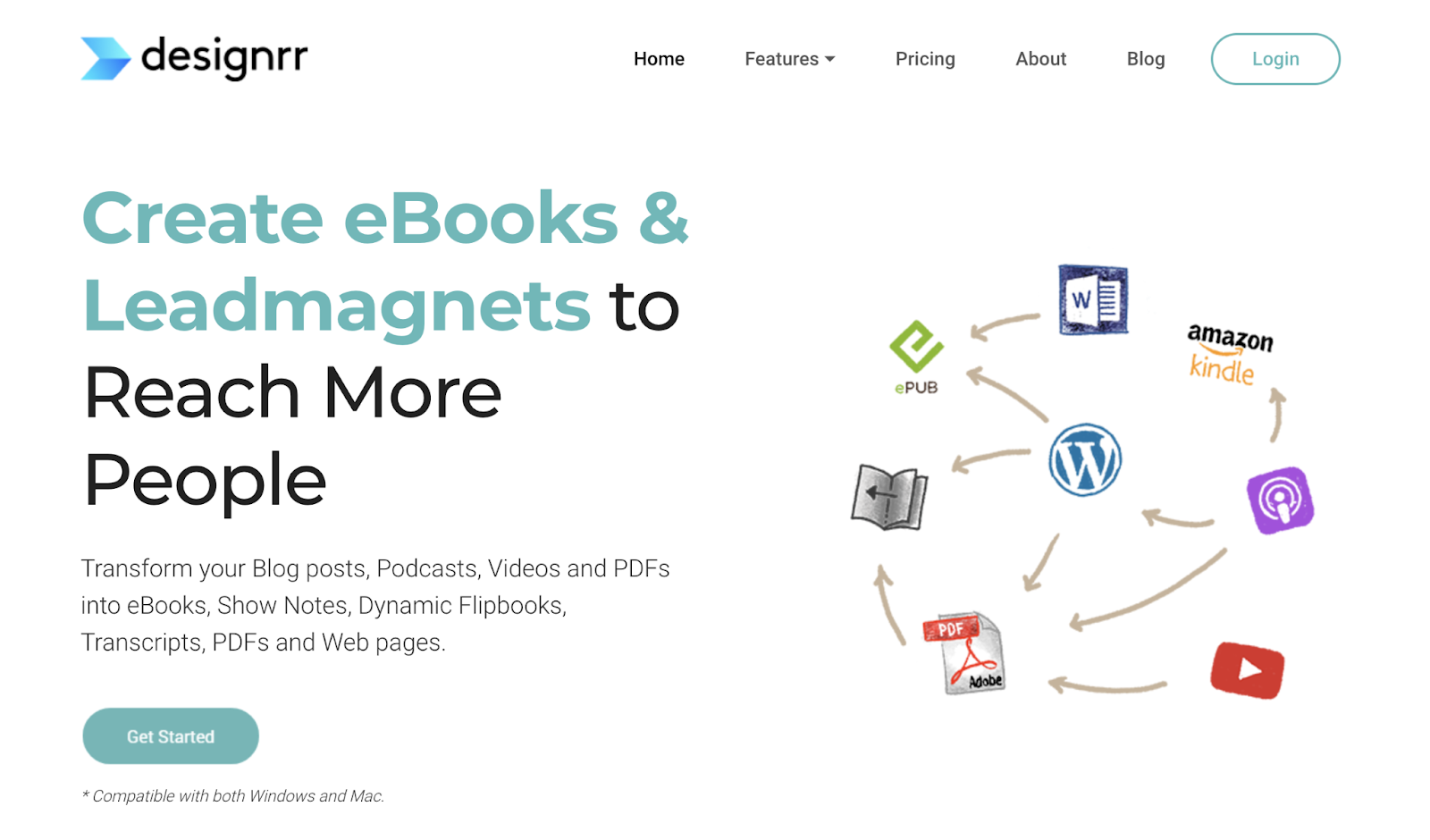 Designrr is a content repurposing tool that automatically converts blog posts into e-books. Import a URL, choose a template, then apply edits.
Reformatting content is a great way to extract more value from your efforts. And cater to audiences with varying needs and preferences.
Pricing: Paid plans
35. BeyondWords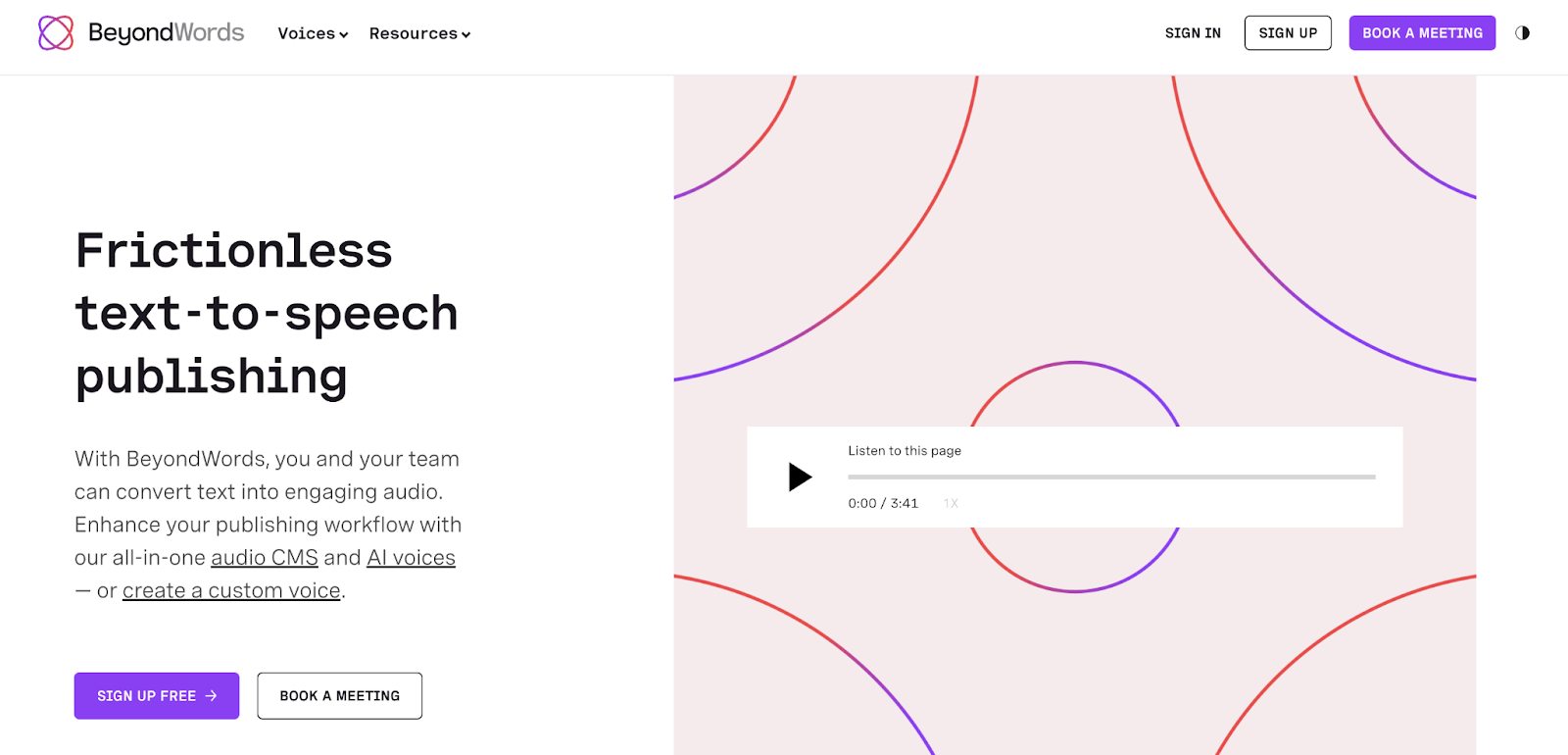 BeyondWords is a text-to-speech platform that lets you add narration to your written content. This can help you improve accessibility and cater to audio preferences.
After choosing your favorite AI voices, generate audio in the text-to-speech editor. Or connect your content management system (CMS) to create voice-overs automatically. And make sure to customize the audio player to suit your branding.
Pricing: Free and paid plans
Alternatives: Trinity Audio, Play.ht
36. Riddle
Riddle is one of the most popular quiz-making tools for content creators. You can use it to survey your audience and gather useful feedback. Or to create interactive quizzes that generate engagement.
Pricing: Paid plans
37. Ceros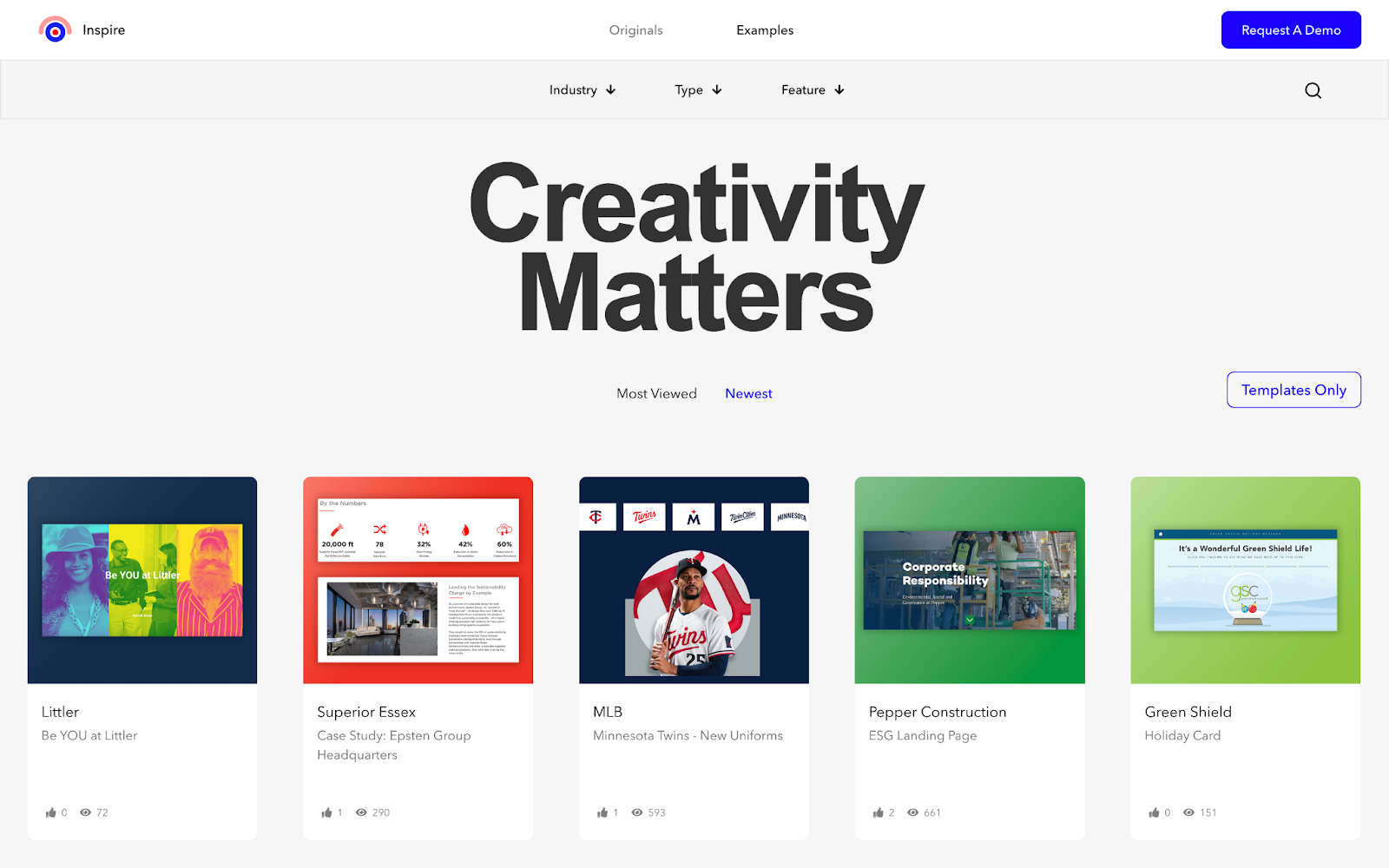 Ceros allows you to create interactive content without coding. Use the drag-and-drop interface and take advantage of the templates library. Creators have used the platform to create online coloring books, e-cards, presentation decks, microsites, case studies, and more.
Interactive content can help you earn engagement through various channels, such as email marketing and social media. But it works particularly well in digital PR campaigns.
Pricing: Request a demo
Alternatives: Outgrow
Top 10 Content Creation Resources
We've rounded up the best content creation resources to help you develop your skills. Because content creation tools work best in the hands of an experienced and knowledgeable marketer. And when they're contributing to a robust content marketing plan.
Create Content That Ranks with Semrush's Content Marketing Platform
Semrush's Content Marketing Platform has all the content tools you need to create SEO-friendly articles:
Find content ideas with the Topic Research tool
Create a plan in the Marketing Calendar
Generate a brief with the SEO Content Template
Write optimized content with the SEO Writing Assistant
Plus, a dedicated Content Marketing Toolkit Course will help you make the most of it. Get started with a free account.
We all want to be satisfied, even though we know some people who will never be that way, and others who see satisfaction as a foreign emotion that they can't hope to ever feel.

Newspaper Ads Canyon Crest CA
If you have questions before you order, give me a call @ 951-235-3518 or email @ canyoncrestnewspaper@gmail.com Like us on Facebook Here