Technology makes it easy for businesses to generate many different types of content. When this content isn't managed effectively, teams struggle to find the information they need to complete tasks.
Enterprise content management (ECM) is designed to prevent that.
In this article, you'll learn how enterprise content management systems and strategies can help you organize information to increase productivity, cut costs, and reduce operational risk.
What Is Enterprise Content Management?
Enterprise content management, or ECM, describes a large organization's process of managing its internal and external content (e.g., training materials, contracts, project documents, etc.).
Effective ECM allows a business to securely and efficiently find and store important information. This might be information for: 
Employees
Customers
Stakeholders (e.g., investors and suppliers)
Large companies must develop robust, repeatable content management processes. Doing so keeps information organized and findable, which can increase productivity.
Proper document organization is particularly critical for compliance, resilience, and security.
ECM doesn't refer to a single technology or action, but there is such a thing as an ECM system. 
This is software that streamlines and secures the flow of content across an organization. More on these tools later.
Which Content Does ECM Cover?
In ECM, "content" could take many formats. Traditional ECM strategies focus on housing paper documents like invoices, contracts, and resumes in digital filing cabinets. 
That content is still important. 
However, the technological world has made leaps in recent years. Now, ECM can cover pretty much any information employees use to complete their work, including the following:
Almost all content fits into one of three categories:
Structured content. Data that is contained and defined, like the contents of a database or code repository. Often, this content serves its purpose without needing regular human attention.
Unstructured content. Information without a clearly defined format, function, or storage location. Examples include Google Docs files, PDFs, and emails.
Semi-structured content. This is a mix of the two. It contains data that has been or will be computer-processed but comes in formats that humans still need to identify and classify (e.g., an auto-generated but manually emailed invoice).
ECM can handle all three of these content types, although it's most useful for giving structure to unstructured content.
Streamlining the Content Life Cycle
All business information goes through a process known as the content life cycle.
Life cycle stages are generally consistent between businesses. However, the actions within them can be different. (Depending on content type and the company's objectives.)
The main aim of ECM: to ensure this process is efficient and predictable throughout.
In its simplest form, the content life cycle looks like this:
1. Capture. Obtaining the information. It might involve a website visitor adding their details to an online form or an employee downloading stock images.
2. Manage. Deciding what to do with that information: how you'll use it and who needs access. For example, using selected images to support future content creation, which should be available to the internal content team.
3. Store. Choosing where to put the information. You might use on-premises hard drives to store editorial guidelines or add customer details to a cloud-based customer relationship management (CRM) tool.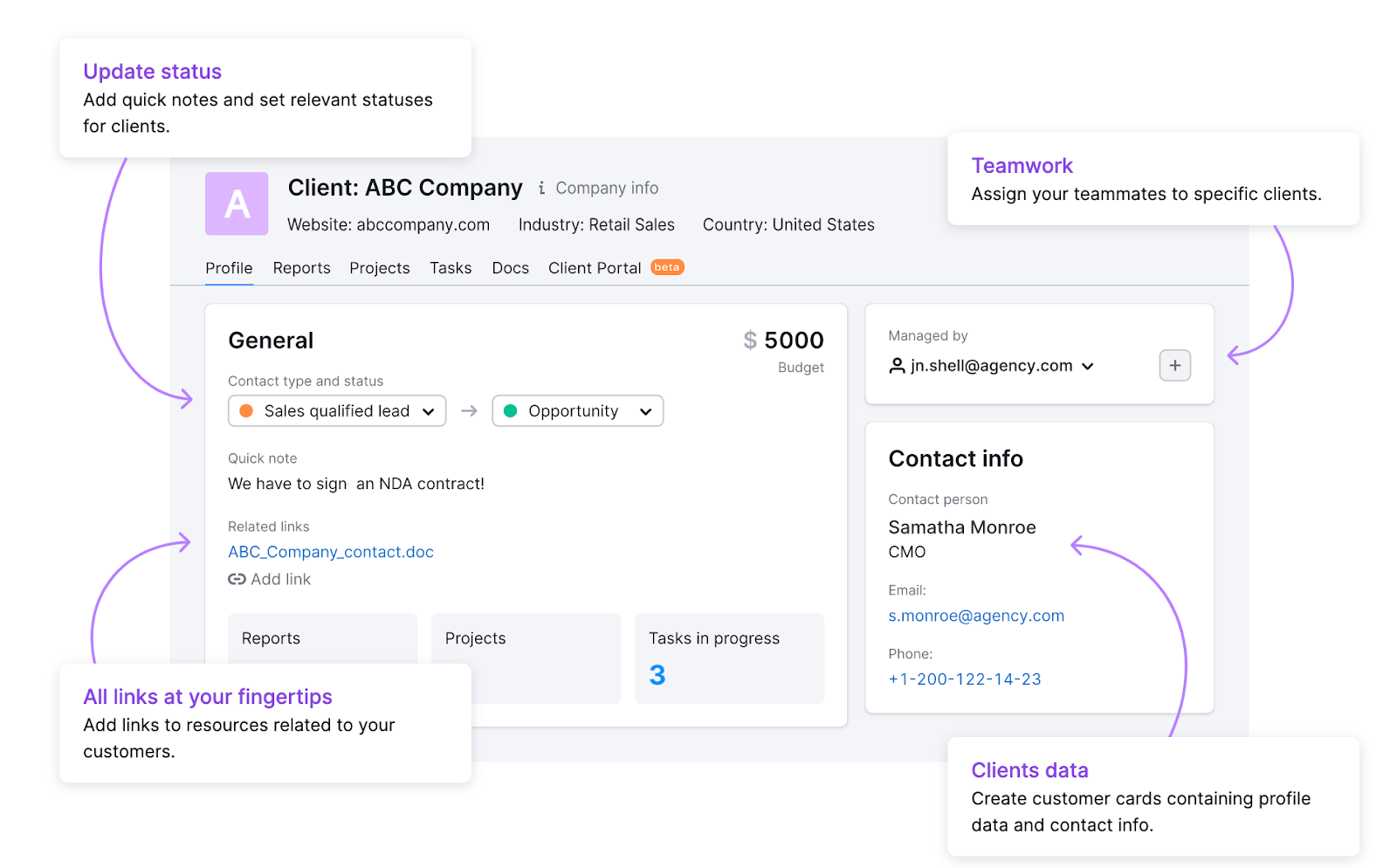 4. Preserve. Looking after the information. This step accounts for security, maintenance, and ease of access. For example, you could set sharing permissions for content you store on Google Drive.
5. Distribute (or deliver). Ensuring content flows efficiently to the right people at the right time to keep the company productive.
Your process may also include archiving and removal (i.e., what you do with content when you no longer need it). 
These extra steps are especially important for companies bound by data protection laws. Privacy legislation like the General Data Protection Regulation (GDPR) and California Consumer Privacy Act (CCPA) dictates how long companies can keep certain types of information.
Why Is Enterprise Content Management Important? 
By centralizing and standardizing content, you ensure all team members have the information they need to do the following: 
Make effective business decisions 
Complete tasks on time
Organize projects 
Collaborate efficiently
The main benefits of enterprise content management are as follows:
Increased Productivity
When companies stop using siloed paper documents, they quickly become more efficient.
Staff members know where and how to find the information they need to work through tasks. There's no need to chase other departments, check different storage locations, or request file owner permissions.

Image Source: Microsoft
ECM process automation handles repetitive content admin tasks, allowing users to achieve more in less time. For example, you could configureECM tech to alert stakeholders to content edits, saving writers and editors from having to share updates via email. 
Lower Running Costs
ECM systemsautomate the organization and movement of data. They speed up workflows, allowing companies to achieve more without hiring extra staff.
Removing repetitive content admin tasks frees team members to focus on demanding and creative tasks, like personalizing customer service and strategizing.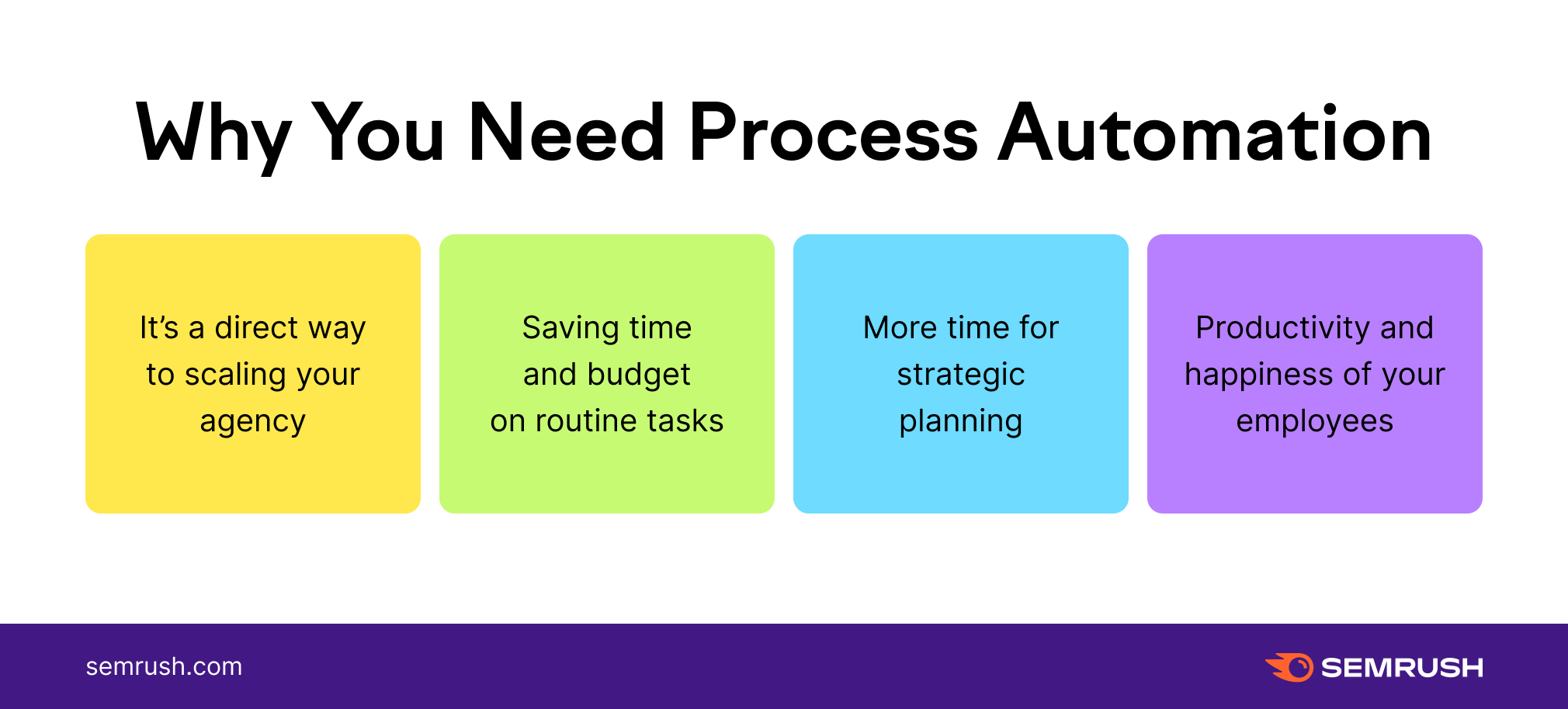 Image Source: Semrush
Digitizing paper content also reduces physical storage requirements, lowering costs further. There's less need to pay for filing space, hard drives, or the admin staff to manage them.
Reduced Risk
ECM provides a centralized platform where you can hold and distribute content in line with regulatory requirements and risk management guidelines. 
It eliminates ad hoc processes that expose your organization to compliance risks and other expensive problems.
With all content in one place, you'll know:
Who's accessing it
When they access it
What they do with it (e.g., copying, deleting, or modifying)
It's much easier to report on centralized data when there's a reliable audit trail. Some ECM tools even use machine learning to handle reporting for you.
Greater Content Consistency
Content management systems ensure all information entering a business goes through the same process. 
It reduces content duplication so staff members have a single source of truth. Easy access to unique, approved, and authoritative information allows faster work with fewer errors. 
How Does an Enterprise Content Management System Work?
An ECM system helps streamline the life cycle of information within your organization. 
It acts as a central point for all company knowledge, ensuring users can make the right decisions quickly.
Plenty of ECM systems are available, so choosing can be tough. We'll look at some specific systems later in this article. For now, though, here are the most useful features and capabilities to look for when comparing systems:
1. Flexible Document Capture Options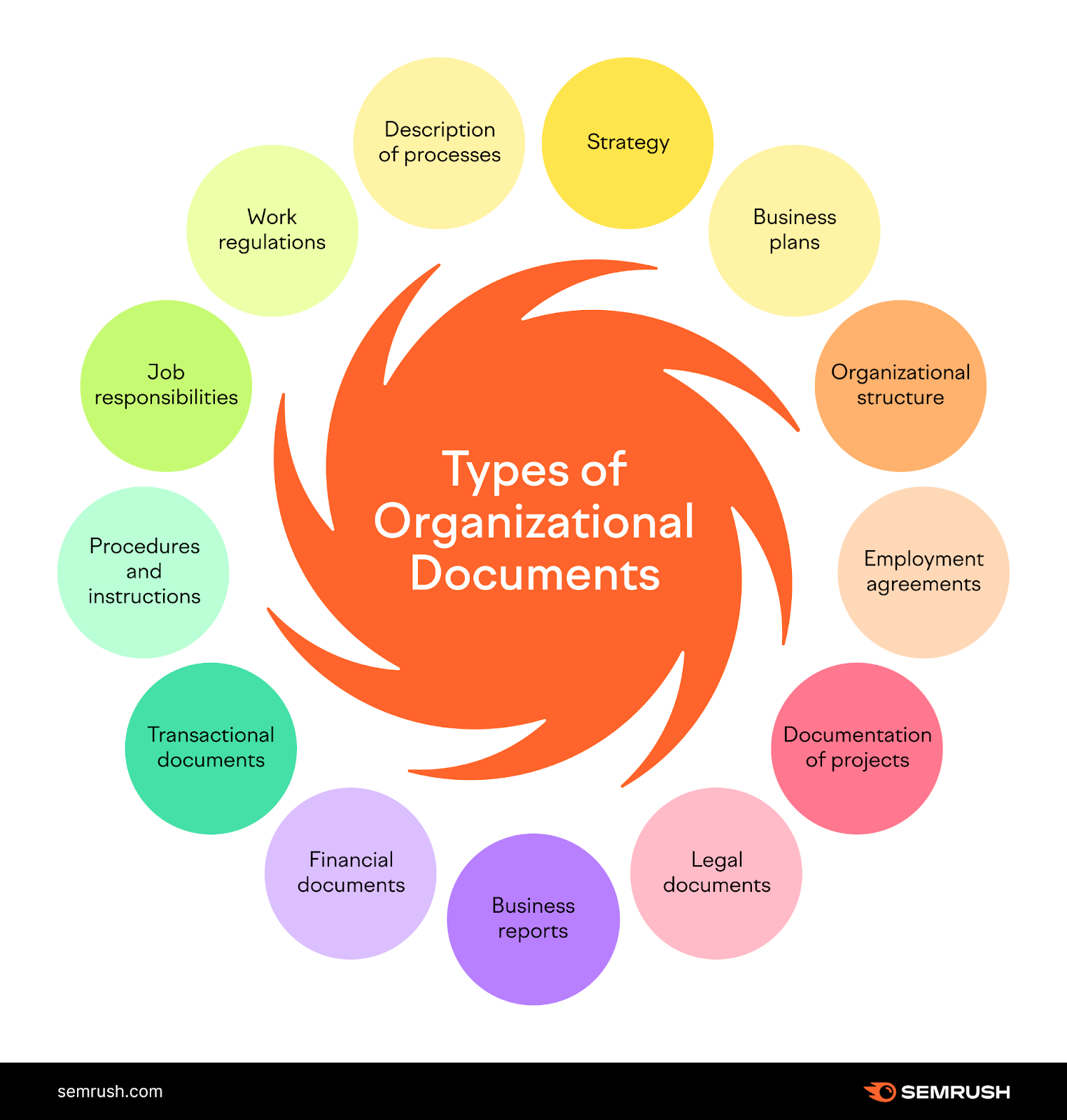 You should be able to import structured and unstructured information into a secure digital repository. This can be any document you want to store, share, or archive, including the following:
Invoices from suppliers
Invoices for clients
Employee and supplier contracts
Email correspondence
Research reports
Either scan non-digital information or add files like PDFs, images, videos, and audio. Creating an organized digital library will help you reduce physical clutter.
Some ECM tools use machine learning to file and categorize documents, saving you time and reducing human error. Microsoft's SharePoint system, for example, has an auto-tagging feature to help you classify your data and improve search results. 
2. A Secure, Controllable Digital Repository
An ECM platform gives you greater control over your organization's content.
You can choose who can access, modify, and create documents to ensure the following:
Team members can find what they need easily
Only certain users can view sensitive information (reducing the risk of a costly data breach)
For example, you could store employee contracts in your ECM system and give each user access to their own. You could also allow human resources (HR) staff to access all employee contracts.
Centralized document management speeds up onboarding and offboarding processes, too. Businesses can give new starters the permissions they'll need in one task rather than drip-feeding information.
3. Powerful Search Functions
The faster team members can find content, the more productive they'll be.
Once you've stored your data in the digital repository, users can classify and search for any record using information like the following:
Metadata (data that describes your content, similar to meta tags in search engine optimization)
Folder names
Titles
Words and phrases within text
Creation dates
Creator names
Streamlined access lets users respond to requests from clients, colleagues, stakeholders, and auditors immediately. The results are fewer productivity bottlenecks and better customer and employee experiences.
4. Automation Tools
Automation features help companies eliminate manual tasks to free time for more demanding work. 
Some enterprise content management solutions can automatically:
Remove or highlight duplicate documents
Distribute documents to the right users at the right time
Categorize new documents and add metadata for easier searching
Alert specified users when others view or edit documents
Together, these automations create faster, error-free, cost-efficient business processes. In one Deloitte survey, almost two-thirds (62%) of AI-adopting business leaders said automation was "very" or "critically" important to their companies' success.
5. Integrations
Integrations allow ECM solutions to work with other information management tools.
For example, the best systems can share data with:
Cloud storage apps (e.g., Google Drive and Dropbox)
Signature processing tools (e.g., DocuSign and Adobe Sign)
CRM software (e.g., Semrush CRM)
Enterprise resource planning (ERP) platforms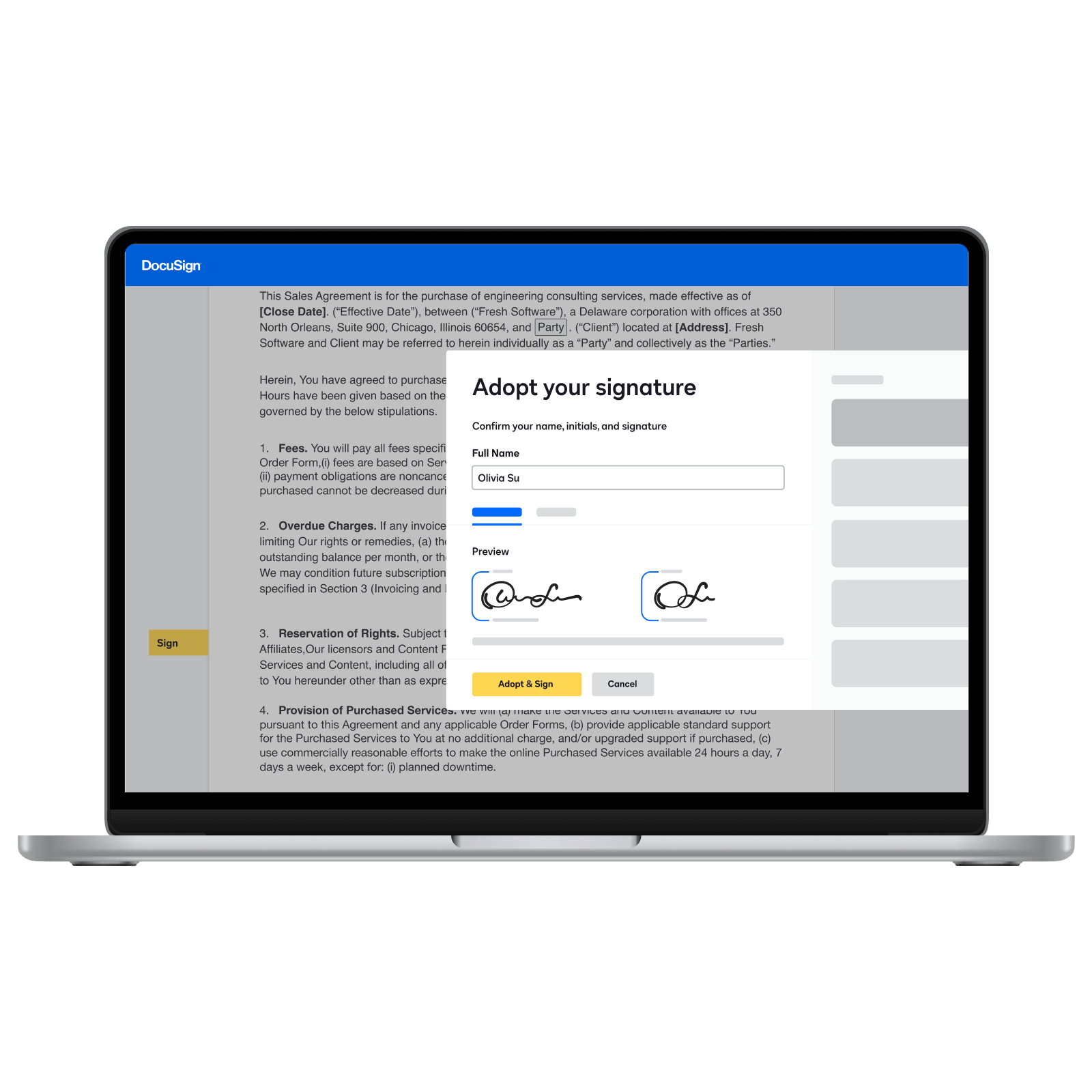 Image Source: DocuSign
Integrations ensure content is the same across your tech ecosystem. Wherever team members look, they'll find accurate, up-to-date information. That consistency enables users to make better-informed decisions.
Some ECM systems make their application programming interfaces (APIs) available. This enables users to build custom integrations. For instance, Laserfiche offers a convenient dashboard of resources to help you customize your system.
Image Source: Laserfiche
With the right development skills, access to an API allows you to connect ECM software to any niche or proprietary software your business uses. 
Choosing Enterprise Content Management Software: 3 Tools to Consider
Navigating the growing ECM software landscape can be difficult. 
Experts valued the market at$59.2 billion in 2022. And they predict it will more than double by 2028.
From the huge range of solutions available, we've picked three that:
Include key features (capture, security, search, and automation)
Offer useful integrations
Come with flexible pricing options
Our suggested tools also provide robust support. The ability to get answers and solve issues quickly will help you stay productive.
1. Laserfiche
Laserfiche is a cloud-based content services platform that emphasizes faster workflows.
The system's diverse user base shows how versatile and accessible it is. The software-as-a-service (SaaS) provider has clients in a range of industries, including government, wealth management, education, manufacturing, and healthcare.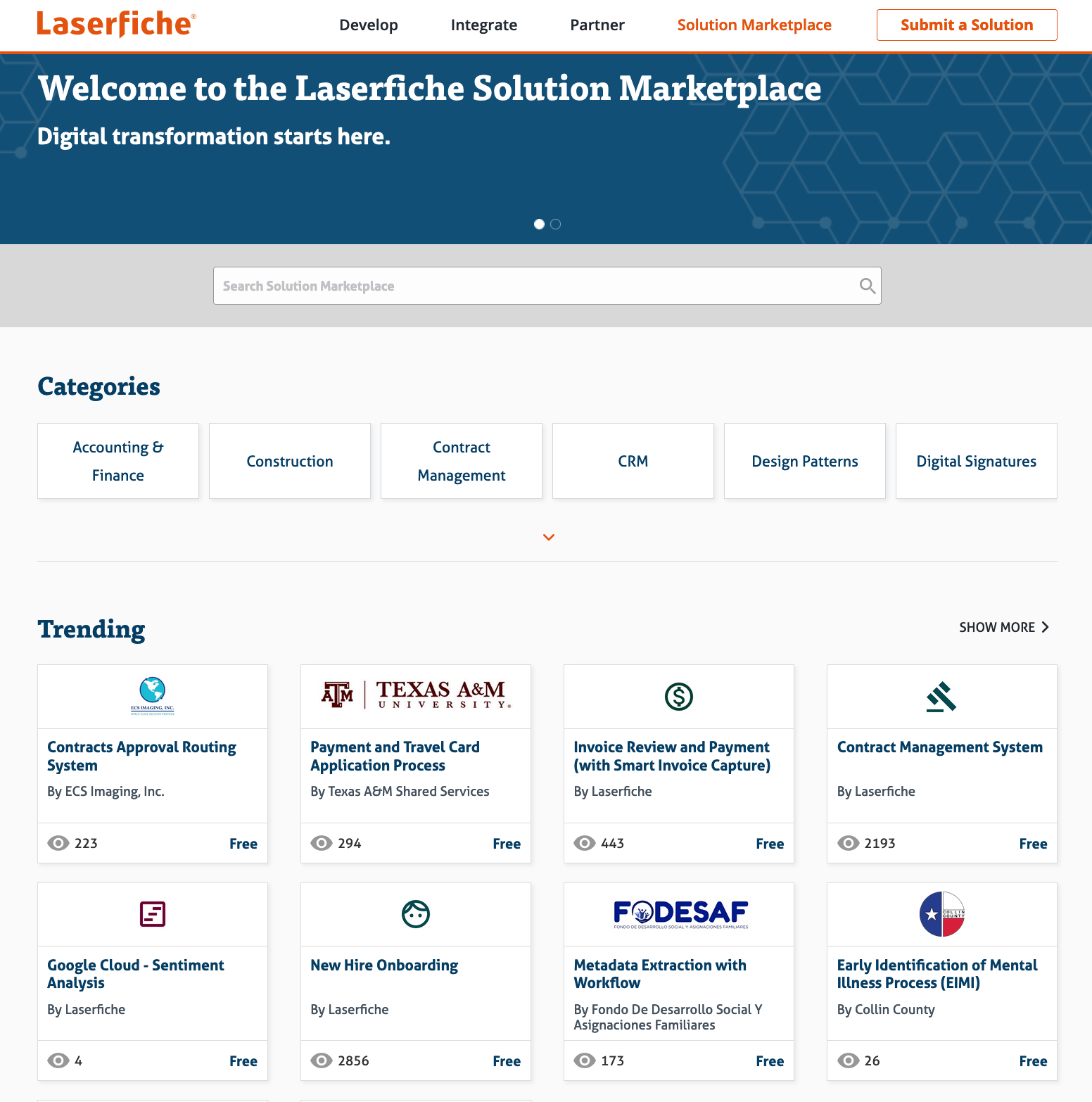 Image Source: Laserfiche
Laserfiche's low-code design tools are among its major selling points. They allow users to automate more than 100 content management processes to save time, reduce running costs, and minimize human error.
2. Alfresco (Hyland)
Like any great ECM system, Alfresco Digital Business Platform aims to put your content at the fingertips of those who need it.
Its biggest selling points are flexibility and scalability.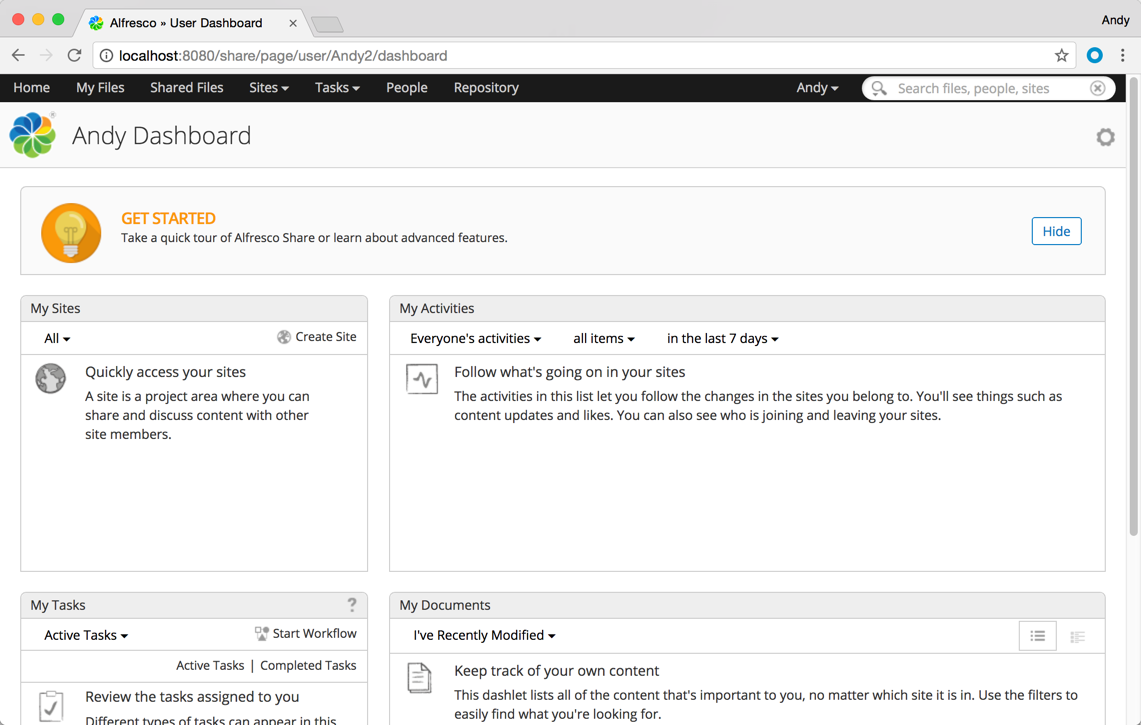 Image Source: Alfresco
As well as offering out-of-the-box integration support for various Google and Microsoft platforms, Alfresco provides developer tools (like an open API) that allow users to customize the platform to fit their needs. 
There's also a growing library of user-created integrations. So, if you're trying to achieve something but don't have the development knowledge, Alfresco's community may be able to help.
3. MicrosoftSharePoint
Microsoft's SharePoint is a website creation tool. Businesses use it to build intranet sites: secure, internal networks of digitized content that authorized users can access from anywhere through a standard web browser.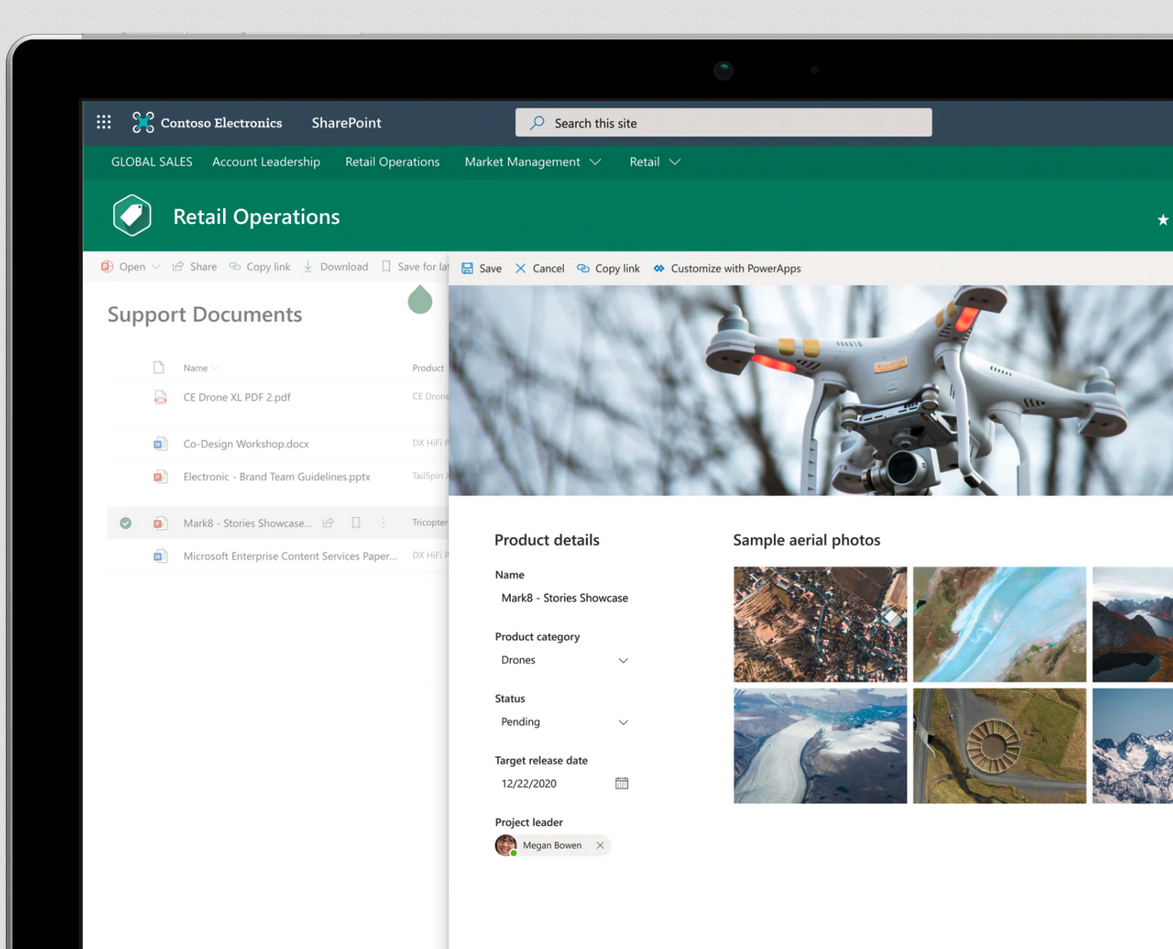 Image Source: Microsoft
Despite Microsoft not explicitly selling it as an ECM system (but rather a tool with ECM features), SharePoint offers all the basic functionality you need to organize data and streamline your company's content life cycle.
For example, it has the following:
Document libraries. Group documents in libraries for specific projects, clients, and tasks
Auto-tagging. Automatically tag uploaded documents with metadata for easier searching
Multi-device support. Use PCs, Macs, and mobile devices to upload, access, and modify your company's content
Workflow automation. Increase productivity by automating simple tasks like triggering notifications and approving permission requests
SharePoint's accessibility and low prices suit businesses that are new to ECM. It means they can realize the benefits quickly without a major investment.
Users of other Microsoft 365 applications, like the Office suite, Exchange, and Teams, will find the interface familiar. The tools share information seamlessly, too.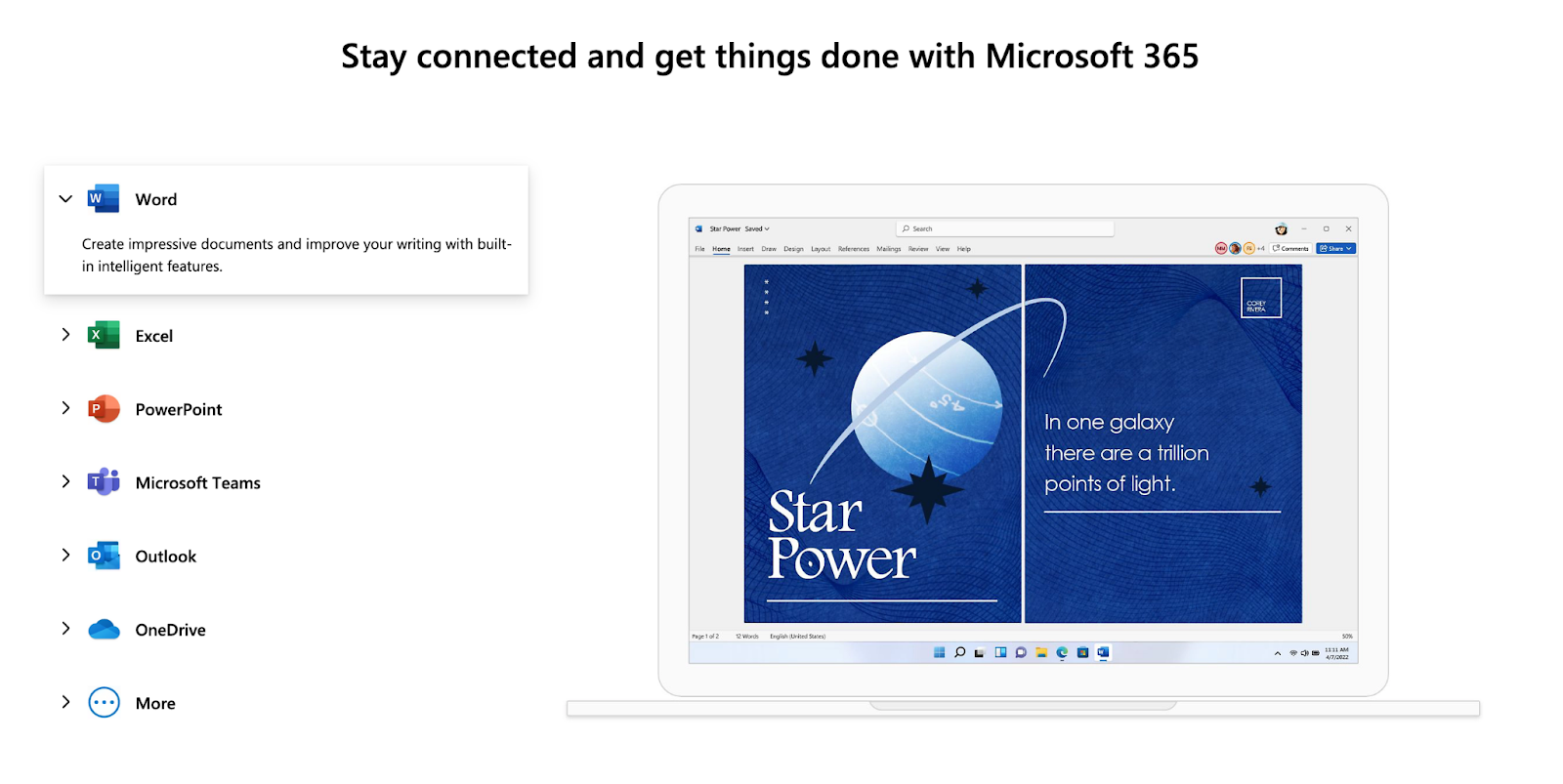 Image Source: Microsoft
How to Implement Your First ECM System: A Step-by-Step Guide
Implementing an ECM system can be complex, even if your software is easy to use. 
Follow these steps to make a smooth start:
Step 1: Brief Key Stakeholders (and Team Members)
You shouldn't attempt to implement an ECM system alone. You'll need the support and input of stakeholders and other departments to make sure the project accounts for everyone's needs.
Involve key stakeholders (e.g., content owners like department heads) in the planning process. Meet early so they can raise concerns and explain how their business area operates.
Brief day-to-day users, too. By explaining your plans, you'll prepare team members for impending changes to their processes. That should minimize disruption.
Step 2: Define Your Goals
You and all stakeholders should clearly understand the purpose of your ECM implementation. This will help you gauge the project's success.
While you may have unique requirements, your broader objectives are likely to include the following:
Reducing paper use
Speeding up business processes
Minimizing organizational risk
Consider how you'll measure each of these goals. 
For example, if you're leading a SaaS business, you might record the average time it takes to complete a sale in the months before and after implementation. With easier content access, sales representatives should be able to close deals faster.
Step 3: Choose an ECM System That Meets Your Needs
Cross-check the ECM systems on your shortlist with your company's goals.
All worthwhile tools will help you achieve basic ECM outcomes, such as reducing paper use and speeding up business processes. However, most have specific strengths and weaknesses, too.
For example: 
Lower-priced options suit companies on smaller budgets
Integrations with tools you already use streamline implementation
Developer tools help businesses with the appropriate resources to build custom features
Some providers offer free trials. Use one to test a tool in more detail.
Step 4: Install and Test
Install the solution with your provider's support. 
Then invite a small sample team to stress-test its functionality with real business content. Use a range of content types to ensure the system is ready. 
Assess how the tool handles:
Changing sharing permissions
Adding and removing users
Uploading different content formats
You could also set up some basic automations to understand how they work. Triggering content notifications for content views, edits, and approvals is a simple starting point.
Continue running your usual business processes until you're confident the new system is ready. That will stop any unexpected issues from impacting your services.
Step 5: Deploy
Finally, roll out the software to your wider organization.
Provide basic guidance and encourage users to learn more by using the system often and exploring the provider's support content.
Some providers, like Laserfiche, even offer dedicated training courses for new users.

Image Source: Laserfiche
Most document management systems also have communities where you'll find firsthand insights from other users. These are useful for support, especially in the early stages of using a product.
ECM Is an Ongoing Process
Once you've configured your ECM system and everyone's on board, keep refining automations and other settings to maximize your business's benefits over time.
Request monthly feedback from stakeholders and regular users to identify streamlining opportunities. They're likely to spot issues you can't see.
Lastly, keep up with your provider's updates to ensure you're getting the most use out of your system. The best tools evolve in line with changing business needs, so make the most of any new features.
We all want to be satisfied, even though we know some people who will never be that way, and others who see satisfaction as a foreign emotion that they can't hope to ever feel.

Newspaper Ads Canyon Crest CA
If you have questions before you order, give me a call @ 951-235-3518 or email @ canyoncrestnewspaper@gmail.com Like us on Facebook Here