In an effort to prove its commitment to safe and transparent advertising for users and businesses, Google announced the launch of the Ads Transparency Center and the release of the 2022 Ads Safety Report.
What Is The Ads Transparency Center?
The Ads Transparency Center, rolling out to users worldwide over the next few weeks, offers a searchable database of all advertisements on Google Search, YouTube, and Display.
Like ads transparency efforts from its peers in Big Tech, Google aims to ensure that users are well-informed about the ads they see. For instance, if you are interested in a product or service you saw in a Google Search ad, you can use the Ads Transparency Center to learn more about the brand before visiting its website.
Screenshot from Google, March 2023
The Ads Transparency Center shows key information about ads, including advertiser details, where/when an ad appeared and ran, and its format.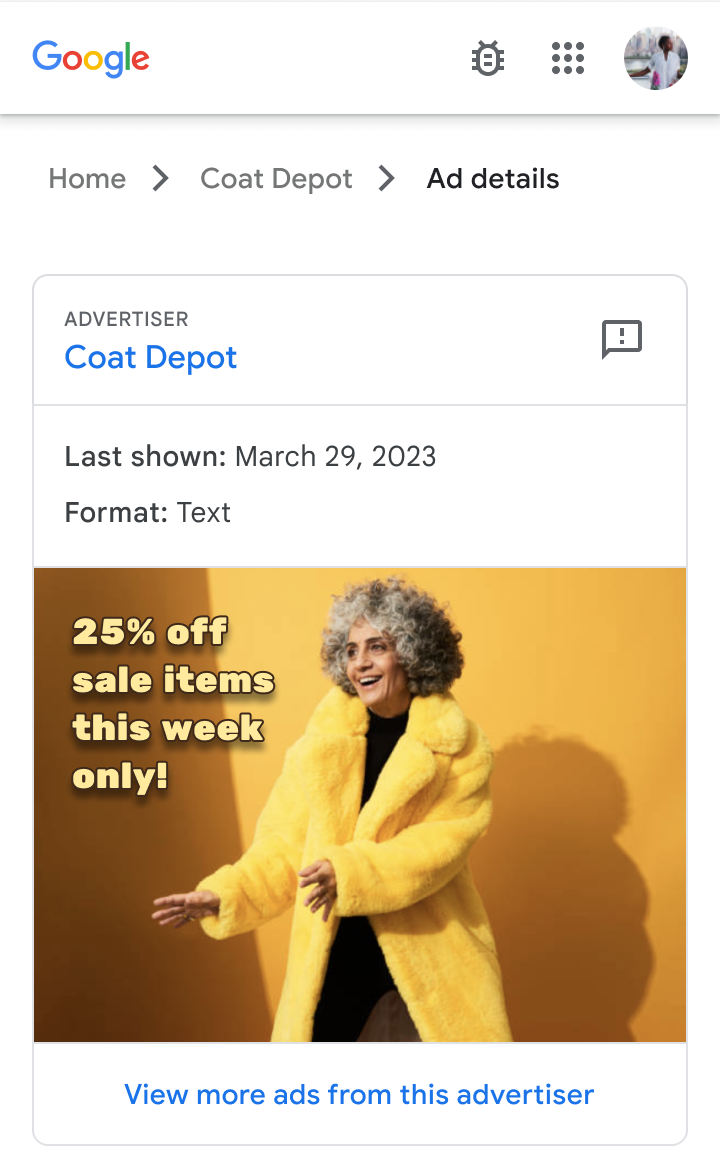 Screenshot from Google, March 2023
Google offers more transparency for political advertising. Additional details for political ads include the amount advertisers spent, the number of times the ad was shown, and the location targeting criteria.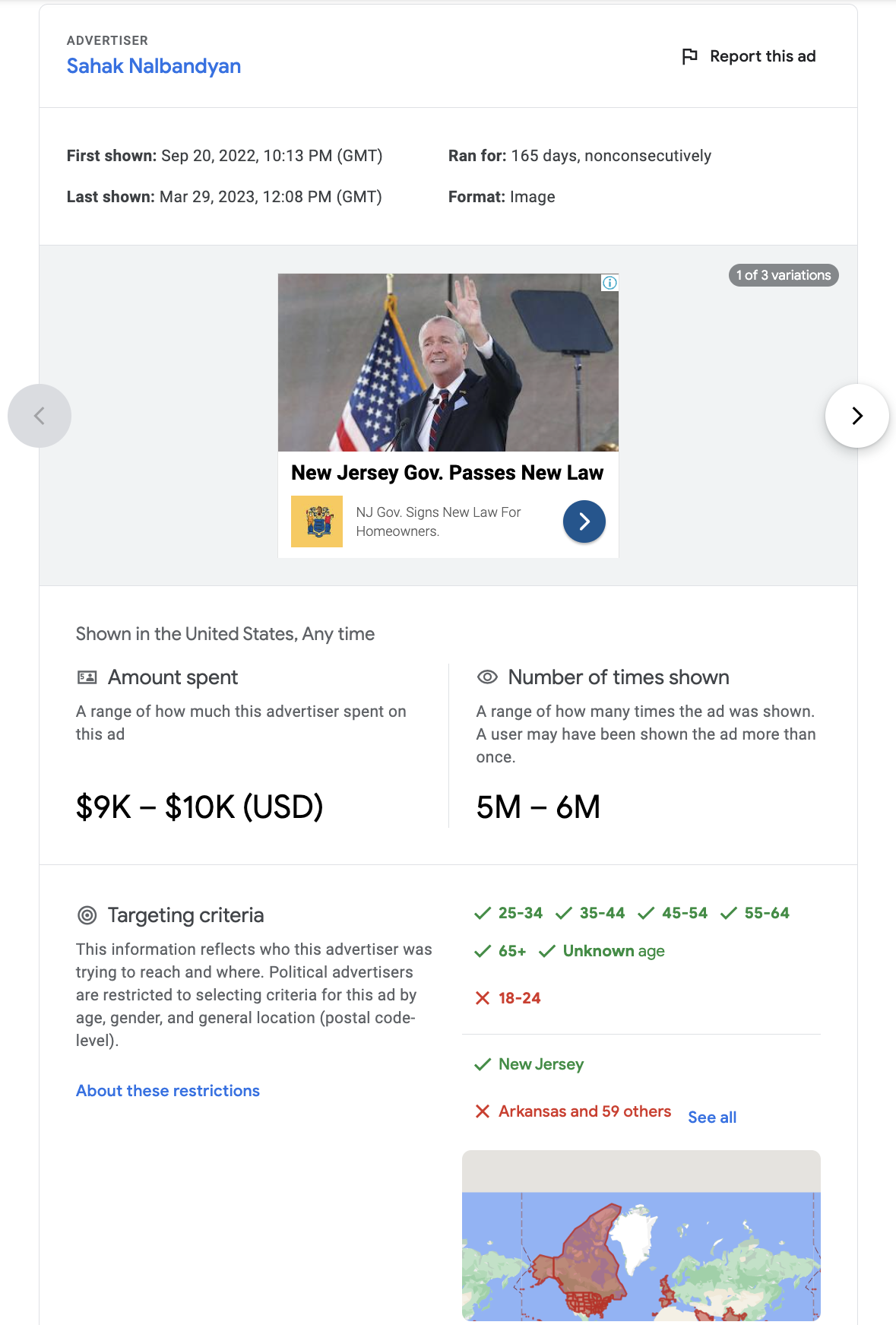 Screenshot from Google, March 2023
Using The Ads Transparency Center As An Advertising Research Tool
Advertisers can use the Ads Transparency Center as a research tool to analyze competitors' designs and ad copy to create Google Ads campaigns.
Meta offers similar ad information in the Facebook Ad Library, where advertisers and users can browse ads from brands in several fields, including politics, housing, employment, and credit. Ad details include the design and copy for all ad variations, the platforms where the ad is displayed, and when the ad was launched.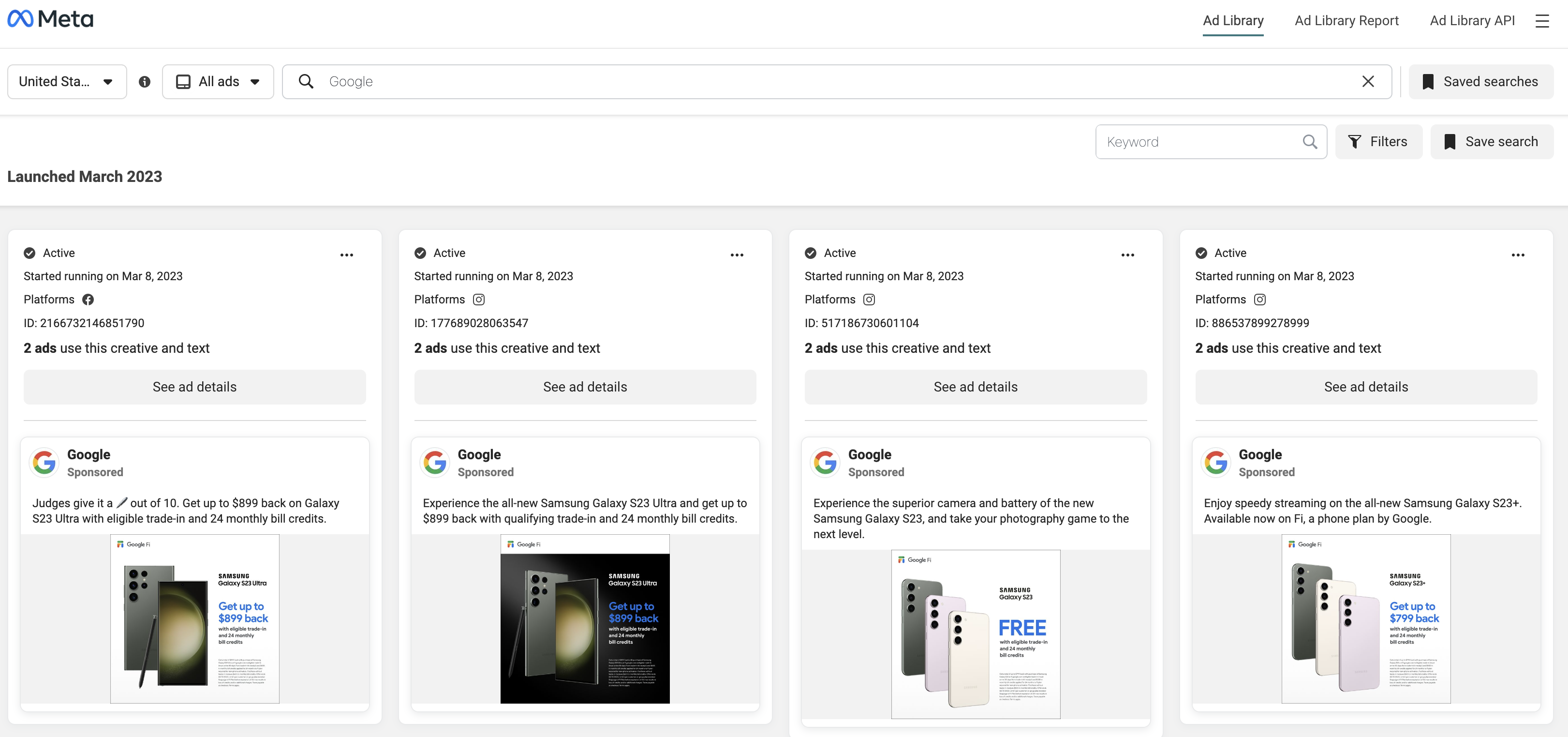 Screenshot from Facebook, March 2023
In addition to the Ads Transparency Center, you can visit My Ad Center in your Google Account. Launched in October, it allows you to review ads you've seen recently on Google. You can control the ads shown to you by category, brand, and sensitive topics.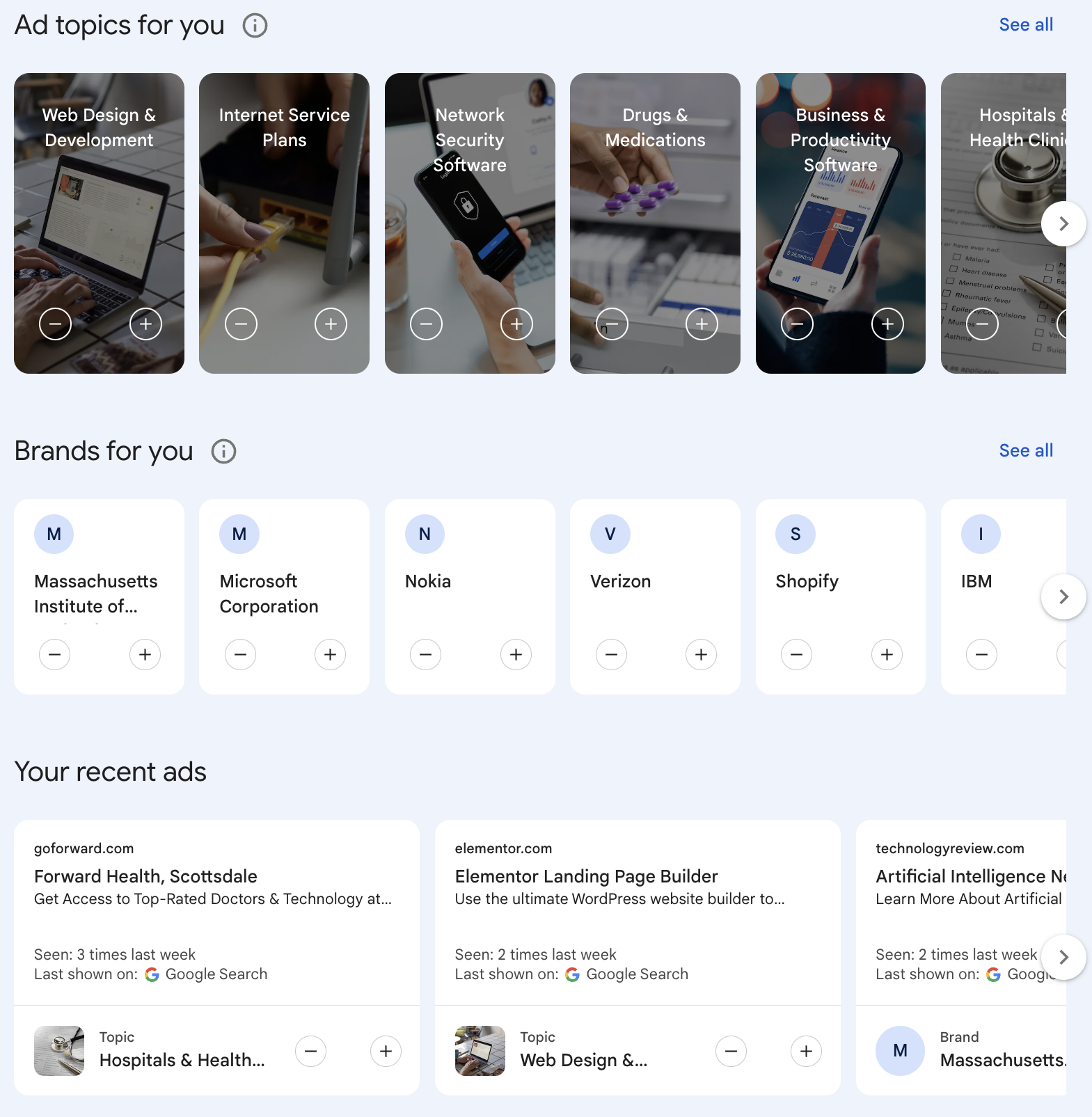 Screenshot from Google, March 2023
Insights From The 2022 Ads Safety Report
In related news, Google's 2022 Ads Safety Report provides detailed insights into its efforts to prevent fraud, offer transparency, and protect younger users.
According to the report, Google added or revised 29 policies for advertisers and publishers last year.
Based on these policies, over 4 billion ads were removed or restricted, and 6.7 million advertiser accounts were suspended.
Google expanded its financial services certification program, requiring advertisers to be authorized by local regulators to prevent fraudulent ads.
Despite challenges from sophisticated scammers – like the malware operators that impersonate real software brands in Google Ads to spread malicious code –  Google blocked and removed 142 million ads for misrepresentation and 198 million ads for financial services violations.
Google tackled misinformation by blocking ads with harmful health claims, false election claims, and climate change denial. Tens of millions of ads that violated this policy, contained inappropriate content, or promoted dangerous products were removed.
Google verified 5,900 new advertiser accounts publishing election ads in the U.S., and over 2.6 million unverified election ads were blocked.
Google prohibited ads dismissing, exploiting, or condoning the war in Ukraine and suspended ad activities in Russia. Over 17 million ads related to the war were blocked, and ads from over 275 state-funded media sites were removed.
Finally, Google expanded child safety protections for users under 18, blocking ad targeting based on age, gender, or interests and prohibiting certain teen ad categories, including dating apps, contests, and weight loss products.
How Advertisers Can Benefit From Ad Transparency
There are benefits to reviewing Ads Transparency Center content.
Those who see ads on Google properties can learn more about the advertisers before purchasing. Advertisers can learn how to create ads better suited for their target audience.
Advertisers should also review the Google Ads Policy Center updates to ensure ad campaigns are not blocked, restricted, or removed. It also offers options for fixing problematic ads, checking the status of your Google Ads account, and reporting Google Ads that violate its policies.
Featured image: rafapress/Shutterstock
We all want to be satisfied, even though we know some people who will never be that way, and others who see satisfaction as a foreign emotion that they can't hope to ever feel.

Newspaper Ads Canyon Crest CA
If you have questions before you order, give me a call @ 951-235-3518 or email @ canyoncrestnewspaper@gmail.com Like us on Facebook Here