Wix is a popular website builder with great features and a beginner-oriented interface. 
In this guide, we'll examine Wix's SEO-friendliness and how you can improve your Wix site's SEO performance. 
Is Wix Good for SEO? 
The short answer: Yes.
The platform still suffers reputationally because of some past issues and missing features. However, nowadays, Wix is as good for SEO as any other website builder. If not better. 
When asked about Wix, John Mueller, Google's search advocate, said this:
"Wix is fine for SEO. A few years back it was pretty bad in terms of SEO, but they've made fantastic progress, and are now a fine platform for businesses. The reputation from back then lingers on, but don't be swayed by it."
If someone from Google says Wix is fine for SEO, we should take their word for it.
Wix and SEO: Pros and Cons
Here are some advantages of using Wix:
When it comes to disadvantages, remember Wix is a website builder. You won't have the level of control that you have with a self-hosted website. For example, you can't edit your sitemap with Wix.
However, most of these limitations concern website-building features in general rather than issues related specifically to SEO. 
Wix covers the basic SEO needs of a standard website. It can be a great tool for small businesses and website owners who prefer ease of use over absolute control of every aspect of a website.
Now, let's look at nine tips to help you optimize your Wix site.
1. Follow the SEO Setup Checklist
The Wix platform includes an SEO Setup Checklist (also known as Wix SEO Wiz) designed to help business owners optimize their websites.
In the Wix dashboard menu, click "Marketing & SEO," then "SEO." Wix will then prompt you to complete the SEO Setup Checklist.
Answer a few questions about your website, location, and keywords. 
If you're not sure what to put in the "keywords" section, don't worry. You can edit it later. We'll cover that soon. 
Your checklist will look something like this: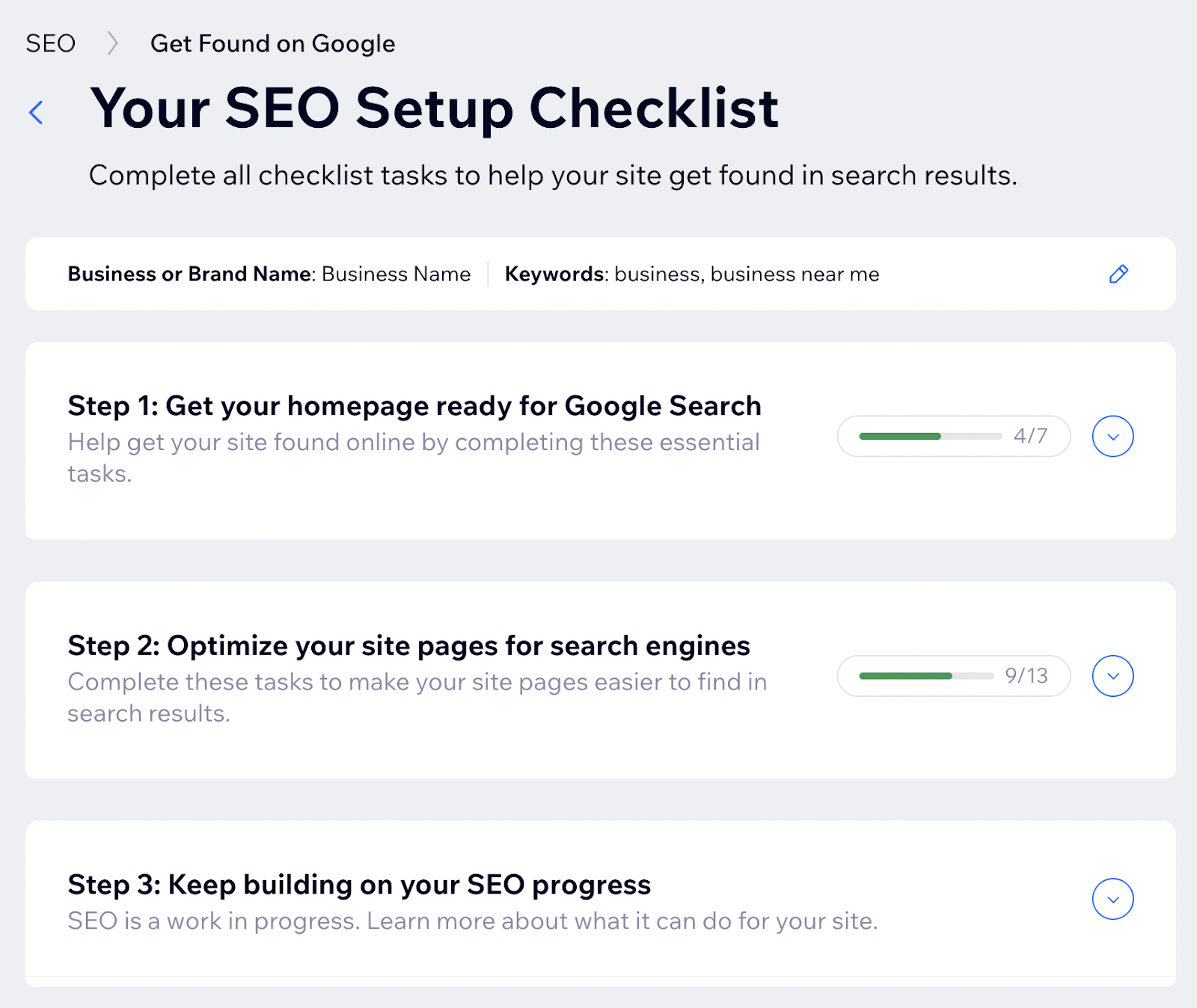 Click each item in the checklist to see detailed instructions.
For example, "Add the homepage's description for the search results" task from the checklist will populate these instructions: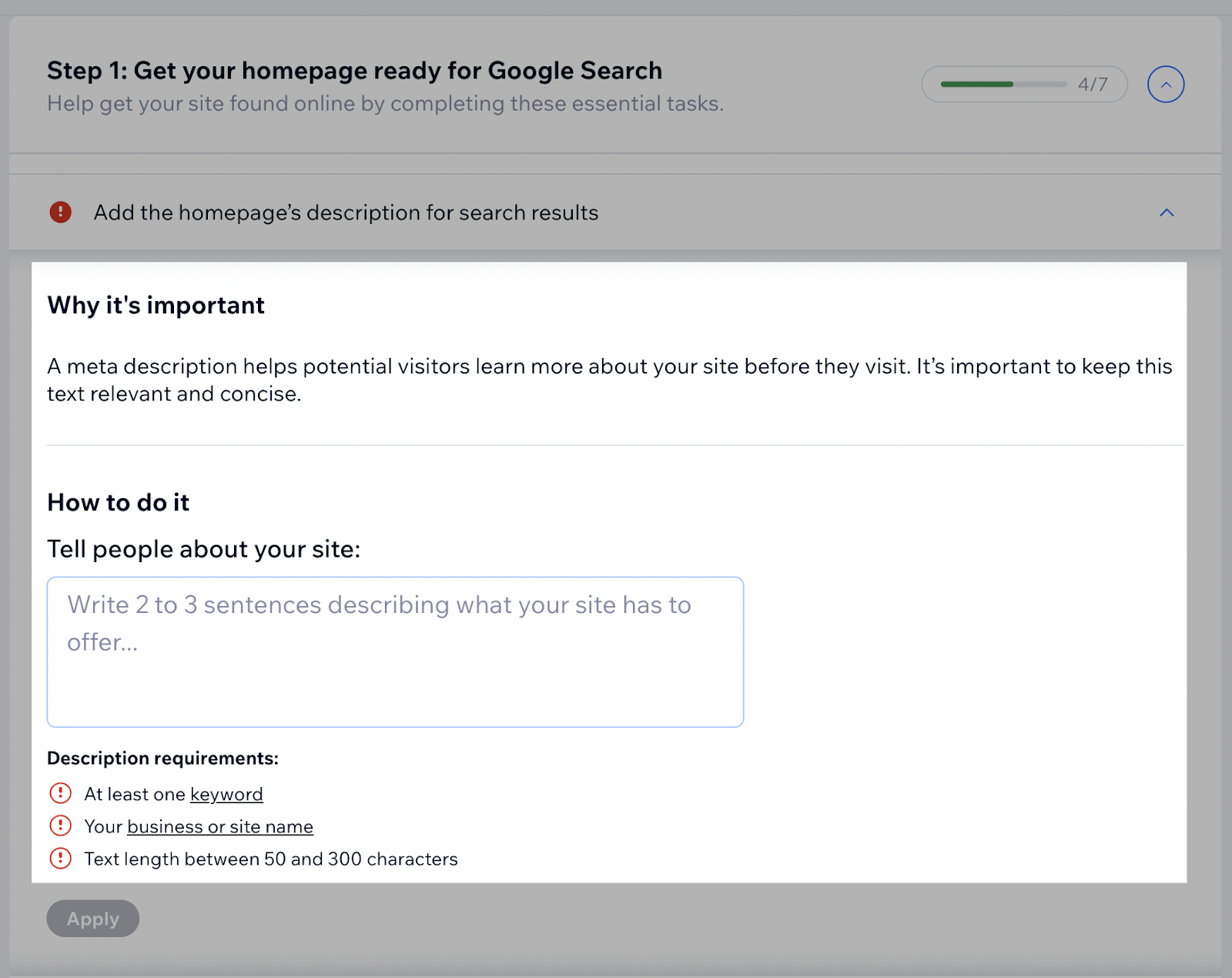 If you're absolutely new to SEO, the SEO Setup Checklist is a great place to start. So is our "What is SEO" guide.
2. Connect to Google Search Console and Google Analytics
Google Search Console and Google Analytics are two useful free tools by Google.
Google Search Console: A set of tools that allow you to see your performance in Google search results and spot any issues. (Read our guide to Google Search Console.)
Google Analytics: An advanced tool that helps you track your website traffic. (Read our guide to Google Analytics.)
Connect to Google Search Console
Connecting your Wix site to Google Search Console is a straightforward process. 
With a premium Wix subscription, you can do that through the SEO Setup Checklist.
First, complete all items in "Step 1" of the SEO Setup Checklist.
Then, click "Connect and submit your site to Google Search Console" and "Connect Now."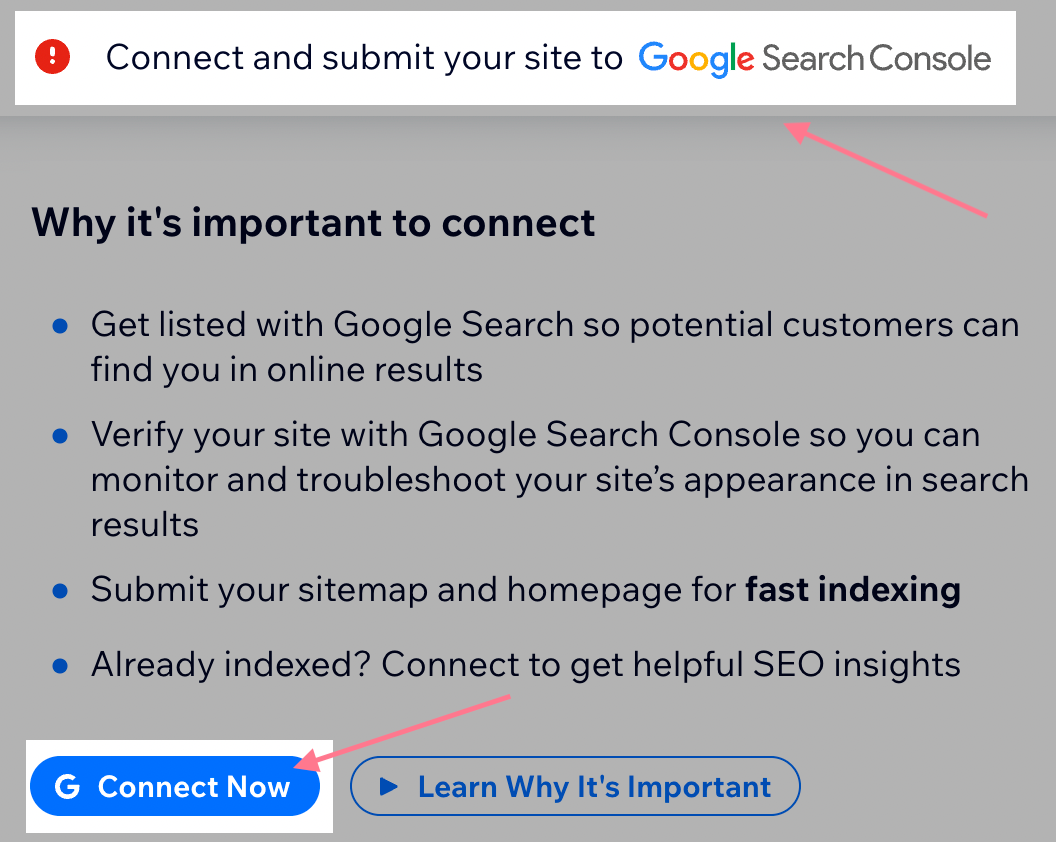 Wix will guide you through the process. 
Alternatively, you can connect to Google Search Console manually.
Connect to Google Analytics
To connect your Wix site to Google Analytics, you must have a premium account. Go to "Marketing Integrations" and click "Connect" beneath the Google Analytics section.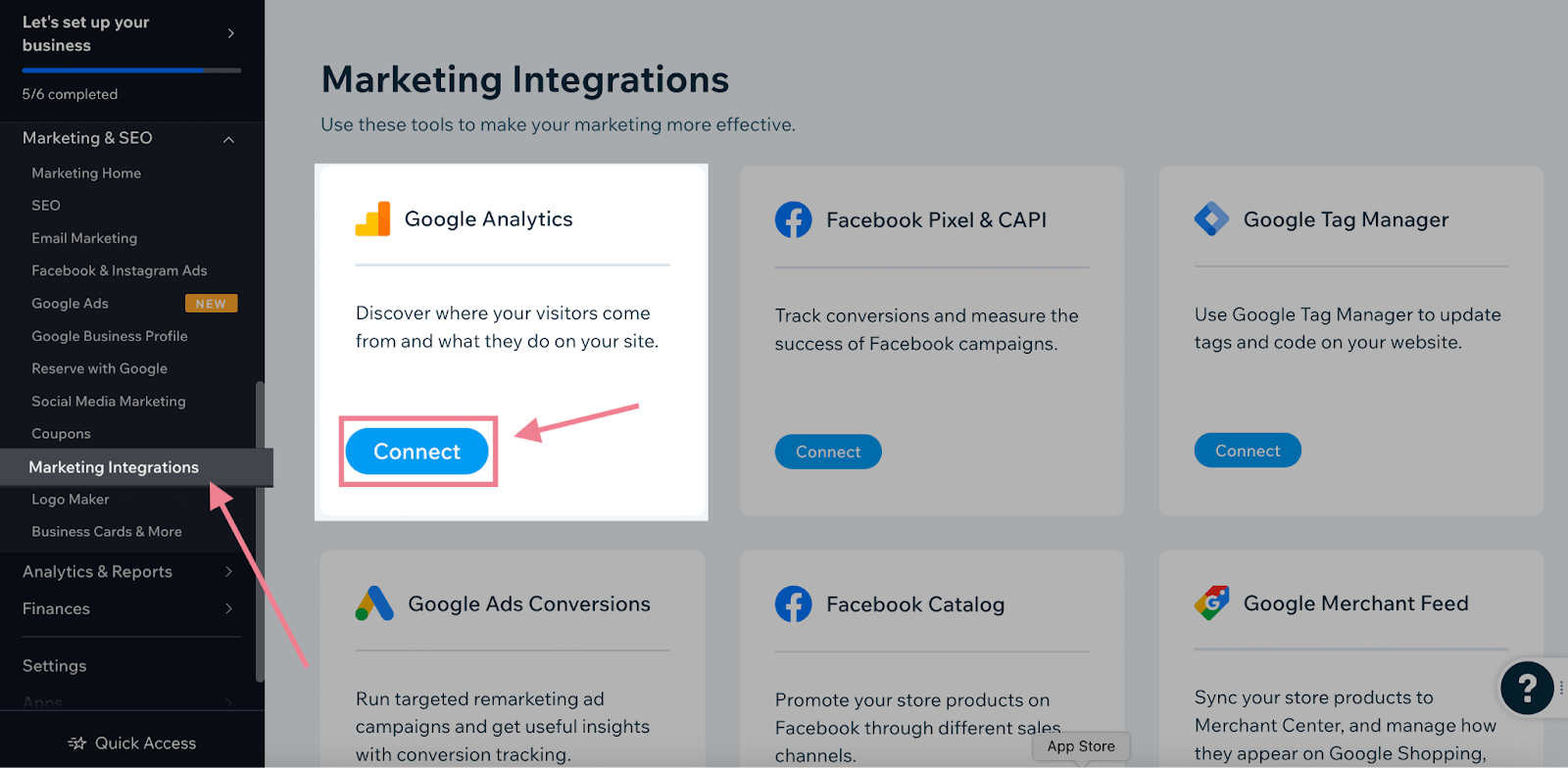 Follow the instructions to connect your Google Analytics account. 
3. Conduct Keyword Research
Keyword research is the process of identifying the search terms your ideal audience types into search engines. 
It's a crucial first step in any SEO project. 
The great thing about Wix is that it has a handy integration with Semrush. It allows you to conduct keyword research using the Semrush database, with more than 24 billion keywords, directly in the Wix interface.
To access the Semrush integration, go to the SEO Setup Checklist. You'll find it in the "SEO" dashboard under the "Marketing & SEO" section of the menu. 
Click the pencil icon in the top-right corner.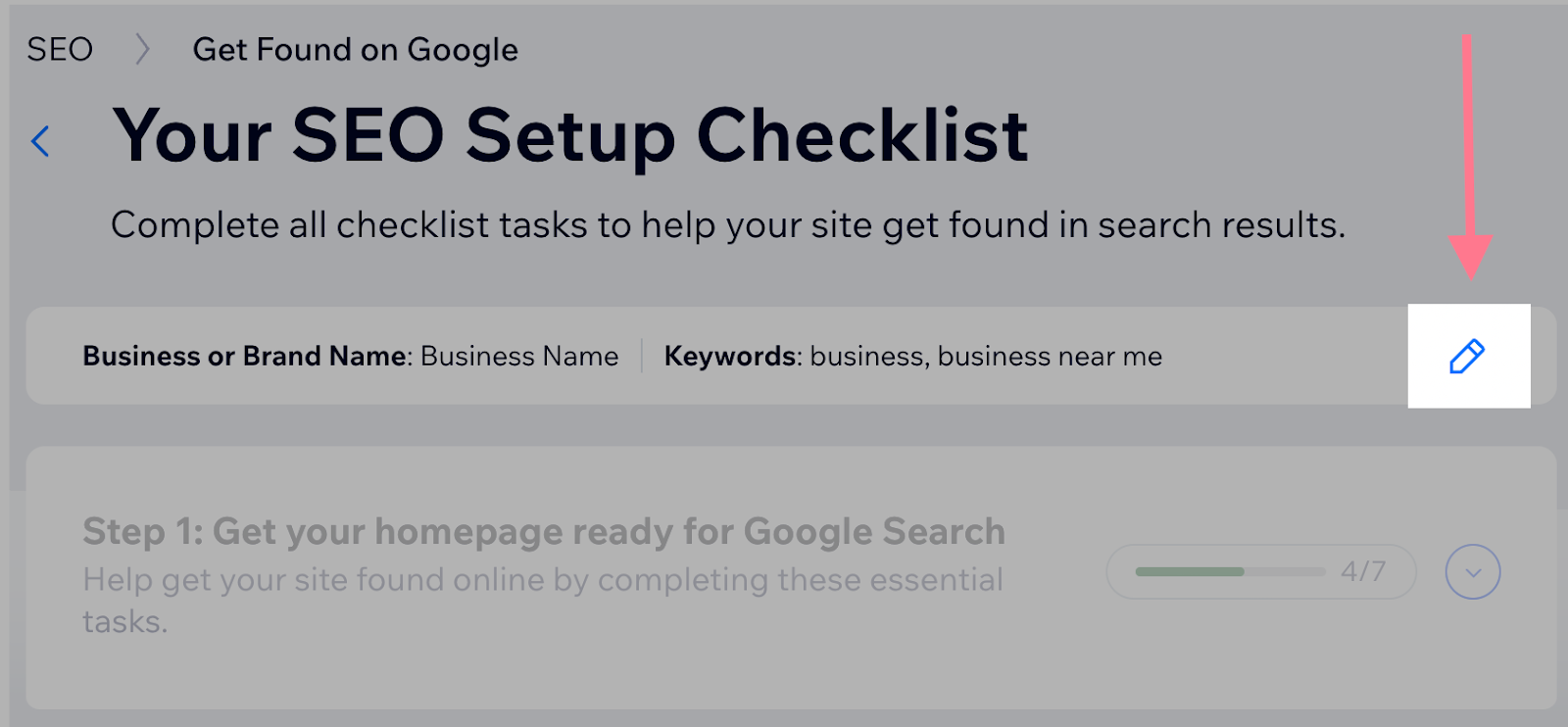 In the "Keywords" section, click "Find the best keywords with Semrush." Here, you can connect to your Semrush account. Or create a Semrush account for free.
Select your target location and enter a keyword related to your business. Then, hit "Analyze."
The tool will provide a list of keyword options and four key metrics:
Volume: How many people search for the term each month? 
Trend: Search volume trend in the past 12 months
Difficulty to rank: How fierce is the competition for the keyword?
Searcher intent: Why are people searching for the keyword?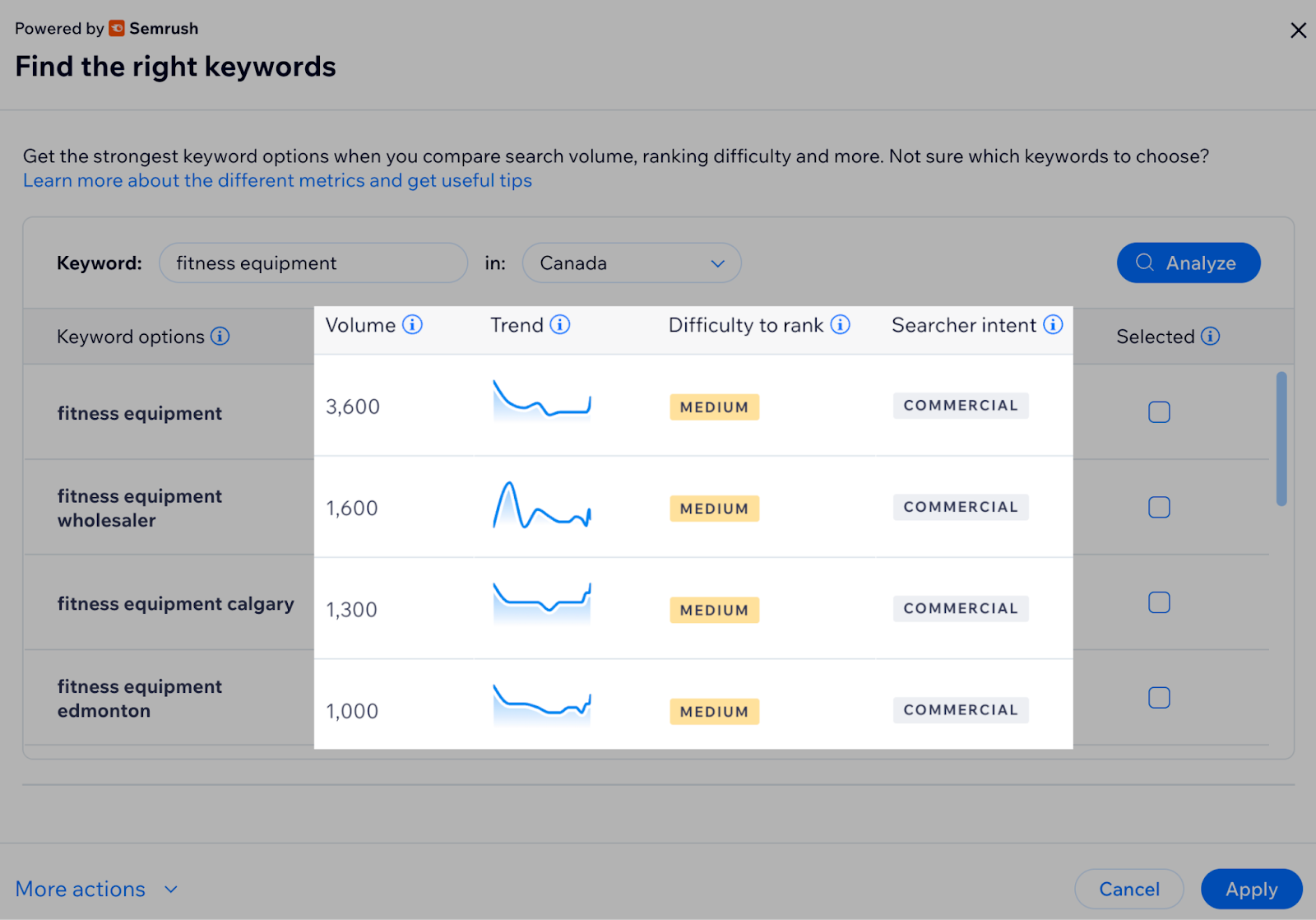 Ideally, look for keywords with high volume, low ranking difficulty, and a search intent that fits your strategy. 
To learn more about how to perform keyword research, check out our guide to keyword research. This detailed Semrush-Wix integration manual can also help.
The Semrush-Wix tool allows you to select up to five keywords to add to your personalized Wix SEO plan.

To take your keyword research to the next level, check out the Keyword Magic Tool. It offers everything you see in the integration but gives more advanced insights and filtering options. 
With a free Semrush account, you can search up to 10 keywords per 24 hours in both Wix and the Keyword Magic Tool. 
4. Create High-Quality Content
One of the most effective ways to grow your site's organic traffic is to create a blog and consistently publish high-quality content on it.
Blogging is an especially accessible type of content marketing for small businesses. Good news: Wix includes blogging functionality as a standard feature.
The Wix editor makes it easy to add your content to your site. But it takes time and effort to create high-quality content your ideal clients want to see.
Below are some tips for creating great content:
Always write with your target users in mind
Provide comprehensive answers to your user's questions and needs
Write about things within your expertise
Provide added value—through thoughtful insights, exceptional supporting media, unique data, etc.
Make sure your content is easy to read and understand
Use subheadings, lists, and other structural formatting to break up big sections of text
Never, ever plagiarize
Our top recommendation here is to analyze content on the pages that rank in top positions for the keywords you're looking to target. 
Semrush's SEO Content Template can help with that.
Enter your target keyword(s), select your target location, and hit the "Create content template" button.

The tool will provide some basic insights, including the list of the top-performing pages and recommendations on how to write and optimize your content.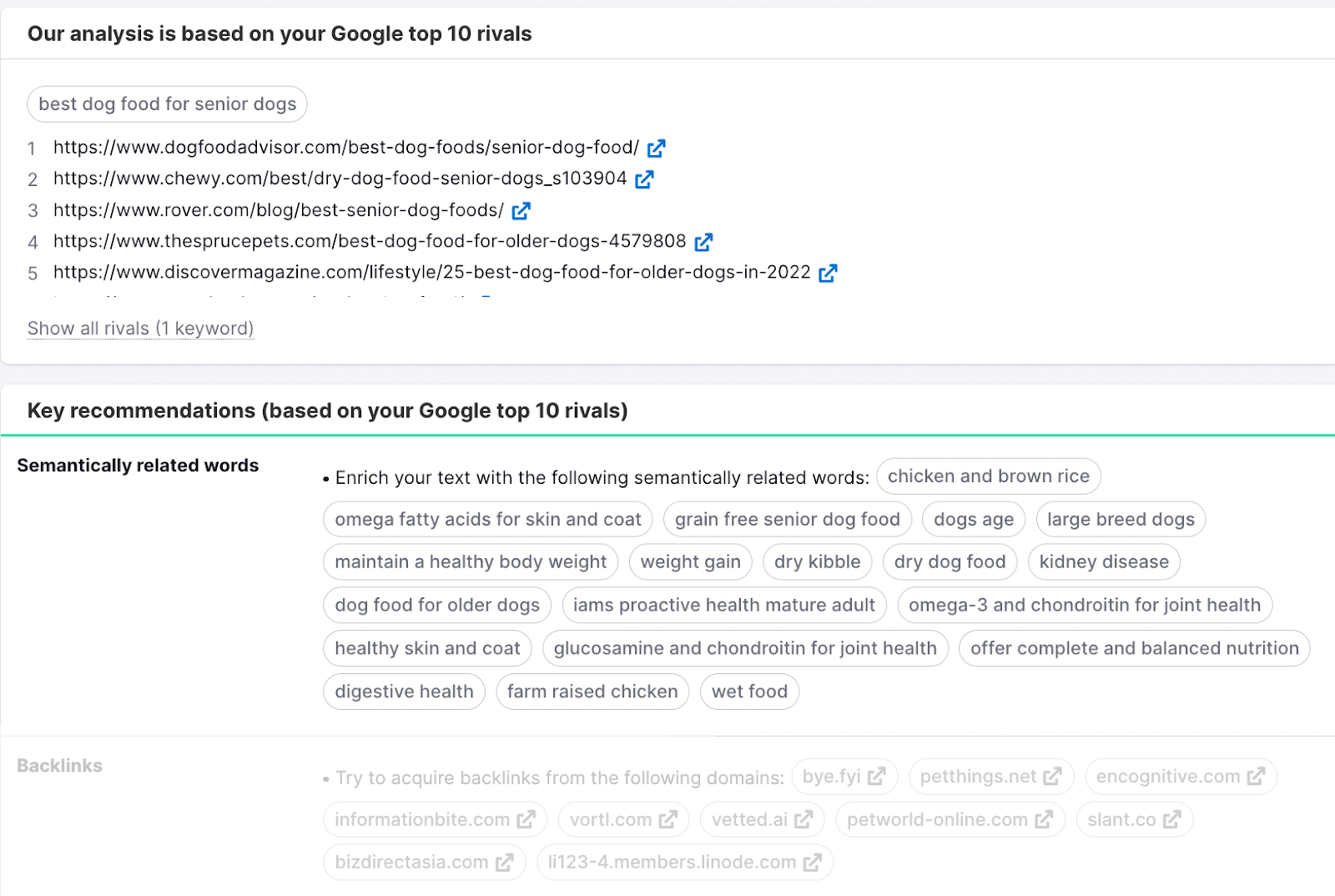 Additionally, the SEO Writing Assistant will analyze your copy. You'll get actionable tips for improving readability, tone of voice, SEO, and originality.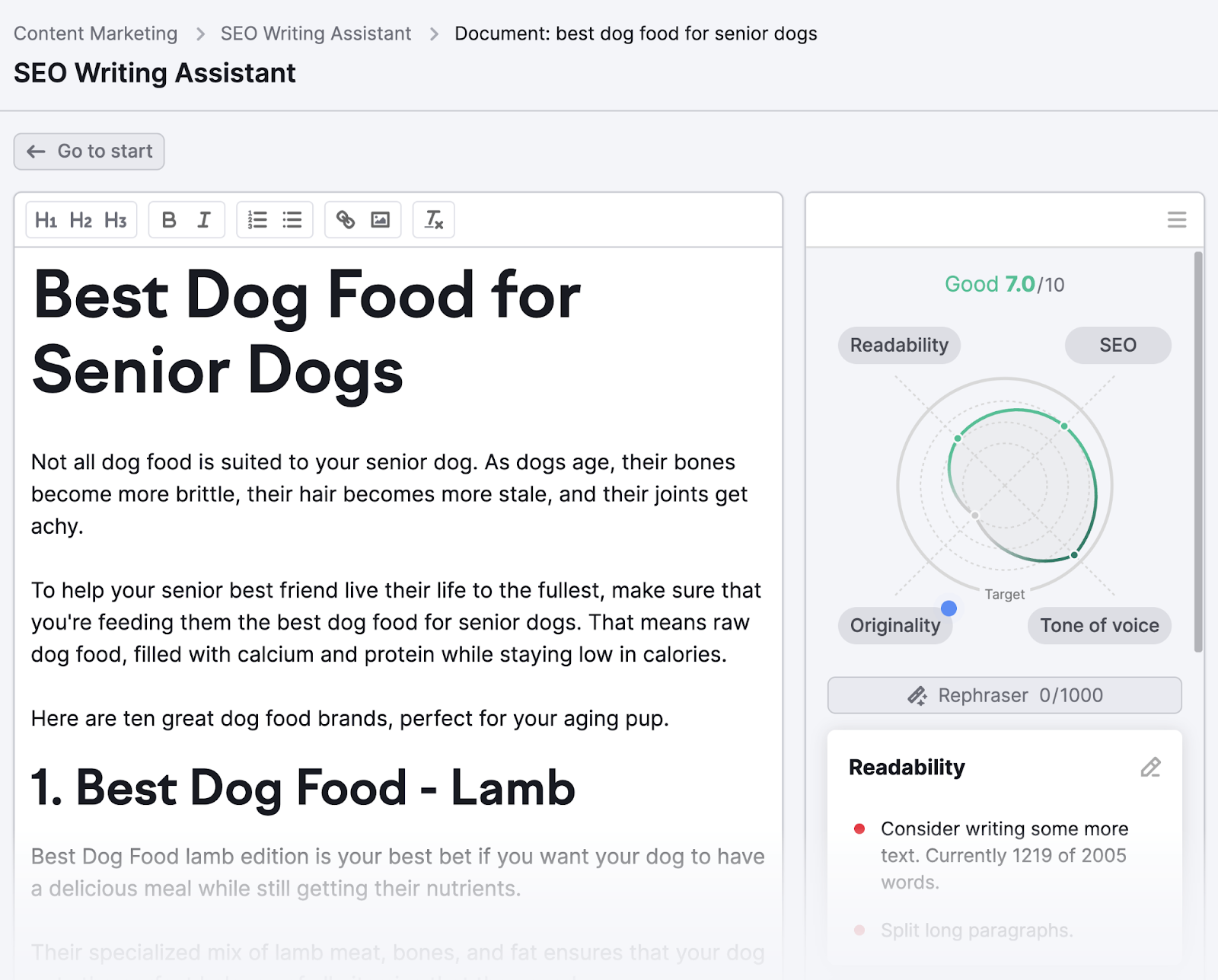 Pro tip: The SEO Writing Assistant is also available as a Google Docs and Microsoft Office add-on. 
Every page on your site needs a unique and optimized title tag and meta description.
Title tag: Tell susers and search engines what your page is about 
Meta description: Provides a more detailed description of your page's content
Google uses both elements to feed its search engine result snippets.

Here's how to edit your title tags and meta descriptions in Wix:
In the editor's left-hand menu, click "Site Pages and Menu." Find the page you want to edit in the list. Click the three dots next to the page title, then "SEO basics."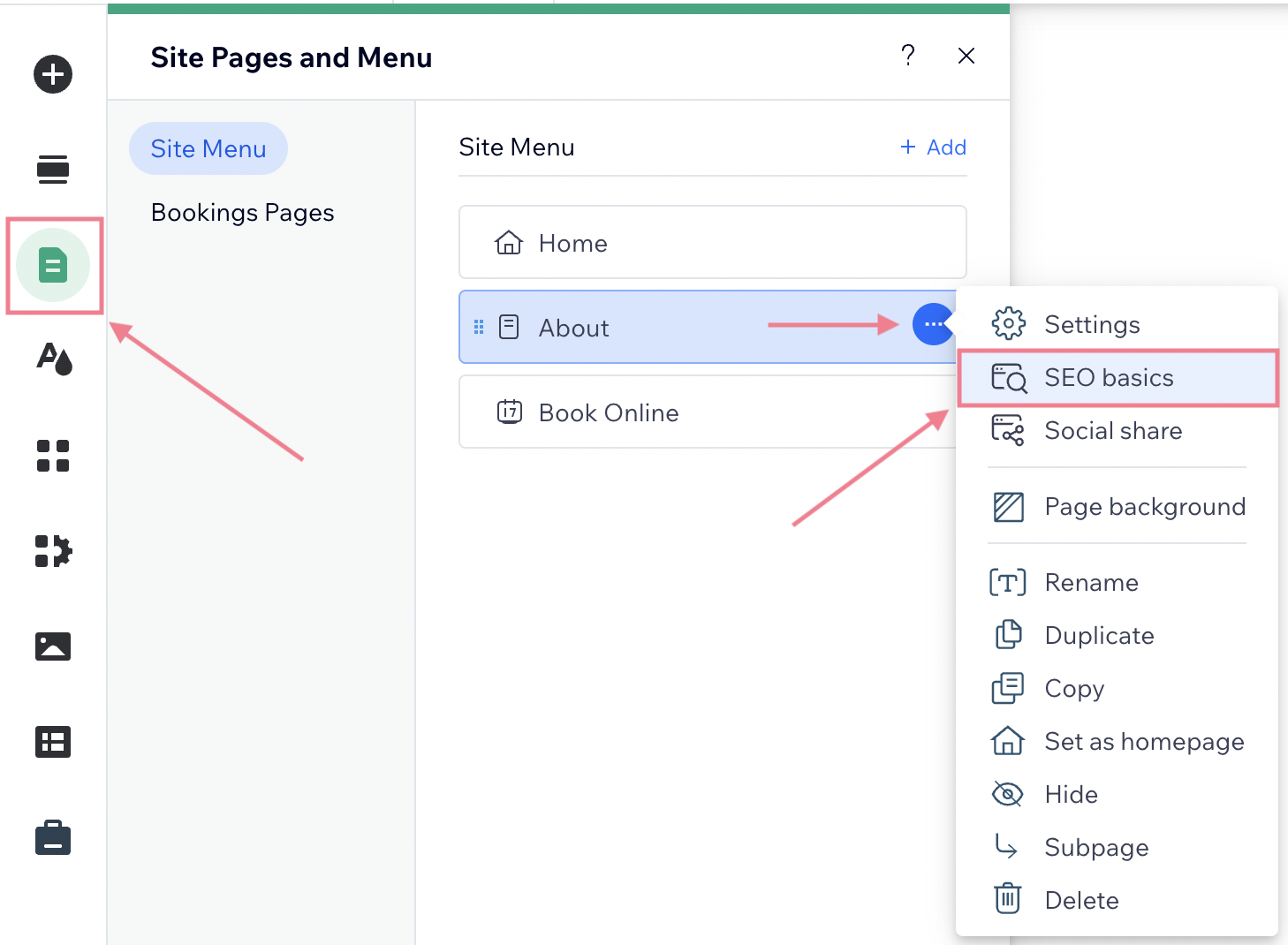 You'll be able to edit your title tag and meta description here. Then, see a preview of your search snippet on Google.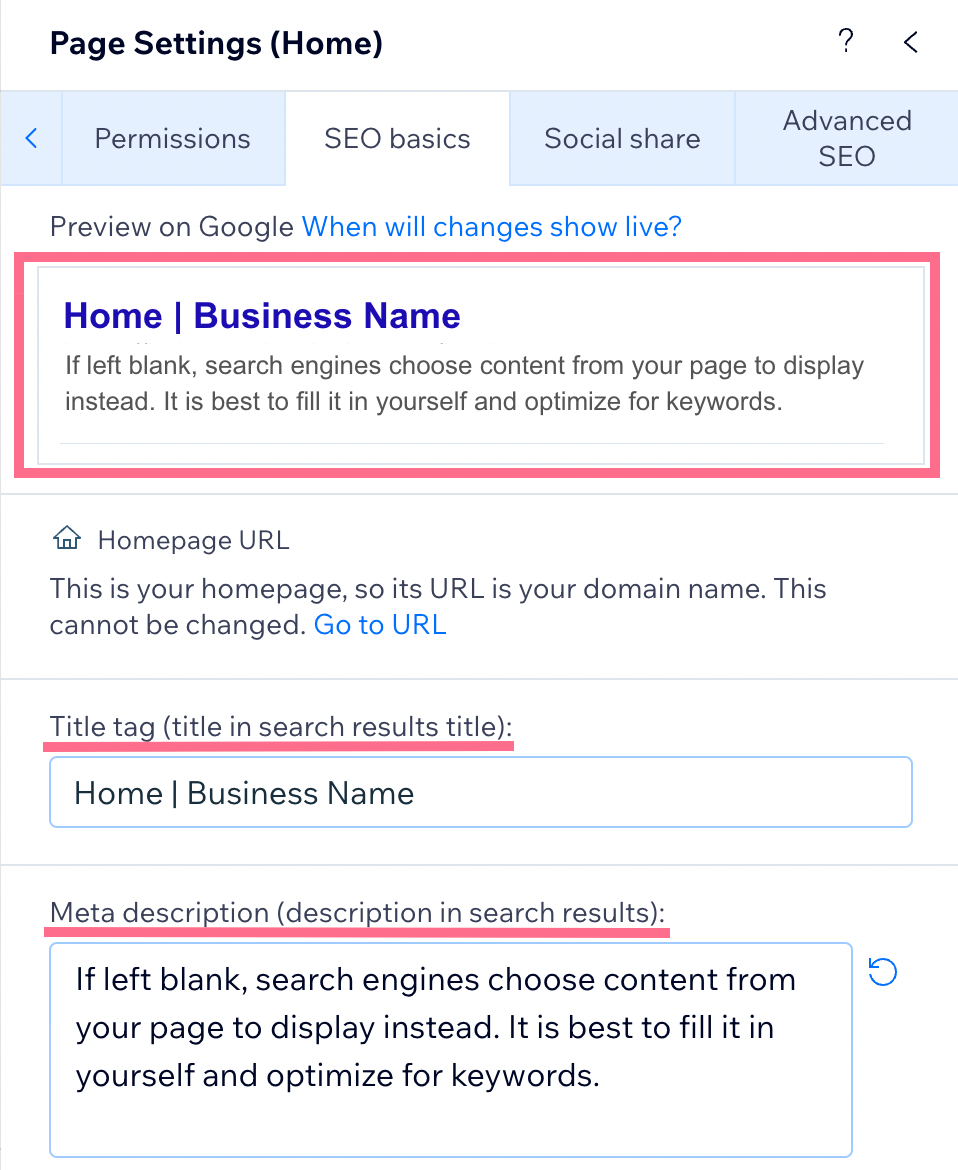 Here are some tips for writing optimized title tags and meta descriptions:
Keep your title tags short (about 50 to 60 characters)
Keep your meta descriptions under 120 characters 
Include your target keyword in both elements
Make your meta descriptions actionable by using active voice and call-to-action (CTA) phrases
Learn more in our guides dedicated to writing engaging and optimized title tags and meta descriptions.
6. Write User-friendly URL Slugs
The URL slug is the final part of the URL address of a page. 
For example, the slug of this article is /wix-seo/.
You should always construct user-friendly and descriptive URL slugs for every page on your site. It helps Google understand the content of your page. It's also good for user experience.
In Wix, you can do that easily in the same "SEO basics" settings where you're editing the title tag and meta description (see the previous section). 
To write optimized URL slugs:
Keep your URL slugs short and descriptive
Use hyphens (-), not underscores (_)
Use lowercase characters
Avoid special characters
7. Add Internal Links
Internal links are links that point from one page on your site to another.
A strong internal linking strategy can increase the authority and topical relevance of your key pages. And improve their rankings in search engines.
Of course, internal links are also navigational elements that help users move through your site and find what they're looking for.
Adding internal links to your content in Wix is simple.
First, select the text you want as your internal link. That section of text is called anchor text. It provides context about the linked page to both users and search engines.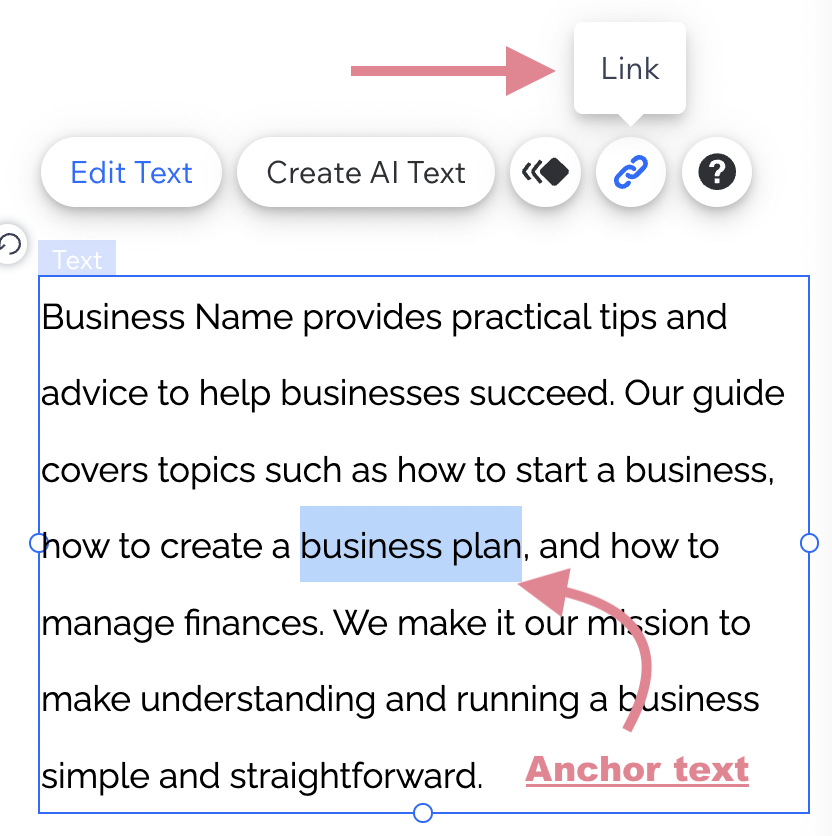 Click the hyperlink icon in the pop-up window. Choose a page you want to link to using the "Which page?" selector. Then, hit "Done."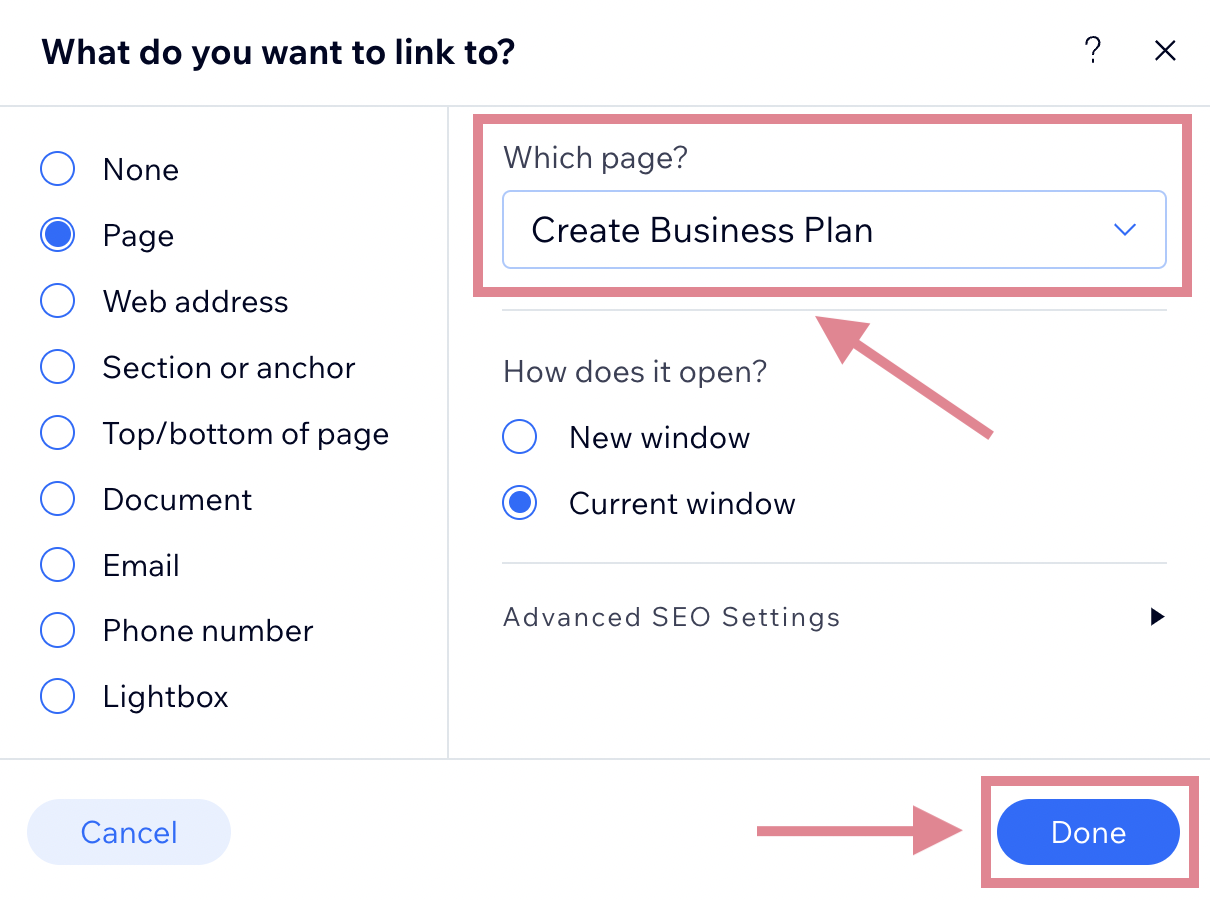 Internal linking should be an integral part of your publishing process. Every time you create a new page, think about other relevant pages you could link to. 
Once the new page is published, you can do the same in reverse: Add internal links to your new page from other published pages.
8. Optimize Your Site's Images
Unoptimized images are a common reason for poor site speed.
That's why image SEO is a crucial aspect of your website's optimization process. 
Use images that are sized appropriately. If you're displaying an image at a maximum width of 800 pixels, use an 800-pixel image, not a 2400-pixel image. 
Additionally, you can use a tool like TinyPNG to compress your images before uploading them to Wix. This will reduce their size without losing quality.
Also, add unique alt text to images on your webpages. These help Google and those using screen readers understand what's in the image.
Add alt text by clicking on the image and adding a description to the "What's in the image? Tell Google" box.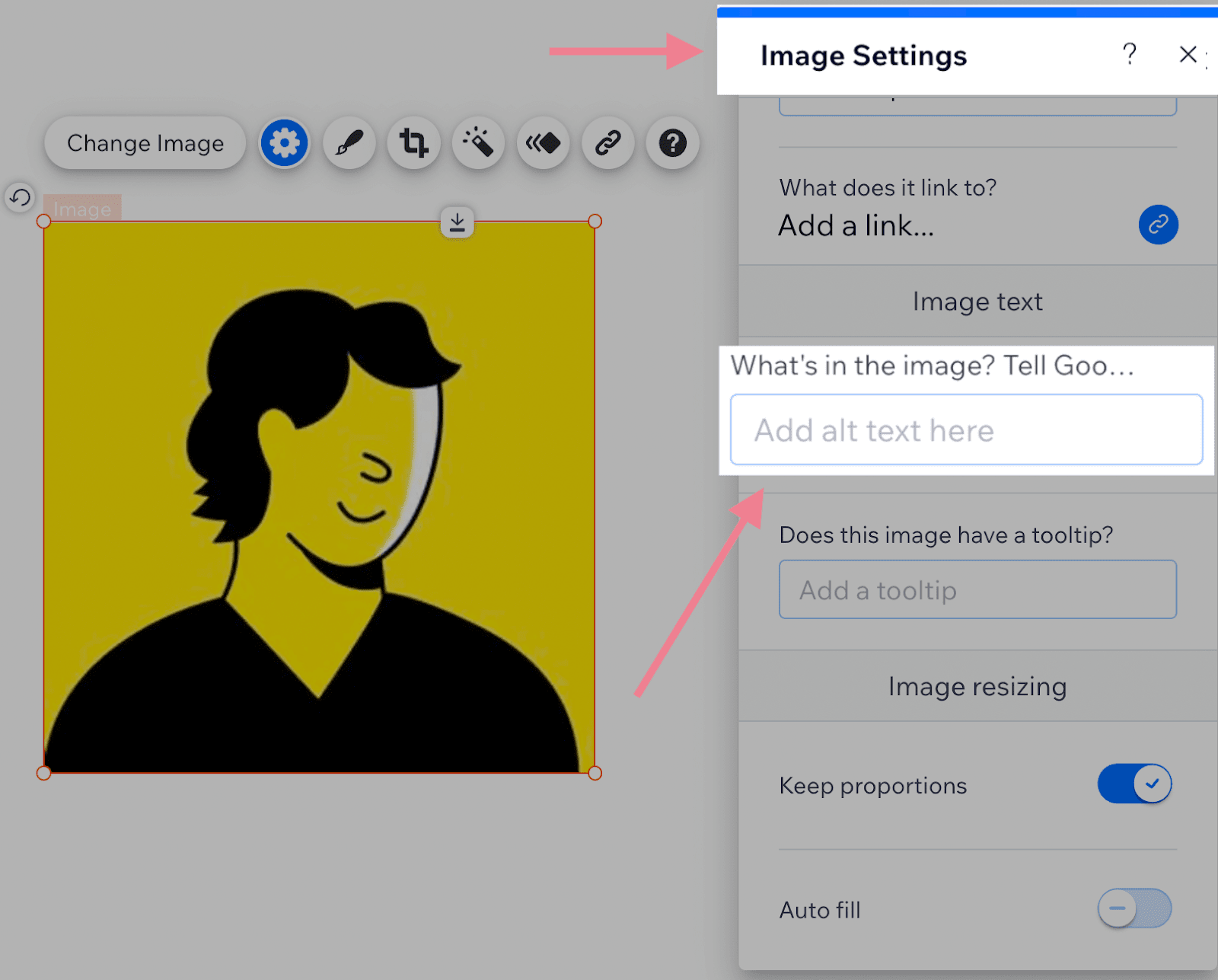 Learn more about this element in our guide to on-page SEO. 
9. Build Backlinks to Your Site
Backlinks are a key SEO ranking factor.
Essentially, Google sees links from one website to another as votes of quality. Pages with a high number of quality backlinks tend to rank higher in search results. 
Even small businesses need to build authority on search engines through relevant, quality links.
Check out our full guide to link building. Or look at tactics for small businesses, such as:
A great way to find backlink opportunities: Take a look at the backlinks of your competitors with Semrush's Backlink Gap tool.
Start by entering your domain and the domains of your competitors.
You can enter your competitors manually or pick from suggestions the tool provides.
Click "Find prospects."
In the "Best" tab, you'll see a list of domains that link to your selected competitors' sites but not yours.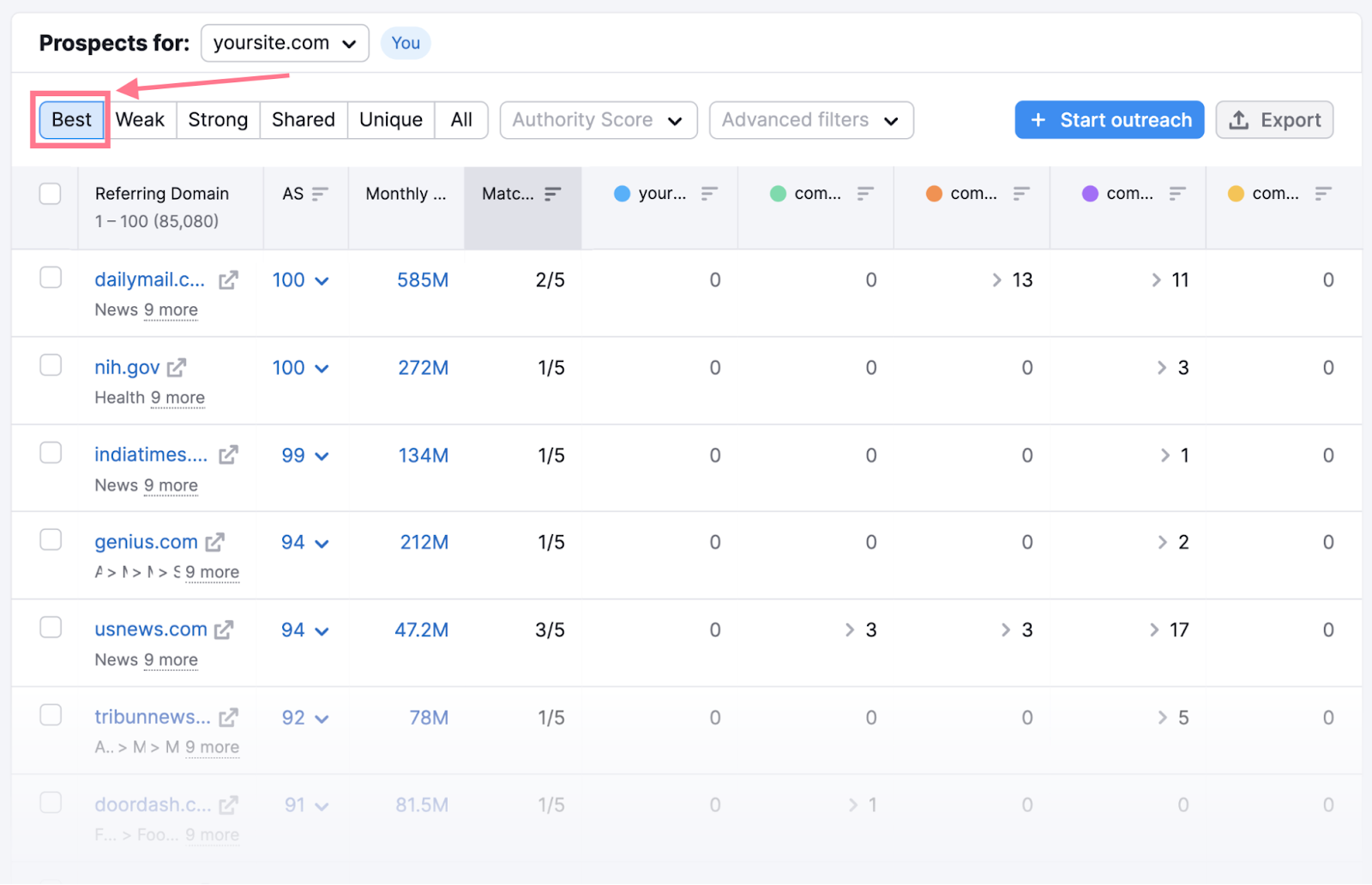 These can be prime opportunities to get backlinks. Find the most relevant prospects and reach out to them to replicate your competitors' backlinks.
Next Steps
Remember that your SEO success doesn't depend on the platform or website builder you're using. Instead, make sure you understand the basics, such as keyword research, content creation, and link building. 
And stay consistent in what you're doing.
If you're past the basics and want to learn more, conduct a complete SEO audit of your website. 
A great place to start is Semrush's Site Audit tool. It scores your website's health and provides a list of issues.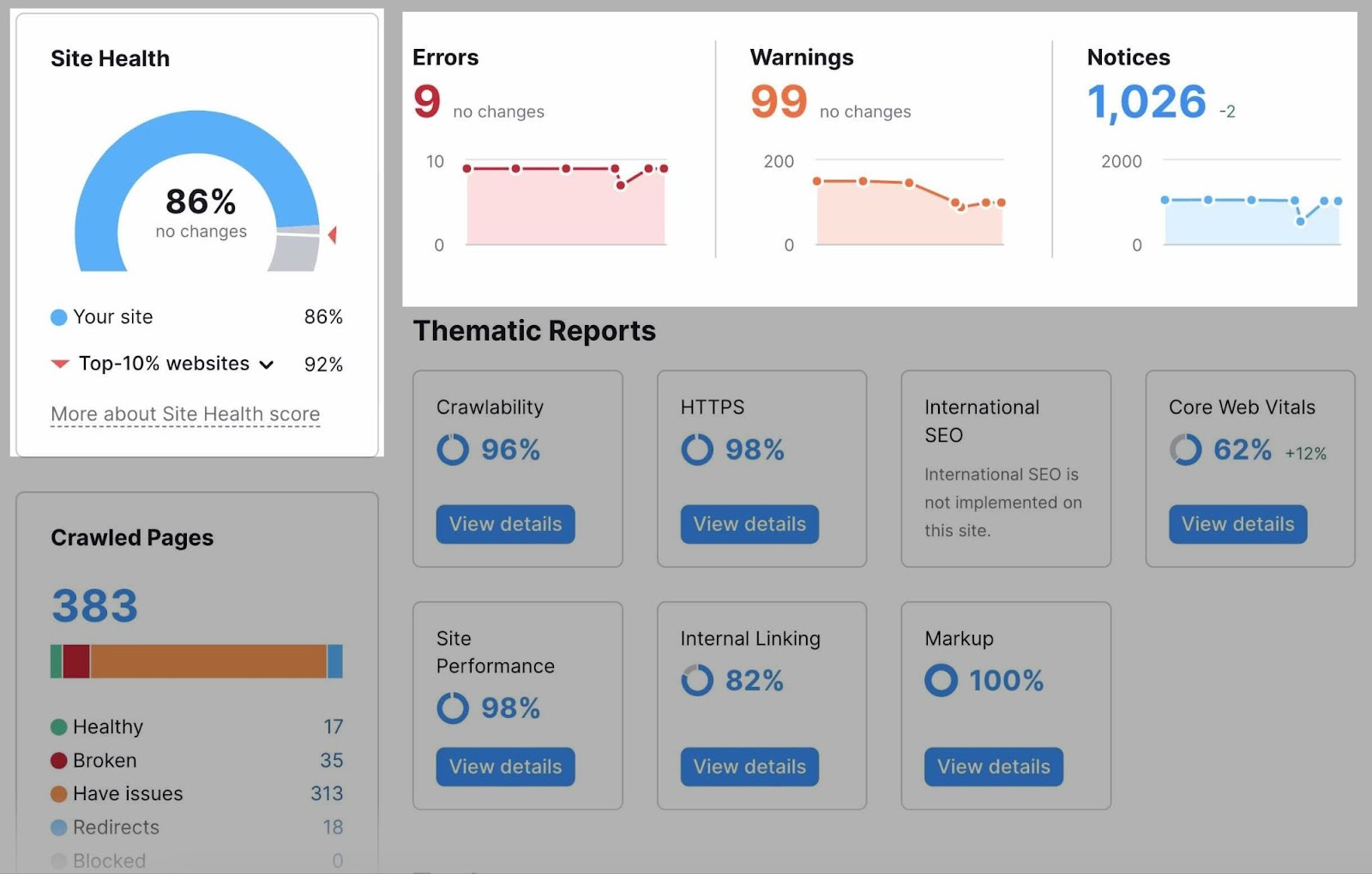 It also helps you understand the issues. And provides tips for fixing them.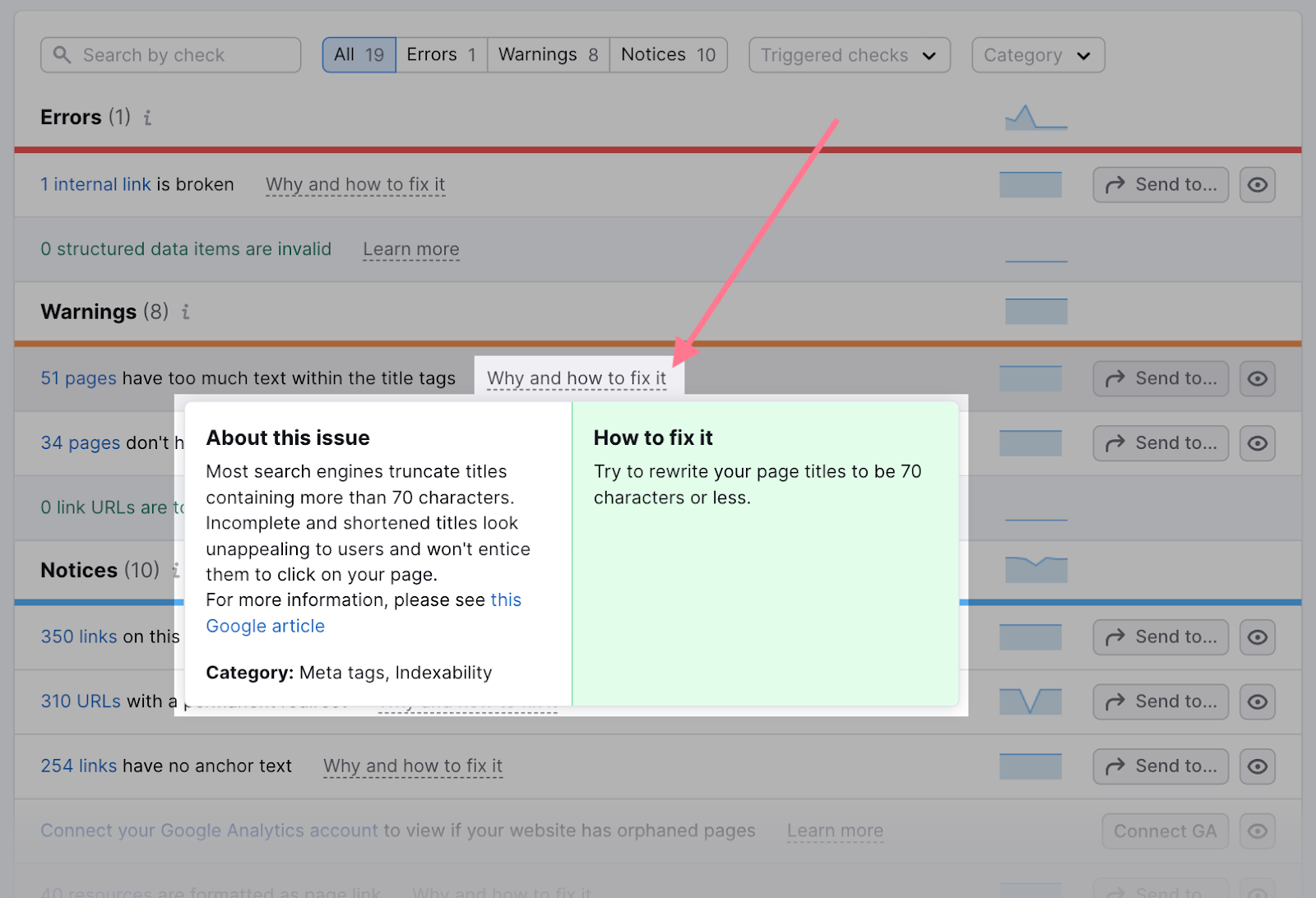 This post was updated in 2023. Excerpts from the original article by James Brockbank may remain.
We all want to be satisfied, even though we know some people who will never be that way, and others who see satisfaction as a foreign emotion that they can't hope to ever feel.

Newspaper Ads Canyon Crest CA
If you have questions before you order, give me a call @ 951-235-3518 or email @ canyoncrestnewspaper@gmail.com Like us on Facebook Here