Email outreach is a tried-and-tested way to build backlinks, land coverage from bloggers and journalists, and improve your brand authority.
But there's a lot more to it than simply putting together a quick email and sending it out.
In this guide, we're going to walk you through the email outreach process from start to finish.
Tip: Want to get stuck straight in? Semrush's Link Building Tool helps you find prospects, create and send outreach emails, and monitor your link building progress. And you can try it for free.
What Is Email Outreach?
Email outreach is the process of reaching out to influencers via email to get backlinks, promote content, or form a partnership. Generally, the idea is to find people who might link to your content (link building prospects), then reach out to put forward your proposal.
It might sound simple, but there's more to outreach than first meets the eye.
In fact, the reason why many email outreach campaigns fail is that there's not a solid process in place—one that sets it up for success. 
But it's also no secret that outreach is widely misunderstood. And often gets a bad reputation for the wrong reasons.
Outreach emails are often considered to be spam by recipients because so many marketers fail to put this solid process in place. Instead, they blindly send emails to as many people as they can, regardless of whether or not they're likely to be interested.
And that's totally the wrong approach to take. 
Email outreach is not spam. It's all about carefully prospecting people who may genuinely find your content useful. Then sharing it and asking them to take action if they like what they see.
But so many get this wrong, and many of us have been on the receiving end of a bad outreach email.
For example, take a look at the below:
This was an outreach email sent to a children's toy retailer. But it was sent by a company asking for a link to one of their marketing and SEO posts. 
It's no wonder that outreach gets a bad reputation when emails like this are sent to businesses. 
For starters, asking a children's toy retailer to link to an article about marketing makes no sense. Especially given that they're asking for this from an article about Disney. 
And secondly, a link back to this company from a marketing blog makes just as little sense.
This is a clear example of outreach done wrong and a demonstration of what not to do. 
Why Is Email Outreach Important in Link Building?
Email outreach is important in link building because it gets your content in front of potential influencers. And encourages them to amplify it.
Anyone experienced in link building will tell you that a "build it and they will come" approach rarely works. For the best results, you must be proactive.
In other words, build relationships with prospects and make them aware of your content. To stand a better chance of securing backlinks that benefit your SEO. And earning valuable brand exposure.
Here are some other benefits of email outreach: 
It can scale up to help you to close a link gap with competitors
You can pursue links and coverage on target publications
You can build authority around specific topics and pages
Email outreach can (and generally should) be used alongside other link building tactics, such as:
It's a skill that can supercharge your link building efforts and help you to execute a solid strategy that drives success. 
To most SEOs, there is no other link building tactic that compares to email outreach. 
The Golden Rules of Outreach
To see success from your outreach efforts, there are a number of golden rules that you need to follow. These are:
Focus on Prospect Quality Over Quantity
Focus your efforts on people who might have a genuine interest in linking to your content.
Don't just send to as many people as possible in the hopes that some will link. This can lead to your emails being flagged as spam. And earn your brand a bad reputation.
Explain What's in It for Them
Your email outreach should clearly demonstrate how your content adds value to the person that you are reaching out to and their audience. 
If you can't explain what's in it for the prospect, avoid contacting them.
Clearly Communicate Your Request
If a recipient cannot clearly understand what you want them to do upon receiving your email, you need to make sure this is communicated better. 
Always be clear on what action you want the recipient to take. But don't be too demanding.
Don't Pay for Links
Google's link spam policies state that publishers should not buy links for SEO purposes.
If you pay for a link placement or make some other exchange, the link should be "nofollowed." 
In other words, the prospect should add the rel="nofollow" or rel="sponsored" attribute value to the <a> tag. To tell Google that the link should not count towards rankings.
Like this:
<a href="https://apple.com/" rel="nofollow">Apple</a>
Have Something Worth Sharing
If you want to earn great links with outreach, you need something worth linking to—a linkable asset. Also known as link bait.
Linkable assets can include:
Original research 
Tools 
Blog posts
Infographics
Videos
Interactive content
Products
You can have the best idea or pitch in the world, but if there's nothing to link to, you may only be credited with a brand mention.
For example, if you're sharing insights from one of your team members, make sure there's a corresponding blog post the publisher can link to. Or they might not bother linking.
And before producing something new, remember to make the most of existing content. Most businesses already have something that deserves to be promoted and properly distributed. 
Set Goals
Set goals for your outreach efforts so that you can measure how successful your approach is and make improvements.
If you do not have a goal, how can you determine whether or not your resources were well spent? 
The mistake that many marketers make is using the number of links earned as a standalone goal. For example, "earn links from 10 unique domains per month."
Problem is, this doesn't take the quality of links into account. And the quality of the site plays a significant role in your brand, traffic, and SEO results.
Here are some other metrics to consider in email outreach campaigns:
The authority of the linking site and page (use Authority Score as a guide)
The topical relevance of the linking site and page
Whether the domain already links to a competitor
Referral traffic from earned links
Keyword rankings (although attributing improvements to links can be tricky)
The link destination and anchor text, and how these contribute to wider marketing goals
Therefore, an example of a solid outreach goal could be to earn links on high-authority sites that already link to competitors. And increase referral traffic to 1,000 visits per month.
To learn more about what makes a good backlink, check out our guide on backlink analysis.
How to Identify Outreach Prospects
If you want your email outreach campaign to be successful, you need to contact prospects who are interested in what you have to offer. And likely to take action.
There are a few different ways to do this, depending on the goal of your outreach and the specific tactics you're using.
Let's explore six different methods:
Do a Backlink Gap Analysis
A backlink gap analysis involves looking at your competitors' backlink profiles to see who links to their site but not yours. This is one of the quickest and easiest ways to build a prospect list.
Try it out with Semrush's Backlink Gap tool.
Enter your domain and up to four competitors' domains. Then, click "Find prospects."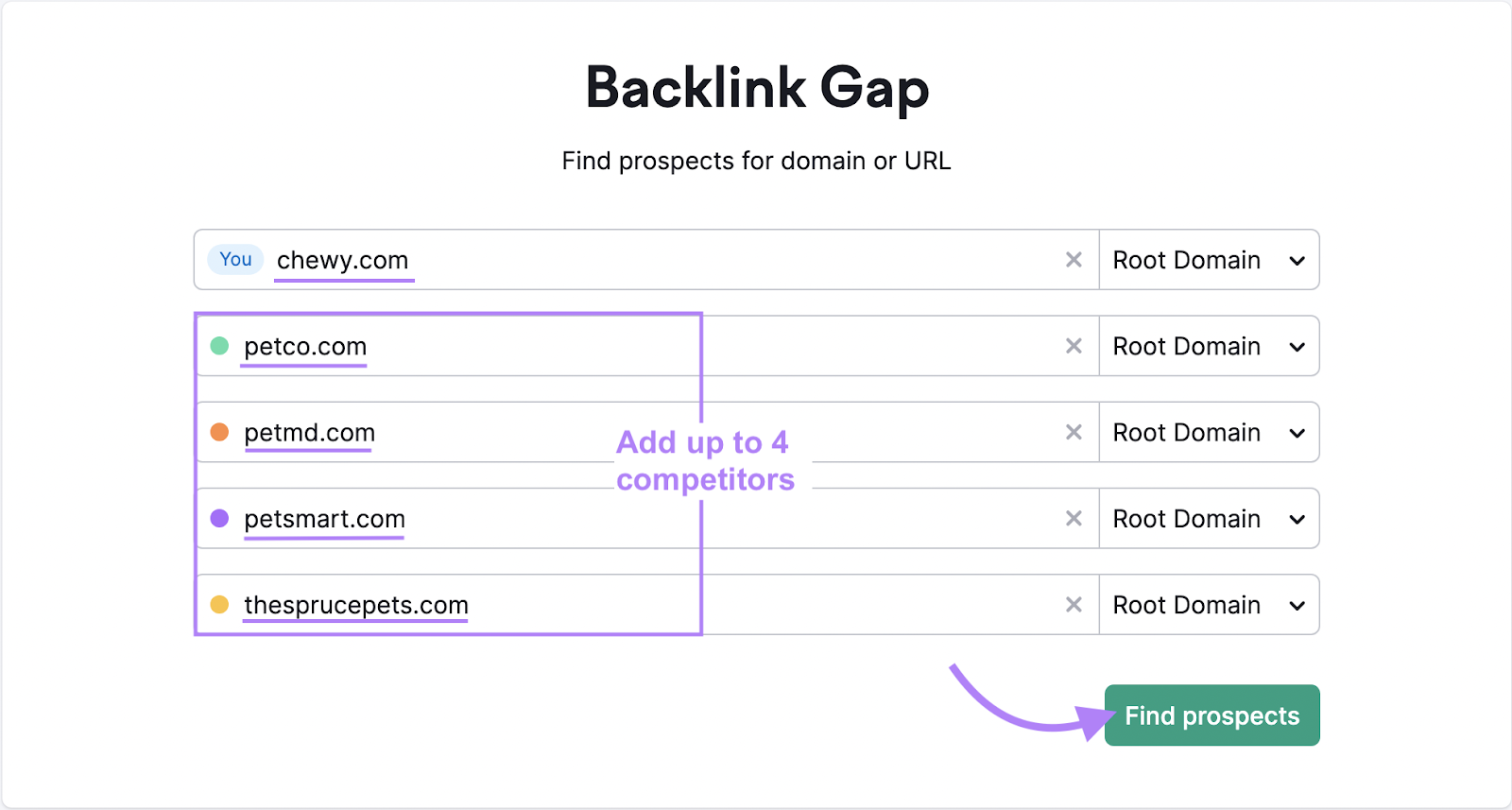 The tool shows your "Best" prospects by default. These are sites that link to all your competitors but not to you.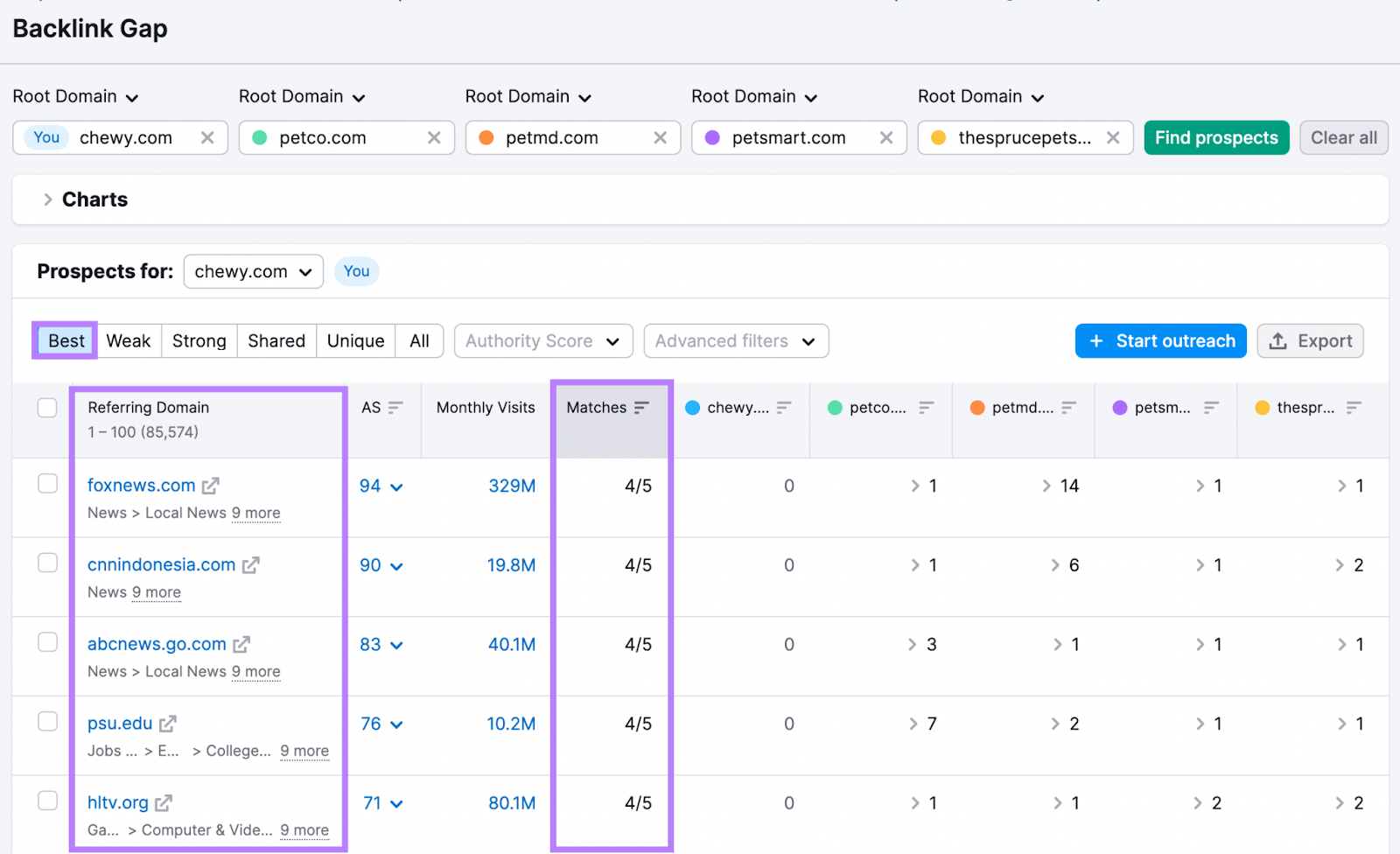 Click the arrow alongside rivals' link numbers to see more detail: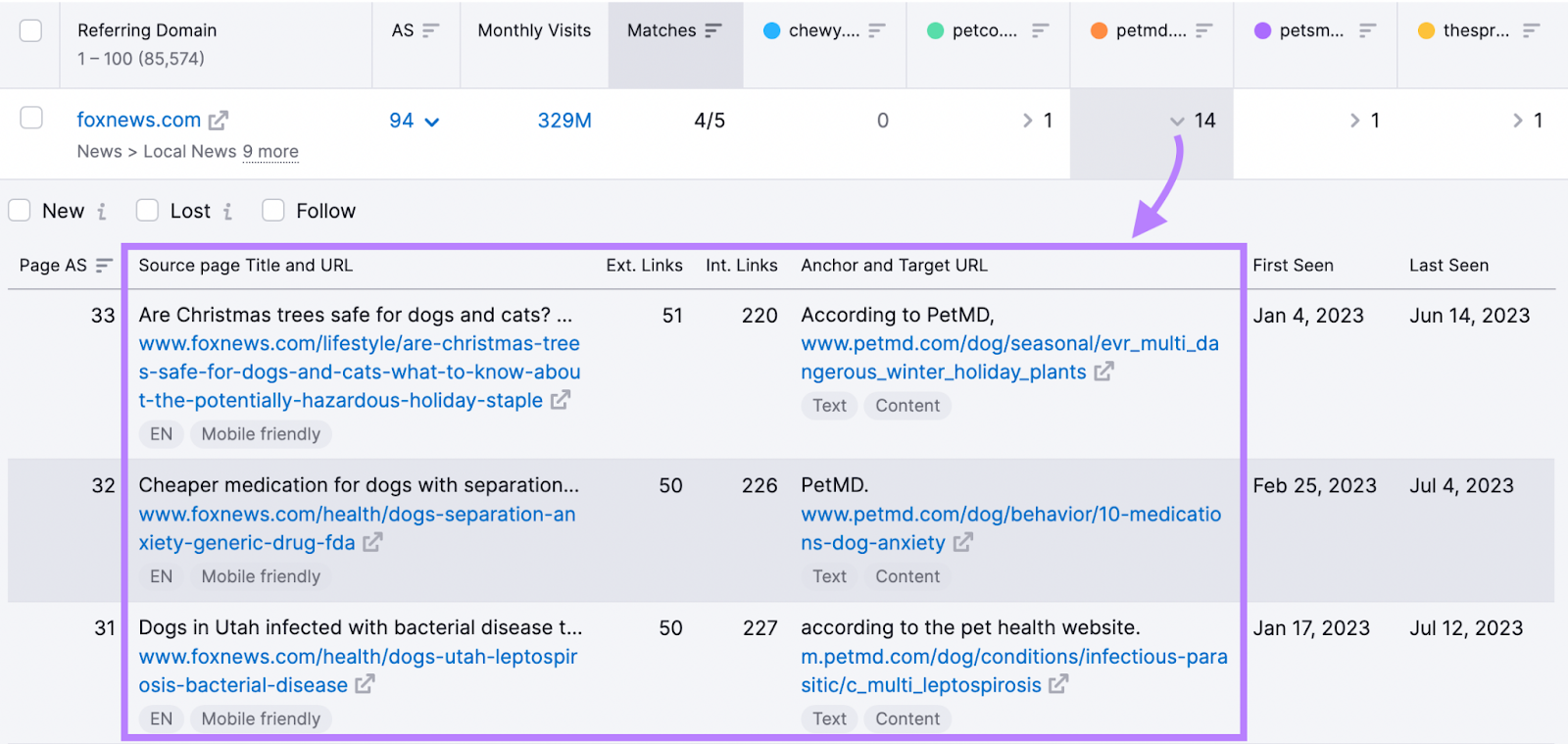 Use the check boxes and "Export" button to save your favorite prospects in a spreadsheet.
Or, click "+ Start outreach" to send them to Semrush's Link Building Tool. From there, you can find email addresses, send emails, and monitor your email outreach campaign.

Use Semrush's Link Building Tool
Semrush's Link Building Tool finds outreach prospects based on your competitors and target keywords.
After setting up, go to the "Prospects" tab. 
You'll find a list of sites that might link to yours. Along with useful data, including:
URL Type: What context the example backlink appears in
AS: Authority Score, a measure of site authority
Rating: A measure of the site's authority and accessibility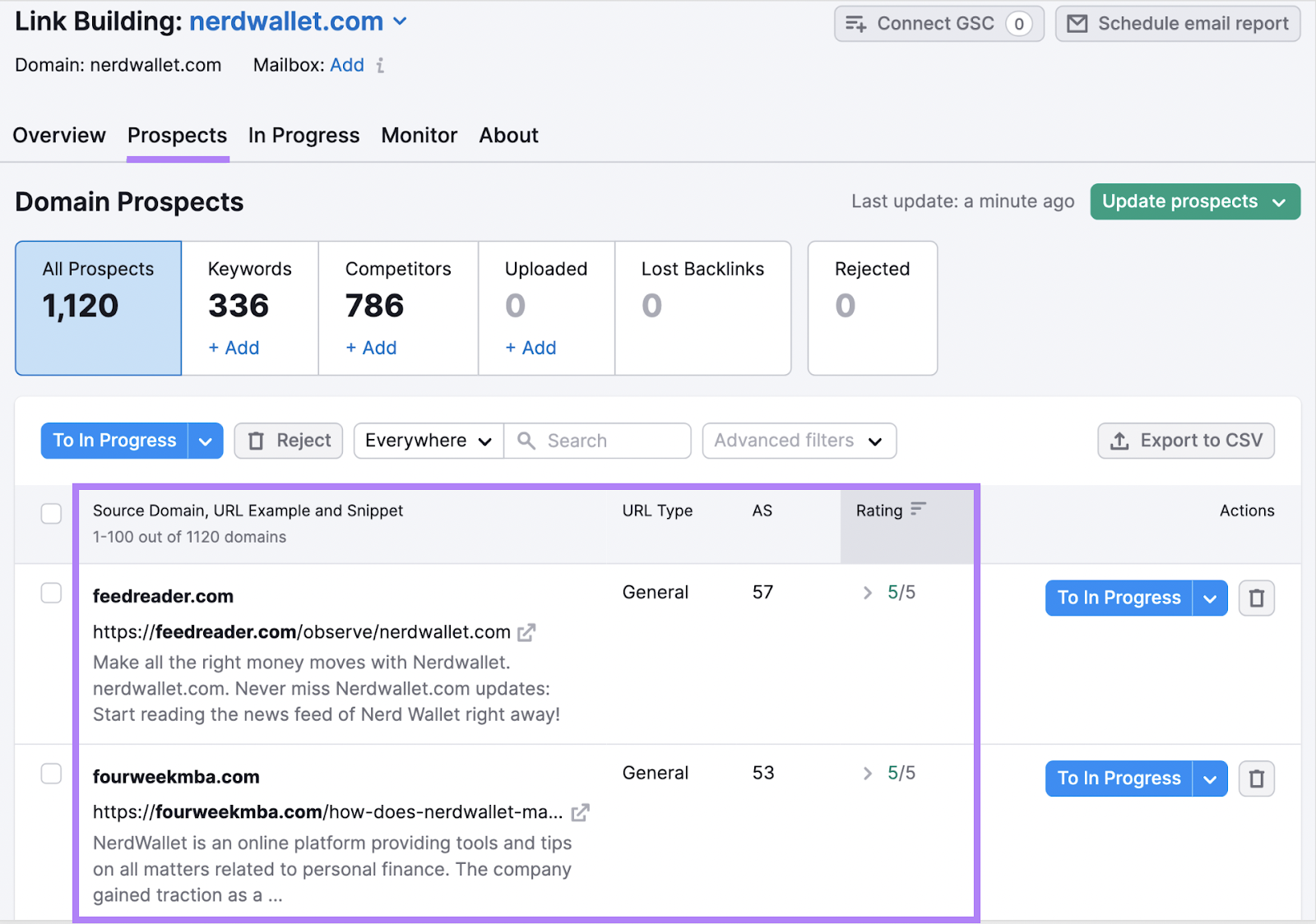 When you're ready to start email outreach, click "To In Progress."
The prospect will move to the "In Progress" tab. 
From here, you can access useful data, send outreach emails, and much more.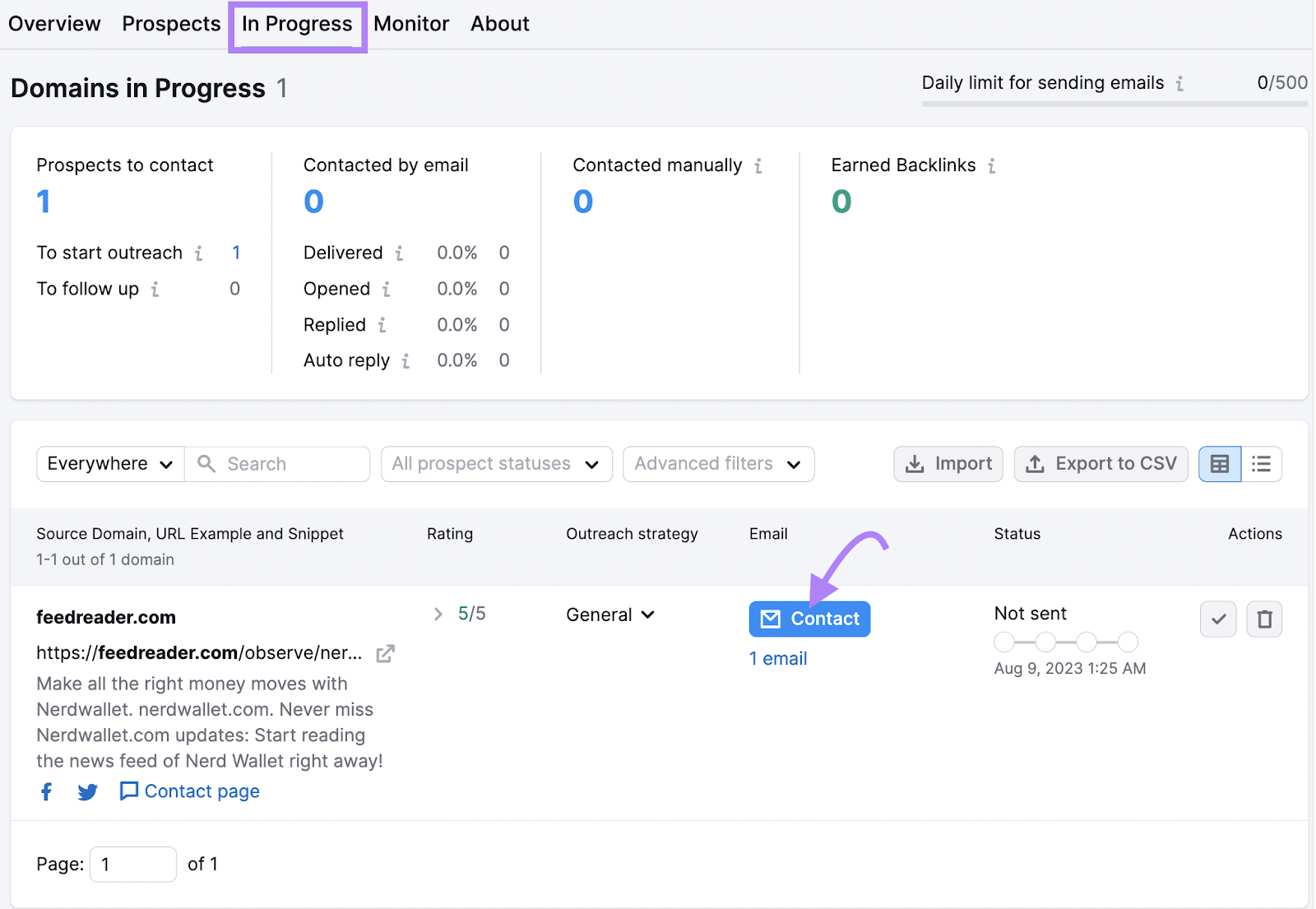 Search Google News
News publishers can make good link building prospects. As long as they cover stories in your niche.
To find them, search a relevant topic in Google.
Then, go to the "News" tab. 
To broaden your results, go to "Tools." 
Then, switch "Recent" to "Past month" or another time range.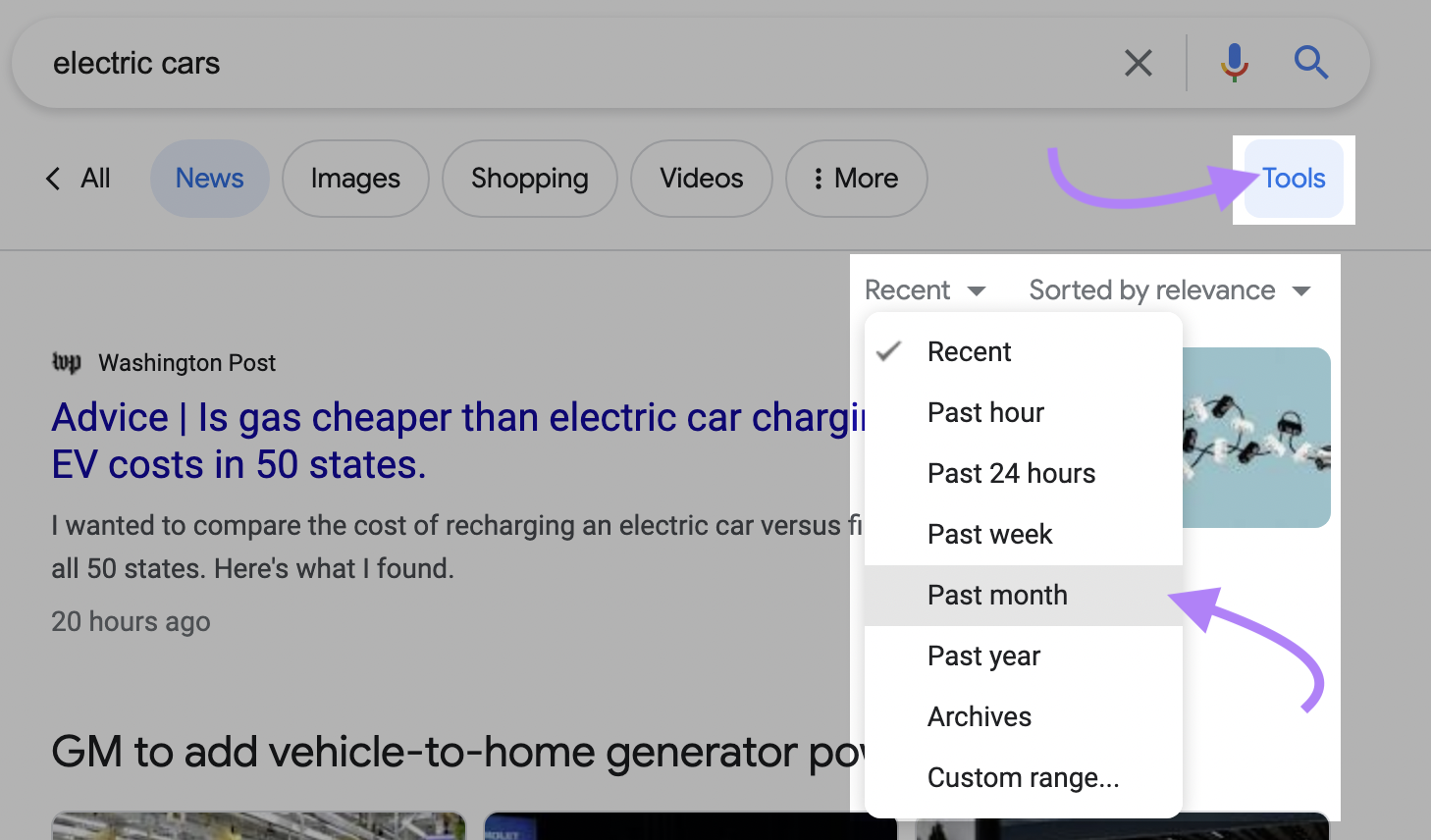 Add publications and journalists who have recently covered relevant topics to your outreach list. 
Monitor Your Unlinked Mentions
An unlinked mention or brand mention occurs when a website references your brand but doesn't link to your site.
For example: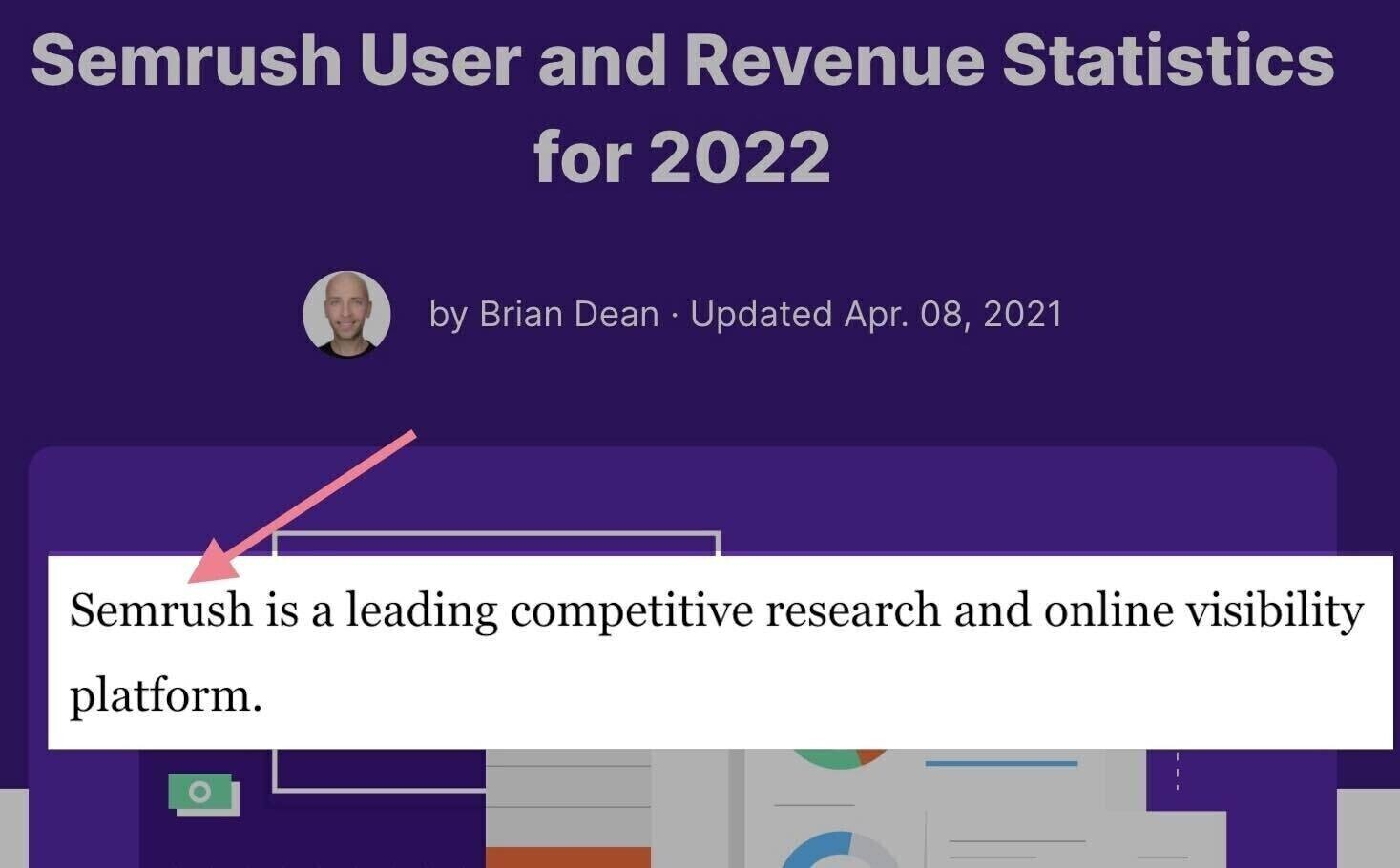 Unlinked mentions are relatively easy to convert into links. As the site has already expressed an interest in your brand. And adding a link is pretty straightforward.
You can check your mentions in the Brand Monitoring app.
Click "Filters" > "Article backlinks" > "Without backlinks" > "Save" to filter for unlinked mentions.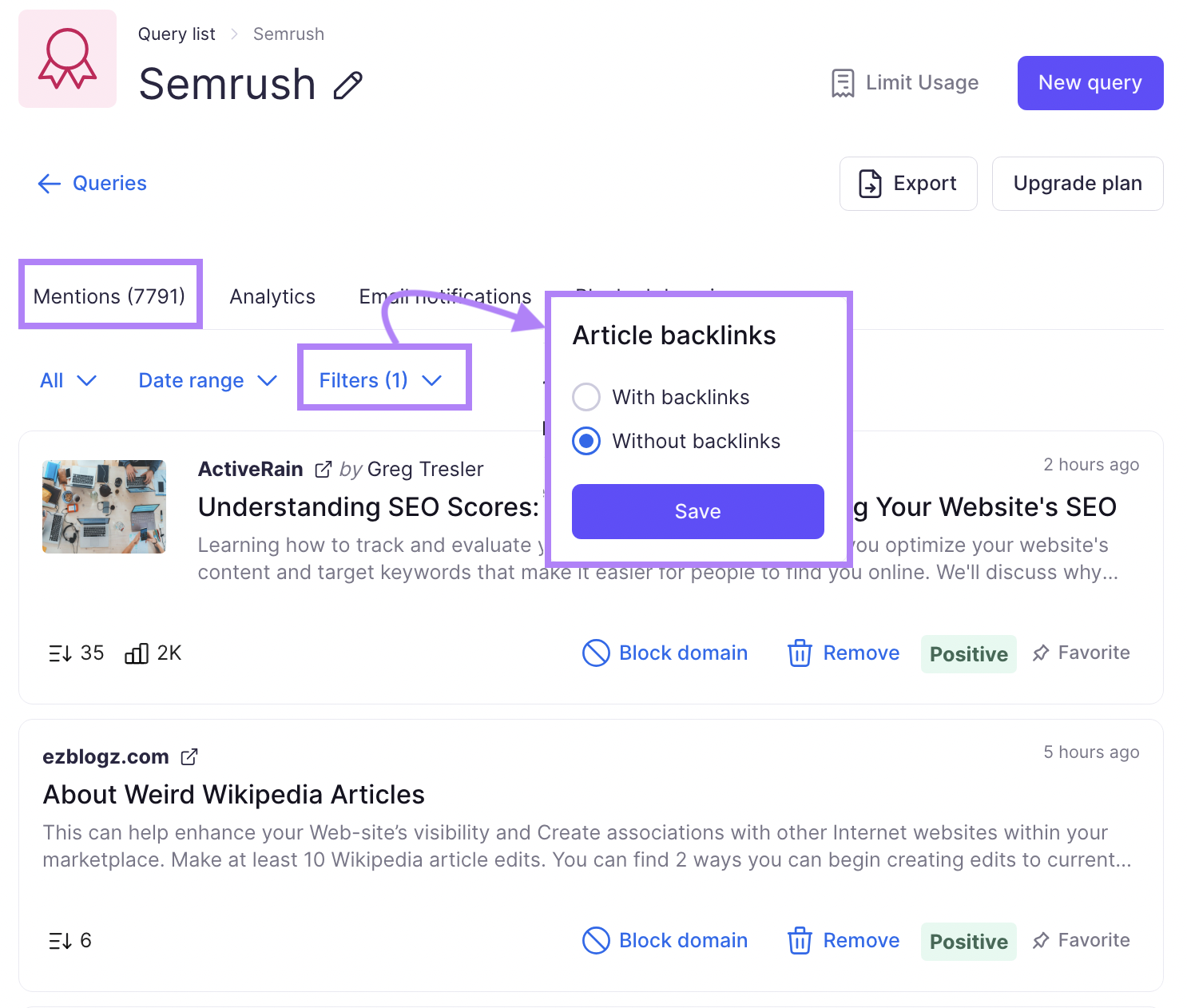 And make sure to check their sentiment. Positive mentions are generally easier (and more valuable) to convert.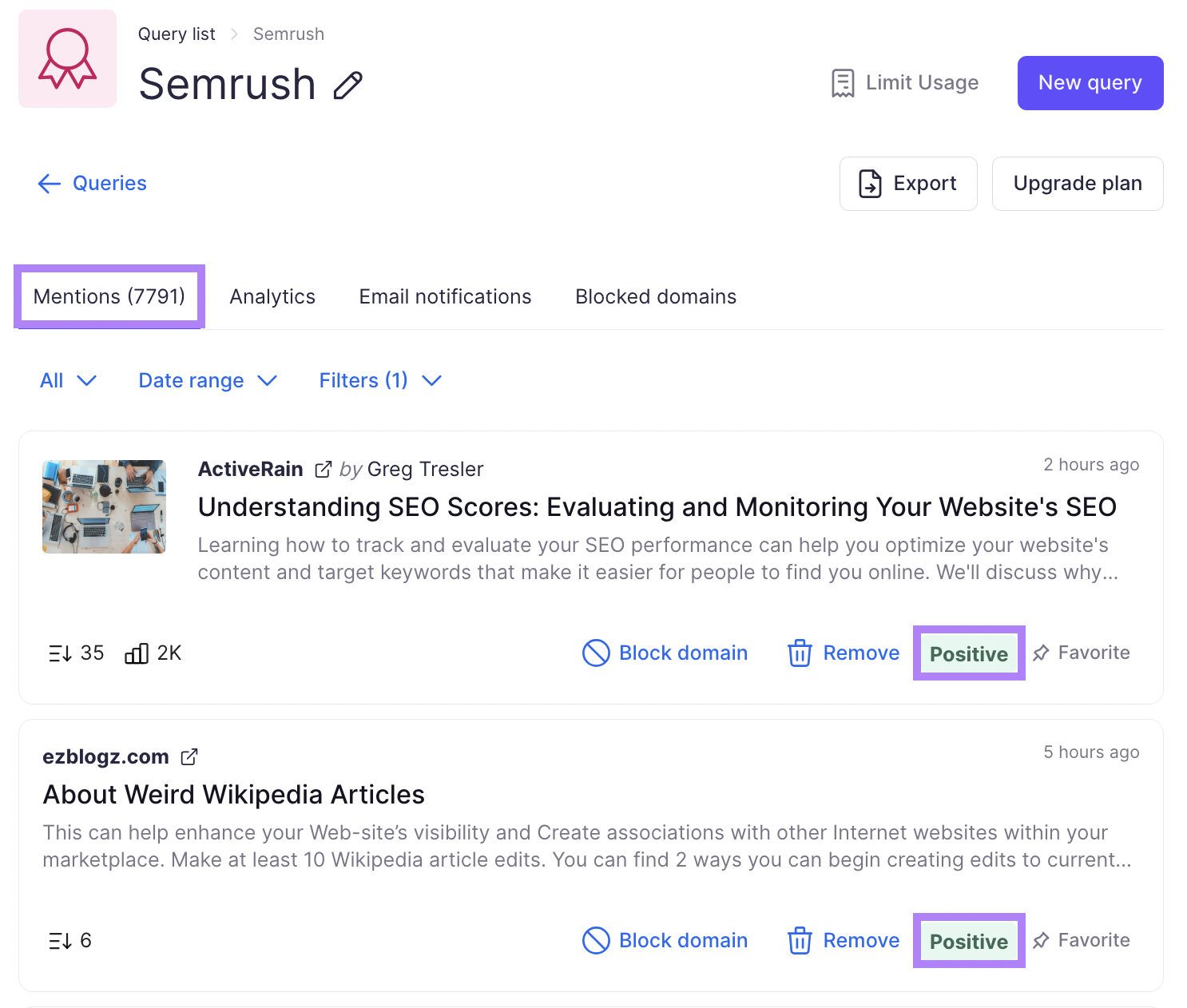 Use Google Search Operators
Google search operators are commands that help you refine your Google searches. So, they can make it easier to find outreach prospects.
For example, you can use the "inurl:" search operator to find sites in your niche that accept guest post submissions.
Like this:
Read our Google search operators guide to familiarize yourself with the various commands and use them in your email outreach efforts.
Use a Media Database
Media databases are like search engines for media contacts (i.e., journalists and bloggers).
With Prowly, you get access to over 1 million contacts. And you can search by keyword or topic: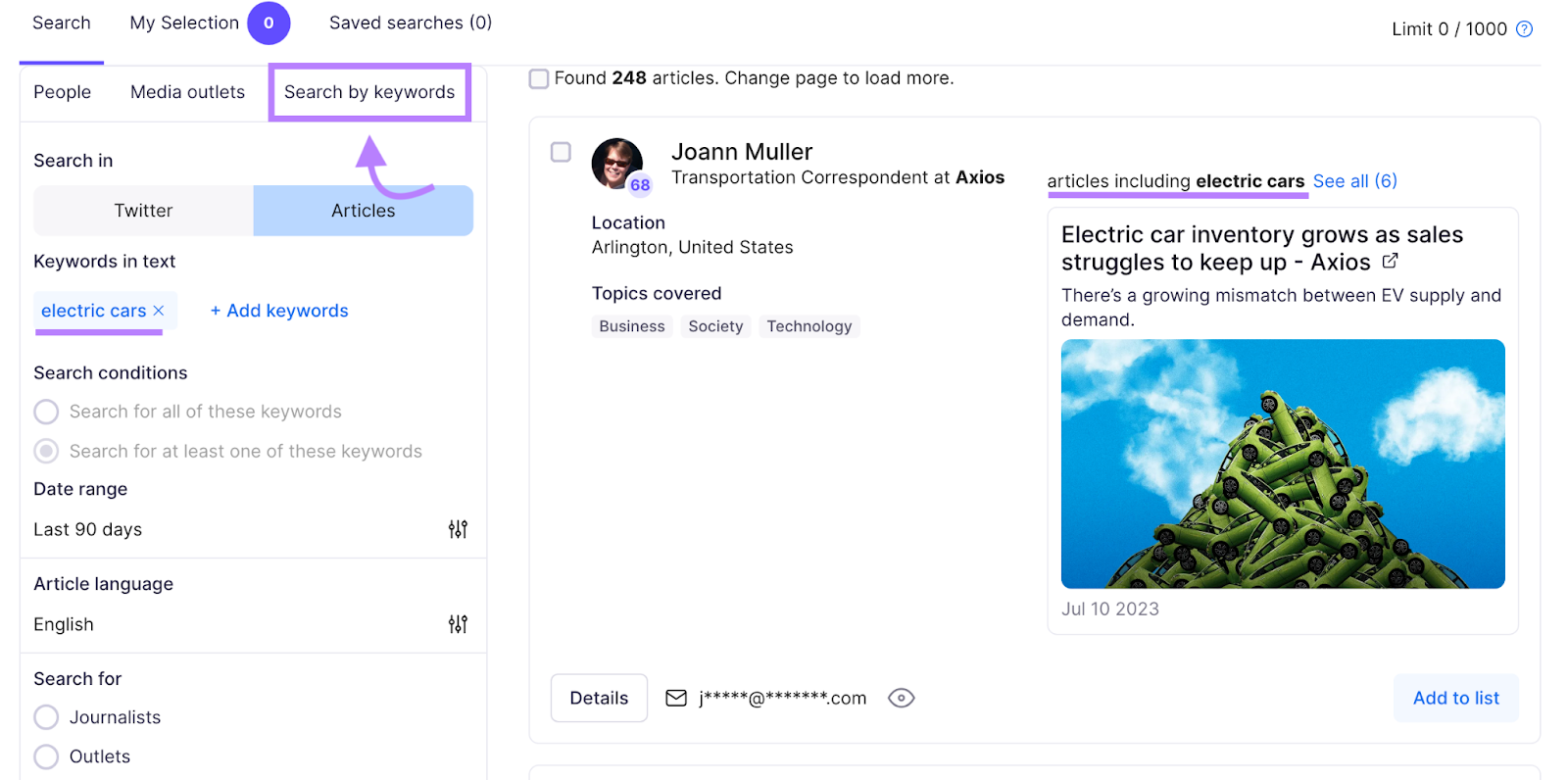 If you want, you can filter results by language, location, and more: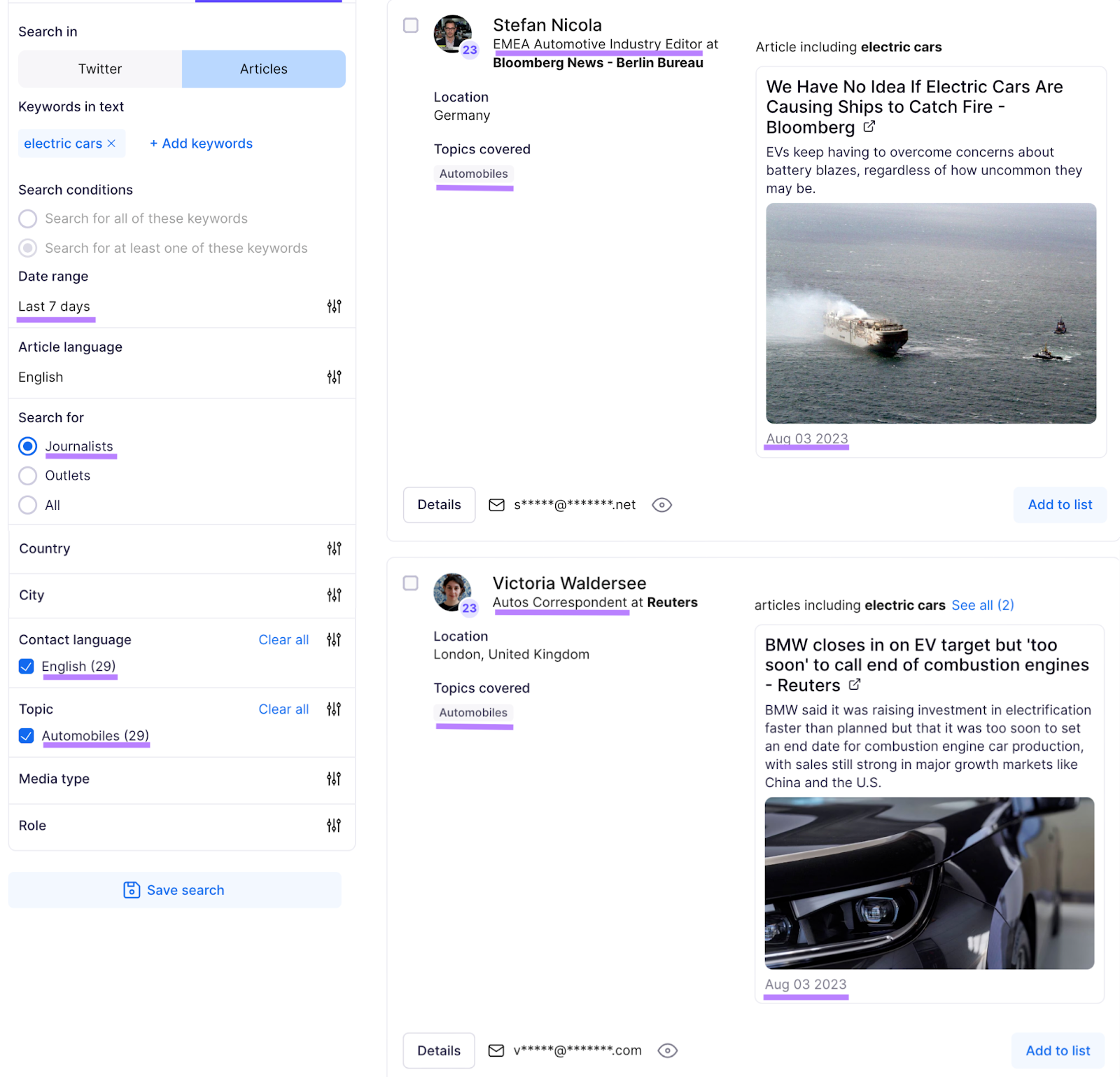 So, don't just use media databases to find email addresses of pre-defined contacts. Use them to surface relevant prospects in your niche.
These platforms typically come with a monthly or yearly subscription fee.
But, they can save you a lot of time. And give you access to information that isn't available elsewhere.
How to Find Email Addresses
If you decide to invest in a media database, this should help you find the right email address for your outreach prospect.
But if you don't use one, what are your options?
First, try looking at the person's public profiles (e.g., their author bio page and LinkedIn profile). To see if their email address is listed.
Like this: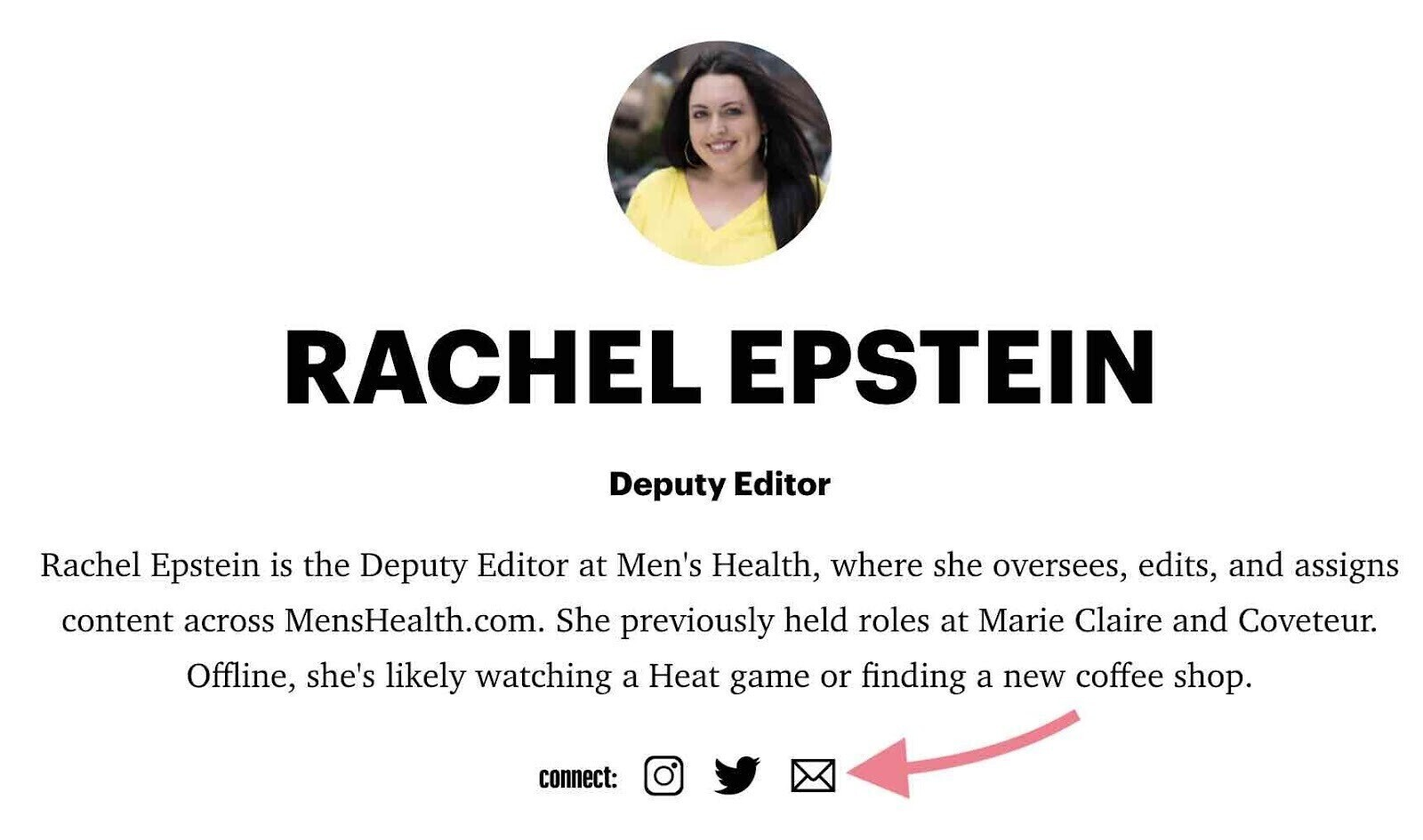 If you haven't identified a specific contact yet, see if the company has a "meet the team" page. And look for the relevant decision-maker.
Or, there might be a "write for us" page. With an email address or contact form.
Here's an example from Rolling Stone:

As a last resort, test common email address combinations. Like firstname.lastname@domain.com.
If you have an email address for someone else at the company, use that as a template.
How to Write an Outreach Email
Poorly written emails that don't evoke any sort of action are one of the most common reasons why outreach is unsuccessful.
And it makes absolute sense. After all, we are all short of time, and emails are often only skimmed at the best of times. 
Here's how to write an outreach email that convinces the recipient to take action:
Write a Great Subject Line
The subject line of your outreach email is what entices a recipient to open it. And if no one opens your emails, they're not going to see your outreach pitch.
If they're not reading your pitch, they will not see your content. Which means that they're not going to link to it.
Here are some tips for writing an attention-grabbing subject line:
Mention the format of your content (e.g., "[Infographic]")
Include your main hook (e.g., an interesting statistic)
Summarize your proposal (e.g., "There's a broken link on your site")
It's a good idea to try different types of subject lines and see which get the best open rates. Use split testing for the most reliable results.
Be Upfront
Clearly share what you're pitching, whether that's a story, a product, or even a replacement for a broken link. Make it clear early on in the email so that there is no confusion about what you are asking someone to read. 
By doing this, you are allowing the recipient to quickly make a decision on whether or not to continue reading while having a good idea of what is coming.
Personalize Your Email
Address the recipient by name. And explain why you're sending this outreach email to this specific person.
For example, you might refer to a recent article they wrote on a similar topic.
Everyone wants to feel that they have been carefully chosen and haven't just been added to a mass communication list. 
Make Your Request Clear
Share the action that you want the person to take and don't leave them guessing. If you want them to cover your content in a news article they're writing, say that. Likewise, if you want a brand mention turned into a link, be clear.
You'll find this far more effective than leaving someone guessing about what you want them to do.
But the good news is that you can often template some of your outreach emails, at least to a certain degree, to help speed up the process. 
Create your own templates in Semrush's Link Building Tool: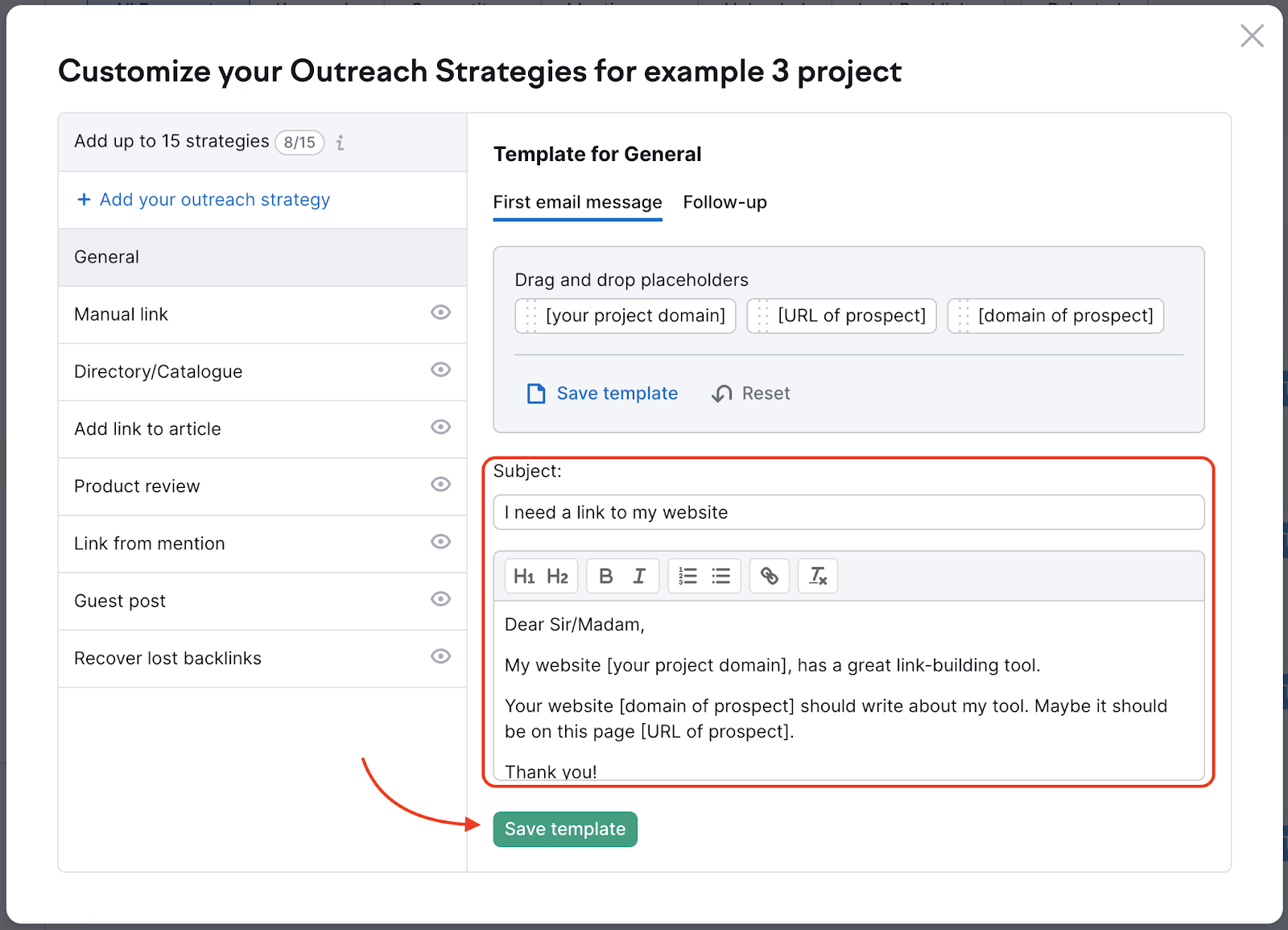 Look at Email Outreach Examples
Looking at email outreach examples is one of the best ways to learn what's effective.
Take the broken link building email below. It demonstrates how you can write a compelling email while remaining concise:
Hi Michael,
I noticed your Dunder Mifflin article "How to Make Your Office More Economical" contains a broken link.
Looks like EcoMag deleted their paper recycling report, as the URL brings up a 404 error.
If you're looking for an alternative, we've just published a new paper waste report here at WasteCo.
We found that offices recycle just 40% of paper on average!
Kind regards,
Lesley
For more inspiration, check out our cold email templates.
How to Send Outreach Emails
While there's nothing wrong with sending outreach emails straight from your email client, this can make it hard to track the progress of each pitch.
Try setting up a spreadsheet to monitor each email. 
Or, send your outreach emails through Semrush's Link Building Tool. 
You can see whether emails have been delivered, opened, replied to, or auto-replied to at a glance.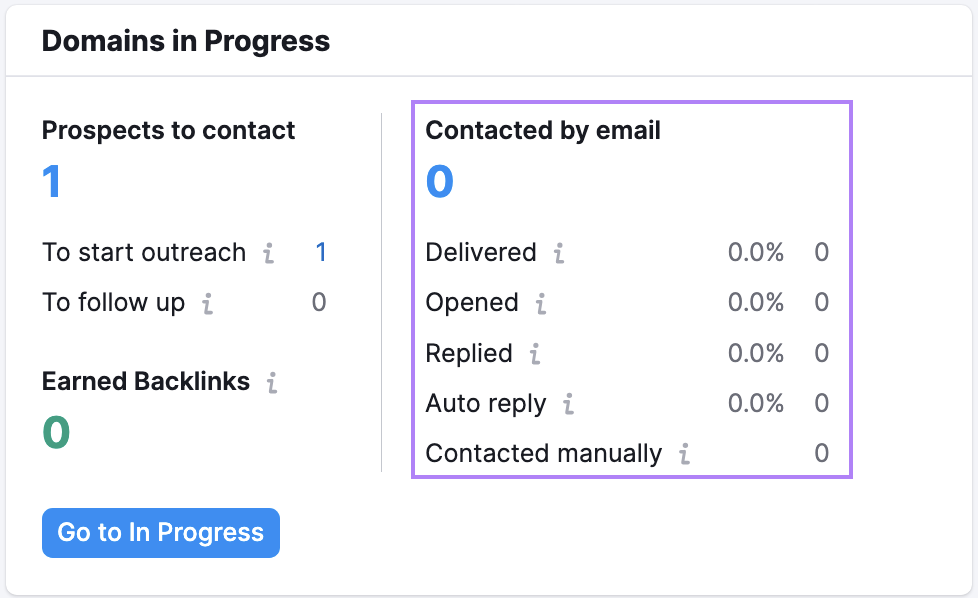 Plus, the tool will automatically track whether you've received a link. 
If so, move the prospect to the "Monitor" tab. Where you can ensure your link remains active.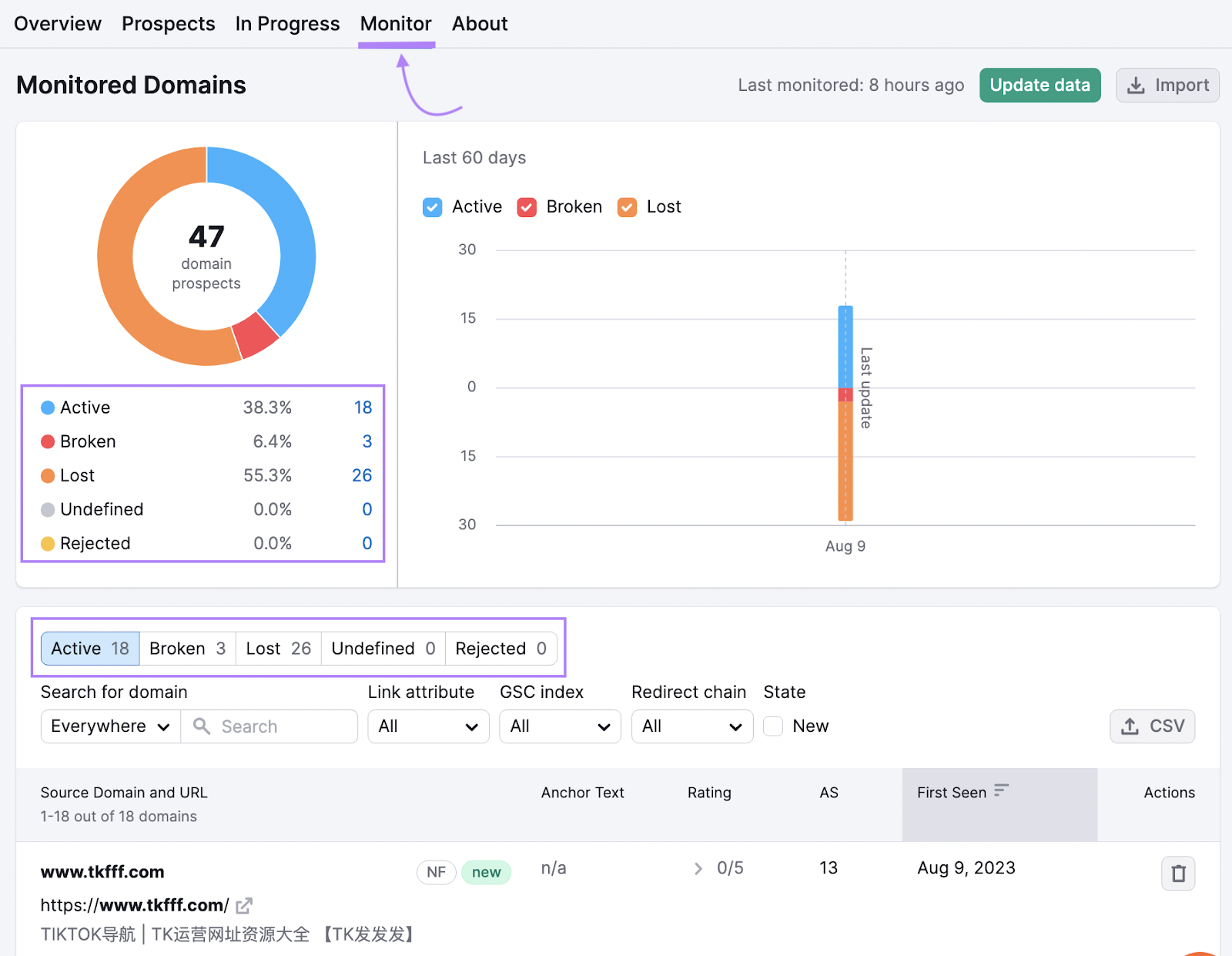 Following Up on Outreach Emails
Follow up on outreach emails if you don't get a reply within a week or so.
Inboxes are busy places, and emails get missed. 
If someone doesn't respond to your first email or add a link to your site, it doesn't mean they're not interested in your proposal. It might just mean they haven't seen it, haven't had a chance to do anything with it, or simply got sidetracked.
For these reasons, we recommend following up at least once (but never more than twice) on your first outreach email. 
The Link Building Tool automatically flags emails that haven't received a response in seven days:
We recommend that you follow up in the same email thread. A simple check-in will suffice.
If you receive a response from a prospect, try to reply as soon as possible. Writers often work on tight deadlines, so your response time can significantly impact your success rate.
And use your judgment when following up. Always be friendly and undemanding.
You don't want to be the type of marketer that journalists complain about.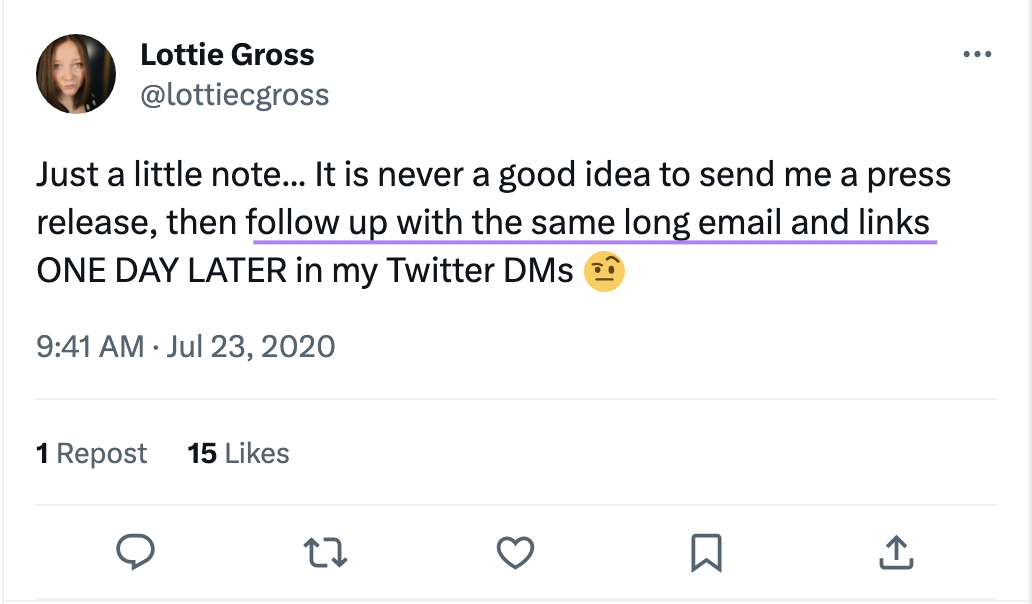 Source: @LottieCGross on Twitter
Why Emails Go Ignored
Only 8.5% of outreach emails receive a response, according to Backlinko. 
Here are some common reasons that outreach emails get ignored:
Your subject line is spammy or unappealing
The prospect is not a right fit for your content
You don't tell the prospect what's in it for them
Your outreach email is too long or unclear
Your email or approach is unprofessional
Your content does not meet the prospect's standards
So, as well as perfecting your email outreach campaign, you need to create quality content. 
Semrush's digital marketing toolkit can help you with both.
We all want to be satisfied, even though we know some people who will never be that way, and others who see satisfaction as a foreign emotion that they can't hope to ever feel.

Newspaper Ads Canyon Crest CA
If you have questions before you order, give me a call @ 951-235-3518 or email @ canyoncrestnewspaper@gmail.com Like us on Facebook Here