This spring, Microsoft announced the rollout of several features for Microsoft Advertising.
Professional Service Ads Available Worldwide
Over the last year, Microsoft introduced vertical ad formats allowing advertisers in certain verticals to include the information consumers find most useful in ads.
For example, ads in the search results below for physical therapists under doctors and clinics can be seen.
.
Screenshot from Microsoft, April 2023
Compare the above ads to ads for tours in Seattle under yours and activities.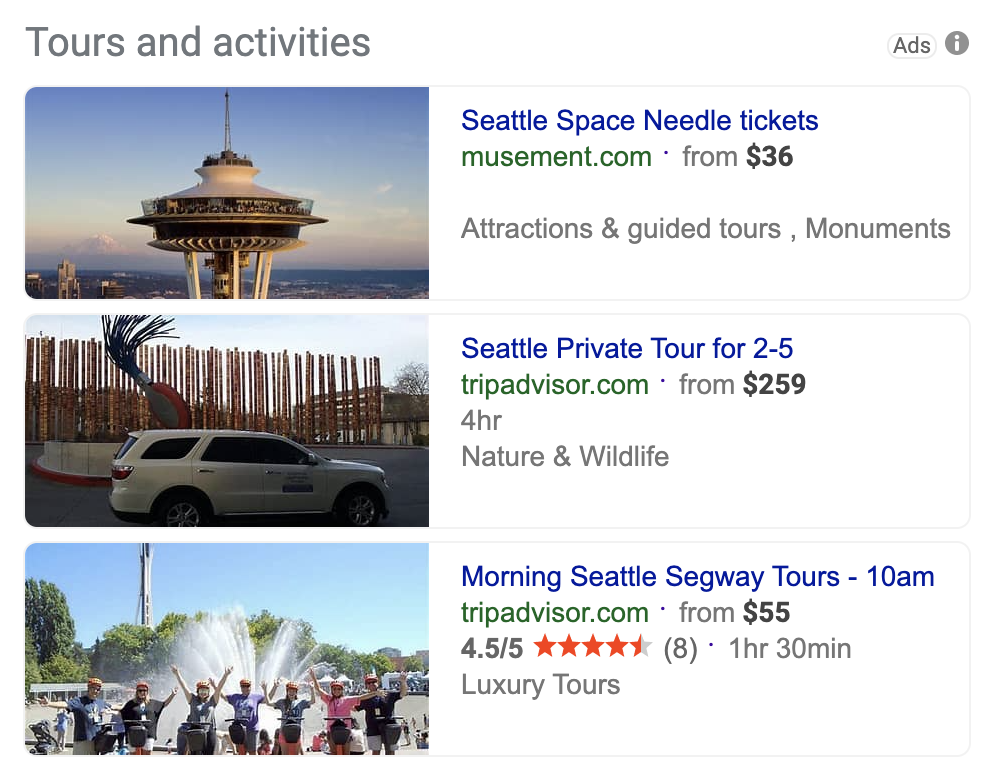 Screenshot from Microsoft, April 2023
After beta programs for travel, automotive, credit, health insurance, real estate, tax services, and healthcare services advertising, Microsoft has made Professional Service Ads available for businesses in select verticals worldwide.
Professional Service Ads typically apply to verticals with advisors,  agents, and consultants.
Microsoft recommends a budget of $100 – $500 per day with a starting bid of $3 – $5. According to internal data from Microsoft, advertisers experienced more conversions at lower costs with Professional Service Ads than text ads.
Enhanced CPC Uses Automated Bidding Management
To help advertisers stay on pace with automation and competition in a dynamic ad environment, Microsoft will no longer offer manual bidding for new campaigns for the Microsoft Audience Network after April 24, 2023.
Manual bidding campaigns will be upgraded to Enhanced CPC (eCPC) by April 28.
Enhanced CPC allows Microsoft Advertising to automatically adjust your bid based on the chance it will convert. The goal would be to optimize your ad spend towards the users most likely to convert.
Advertisers can set a base bid amount that defines the highest average CPC. Other than optimizing campaigns for the best results possible, there is nothing advertisers need to do.
According to internal performance data, Microsoft advertisers saw a lower cost per acquisition and CPC with Enhanced CPC compared to manual bidding.
Manage Target Bid Value In The Campaign Grid
Microsoft has added a column that allows advertisers to edit their target bid value from the campaign grid for campaigns using standalone or portfolio bid strategies with select objectives.
You can learn more about Enhanced CPC, Target CPA, Target ROAS, and Target impression share from Microsoft.
Broad Match Modifiers Reduce The Need For Keyword Lists
Another update to be aware of is the deprecation of broad match modifier keywords for search ads. These will become broad match keywords instead of phrase matches.
Broad match keywords will help your ads reach people who search for related keywords, even if the targeted term doesn't appear in the search query.
For example, someone who searches for mobile may see ads related to smartphones or cell phones.
Advertisers do not need to do anything for this change, which will not affect bidding strategies.
It should appeal to advertisers who want to spend less time building keyword lists. It would also give Microsoft Advertising the ability to adjust your bidding on keywords that are more likely to complete your objective.
New Bulk Asset Management Options
Advertisers who manage a large visual library for ads can now use new bulk management features to edit, move, or delete images and videos in the Asset Library.
This is designed in an effort to improve workflow and overall efficiency for ad managers with assets across multiple campaigns and ad groups.
How These Changes Help Advertisers
New features in Microsoft Advertising could help advertisers adjust ad strategy to ever-evolving consumer shopping habits.
They also align with Microsoft's recent Insights on getting more results with automation but with less ad spend.
Featured image: sdx15/Shutterstock
We all want to be satisfied, even though we know some people who will never be that way, and others who see satisfaction as a foreign emotion that they can't hope to ever feel.

Newspaper Ads Canyon Crest CA
If you have questions before you order, give me a call @ 951-235-3518 or email @ canyoncrestnewspaper@gmail.com Like us on Facebook Here