You're probably familiar with SERP features. We define them as any additional element on a search engine results page that adds something new to the typical format of a search result.
With these special results taking over Google, do you know how they're helping or hindering your competitors? 
We've just updated the data in Organic Research if you want access to that kind of data. Now, you can see if your competition is benefiting from the SERP features they rank for, and then use this data to find more opportunities for growth. 
What's New? 
We've made a lot of changes to help your site grow. Previously, SERP feature rankings and organic positions were grouped together in one row. Now, you can evaluate a site's organic rankings and SF rankings separately.
You can now track: 
SERP feature positions and estimated traffic separate from traditional organic positions 
SERP feature trends over time on a daily basis 
Estimated traffic a domain gets from SERP features alone
Which SERP Features Do We Now Track?
We've increased the amount of SERP features you can track from 24 to 38. 
Below is the full list. A star means it's one of the 14 new features you can now track with this update.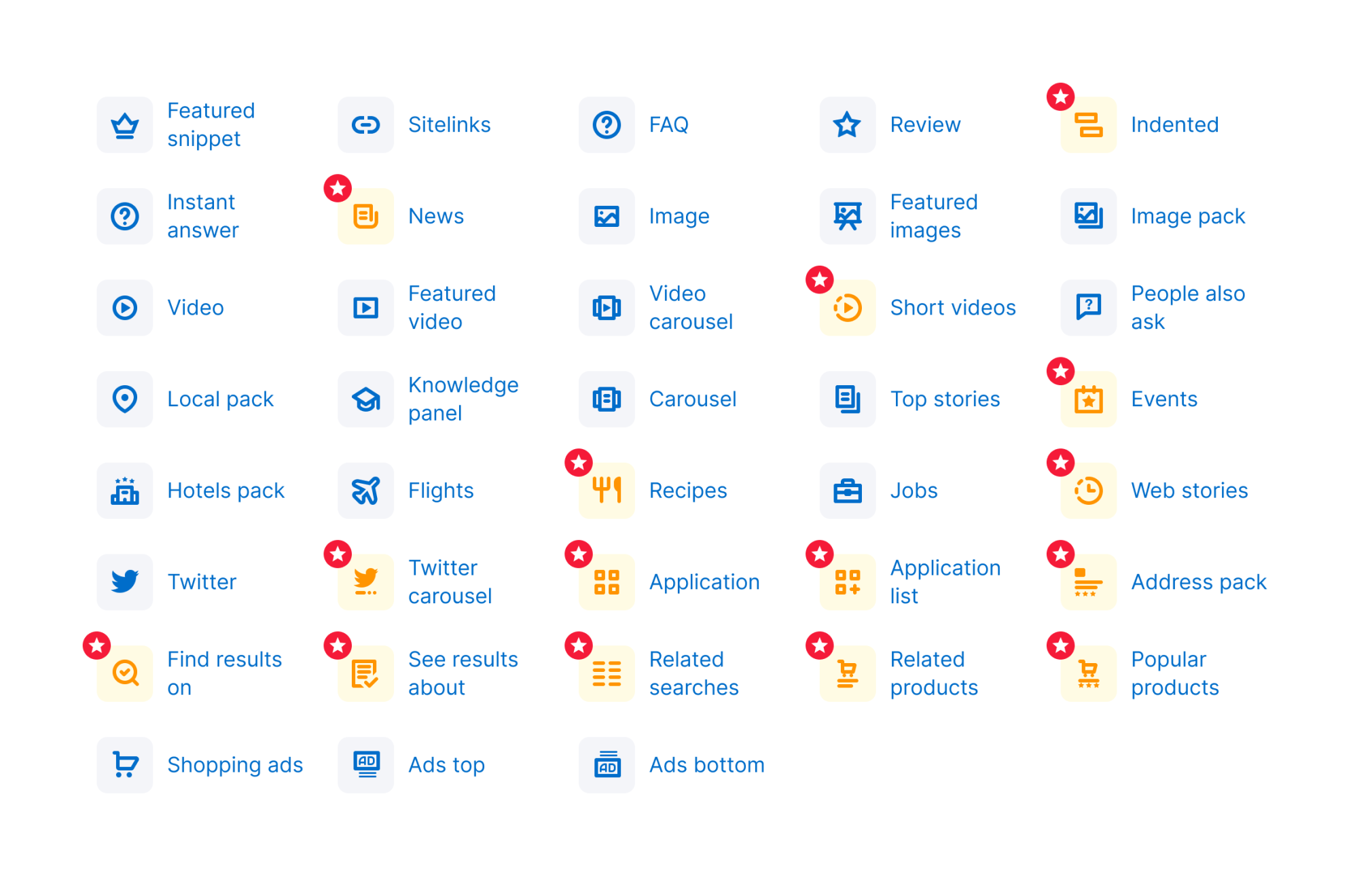 You can see examples of all the SERP features we track on Semrush in our knowledge base. And you can see new SERP feature data in the following tools: 
Why Is It Important to Track SERP Feature Data?
In the past, Google's first page had 10 blue links and as an SEO, you'd find appropriate keywords to rank for that coveted first position. 
But the SERP landscape has changed so much that it takes more than ranking for the first position to attract your target audience.
Kevin Indig sums up this trend pretty well: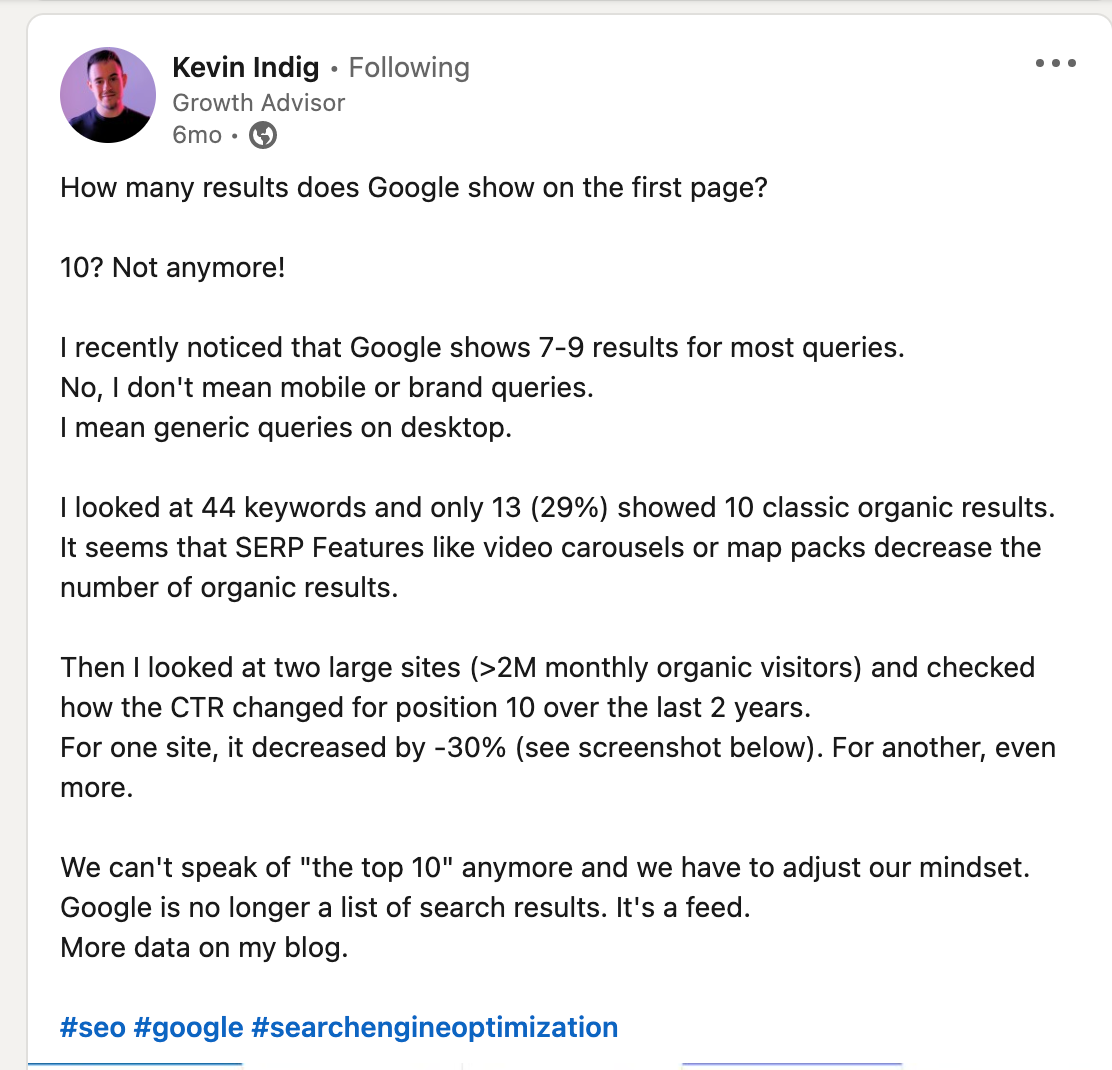 Google's showing more SERP features to help searchers. You should try to rank for all the SERP features your target keyword triggers, right? 
Unfortunately, it's not so simple. 
Ranking for a SERP feature doesn't mean you'll get more traffic. Look at this featured snippet below, for example. No need to click through because the answer is right there.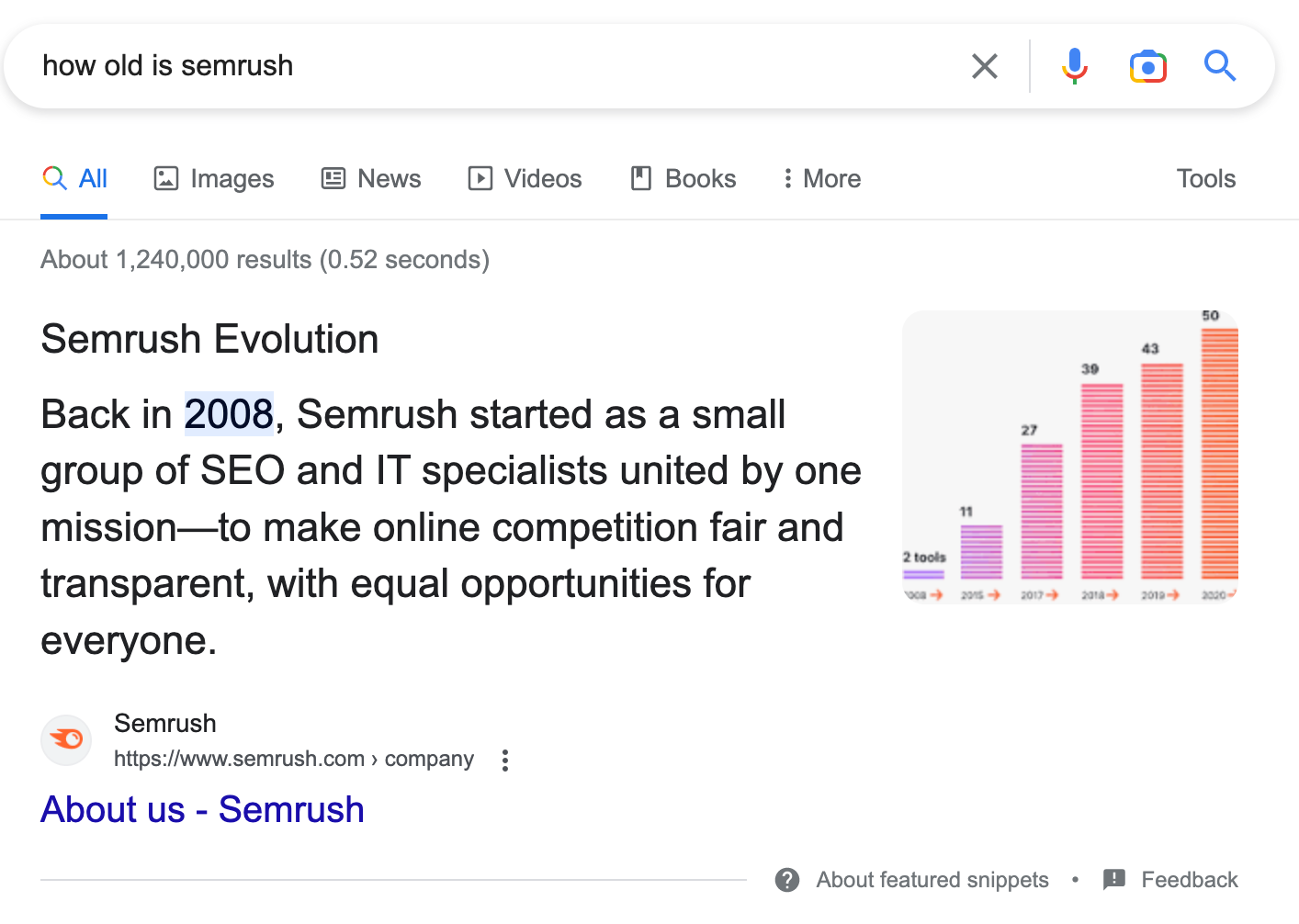 The solution? Taking a holistic approach when you're looking for new keyword ideas.
For instance, continue to choose keywords based on the right intent, difficulty, and search volume. But now you can also factor in SERP features triggered by these keywords and the data that comes with that to get the whole picture. 
Without this doing this, you could be targeting keywords that may seem like they'll attract search traffic and they just won't. 
Ways to Use SERP Data in Your SEO Strategy
It's easier to build a competitive SEO strategy when you know what brings the most traffic to your competitor. 
Pretend you're a digital marketer and your client is a food blogger looking to get more web traffic. Let's see how you could help your client by understanding their competitor's SERP feature strategy. 
Conducting Competitive Analysis
Go to Organic Research and type in the competitor's domain. 

After, navigate to the Positions report. Here you can either filter for certain SERP features at the top or look at the SF and Positions columns.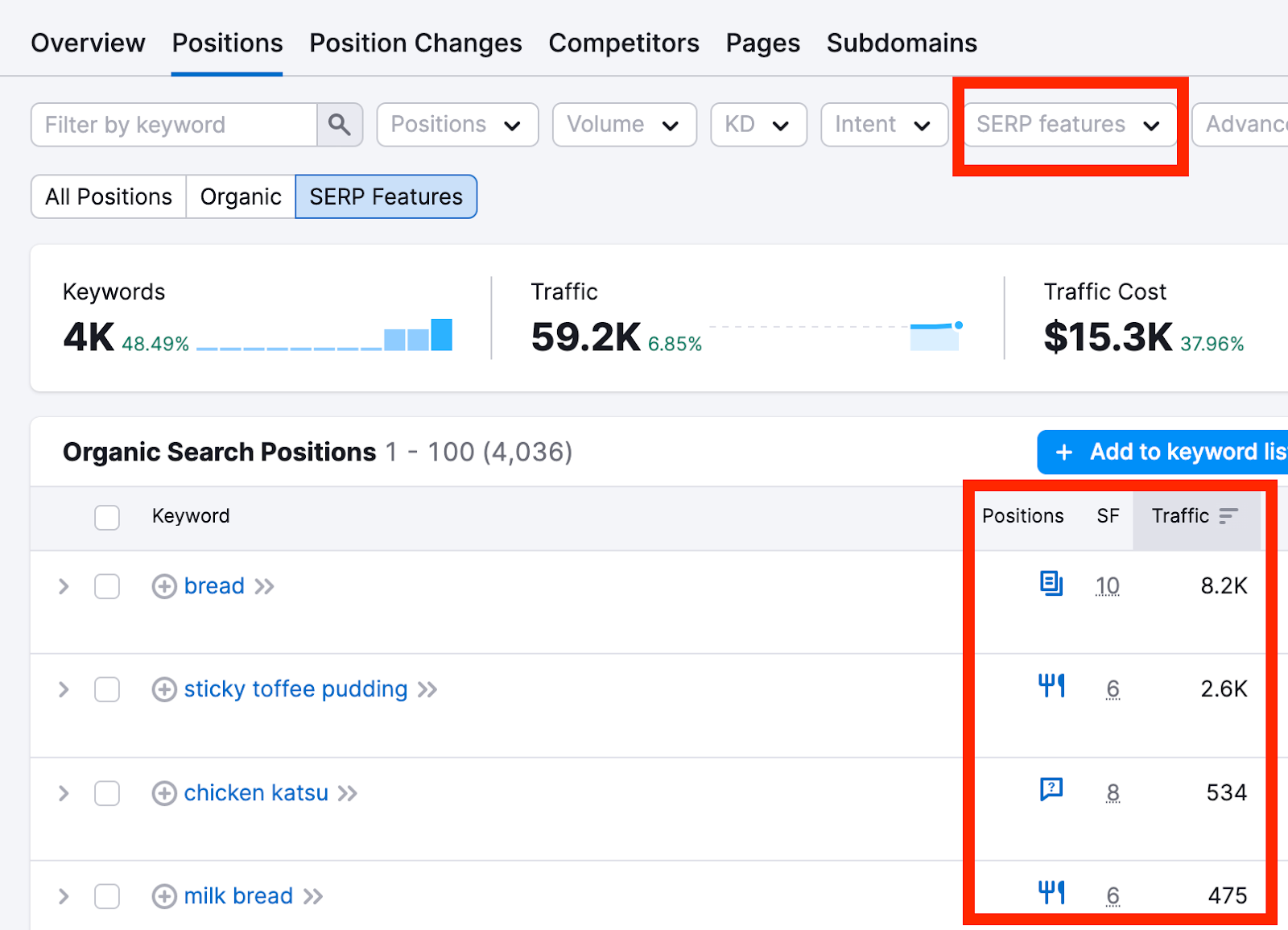 Then, you can see which SERP features are potentially driving the most traffic to their competitor by sorting by most to least traffic.
According to this table, the entered domain gets an estimated 2.6K monthly visits from organic search because of the recipe SERP feature that links to the website.

You could help your client create content around an original sticky toffee pudding recipe and then markup that page with recipe schema to improve the chances of getting a similar spot on the SERP. 
Track SERP Feature Trends to Get Insight into the Competition's Strategy
You can see if your client's competitors are gaining more traffic over time by looking at their SERP feature trends in the Organic Research overview report. 

You can see how the example site above has focused more energy on gaining more unique SERP features over time and that their traffic has increased with it. This might be a trend worth exploring. 
Create a More Effective Content Strategy by Targeting the SERP Features That Bring Them the Most Traffic 
Now, let's say your same food blogging client came up with a great cookie dough recipe. To get the most amount of eyes on it you can look at a competitor's SERP features triggered by queries that contain "cookie dough."
Let's use cookingclassy.com as the competitor you want to analyze. 

After, navigate to the Positions report.

Here we can see what type of SERP features are likely driving traffic to your competitor's site for the search query "cookie dough." Click the "all positions" filter.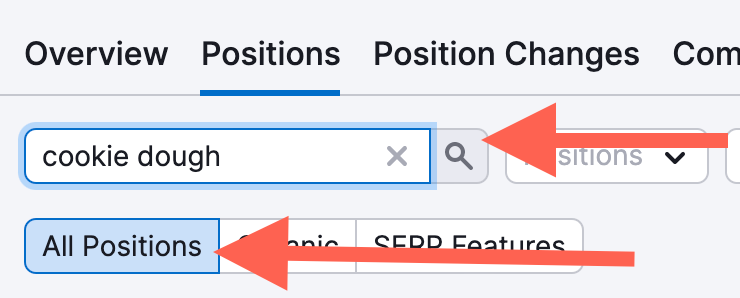 Now you have a list of keywords that fit naturally with your content plus the SERP features that will bring them to your website.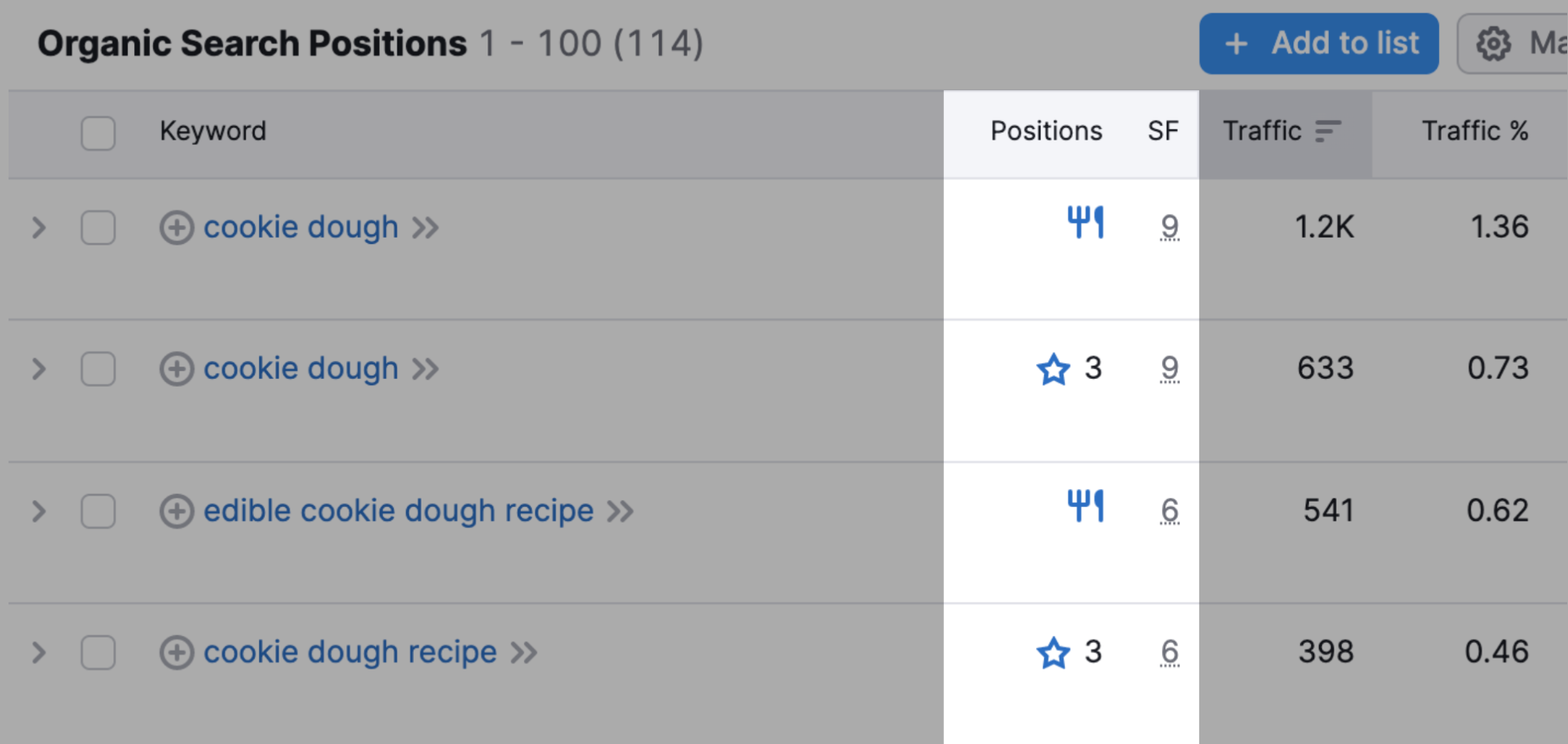 Take it one step further by optimizing your content for a SERP feature that will likely usher in the most traffic to your website.

Here, you can choose to prioritize adding a recipe schema over a review schema to your new recipe. Instead, you can mark up that page with review schema at a later time.
How Do We Collect Data on SERP Features?
There are 3 types of SERP features that we track:
1) SERP features that enrich an organic position 
Also known as "rich results," these features add more information to an existing organic position. Examples include sitelinks, reviews, images, and videos.

In our toolkit, they're represented by their unique SERP feature icon and position number. 

2) SERP features that are independent of an organic position 
The second group is SERP features that are detached from a standard organic ranking. Examples include knowledge panels, Twitter carousels, and recipe blocks. 
They're represented only with their unique SERP feature icon in the Positions column. There is no specific position we can attach to these because they are not directly tied to a "traditional" organic listing, like sitelinks or review stars.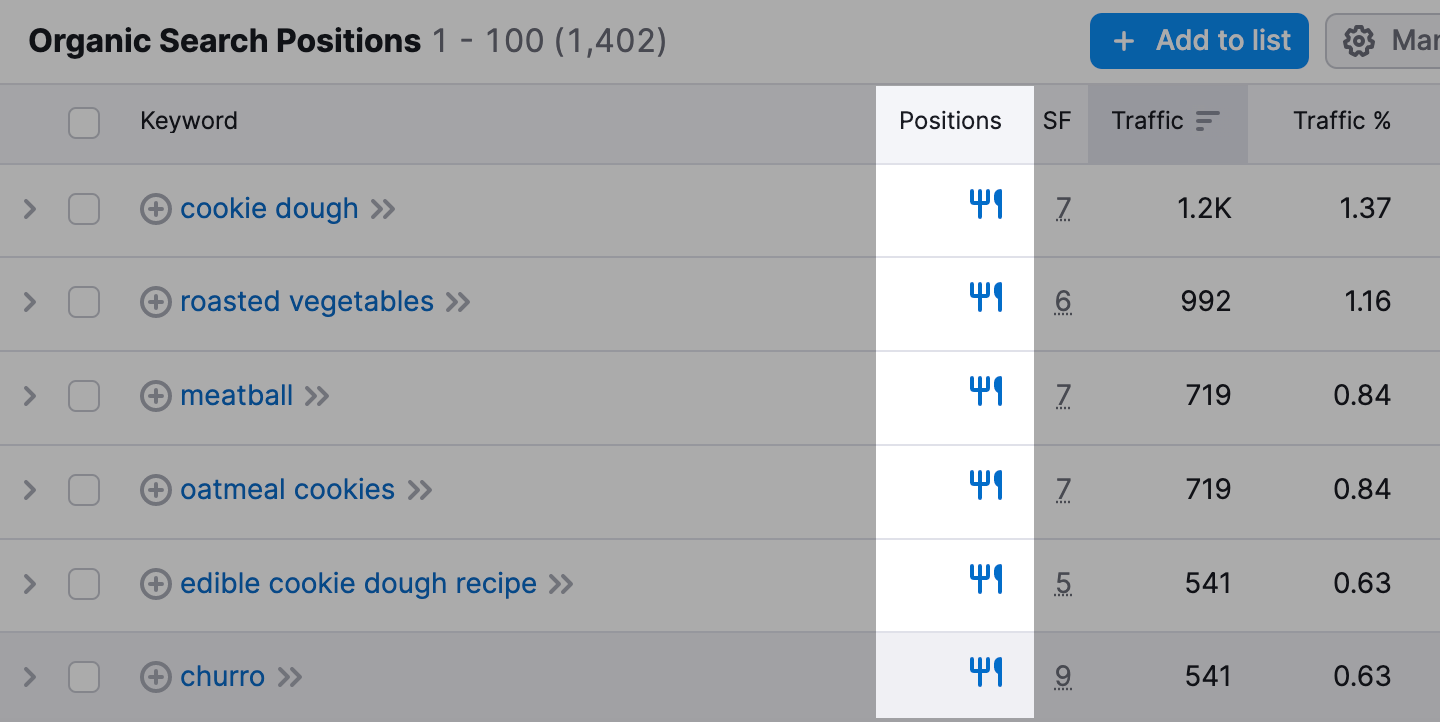 3) SERP features that don't link to a domain 
The last group of SERP features we can analyze either don't link to a domain at all, or we can't gather that data at this time. Examples in this category include instant answers, featured images, and flights.
When you're in Organic Research, you'll be able to know when one of these features is on a keyword's SERP because it will be listed in the "SF" column.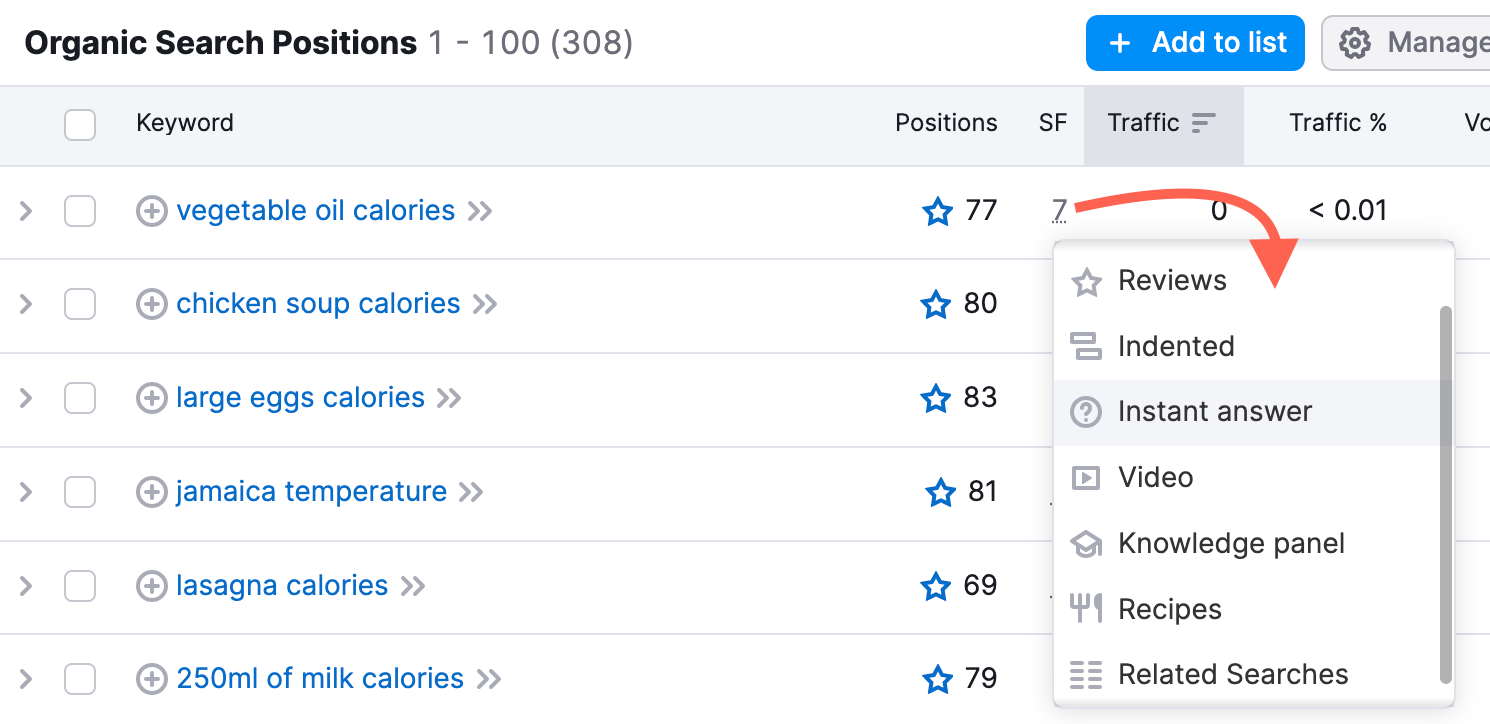 You can sort that information using the new filter in Organic Research.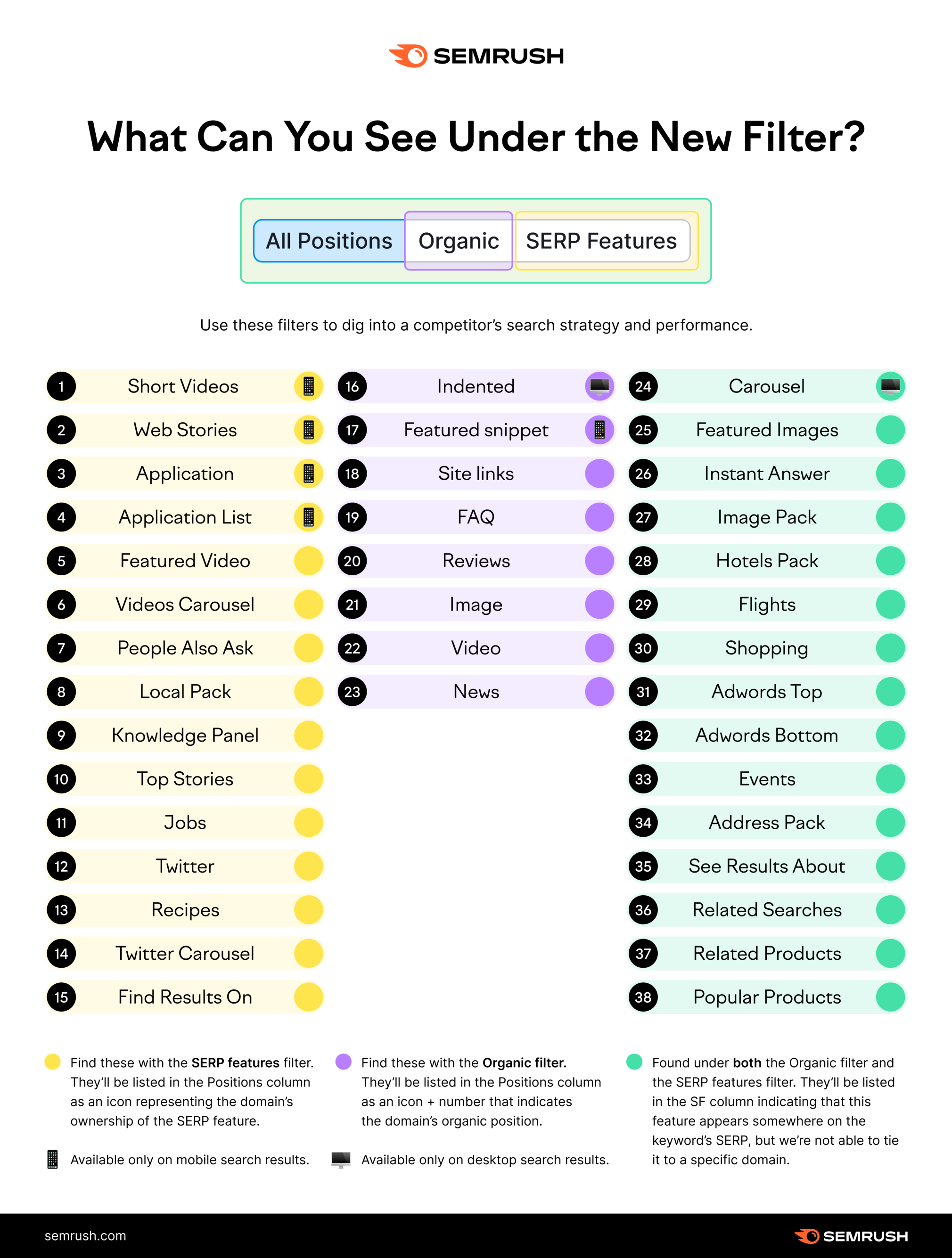 See Which SERP Features Are Helping Your Competitors
When you have data to help you make decisions, you make better decisions. We think this update will allow you to:
Conduct better competitive analyses
Analyze SERPs faster
Find hidden SEO insights 
Find more opportunities for search traffic 
Report growth on a granular level 
So, start analyzing your competitor's SERP features before they analyze yours. Then, come up with a plan that will get your brand all over the SERPs—and watch your traffic roll in.
Read more about the new SERP features you can now track with the links below.
Short Videos
Web Stories
Application
Application List
Recipes
Twitter Carousel
Find Results On
Indented
News
Events
Address Pack
See Results About
Related Products
Popular Products
We all want to be satisfied, even though we know some people who will never be that way, and others who see satisfaction as a foreign emotion that they can't hope to ever feel.

Newspaper Ads Canyon Crest CA
If you have questions before you order, give me a call @ 951-235-3518 or email @ canyoncrestnewspaper@gmail.com Like us on Facebook Here