What Are Semantic Keywords?
Semantic keywords are words or phrases that are conceptually related to a given keyword or topic. 
For example, "Italy" and "dough" are semantically related to "pizza."
It's important not to confuse semantic keywords with target keywords (keywords you want to rank for). 
For example, you might want a page to rank for "pizza dough recipe" and related keywords like "how to make Italian pizza dough." But you wouldn't really want it to rank for "Italy."
Note: Some people refer to semantic keywords as LSI keywords. But this term is inaccurate and should not be used.
Why Use Semantic Keywords in SEO?
Semantic keywords are used in SEO to help search engines understand what your content is about. They provide insight into the content's scope and depth.
This information allows search engines to rank the page more accurately. 
Google explains: 
When you search for 'dogs', you likely don't want a page with the word 'dogs' on it hundreds of times. With that in mind, algorithms assess if a page contains other relevant content beyond the keyword 'dogs' – such as pictures of dogs, videos or even a list of breeds.
Semantic keywords can also help you produce quality content. By inspiring you to cover relevant subtopics (e.g., dog breeds) and write more naturally (i.e., use varied language).
This can lead to higher search rankings and better user engagement.
How to Find Semantic Keywords
Learn how to find semantic keywords with the following tools:
Tip: If you haven't already, create free accounts on Semrush and Google to follow along with these steps.
Semrush's SEO Content Template
Enter the target keyword(s) for a page into Semrush's SEO Content Template. The tool will analyze the top 10 Google results to provide a list of semantically related keywords (along with other recommendations).
For example, here are the results for "how to make pizza dough": 
Adding these semantic keywords to your content can help you replicate your rivals' success.
When you're ready to start writing, click "Real-time Content Check" then "Open in SEO Writing Assistant."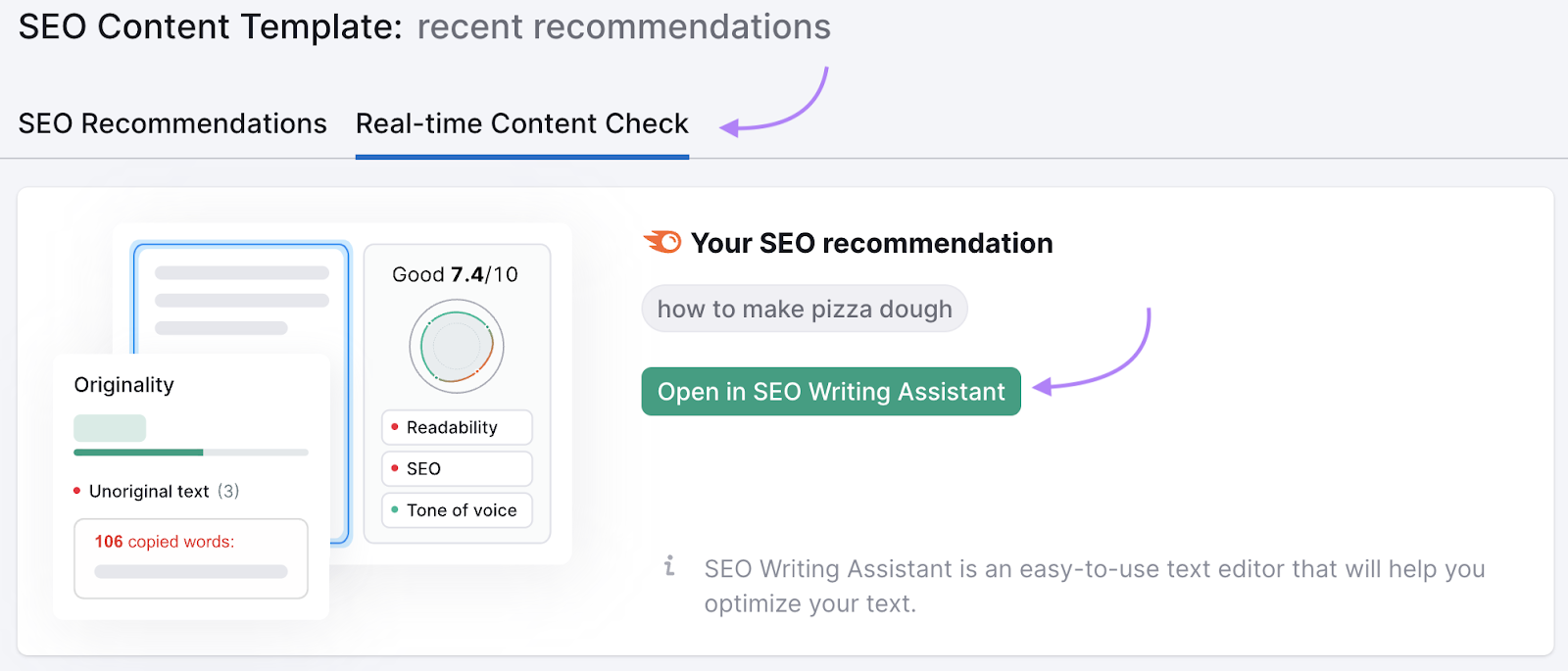 The SEO Writing Assistant reviews your content in real time. And provides recommendations on how to improve it.
Go to the "Add recommended keywords:" section to see any semantic keywords you've missed.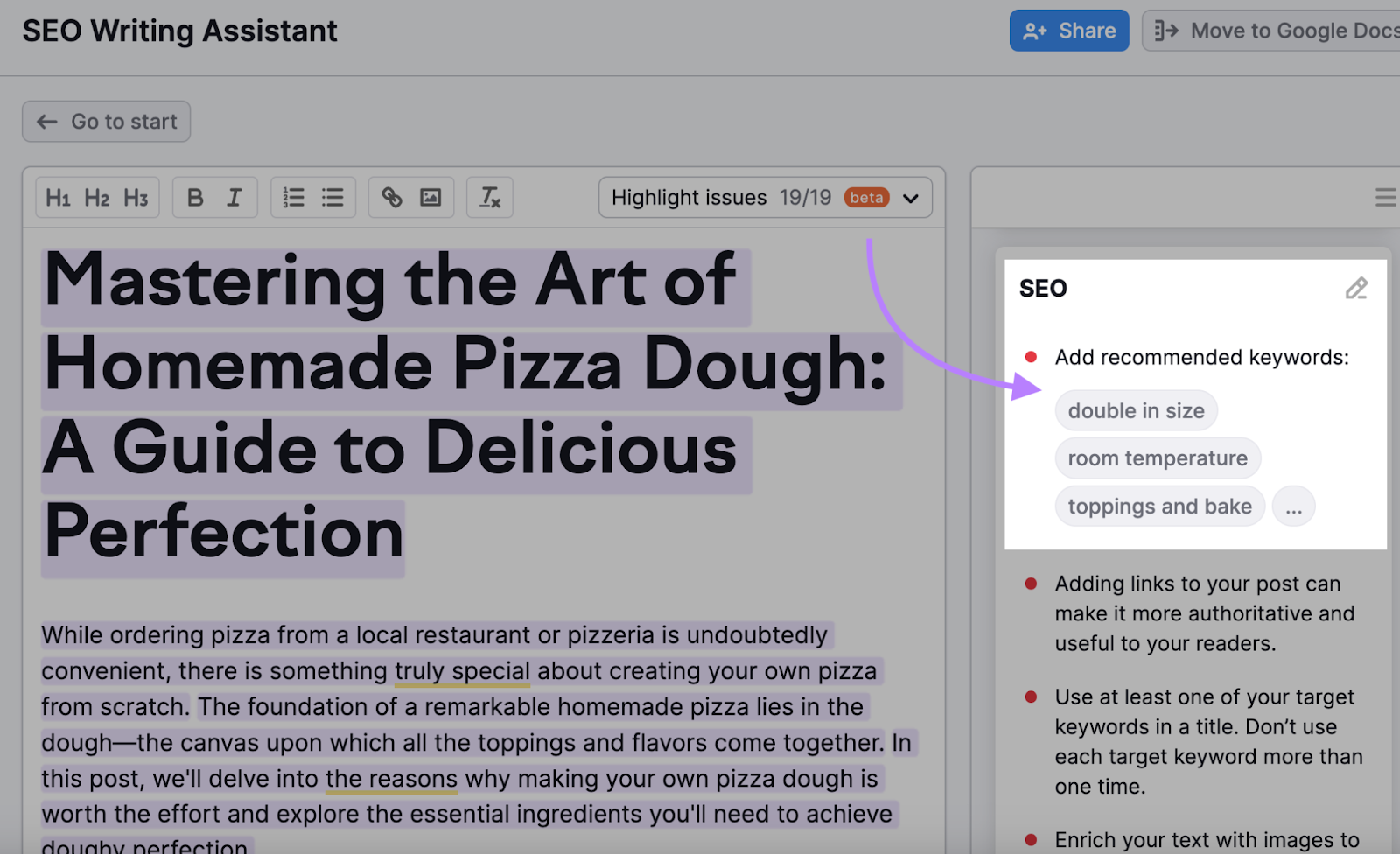 Semrush's Keyword Magic Tool
Semrush's Keyword Magic Tool draws from the biggest keyword database on the market. And you can use it to do a semantic keyword search.
When you enter a word or phrase, the tool provides "Broad Match" results by default. These are keywords that contain the starting word(s) or a close variation.
For example, here are the results for "how to make pizza dough":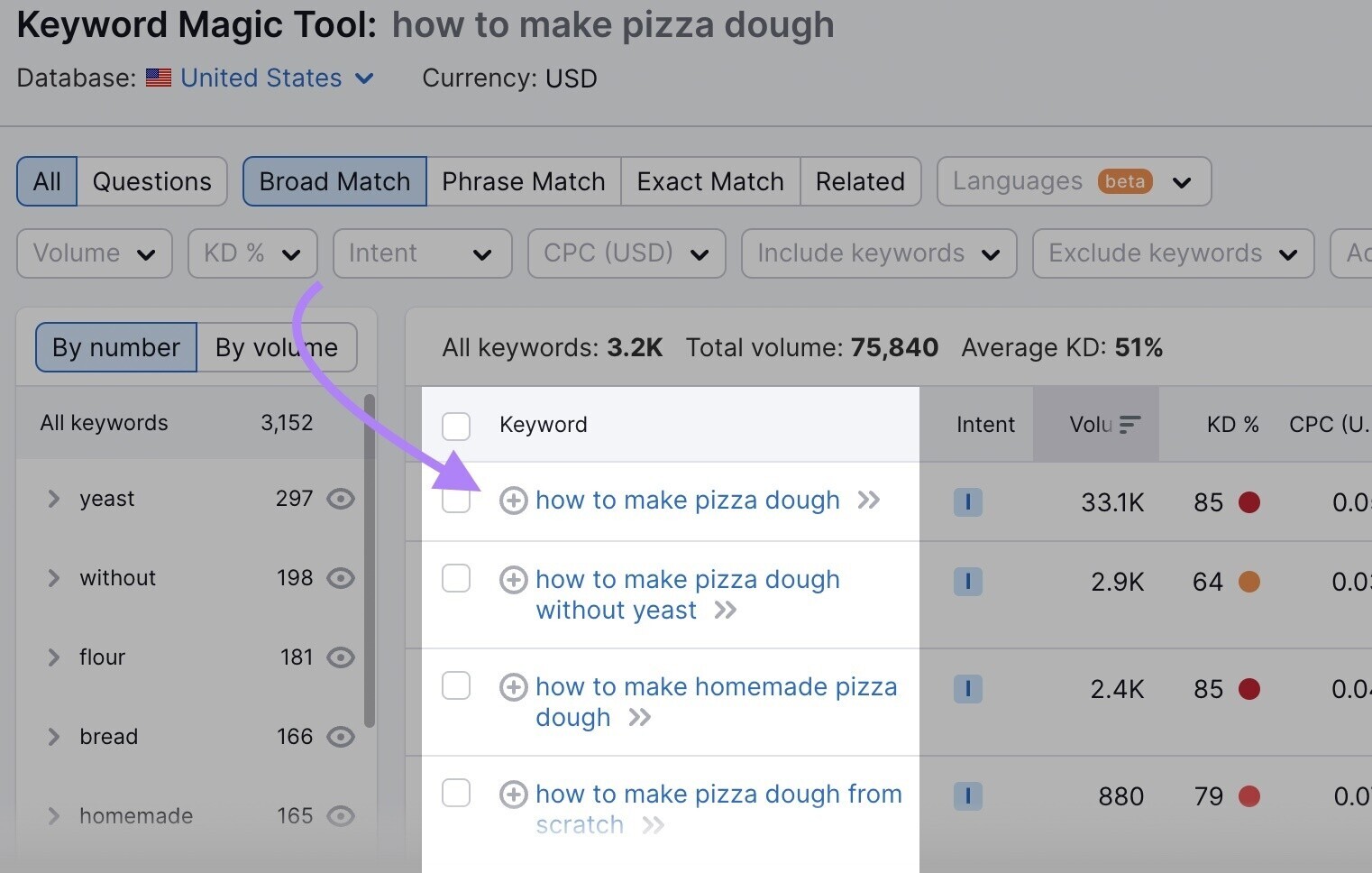 On the left, you'll find a list of keyword groups. Sorted by the number of results.
This is a great place to find semantic keywords.
In our example, "yeast" is the most common modifier. So, it's a good idea to use this term (and other popular terms) in our pizza dough recipe.
Google Search
You can often find semantically similar keywords on Google's search engine results pages (SERPs).
Pay particular attention to the following elements, when they appear:
Related searches: Google may display related search queries that allow users to refine their search. These can provide great inspiration for semantic keywords.
Bolded terms: In addition to bolding the search term used, Google may also bold related terms that appear in snippets.

People also ask: The "People also ask" box is a SERP feature (an additional element in search results) that contains popular questions. And answers from across the web.
This can be a great source of semantic keywords. And question keywords.

Google Trends
When you explore a subject in Google Trends, you can find related topics and search terms. 
Just enter a search term and choose a result from the list: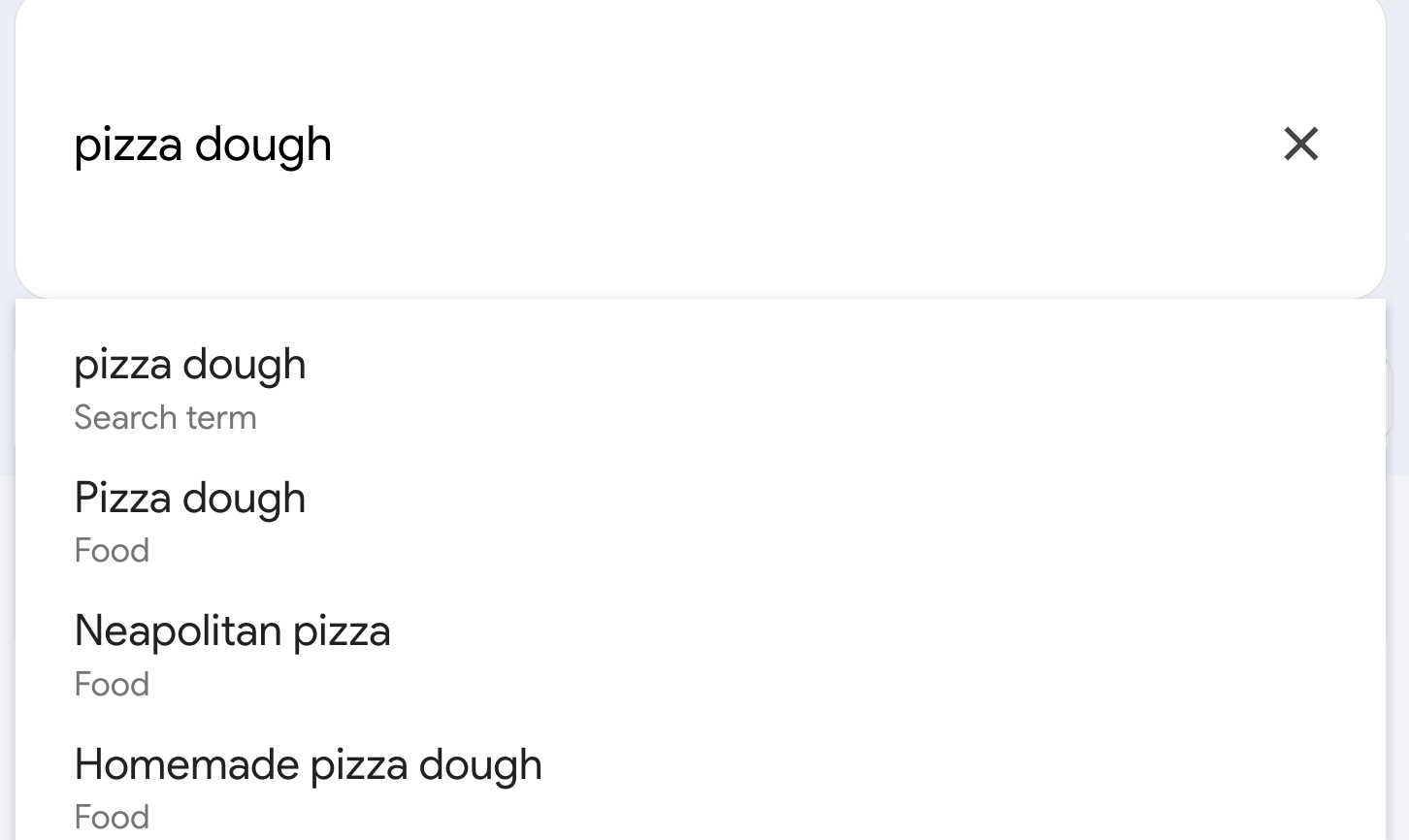 Then, select the region and time range you want to explore. (You can also change the category and search type, if you wish.)

Scroll down to the "Related topics" and "Related queries" sections. This is where you might find some semantically related keywords.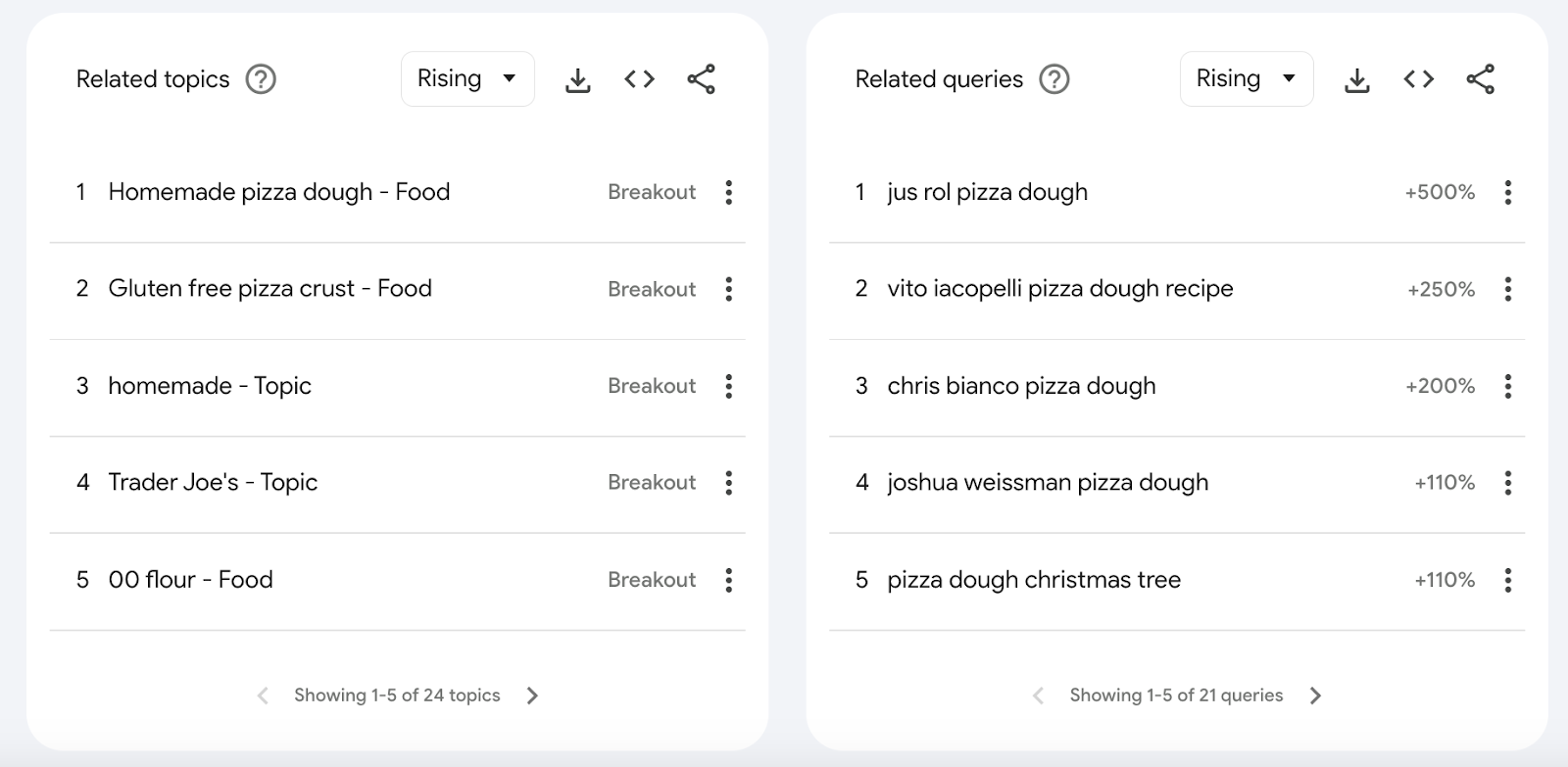 "Rising" topics and queries had the biggest relative increase in search popularity over the selected time range. ("Breakout" refers to an increase over 5,000%.)
For example, "focaccia recipe no yeast" was searched 110% more in 2022 than in 2021.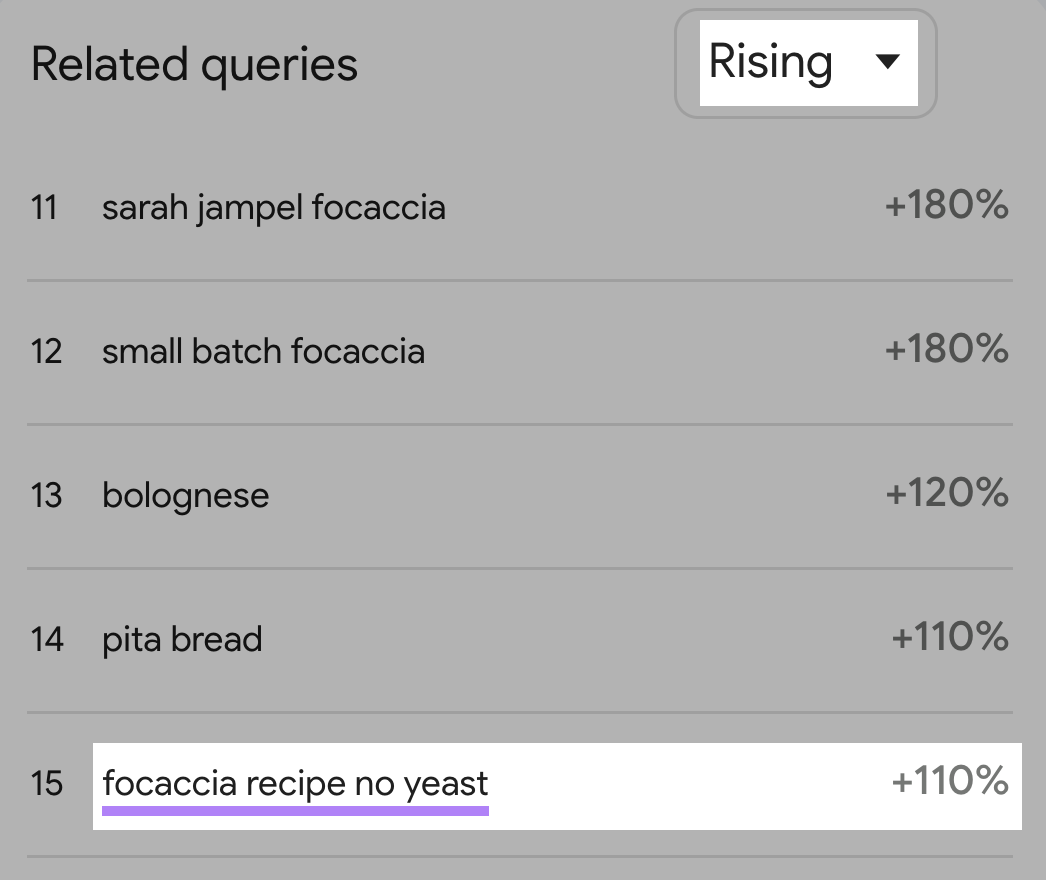 Switch to the "Top" results to see the most popular related topics or queries.
The most searched result gets a score of 100. And the others are scored relatively (e.g., something with a score of 50 was half as popular).
Tip: Read our Google Trends guide to learn more about using this tool.
Google's Keyword Planner
Google Ads has a Keyword Planner tool that can help you find semantically related keywords.
Open the tool and click "Discover new keywords" to get started.
After you type a keyword into the planner, you'll get a list of related keywords. Along with useful data, such as monthly search volume.
Like this: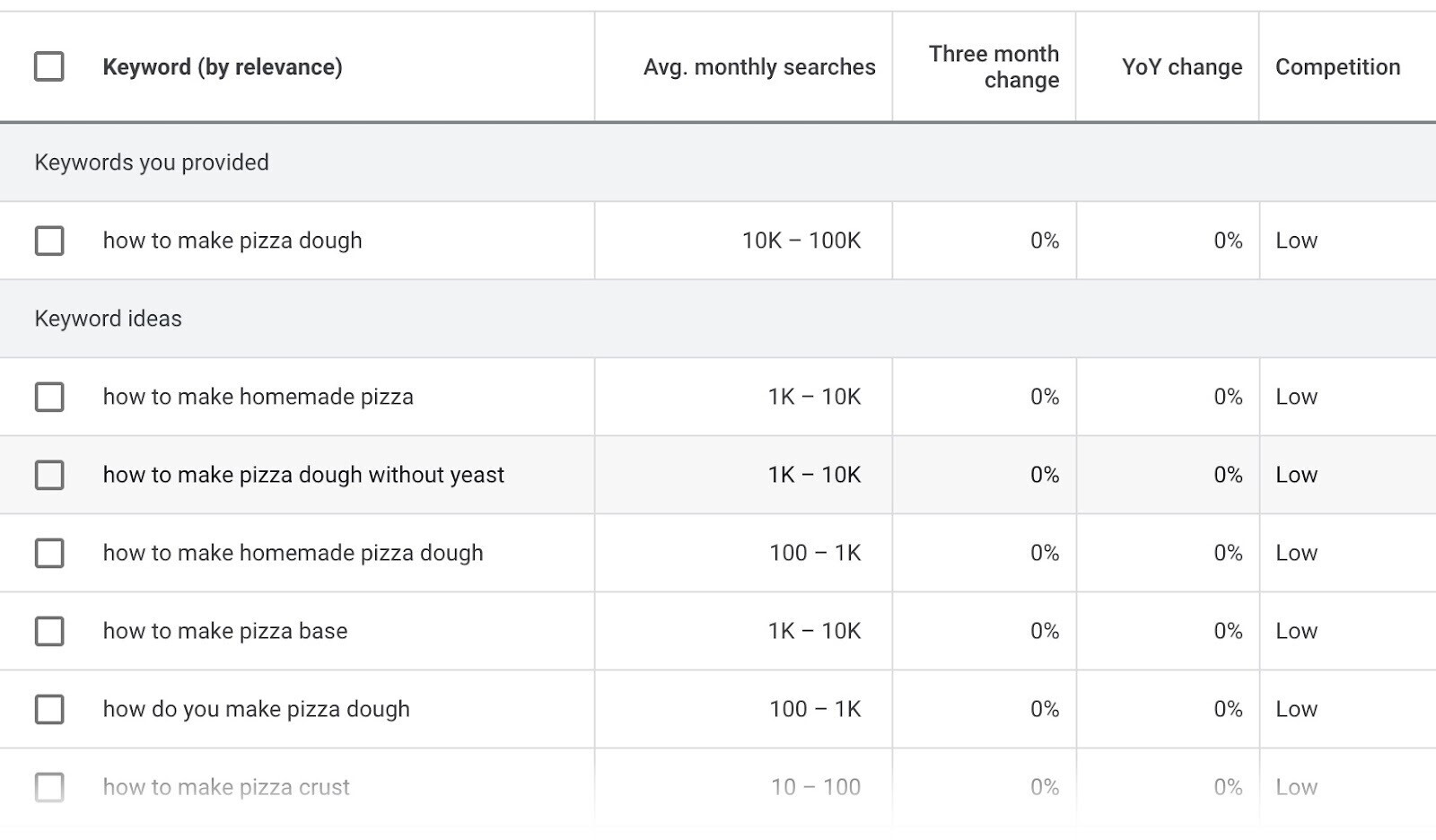 Google also provides valuable help for those looking for keywords, such as offering the option to filter results to include or exclude certain terms based on different attributes.
For example, you can remove terms that include brand names.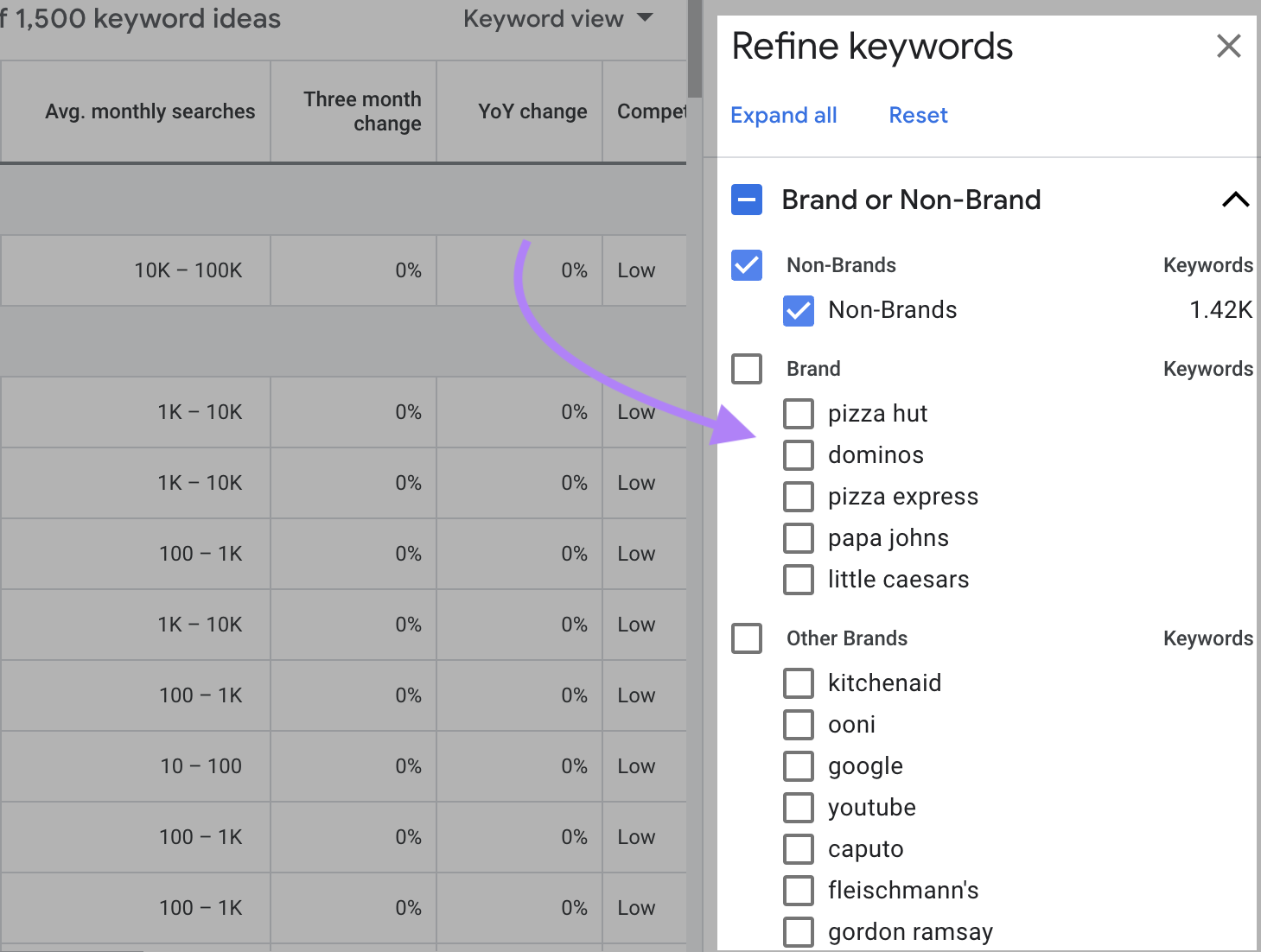 The list of terms allows you to identify common search terms related to your initial keyword.
This helps you better understand the types of searches that customers are likely to make related to your particular niche.
Tip: Read our Google Keyword Planner guide to learn more about this tool.
Social Monitoring Tools
Social monitoring tools make it easy to track conversations that customers have about topics related to your business on social media.
You can set up alerts (the process for this varies by platform) that let you know when people discuss topics you write about. Then, you can harvest ideas for semantic keywords.
You can also follow hashtags or search for relevant keywords directly on popular platforms. To find other posts about your topic. 
For example, here are some results for "pizza recipe" on Twitter: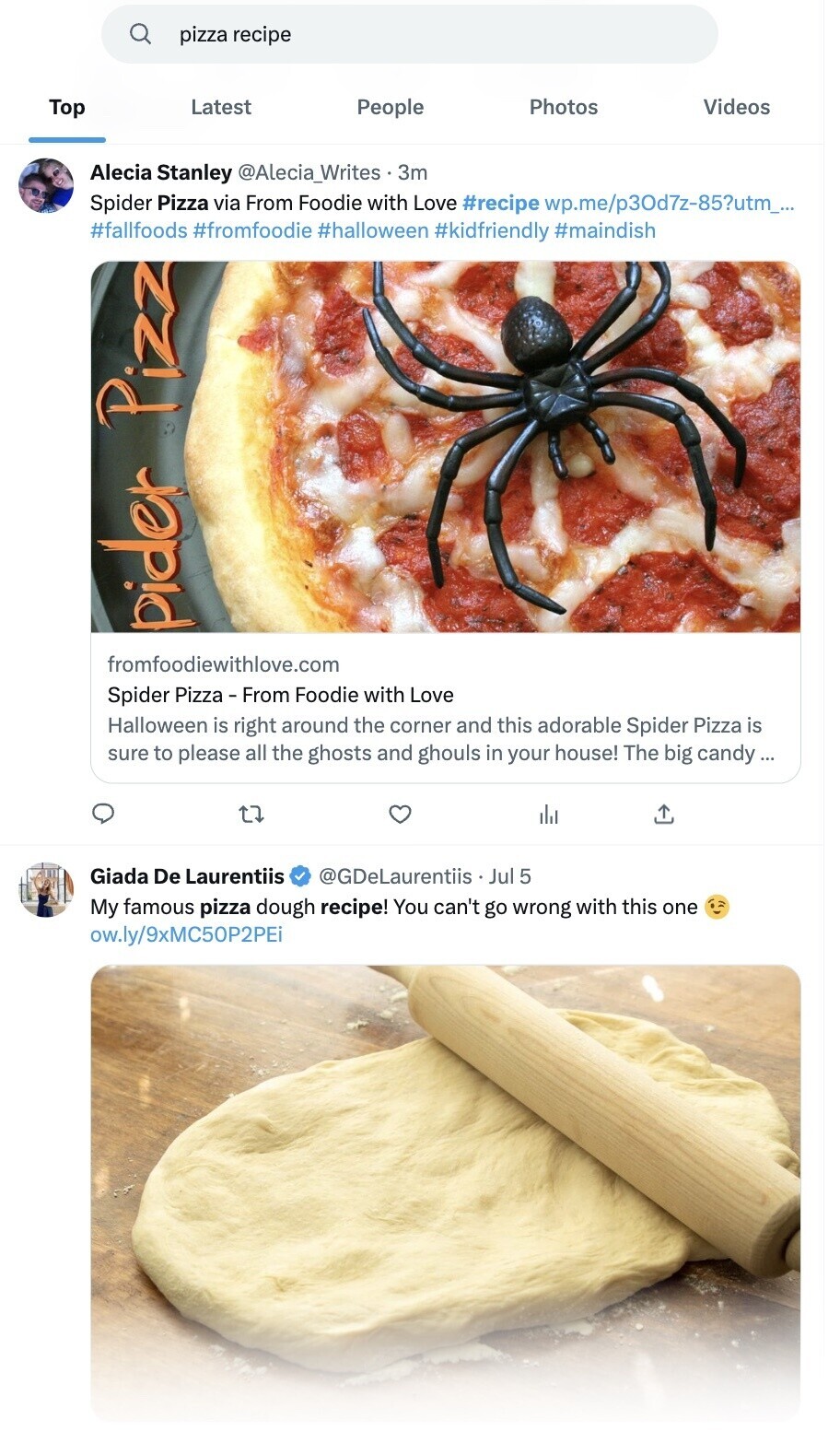 Use these posts to find more semantic keywords and popular topics in your niche.
Keep Learning About Keywords
Optimizing your content for the right keywords is key to creating relevant, useful content. And increasing traffic from search engines.
Continue learning with these resources:
Or put your knowledge into action with our keyword research tools.
We all want to be satisfied, even though we know some people who will never be that way, and others who see satisfaction as a foreign emotion that they can't hope to ever feel.

Newspaper Ads Canyon Crest CA
If you have questions before you order, give me a call @ 951-235-3518 or email @ canyoncrestnewspaper@gmail.com Like us on Facebook Here