Without data to support you, planning and budgeting your ad campaigns can leave you feeling rudderless. How do you know if the scope and scale of your campaign is enough? How does your ad spend stack up against the competition?
We partnered with AdClarity to answer questions like these in a four part study. 
Here's what we've covered so far:
Now, in part four, we'll take a look at exactly who the biggest advertising spenders are across 12 industries. 
Our goal was to paint a more detailed picture of the online advertising landscape. 
Why? 
By identifying the leaders in each industry, you can benchmark your own campaigns more competitively, and learn from their creatives and strategies.
Biggest Digital Advertisers by Industry
In this article, we identify the top-spenders across 12 industries.
We gathered the data from the AdClarity — Advertising Intelligence app, available from the Semrush App Center. Then, using Semrush data we categorized the domains by their industry so we could identify the top 10 spenders in each major category.
The data includes US-based advertising activity between January 2021 and May 2023, from 956 domains across 12 industries.
Let's get started.
Top Digital Advertisers in Retail
Unsurprisingly, the top advertiser in the retail industry was Amazon, followed closely by Target and Walmart. 
However, there's an important detail here: Amazon, Ebay, and Etsy each have a sizable third-party seller marketplace. As a result, their ad spending includes all ads leading to their domain. Meaning, not only their own ads, but also those placed by small businesses and individual sellers leading to their unique storefronts.
As such, while it may be tempting to benchmark yourself against position one—Amazon—it may be more productive to focus on a top advertiser whose business model aligns more closely with yours.
Top Digital Advertisers in Finance
The top 10 list for the finance industry is a little more complicated, because it incorporates several related industries. For example, the top spot belongs to State Farm, who primarily deals in insurance. Number two was American Express, a bank holding company known for its credit cards.
Take a look at the complete list: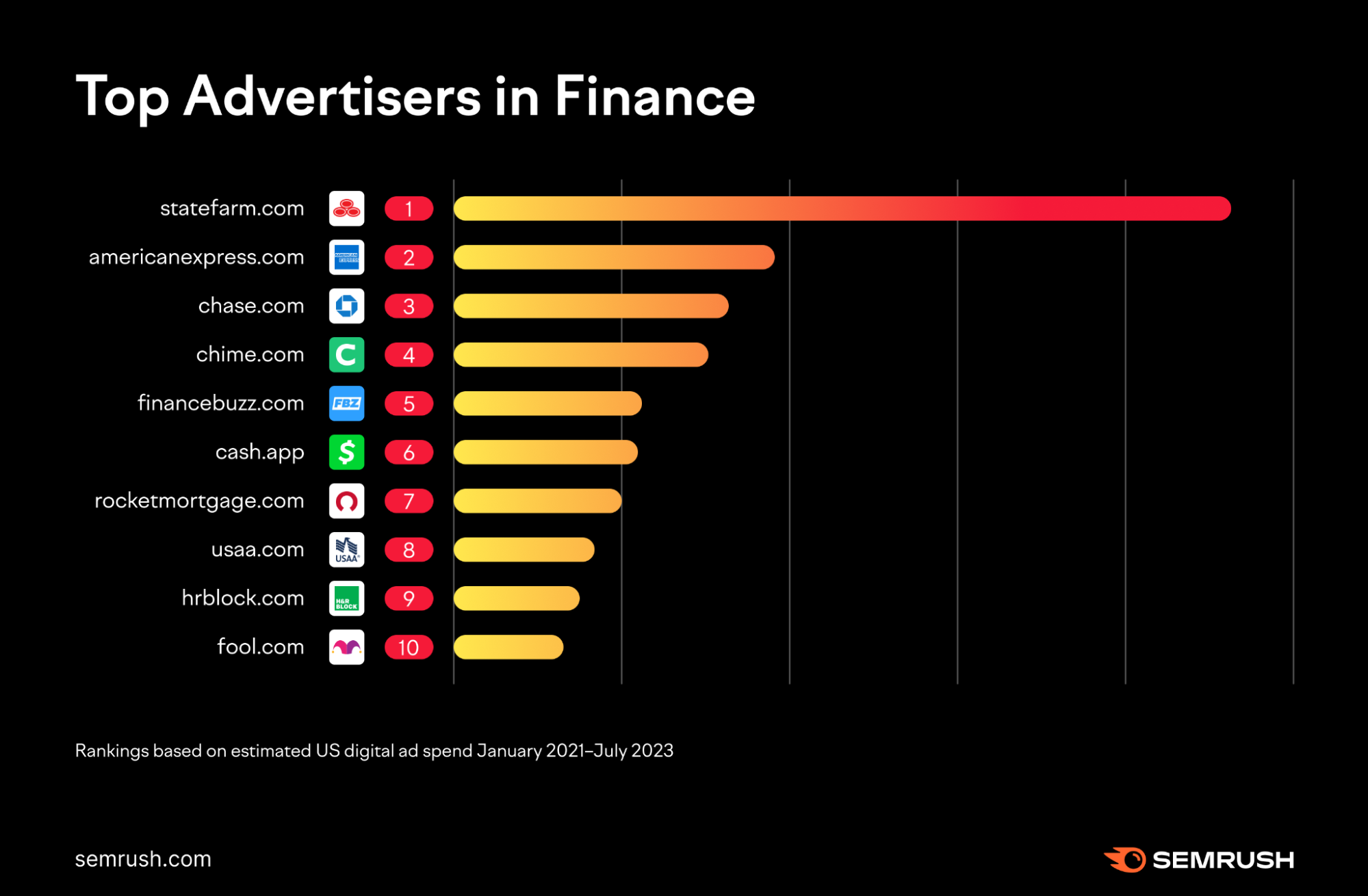 The most notable business types include:
Banking and finance apps

Tax preparation and accounting

Finance education websites

Stock investing
What's more, these companies target all different types of customers. Chime, for example, is a banking app that focuses on a younger demographic. And USAA is a financial services company that exclusively serves U.S. military families.
Top Digital Advertisers in Home & Decor
The home and decor space overlaps with retail. So in this category, you'll see a few familiar faces.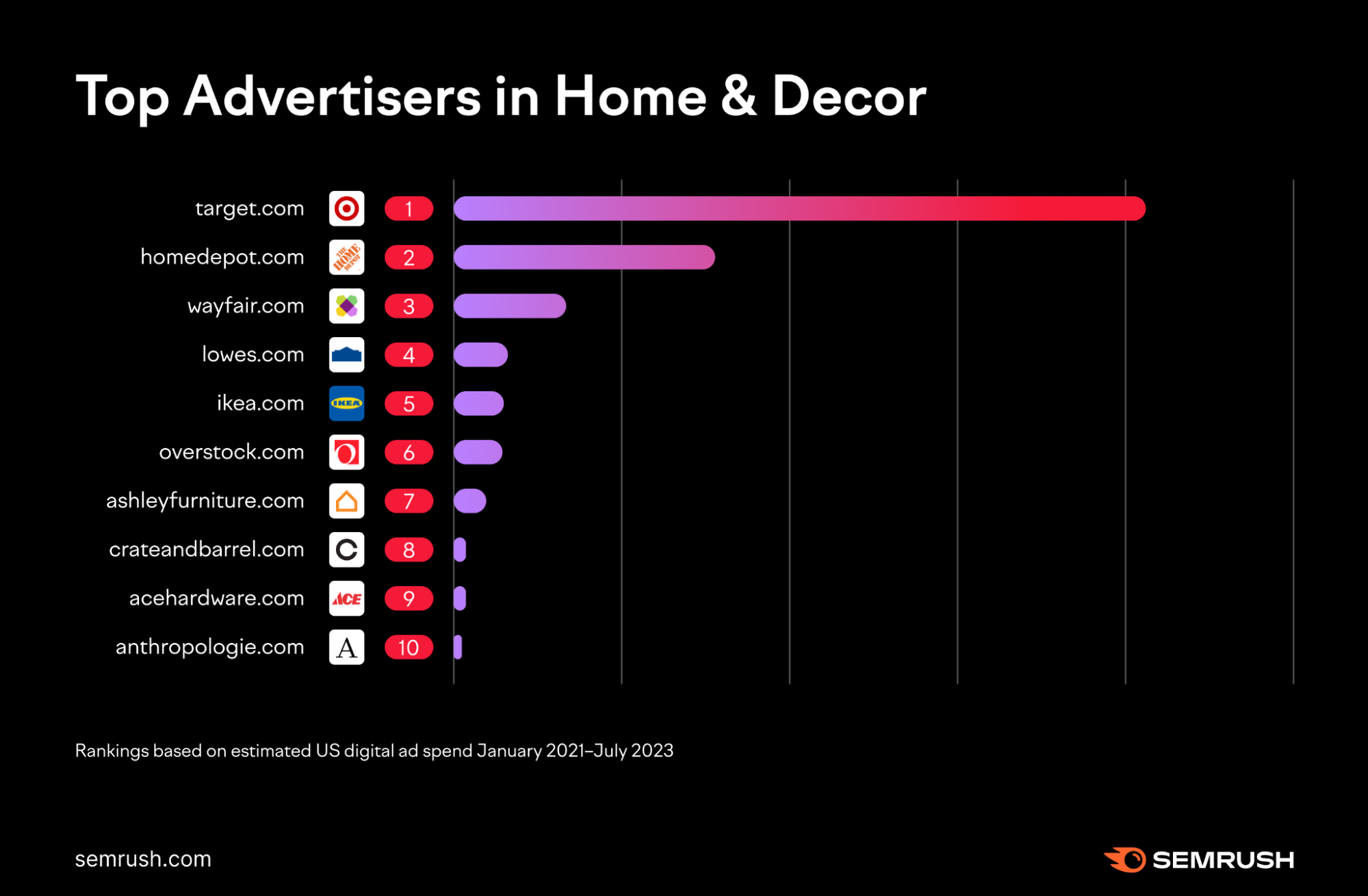 So why did some companies make this list despite not ranking in overall retail? In short, because it's a more specific category. 
For example, Target can easily rank in both places, because they advertise home and decor items alongside many other product types. But a company like Wayfair, who sells furniture and decor exclusively, will only rank within their retail niche.
Top Digital Advertisers in Food Delivery
Food delivery has surged in recent years. And since the business model hinges on online and app-based purchases, digital advertising is essential to their growth. 
Here's the top 10: 
It's no shock that Doordash ranked number one for their advertising spend. The rest of the top 10 included their direct competitors in the restaurant delivery space—for example, GrubHub and UberEats—along with grocery and meal kit delivery services.
Top Digital Advertisers in Employment
With the relentless shifts between in-person, hybrid, and remote work, it's no surprise that job boards invest heavily in advertising.
The top three are familiar names for anyone who has ever applied to a job online: Monster.com, ZipRecruiter, and LinkedIn. 
Take a look at the top 10: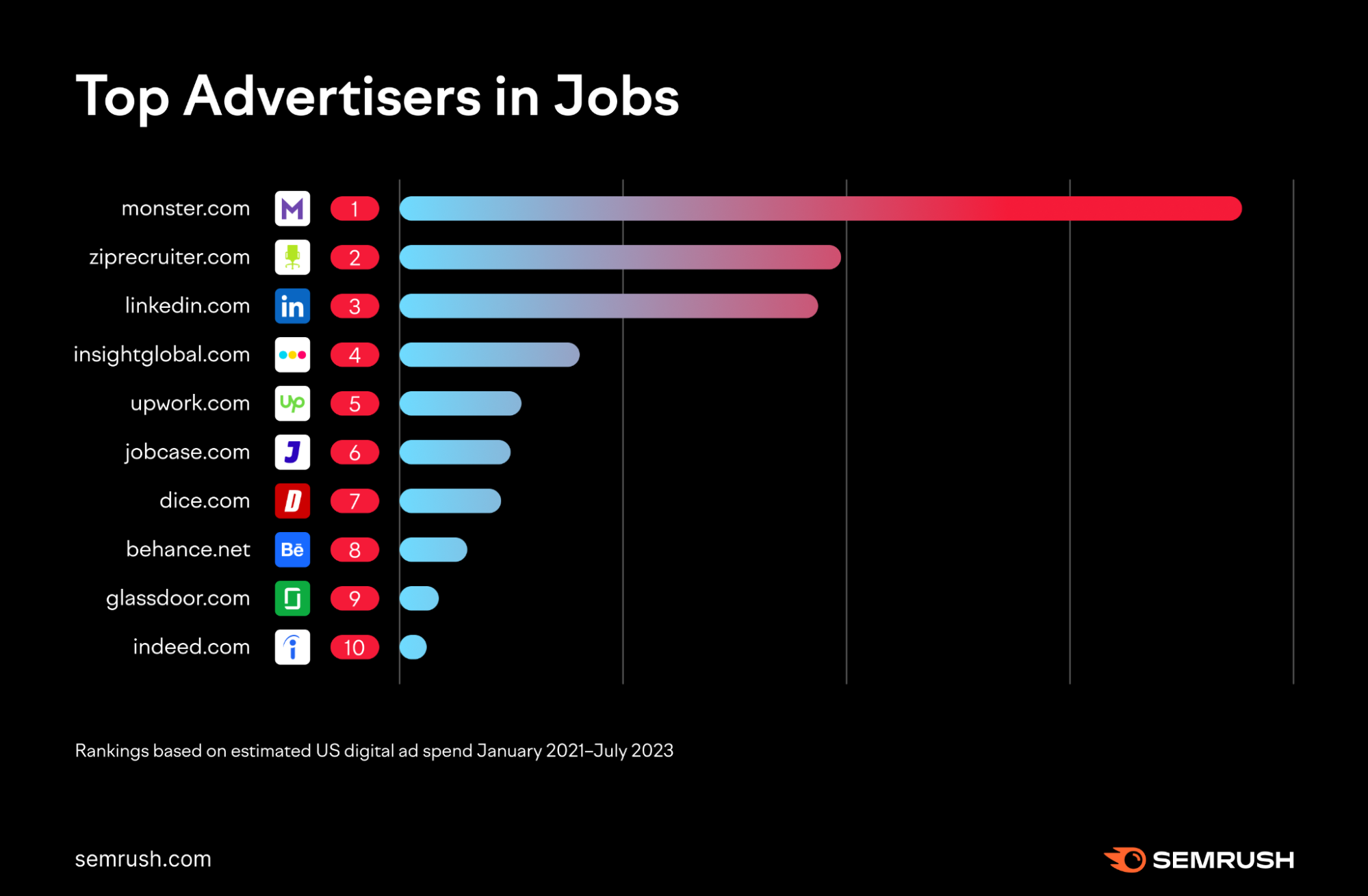 While job boards predictably dominate, they weren't alone. Other big spenders included a recruitment website, (Insight Global) a freelance platform (Upwork), a portfolio platform (Behance), and an employer research website (Glassdoor).
Interestingly, Indeed.com only snuck in at number 10, despite their overall popularity. (G2, for example, ranked them third in their list of best job search sites.)
When it comes to the highest advertising spenders in the media industry, the top 10 list is dominated by news organizations. Conservative network Fox News came in first, followed by two national newspapers: The Wall Street Journal and The Washington Post. 
But those weren't the only big names on the list. Let's check them out: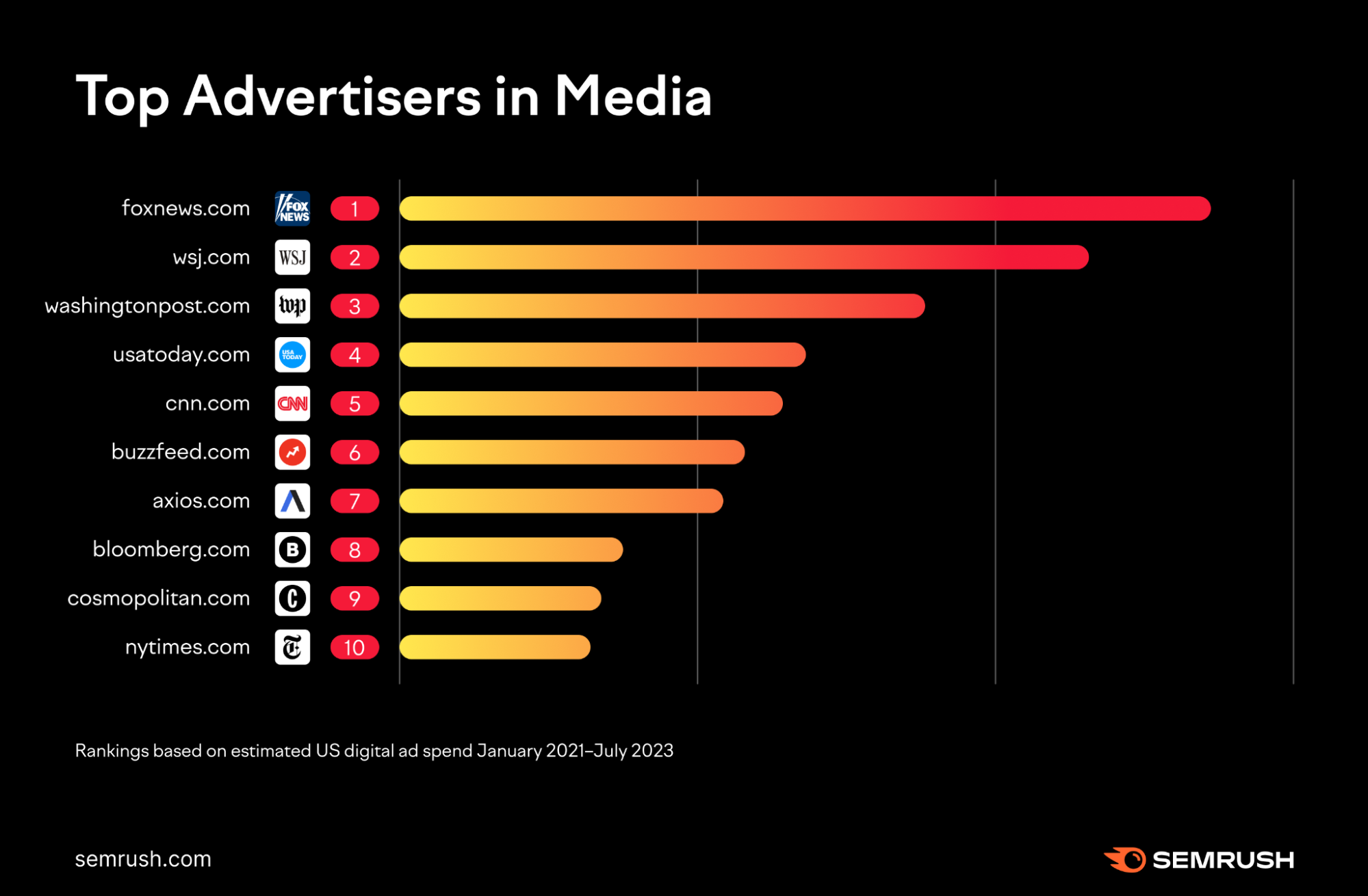 Other top-advertising news outlets included USA Today, CNN, Axios, Bloomberg, and The New York Times. For more lighthearted fare, Buzzfeed and Cosmopolitan came in sixth and ninth, respectively.
Top Digital Advertisers in Online Education
Online education is a diverse industry with offerings in a variety of topics—and often highly specialized ones. Because these businesses are anything from one-size-fits-all, digital advertising is key to finding the right students.
Here are the top 10 ad spenders:
Among the list, four focus on career-related upskilling, particularly with respect to data and tech: Data Camp, Codecademy, EdX, and PluralSight. 
Only two are language-oriented: Babbel and Rosetta Stone. Duolingo is noticeably absent from this list, perhaps due to their success on organic social—a helpful reminder that, while crucial, paid ads aren't the only path to success.
Top Digital Advertisers in Pet Supplies
Pet food manufacturers and pet supply retailers (both online-only and in-store) dominated the top spending advertisers list in the pets category.
If you're a pet parent yourself, you probably recognize a few of these names.
Dog and cat food brand Royal Canin came in first, followed by pet health brand PetLabCo, with Purina coming in third. 
The most unique inclusion was Litter Robot, for two reasons. Litter Robot is the only tech product on the list (a self-cleaning litterbox). It's also the only pet company on the list exclusive to cats. By comparison, the other brands all have a broader target customer base.
Top Digital Advertisers in Dating Apps
A dating app exists for every type of person and interest—and they've sparked some pretty creative ad campaigns. But which ones invest the most in paid advertising? 
Have a look below.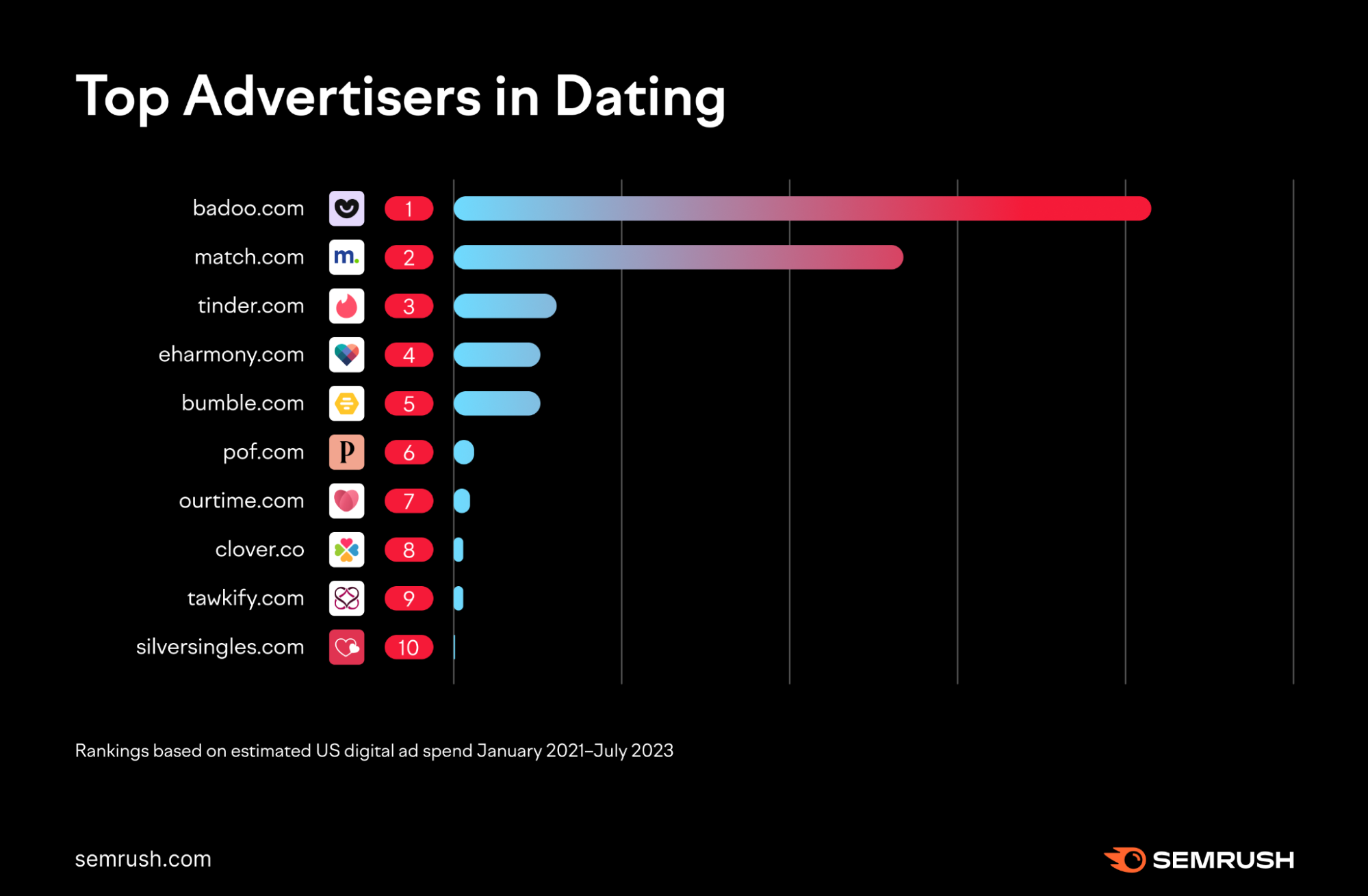 Coming in first place is the freemium dating app Badoo. According to Business of Apps, Badoo is "the most downloaded dating app in the world," and helped to launch the fifth-highest spender on the list, Bumble. 
Rounding out the top five are a few other widely recognizable names: Match.com, Tinder, and eHarmony.
Top Digital Advertisers in SaaS
SaaS (software as a service) is an expansive category, overlapping with every interest and industry. 
The top-spending advertisers in this category are equally diverse, including design, writing, web development, ecommerce, project management, and more. Check out the list: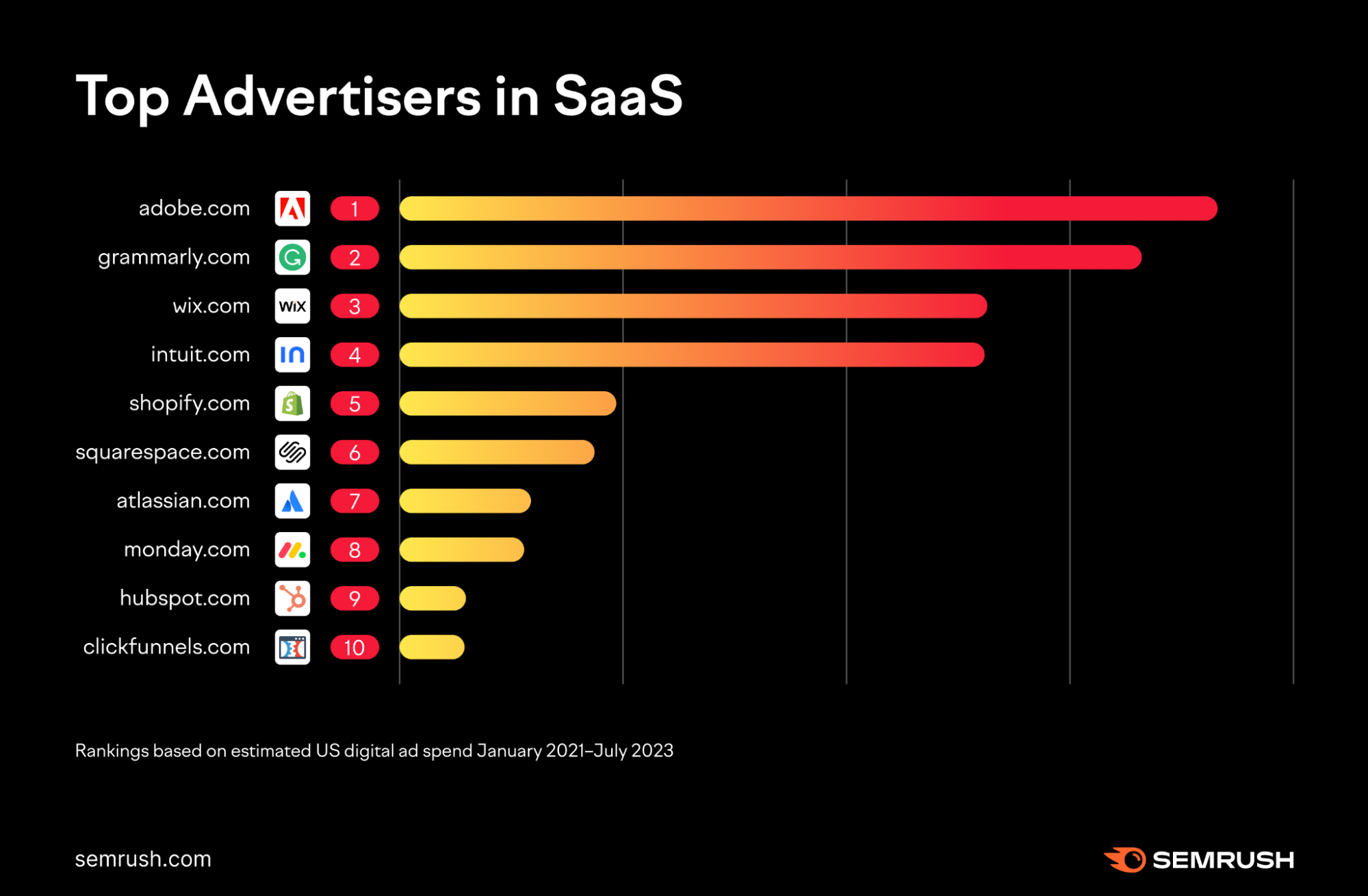 Just like other industries, the top spenders all developed their products for a variety of audiences. So, it follows that their advertising strategies are also uniquely tailored for each. 
The takeaway? When you're setting your benchmarks, reference a competitor with a similar goal to yours to get relevant data.
Top Digital Advertisers in Streaming
Cord-cutting surged to its highest peak yet in 2023. So it's no wonder that streaming services are rushing to fill in the gap. But which ones are hustling the hardest in the paid advertising space?
The top spot went to one of the fastest-growing streaming services: Paramount+, followed by Hulu and Disney Plus.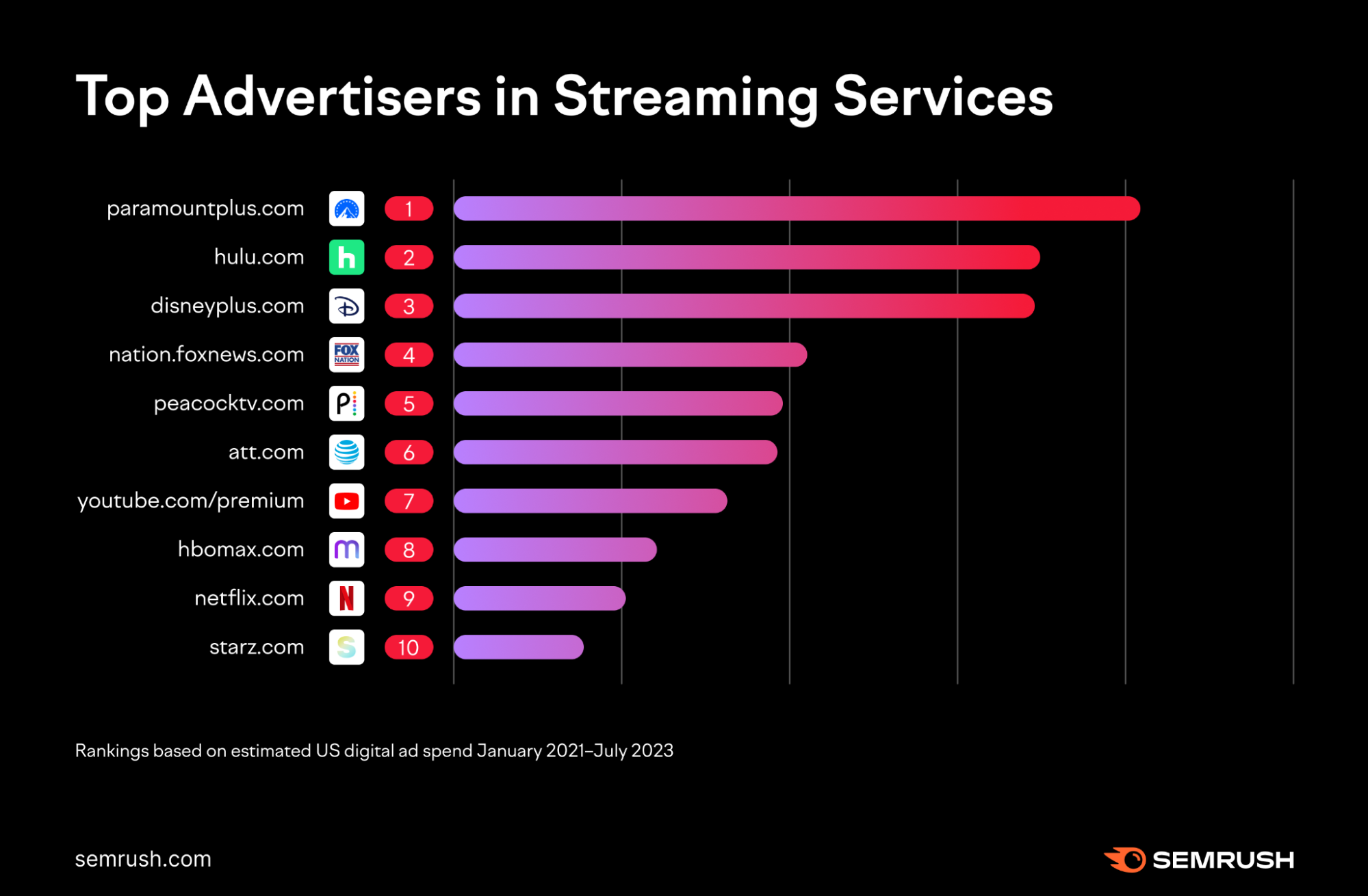 How did the rest fall? Take a look for yourself:
Curiously, two streaming juggernauts, HBO Max and Netflix, landed near the bottom of the list. Two possible reasons this could be the case:
HBO's and Netflix's strategies simply rely less on paid advertising than their rivals

Up-and-coming streaming services are spending heavily on digital ads in a bid to overtake them
Either way, it's clear that the other streaming services saw the opportunity to out-advertise their biggest competition online.
Top Digital Advertisers in Travel
Travel may have hit a slump during the COVID-19 pandemic, but by mid-2022, the industry was in full recovery mode. 
It's hard to say exactly how much of a role digital advertising played in this bounceback. Regardless, it's worth a look at which travel industry giants invested the most into the channel:
The top spot went to Booking.com—which Statista also named as the most popular booking accommodations site in the United States. Only two hotel chains made the top 10 (Marriott and Hilton), versus three third party booking sites.
Investigate Ad Spending with AdClarity – Advertising Intelligence
You can easily analyze and compare the ad spending of your competitors with the AdClarity – Advertising Intelligence app.
Here's how it works.
Just search for their domain using the search bar in the header, and click "Submit."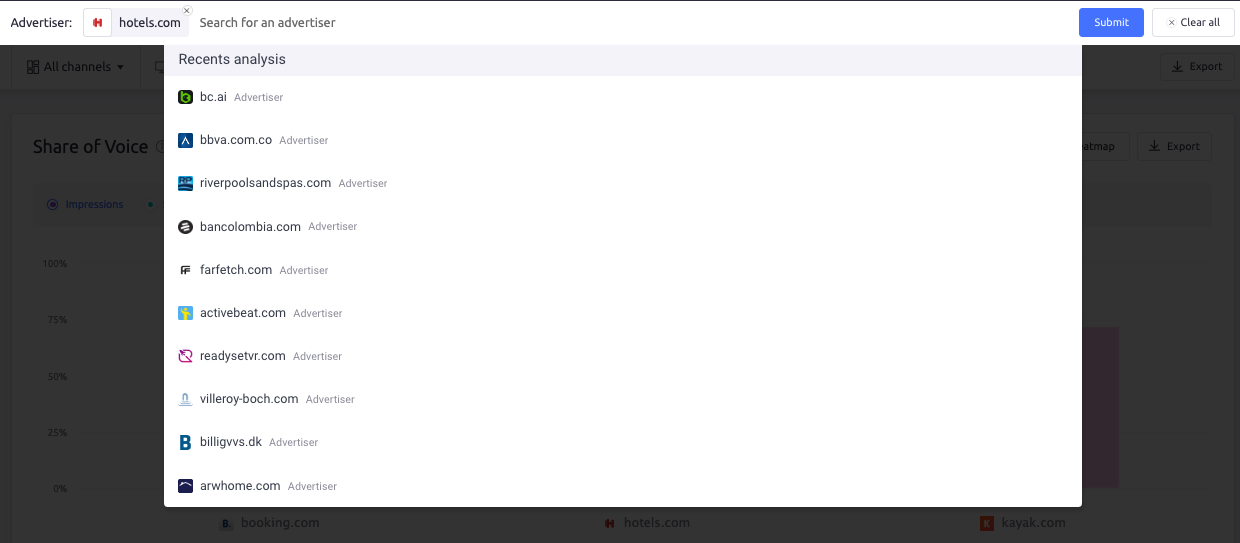 The app will report on their estimated expenditure, preferred ad types, buying methods, and more.
Use the Top Ads widget to analyze their best-performing assets and learn how they attract customers.
But that's just the tip of the iceberg. Learn more about how to uncover your rivals' digital ad strategies (and more) in the app's Knowledge Base article.
Optimize Your Digital Ad Spending 
Ultimately, digital advertising success isn't about how much you spend, but how wisely you spend it. 
If you invest in the right channels at the right time, with powerful and engaging ad content, you can attract more customers, even if you're not the top spender in your niche.
But to do that, you need data. And AdClarity – Advertising Intelligence has all the intel you need. Its competitor ad data analyzes every angle of their digital ads strategy, so you can learn from their successes and failures.
But don't take our word for it—get the data yourself with a free trial.
We all want to be satisfied, even though we know some people who will never be that way, and others who see satisfaction as a foreign emotion that they can't hope to ever feel.

Newspaper Ads Canyon Crest CA
If you have questions before you order, give me a call @ 951-235-3518 or email @ canyoncrestnewspaper@gmail.com Like us on Facebook Here